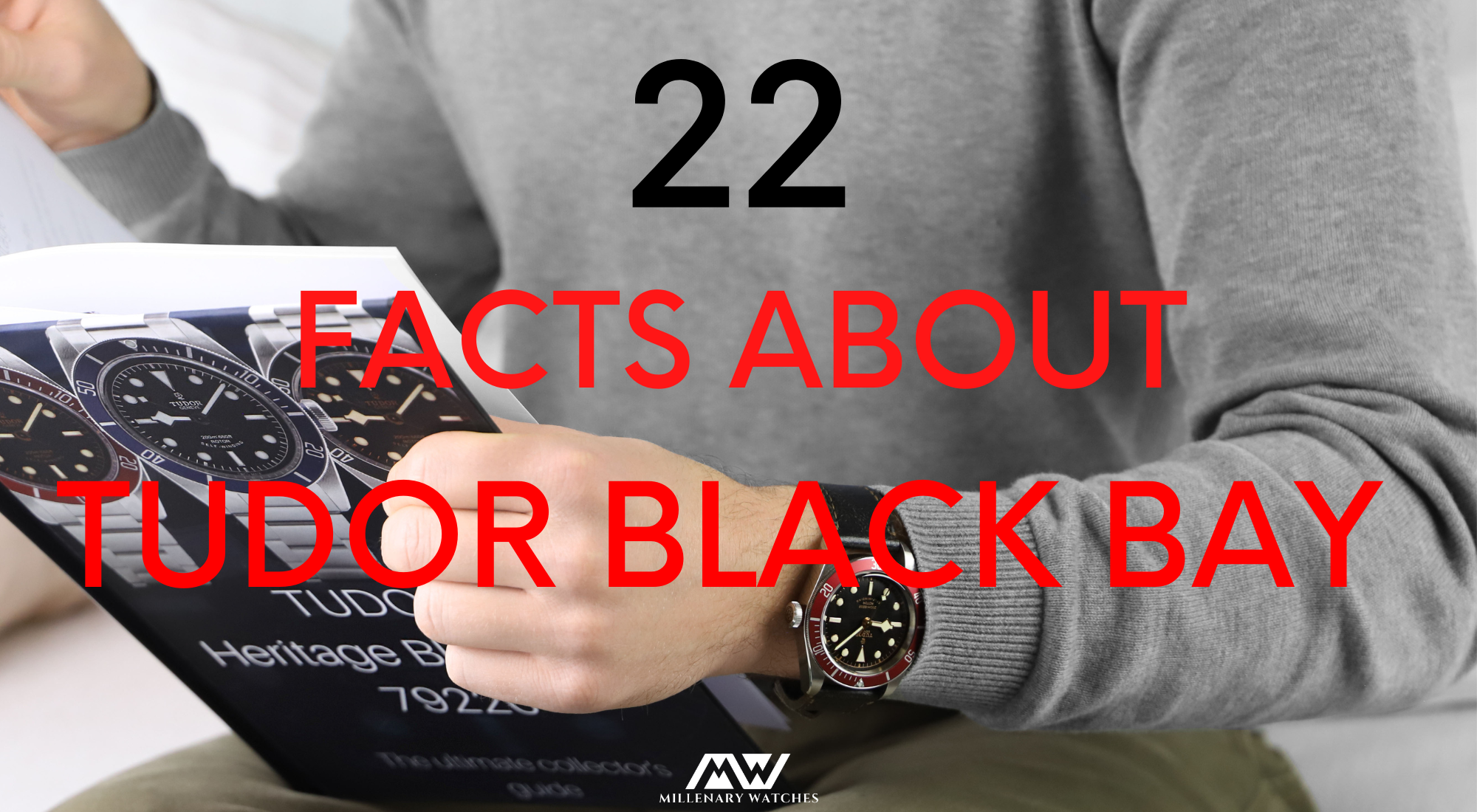 Top 22 Facts About Tudor Black Bay [List & Guide]
It's safe to say that the Black Bay is Tudor's single most important model. It's a model line that has grown substantially over the years and gone from just one model in 2012 to now including more than 10 different references and more than 50 variations in different sizes and versions.
In fact, we would even argue – and Tudor would likely agree with us – that the Black Bay is the single most important watch for helping put Tudor back on the map after being off-market for several decades.
In 2007, Tudor underwent a rebranding. Tudor had left many markets prior to this and in many ways struggled to establish a unique and fresh identity – separate from its bigger brother Rolex – that would allow it to stand on its own legs.
Prior to 2007, it's safe to say that Tudor released several quite gaudy watch designs. It was evident that Tudor didn't really know what to do or at least in which direction they were going to take. But in 2007, it was time for a complete refresh and relaunch for Tudor, investing lots of resources into marketing, research, development, and launching new watches to finally put itself back on the map at a time when a lot of people thought that Tudor was done and many had even forgotten it existed. Whilst the exact year that can be called the official year of the launch of debate, we would say that Tudor's plans for the relaunch began in 2007 and the real relaunch took place in 2009.
To understand what brought Tudor to where it is today, we need to understand Tudor's history.
Tudor was founded by Hans Wilsdorf, the founder of Rolex as a sister brand to Tudor. He quickly saw that people were requesting a watch with the same quality and reliability as Rolex, but at a more affordable price point and therefore started Tudor.
When starting Tudor, Hans Wilsdorf said:
"For some years now I have been considering the idea of making a watch that our agents could sell at a more modest price than our Rolex watches, and yet one that could attain the standards of dependability for which Rolex is famous, I decided to form a separate company, with the object of making and marketing this new watch. It is called the Tudor Watch Company."
Instead of releasing budget watches under the Rolex brand, he formed Tudor as a way to avoid damaging the status and reputation of Rolex watches which was certainly a wise mode. The brand "The Tudor" was registered in 1926 by the house of "Veuve de Philippe Hüther" on Wilsdorf's behalf.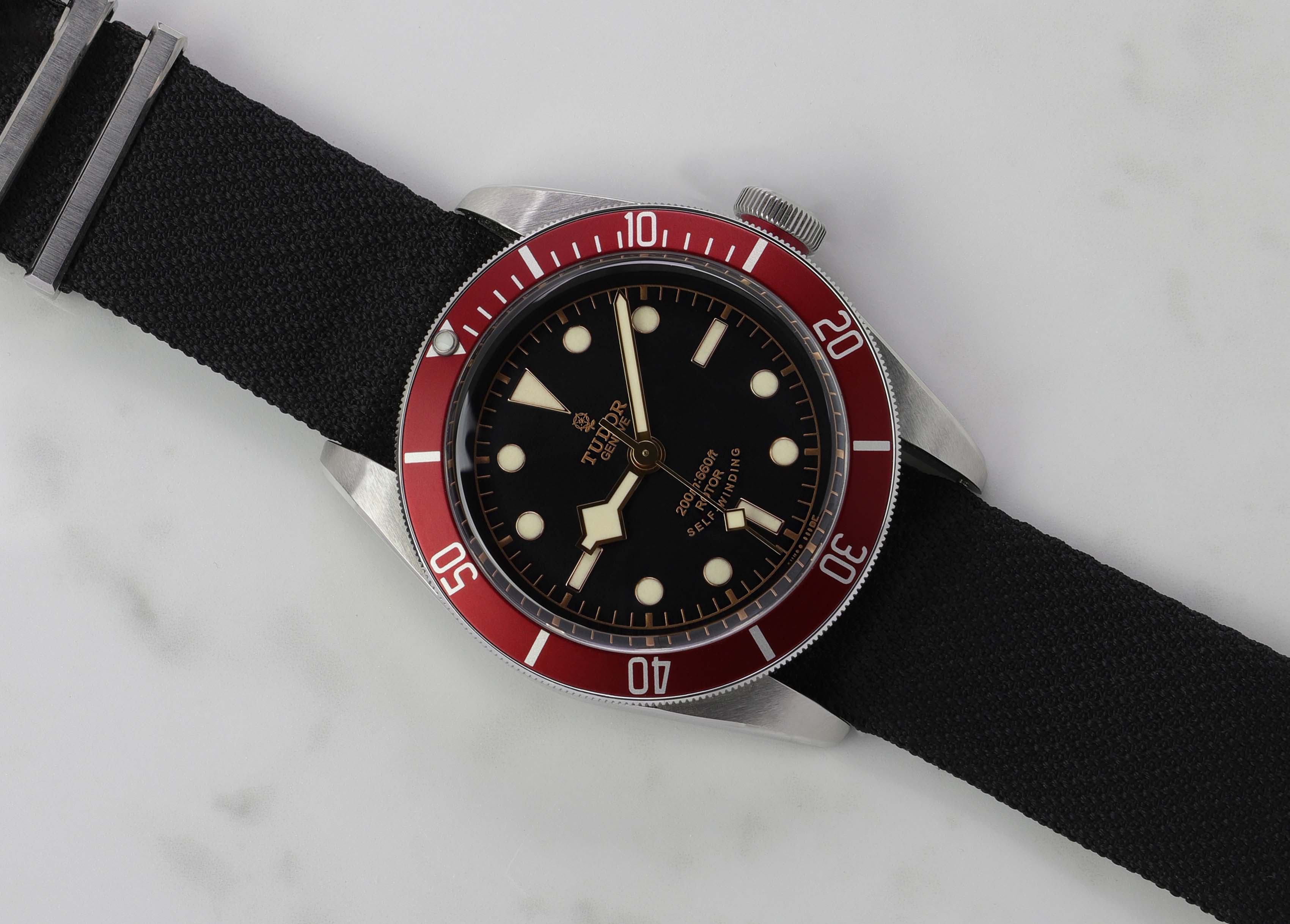 In 1936, Wilsdorf took over the brand completely and he later formed "Montres TUDOR S.A" in 1946. At this time, he doubled down and began focusing more on shaping an identity for Tudor.
The whole idea of Tudor was to use Rolex parts but equip them with third-party movements in order to keep costs down. In that way, Tudor was able to achieve a similar quality and reliability as Rolex watches, but at a more affordable price tag. Since Tudor, especially in the beginning, using the same watch parts that Rolex did, such as bracelets, watch cases, and so on, Tudor shared models with Rolex. Tudor created the Submariner, Prince, and Oyster parallel to Rolex.
The issue was that Tudor always had the label of being a "poor man's Rolex", which further accelerated towards the turn of the century. Whilst relying on the bigger brother Rolex to vouch for the quality of Tudor watches had worked prior, Tudor now needed a new identity and proof that it was strong enough to stand on its own legs. But as no major step was taken, sales began to decline. In around 2004, Tudor had left most markets and was not very active with marketing nor developing new watches.
The good news is that around this time, plans were already in the making of reviving the Tudor brand, giving it its very own unique identity, and creating distinct and unique watch designs that didn't have to rely on Rolex. The plan was to allow the brands to co-exist, taking different markets (Rolex focusing on luxury and Tudor focusing on the entry-level luxury segment). That way, Tudor would be able to break free from its label as a poor man's Rolex and instead produce watches that were great and that spoke for themselves.
The relaunch of Tudor
So in 2009, Tudor began relaunching its brand. The first step was to find and establish a clear identity with its watches. Tudor staked out a path by launching several new models. And the company split its watches into two categories – contemporary and Heritage collections. Some of the models that Tudor launched included the Tudor Glamour and the Heritage Chrono in 2010, a Heritage model inspired by the Tudor "Montecarlo" from the 1970s.
The most important launch, however, is the watch that this whole article revolves around – the Heritage Black Bay. Part of the Heritage collection, meaning watches that are inspired by Tudor's past, Tudor released the Heritage Black Bay in 2012. This was a vintage-inspired dive watch with a 41mm case, inspired by Tudor's vintage dive watches from the 1950s to the 1970s. The Heritage Black Bay became an instant success and once again, Tudor was a brand that had people's attention.
Following this, Tudor continued to add new models to its collection, including different versions of the Heritage Black Bay. The success of Tudor's relaunch eventually became a fact as sales soared and the Heritage Black Bay can be attributed to a lot of that.
Today, the Black Bay is unarguably Tudor's most important model line and as a result of its success and popularity, the collection has grown considerably over the years. So without further ado, let's dig into the most interesting facts about the Black Bay to learn more about this extremely important model for Tudor.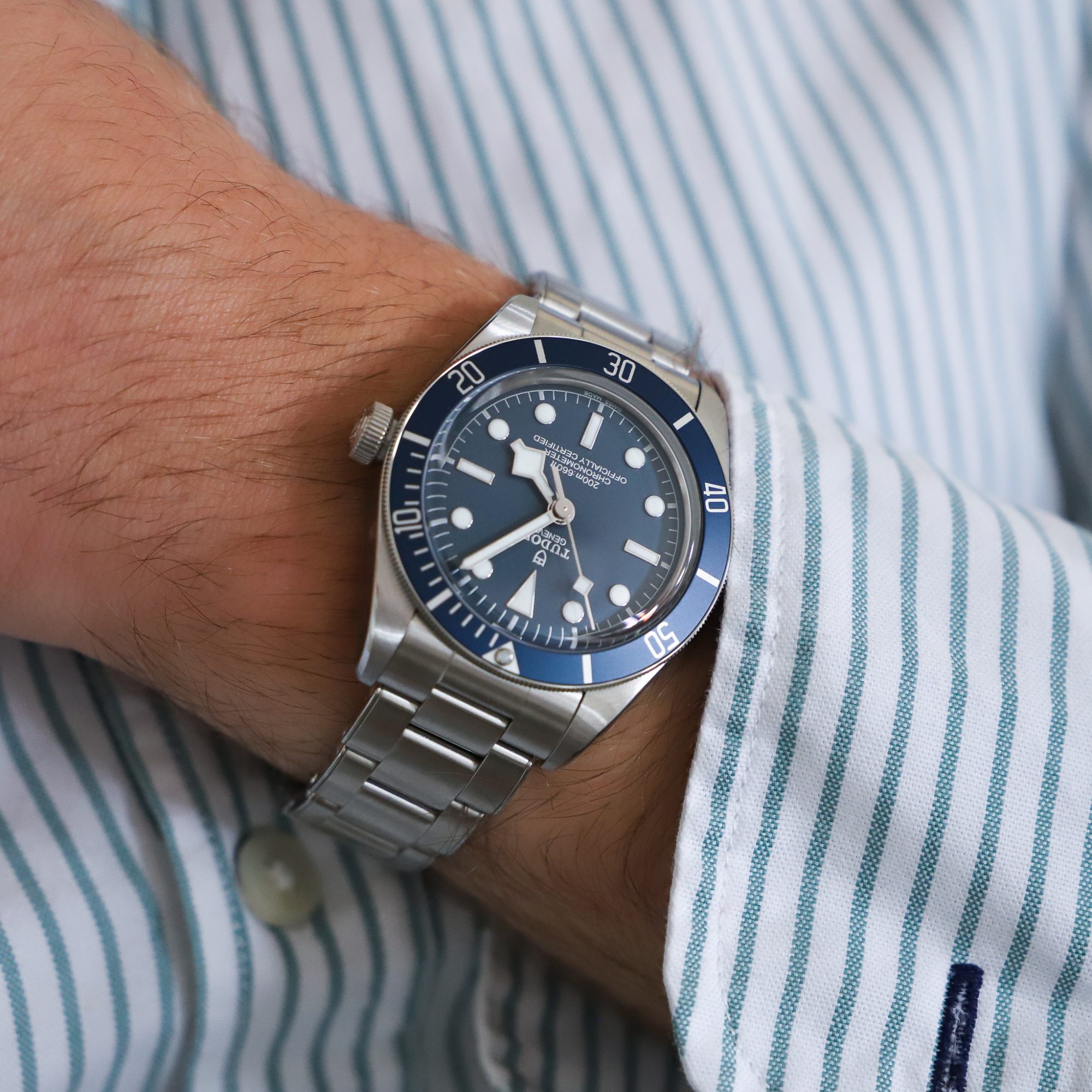 Top interesting facts about Tudor Black Bay
---
1. The first Black Bay was launched in 2012
By now, we're all familiar with the Tudor Black Bay. It is one of the most popular models in this price range and it is Tudor's most popular collection.
The very first Black Bay to be released was the Heritage Black Bay reference 79220R. Two years later, Tudor launched a blue version of the same watch, reference 79220B. And two years after that, Tudor released a black version of the same, reference 79220N.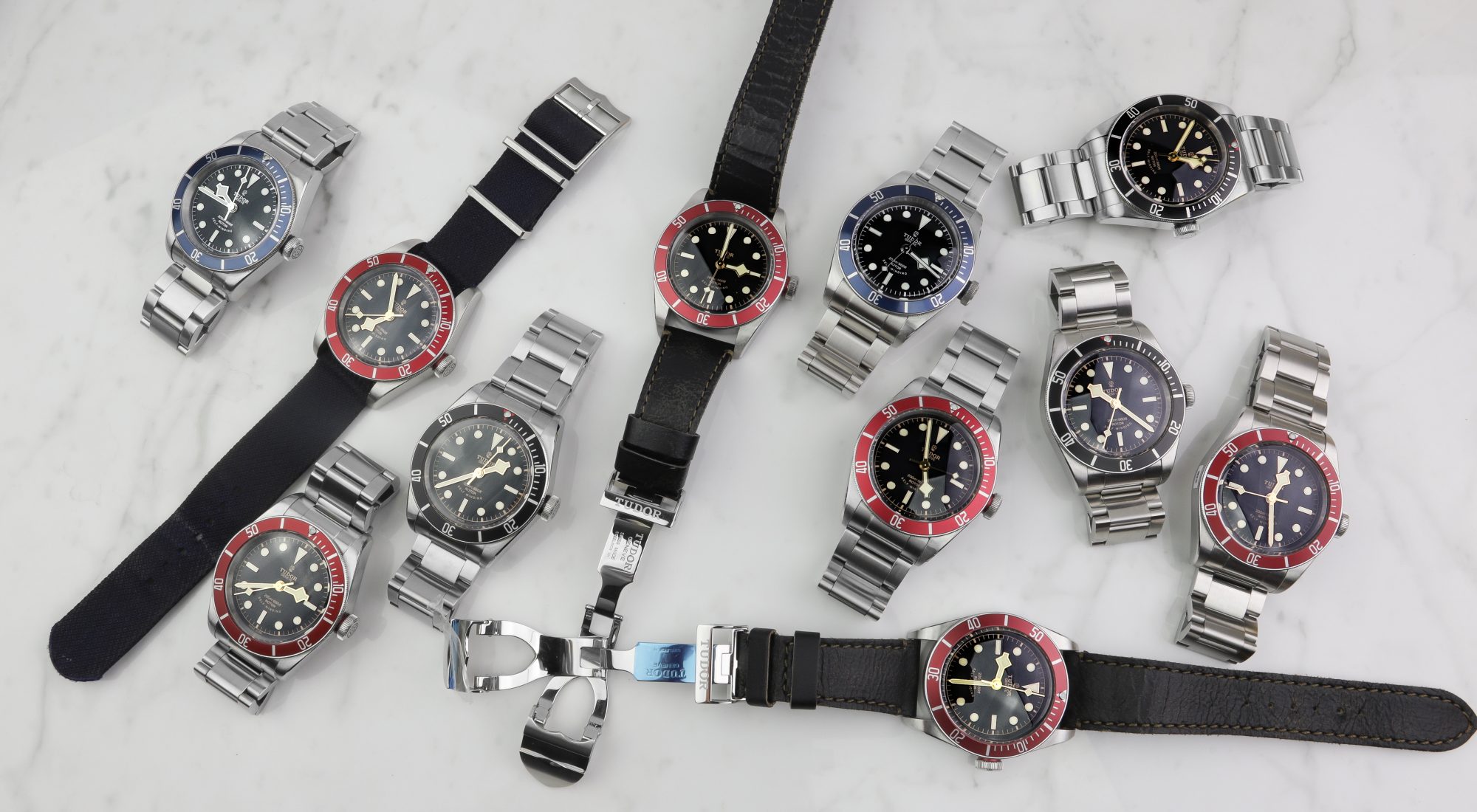 The first Black Bay was not intended as a "reissue" model in the sense that it didn't try to imitate a single watch from Tudor's past. Instead, the design team looked at all of the dive watches that Tudor had made in the past and took the best design features and made that into one.
The result is a vintage-inspired watch with modern build quality.
---
2. The Tudor Black Bay saved Tudor
With all of the things mentioned above, it's safe to say that the launch of the Black Bay saved Tudor. Or perhaps more correctly, it is the single most important thing that helped put Tudor back on the map. Tudor's sales had already declined many years later and Tudor had left most markets. Backed by Rolex, it is not like Tudor was on the verge of bankruptcy, but Tudor was, by a lot of people, forgotten and neglected. But the Heritage Black Bay came to change everything. Without this model, we're not sure Tudor would have been where it is today.
---
3. Why is it called Tudor Black Bay?
You're probably wondering, where does the name Black Bay come from?
According to Tudor, the name black Bay derives from "a fictitious hidden cove, which holds secrets that can only be discovered over time, step by step".
In other words, the name is mostly fictional but there's a lot to the description that fits into the Black Bay and which certainly can be applied to what the Black Bay stands for and Tudor's vision for this model moving forward.
The part that states "which holds secrets that can only be discovered over time, step by step" can be applied to the Black Bay in the sense that Tudor has continuously released new versions and iterations of the Black bay – step by step, over time. The company began with the Heritage Black Bay 79220R and has since then released countless different iterations. With that said, that was likely Tudor's plan all along, to continue to create new versions of the Black Bay.
---
4. The first Black Bay with an in-house movement was launched in 2016
The first Black Bay, reference 79220R, and the two other versions of the same reference (79220B and 79220n) did not have in-house movements. It wasn't until the first-generation Black Bays were discontinued and replaced by the new-generation 79230 that they were blessed with in-house movements.
The first generation Black Bay was powered by the ETA caliber 2824 which had been modified by Tudor. For Tudor to use off-the-shelf movements early on in its relaunch makes perfect sense for many reasons. Firstly, it requires a lot of resources to develop an in-house movement. Secondly, the whole purpose of the Tudor brand from the beginning – and the vision of the founder Hans Wilsdorf – was to use off-the-shelf movements in the Tudor watches.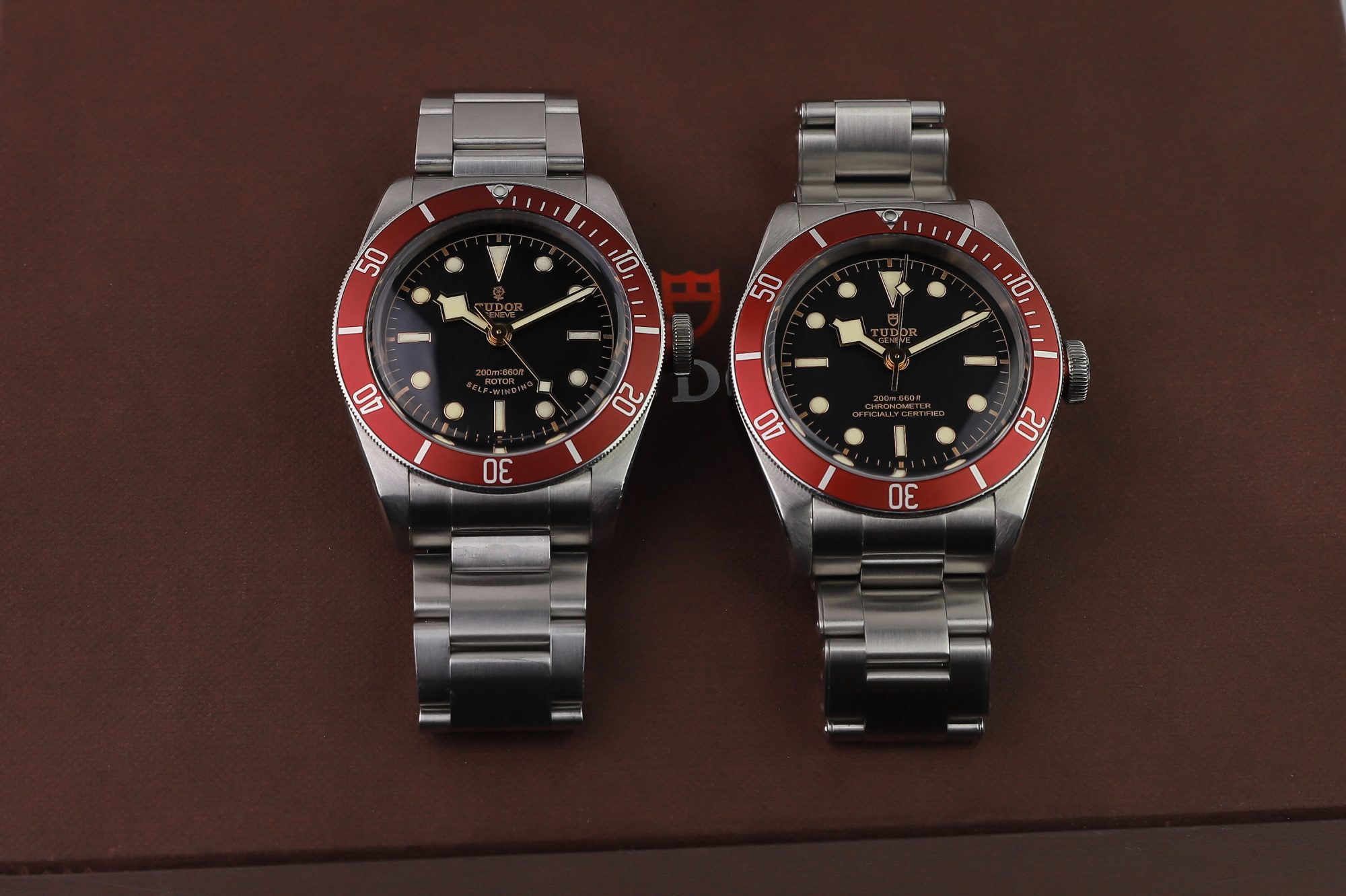 So, in a sense, it makes sense from a historical standpoint that Tudor opted for an ETA movement in its first Black Bay.
But to truly prove that Tudor was able to stand on its own legs, it needed to prove that it was capable of developing in-house movements. So with the help of Rolex's know-how, Tudor released the first Black Bay with an in-house movement, caliber MT5602.
Since then, Tudor has gone on to create numerous other in-house movements which proves the direction that Tudor is moving in. It also proves that Tudor is very mindful and determined in building a name for itself. And with the know-how and information-sharing from its bigger brother Rolex, Tudor's in-house movements have also proven to be extremely reliable and durable.
---
5. The first full gold Black Bay was released in 2021
2021 was quite a shock to a lot of Tudor enthusiasts in the sense that Tudor released a watch that few people saw coming – a Black Bay made in full gold.
The main reason why people were so surprised about this is the naturally high price tag that comes with a full gold watch. Tudor is generally regarded as an entry-level to mid-level luxury watch brand but the launch of the gold version took the watch to the luxury territory. Ever since Tudor's relaunch, their watches have been regarded as affordable entry-level luxury watches. But the full-gold Black Bay costs more than double all of Tudor's other watches. It can therefore be difficult for a brand that focuses on the segment Tudor does to pull off a gold watch, which is the main reason why most people were surprised.
At the same time, it shows in which direction Tudor is heading. Tudor has successfully managed to strengthen its brand and establish itself more and more as a luxury watch brand. Tudor has consistently increased its prices and made its watches more exclusive. The belief is that Rolex (the mother company) wants Tudor to take Rolex's place and Rolex wants to take Patek Philippe's place in terms of luxuriousness and exclusivity. And if that is indeed Tudor's strategy (which it certainly seems like), then launching a full-gold watch was only a matter of time, and makes perfect sense to further strengthen people's perception of Tudor as a luxury watch brand.
---
6. The first Black Bay in bronze was released in 2016
Over the years, Tudor has experimented a lot with different materials for the Black Bay. The very first material experiment, outside of the standard stainless steel, was with Tudor's launch of the Black Bay Bronze in 2016.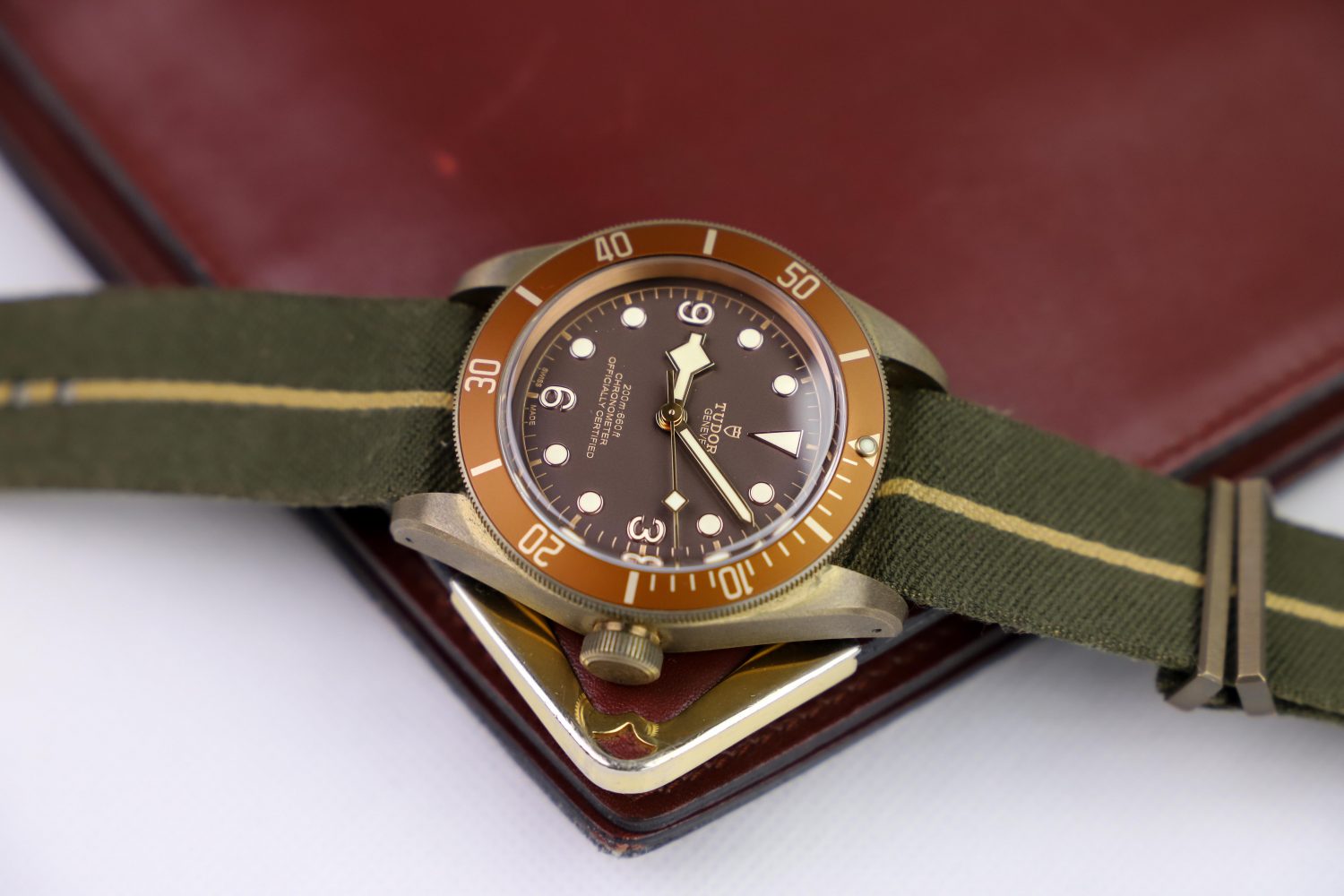 The first material that Tudor explored for the Black Bay was therefore bronze for the 79250BM. Bronze is a material that has been used in the watch industry for quite a long time but it is not very common and relatively few manufacturers actually use it. But it certainly makes sense to use in a dive watch due to the properties of bronze. Bronze was used a lot historically for things like diving helmets and other objects related to diving due to its anti-corroding properties. Instead of rusting, bronze oxidizes and gets a unique green oxidation layer which is known as patina. Some people dislike the fact that a bronze watch will oxidize and the surface of the watch will change over time but others love the fact that the watch ages together with the wearer and change its look to look more rustic and tool-like.
At the same time, the use of bronze for a dive watch certainly has a historic connection, as discussed.
---
7. The first Black Bay in 39mm was launched in 2018
The first Black Bay was presented in 41mm. Standard size for a men's sports watch. But a lot of people prefer smaller watches and have a hard time wearing watches above 40mm. In addition, and more importantly, people complained about the fact that the Tudor Black Bay did not stay true to Tudor's original dive watches. Whilst it sought inspiration from vintage Tudor watches in terms of design, it did not in terms of size. In the 1950s when dive watches came about, virtually no dive watch was 40mm. It would have been considered huge at the time. Instead, most watches averaged between 37 to 39mm.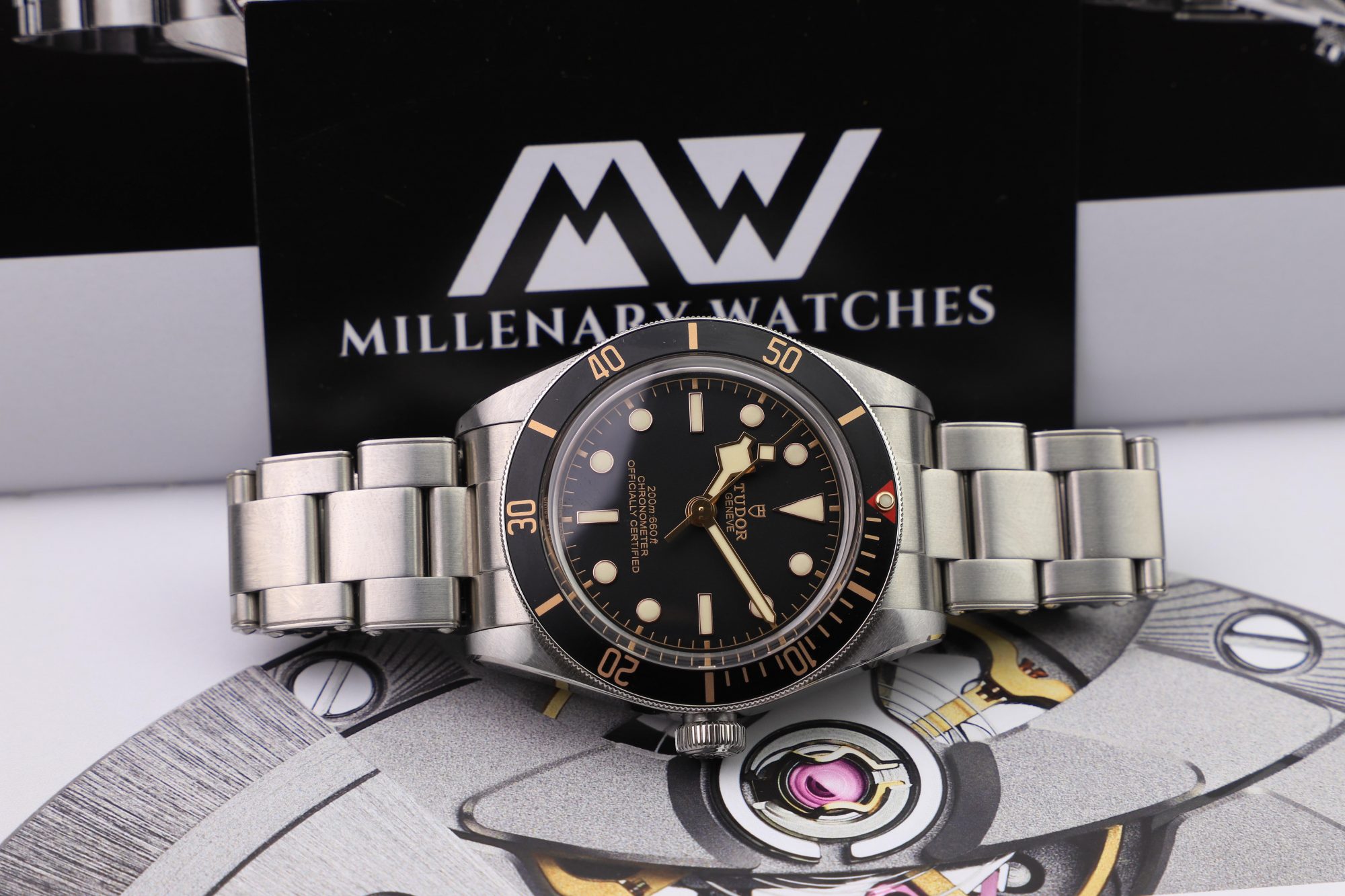 Therefore, with this in mind, Tudor decided to make a watch that is more true to Tudor's vintage dive watches, both in terms of design but also in size – and caters to true watch enthusiasts as well as those who have smaller wrists.
As such, Tudor presented the first Black Bay to feature a case size of 39mm.
It was not the first Black Bay to feature a different case size than 41mm since the Black Bay Bronze was launched in 2016 with a case size of 43mm.
The watch that Tudor launched was the Black Bay Fifty-Eight, reference 79030N, inspired by a specific watch that Tudor launched in 1958, thereby the name.
The 79030N immediately became a huge success. In fact, it became the single most popular watch that Tudor had ever made. Due to the huge popularity, there were even waiting lists at authorized Tudor retailers just to buy one – a first for any Tudor brand. This alone proves just how well Tudor succeeded since its relaunch.
---
7. The first Black Bay with DLC coating was released in 2016
Continuing to experiment with different materials and designs, Tudor added the first DLC-coated Black Bay to its collection in 2016, reference 79230DK. The watch was identical to the standard 79230 in steel, only that the bracelet and case were DLC-coated.
The DLC coating gives the watch an all-black look which adds boldness and a coolness factor to the watch, making it appear much more sporty.
---
8. The Black Bay is inspired by vintage Tudor dive watches
The very first Black Bay launched in 2012 was called "Heritage Black Bay". Whilst Tudor now just calls the model "Black Bay", the original name still explains what the idea behind the Black Bay model was.
The Black Bay is inspired by Tudor's vintage dive watches from its past, from the 1950s, all the way up to the 1970s, 1980s, and even 1990s. In designing the Black bay, Tudor had a lot of inspiration from its archives by looking at the dive watches the company had produced prior. In doing so, Tudor was able to take the very best parts from its history and implement that into a new dive watch. And this is probably also the reason why the Black Bay is so popular and timeless. The models from which it takes its inspiration are already several decades old and are more popular now than ever. This proves that Tudor's vintage dive watches are truly timeless in design, which is a key to making appealing designs.
---
9. Tudor entered a partnership with Breitling to use their chronograph movement
In 2017, Tudor entered a partnership with Breitling to use the company's legendary and highly praised B01 chronograph movement. 2017 was the year that Tudor launched the Black Bay Chronograph 79350 – its first Black Bay Chronograph. But Tudor needed a new chronograph movement for this model.
Sure, Tudor was already producing the Heritage Chronograph 70330B and 70330N but for a brand new release, Tudor needed a brand new movement that wasn't an ETA movement. At this time, Tudor was beyond the point of using ETA movements and wanted a movement with a little more prestige and better performance.
So instead of developing its very own chronograph movement from scratch, Tudor turned to a brand that is famous and respected for its chronographs – Breitling. Tudor presented the MT5813 which, with the MT designation (which stands for Manufacture Tudor) suggests that it is an entirely in-house movement whilst, in fact, it's not. The MT5813 is actually based on the Breitling caliber B01 but with a few adjustments and modifications. The movement has been modified with Tudor's own regulator, silicon hairspring, and a new rotor. Overall, Tudor's chronograph movement is decorated differently from Breitling's
There has been a lot of debate about whether or not using a Breitling movement is a wise move, and we leave that up to you to decide. But there's no question that the B01 is a superb chronograph movement. In addition, developing a chronograph movement from scratch requires a lot of resources, which perhaps Tudor had a hard time justifying.
In exchange for using Breitling's B01 movement, Breitling began using Tudor's three-hand caliber MT5612 and modifying it to call it the B20 for some of the Superocean Heritage models.
---
10. The first Black Bay made in ceramic was released in 2021
In 2021, Tudor, once again, experimented with new materials and launched the very first Black Bay in all-ceramic, the 79210CNU. Ceramic had already been around in the industry for a long time before Tudor decided to begin using this material but the watch instantly became a huge success.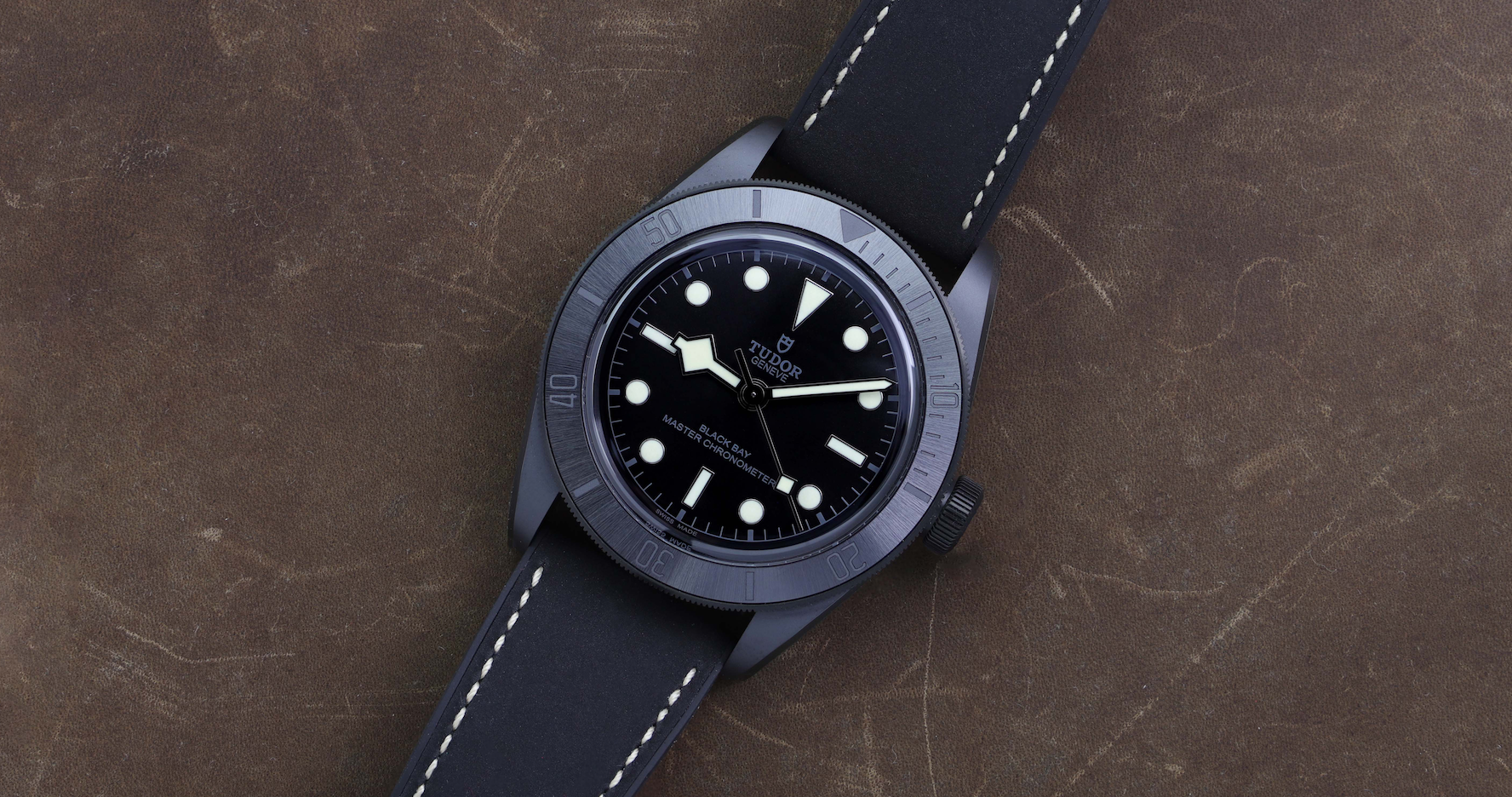 Measuring 41mm in diameter, it is powered by the MT5602-1U which is both COSC and METAS certified.
---
11. Tudor's two-tone Black Bays are gold-capped
Tudor makes several two-tone watches (in gold and steel) across its collections. In the Black Bay collection, Tudor has multiple two-tone watches, including the Black Bay Chronograph 79363N, the Black Bay 79833MN, and more.
The interesting part about these watches is that the gold parts are not completely made in gold. Some of the parts are made in solid gold, like the bezel and the crown, but the gold parts of the bracelets are actually gold-capped. This means that the links of the bracelets have a thick layer of gold on them. The reason for not using solid gold is of course the fact that doing so would make them too expensive. Sure, Tudor has already proven that it is willing to make solid gold pieces with hefty price tags. But with such a price tag, you're certainly removing a large group of potential buyers. As such, Tudor likely deemed it wiser to make them gold-capped to keep the price down.
---
12. The 79210CNU is the first METAS-certified Tudor watch
The Tudor Black Bay Ceramic, reference 79210CNU launched in 2021 is Tudor's first METAS-certified watch. Most people probably associate METAS with Omega as Omega certifies many of its watches this way. But unlike what many think, METAS is not proprietary to Omega and any watch brand can submit their watches for testing there. It's just that most watch brands who decide to have their watch tested by an external organization usually do so at COSC (The Contrôle officiel suisse des Chronomètres) which is more famous than METAS.
METAS, also known as the Federal institute of metrology has strict tests to ensure the performance and reliability of watch movements.
But Tudor didn't stop there. In addition to being METAS certified, the 79210CNU is also COSC certified.
---
13. Tudor's Black Bay movement uses a Rolex patent
It's no secret that a lot of expertise and knowledge is shared between Rolex and its sister company Tudor, for obvious reasons. The close relationships these two companies have (seeing that they are owned by the same foundation) have been extremely valuable for Tudor's research and development.
So much so that Tudor uses Rolex patents in its watches. For example, Tudor has equipped watch movements with a variable inertia balance fixed by a sturdy bridge and a non-magnetic silicon balance spring which is a Rolex patent. The fact that Tudor has access to Rolex patents allows it to implement design features, functions, and innovations that have required tons of research and development, thus allowing Tudor to greatly improve the quality and performance of its products.
---
14. The fabric straps for the Black Bays are made by a traditional passementerie company
The fabric straps made by Tudor have become a signature design element of many Tudor watches. They're unlike any traditional NATO strap and they have superb quality. Tudor began using fabric straps for its watches at the time of its relaunch and the first watch to use a fabric strap was the Fastbinder, followed by the Heritage Chrono launched in 2013. In the following years, all Tudor Black Bays were accompanied by a complementary fabric strap. In 2016, when Tudor released the in-house Black Bay 79230, Tudor changed its strategy with the straps and instead gave customers the option to choose between a bracelet, leather strap, and fabric strap. As such, Tudor stopped giving a complementary fabric strap with the Black Bay.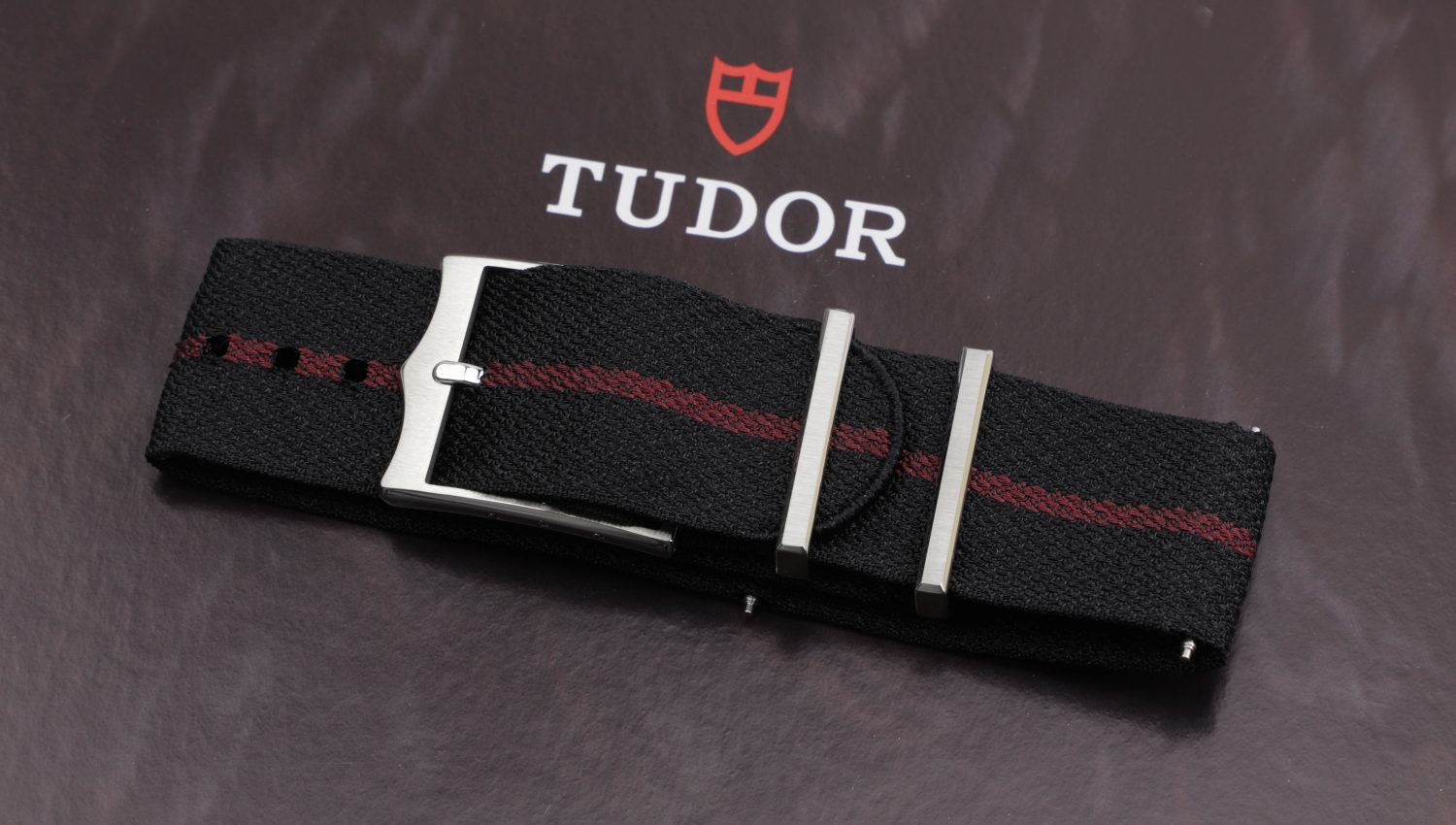 One theory as to why Tudor stopped giving complimentary fabric straps is that its watches became so popular that the manufacturer of the straps did not have the capacity to produce enough straps, but this is purely speculation and has not been confirmed by Tudor.
So, what's the deal with the fabric straps?
Well, Tudor uses a very old passementerie company, which is one of the very few remaining in France that still practices the technique of "Jacquard" weaving, to make its fabric straps. The company manufactures the straps according to an over-century-old artistic craft.
The manufacturing of the straps requires hand-made skills and holds exceptionally high quality. The benefit of the "Jacquard" weaving is that it results in a high thread count which results in sturdiness, flexibility, and very high quality.
---
15. The first Black Bay GMT was launched in 2018
Tudor doesn't only experiment with new designs and materials for its Black Bay collection. Over the years, Tudor has also grown the BlackBay collection to include watches with new functions and features. One of the most exciting releases in the early days of the Black Bay Collection in terms of new functions is the Black Bay GMT reference 79830RB, launched in 2018.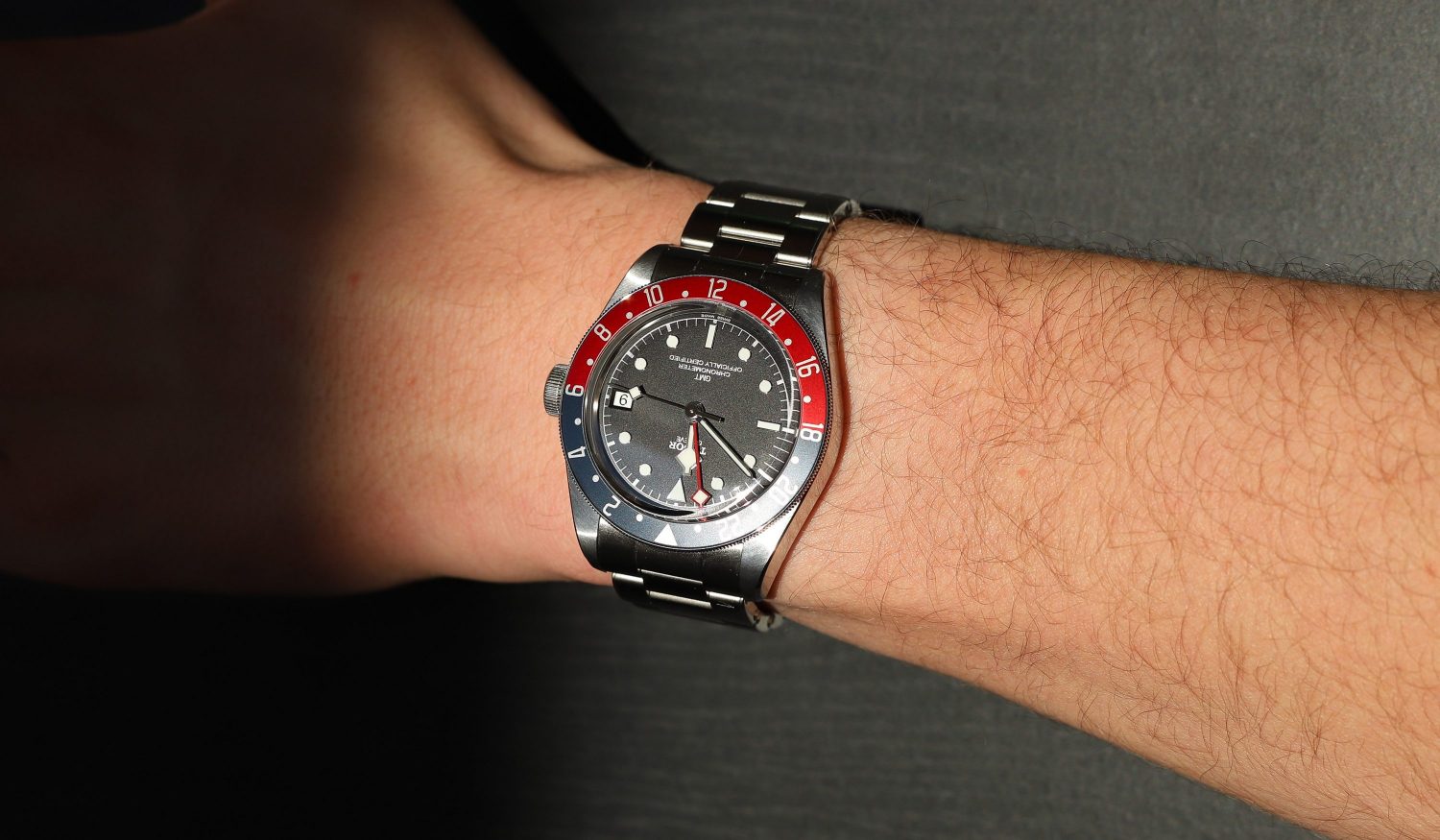 This was Tudor's first Black Bay with a GMT and it became wildly successful to the point where there were waiting lists at the authorized Tudor retailers just to buy one.
---
16. The Black Bay GMT had a lot of issues in the beginning
The journey hasn't always been straight, however. In the first few years, more and more reports from owners regarding the new Black Bay GMT started to appear. It turned out that many of the Black Bay GMTs had the so-called "Date wheel issue" which caused the date wheel to get stuck and often stop in the middle of a date change. This caused a lot of issues as many customers sent their watches back to Tudor for repair. The interesting and perhaps disappointing part is that Tudor never publicly commented on this issue although it was proven that the issue was relatively widespread and certainly not uncommon.
Tudor did some tweaks to the GMT movements by trying new oils and lubricants etc. and it seems like the date wheel issue has gotten less common in recent years, so hopefully, Tudor has resolved it completely by now.
---
17. Not all Black Bay watches use in-house movements
The debate of in-house vs non-in-house is a big deal in the watch industry. In general, customers expect a luxury watch brand to use in-house movements for its watches. It goes to show that the company is one to count on and that it has great expertise and know-how regarding watchmaking.
But if we look historically, the idea and concept behind Tudor were to solely use off-the-shelf, non-in-house movements. This is because in-house vs non-in-house wasn't a very big deal back then. But things have changed and people expect a brand like Tudor to have their own movements. And so that is the direction that Tudor has been heading.
When Tudor launched the Black Bay, it did not have an in-house movement. But since then, the company has released a long list of new in-house movements.
With that said, not all Black Bays are powered by in-house movements. For example, the Black Bay 36 and Black Bay 41 are still powered by Sellita movements. This is because these are intended as entry-level watches and using third-party movements helps keep costs down. But chances are, Tudor will – like its bigger brother Rolex – move to only use in-house movements for its watches in the future. When this happens remains to be seen.
---
18. In 2018, the first watches to have "waiting lists" were released
As discussed briefly earlier, 2018 saw the release of both the Black Bay 39 79030N and the Black Bay GMT 79830RB. Both of these watches became wildly successful – in fact, the most popular watches Tudor had ever released in modern times. The result is that these models became so popular that the demand exceeded the supply. This naturally led to waiting lists at authorized retailers and the watches selling above the recommended retail prices.
This is the first time that Tudor got a taste of what it's like to be Rolex when your watches are constantly sold out. The frustration amongst customers also lead to a further strengthening of the Tudor brand and an increased demand for their watches (as people always want what they cannot have).
---
19. Tudor has a boutique-only Black Bay made in bronze
In the middle of 2021, Tudor released a Black Bay Fifty-Eight in full bronze (the first ever Tudor To feature a bracelet made of bronze), reference 79012m.
This model also had a completely new approach from Tudor in the sense that it is a so-called "boutique only". This means that the model is sold exclusively in Tudor stores and not by official Tudor retailers.
Over the last couple of years, Tudor has worked more and more to open Tudor-dedicated stores that only sell Tudor watches. And releasing "boutique only" watches is a way to attract people to their stores.
---
20. Tudor released the first-ever Black Bay in silver in 2021
In 2021, Tudor, once again, experimented with another material for the Black Bay. This time, a material that very few watch brands used. And the company did so by releasing its very own alloy of 925 silver. Whilst silver was a very common material during the age of the pocket watch, it is a very uncommon material for wristwatches.
So when Tudor released the Tudor Black Bay 58 in 925 silver, reference 79010SG, it's safe to say that people were surprised. The "issue" with silver is that it oxidizes over time – it depends on whether you see it as an issue or not. But when Tudor released the watch, they stated that thanks to their newly invented alloy, it would not stain or tarnish "in a million years". This proved to be false and many of the silver Black Bays actually proved to oxidize and tarnish over time. But regardless, it is interesting to see that Tudor is willing to experiment and try new things that virtually no one else in the industry does.
---
21. Tudor created a one-of-one Black Bay for the Only Watch auction in 2015
Only watch auction is a biennial charity auction founded in 2005 by Lux Pettavino. It is organized by the Monegasque Association Against Muscular Dystrophy (MAAMD) under Prince Albert II of Monaco.
As the name suggests, the idea of the auction is that various watch brands create an "only watch", a one-of-one watch that is then to be auctioned for charity. Every year, many watch brands participate and it is always a great time to see some pretty exciting creations.
In 2015, Tudor participated in the Only Watch auction (and has done so several times since) and created a one-of-one Black Bay that certainly gained a lot of interest and hype. The reason was that Tudor created the Black Bay One, a watch inspired by the design of Tudor's first big crown dive watch. It had all of the design features that collectors love about vintage Tudor and Rolex dive watches including pencil hands and a lollypop second hand.
---
22. The Black Bay Fifty-Eight on the "Challenge" Prize at the 2020 Grand Prix d'Horlogerie de Genève
Last but not least, Tudor has won countless awards since the brand was relaunched. One of the most notable is when the Fifty-Eight won the "Challenge" prize at the 2020 Grand Prix d'Horlogerie de Genève. This is a true testament to Tudor's success, going from a brand that was almost forgotten, to winning over some of the biggest and most powerful brands in the world. All over the course of less than 20 years. That is seriously impressive.
---