Breitling Caliber B01 Complete Guide
When most people think of Breitling, In-house movements are not what comes to mind. At the same time, when thinking about a chronograph, Breitling is usually at the top.
Building your own movements as a watch manufacturer is a big deal in the watch industry. Just like a car manufacturer gets more prestige when using its own developed and assembled engines, a watch that uses an in-house movement offers a greater value proposition to the customer than a watch that doesn't have it.
Today, there are far fewer watch manufacturers that make their own in-house movements than those that do not.
This makes in-house movements still rare and something quite special.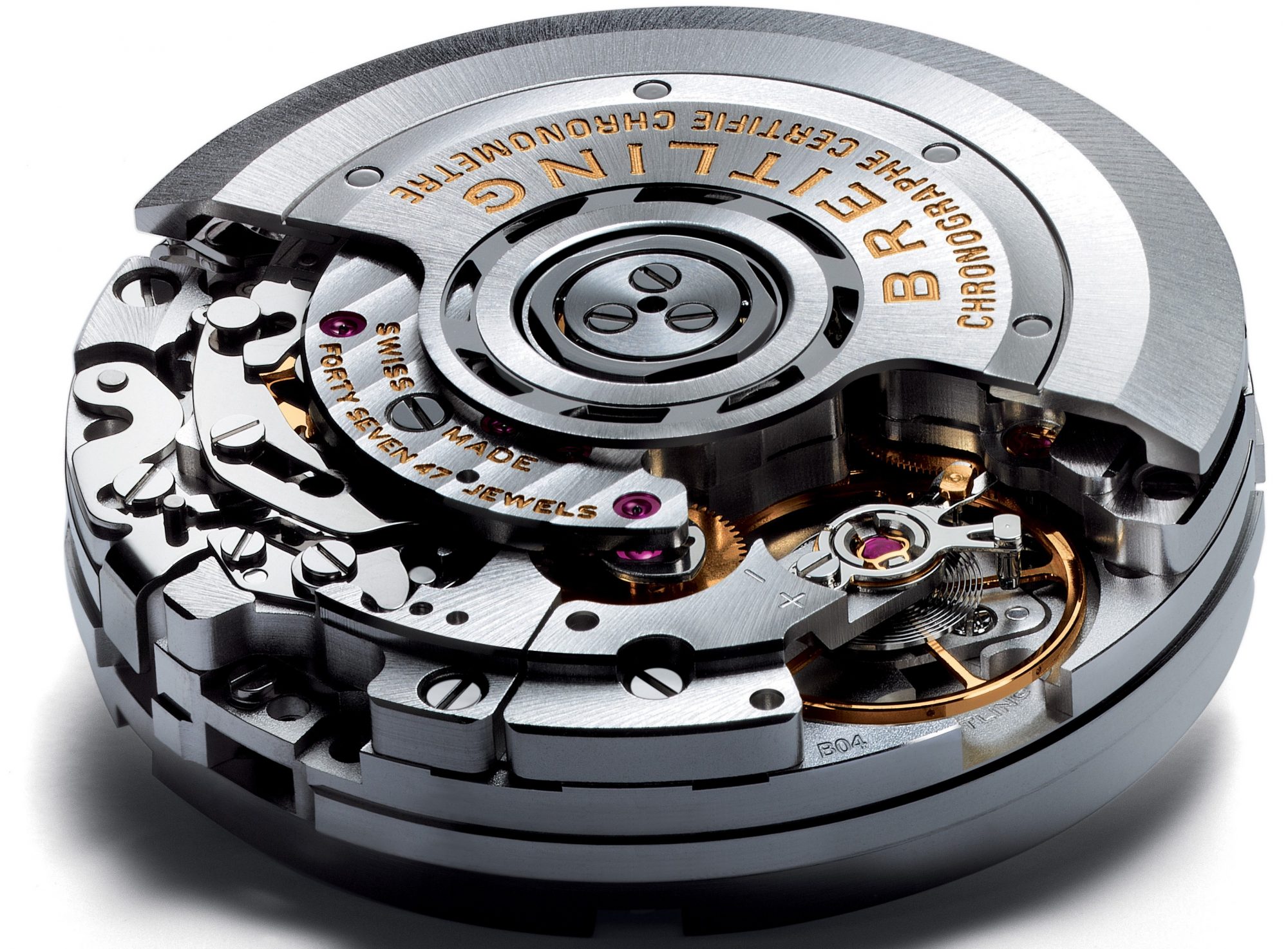 Breitling's watches have mainly used off-the-shelf ETA movements, whilst all COSC certified. But for its clients looking for a high premium timepiece that competes with other offerings on the market, equipped with in-house movements, Breitling followed the same path and in 2009, Breitling announced its first-ever in-house caliber.
Since Breitling is known for its iconic chronographs, it doesn't come as a surprise that the first in-house movement to be released by Breitling was a chronograph movement. The new movement was a result of research and development by Breitling since 2004. The result was the new 01 caliber.
Today, the Breitling caliber B01 is used in a number of collections and has received almost an iconic status.
In this article, we are looking closer at this iconic movement – the Breitling in-house caliber B01.
Breitling in-house caliber B01
It's safe to say that the release of the B01 was a huge achievement for Breitling. The first in-house caliber took Breitling from being a watch assembler (whilst having a long and respected history) to being a brand that gets to play in the big league with the other big Swiss watch companies.
Developing an in-house movement is not an easy feat. This can be seen from the time it took from the first drawing to the finished product launched. The Caliber B01 was sent by Breitling to COSC for testing in 2006, and after adjustments and perfections, the movement went into mass-production.
The caliber has a thickness of 7.2mm and a diameter of 30mm. Like all Breitling's movements, the Breitling caliber B01 is COSC certified. As mentioned, the B01 was the first entirely in-house made caliber, but since, Breitling has introduced a number of new in-house calibers such as the B04 and B05 movement. These are based on the tried and true movement construction that the B01 has. The Caliber B01 is a self-winding mechanical chronograph movement.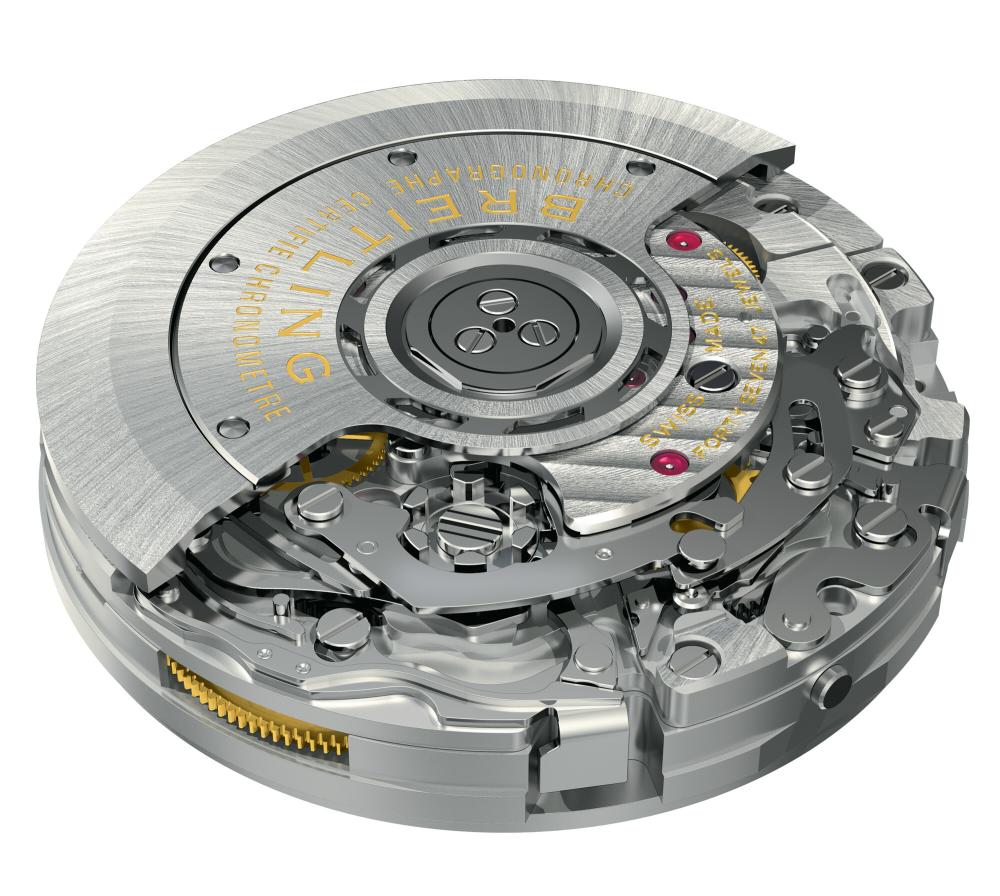 The idea from the very start for the new in-house caliber was to make it a mass-produced movement that would be used for a lot of Breitling's chronograph watches.
In order to make the manufacturing of the movement possible, Breitling built the Chronometrie 2 facility in La Chaux-de- Fonds whose purpose is to solely focus on the making of their in-house calibers. Both the B01 and the future in-house calibers that the brand would come to release in the following years. The new facility opened in
It's safe to say that the new Breitling caliber B01 was a success. In 2011, Breitling produced 40,000 B01 calibers.
Breitling in-house caliber B01 details and specifications
The Breitling caliber B01 is a column-wheel chronograph that uses a vertical coupling system. The latter eliminates hand jumping when the chronograph function is activated and reduces the risk of differences in its displays. Furthermore, the Caliber B01 uses a special index regulating system inside the movement which allows for an easy rate adjustment.
It has a patented auto-centering system for the reset hammers of its chronograph function. This system means that each individual caliber does not need to be individually adjusted. This, of course, helps streamline the manufacturing process and enable a mass-producing of the caliber.
It incorporates 47 jewels and offers a 70-hour power reserve, powered by one single barrel. It has a modular design which makes the movement easier to service. This also enables an instantaneous date-changing function. The B01 beats at a frequency of 4 Hz and the chronograph function is operated with a precision of 1/4th of a second. In traditional Breitling chronograph fashion, the B01 has a three-register layout and the registers are placed at 3, 6, and 9.
The register at 3 displays 30-minutes, the register at 6 displays 12 hours, and the register at 9 displays 60 seconds. The movement is equipped with a bimetallic automatic rotor. For improved resistance to shocks, it has a Kif shock absorber. As you would expect for a chronograph movement, it uses a column wheel. Lastly, it has a vertical clutch system which brings the benefit that it can start the timing function without effort at any time without affecting the pointer.
Breitling Caliber B01 finish
You can say that the Breitling caliber B01 is an industrialized movement. It is mass-produced and has far from the finish of watches from brands such as Patek Philippe or
But again, that's not the point of this movement. The caliber does not have a "Haute horology" finish but rather an industry-like finish on all parts. Much of this has to do with the fact that the movement is mass-produced, but also to keep the production costs down.
The finishing on the B01 caliber includes a Côtes de Genève pattern, diamond-polished bevels, snailing, and circular graining.
Models that use the Breitling Caliber B01
Today, a large number of watches use the caliber B01. Furthermore, even a larger number of Breitling watches use the several new caliber variations of the B01 (such as, as mention previously, the B04 and B05).
Collections from Breitling that use the B01 caliber include:
Chronomat 01
Chronomat 41
Chronomat 44
Montbrillant 01
Transocean Chronograph
Navitimer 01
Breitling Caliber B01 Specifications
47 jewels
70-hour power reserve
4 Hz/28,800 vph frequency
Index regulating system
Column-wheel
Vertical clutch
Instantaneous date change
Column-wheel chronograph
Vertical coupling system
COSC certified
7.2mm thickness diameter of 30mm
Bidirectional rotor
Kif shock absorber
Tudor and Breitling partnership
In 2017, Breitling and Tudor announced a partnership which meant that Tudor would use the Breitling B01 caliber for its Heritage Black Bay chronograph that they released the same year.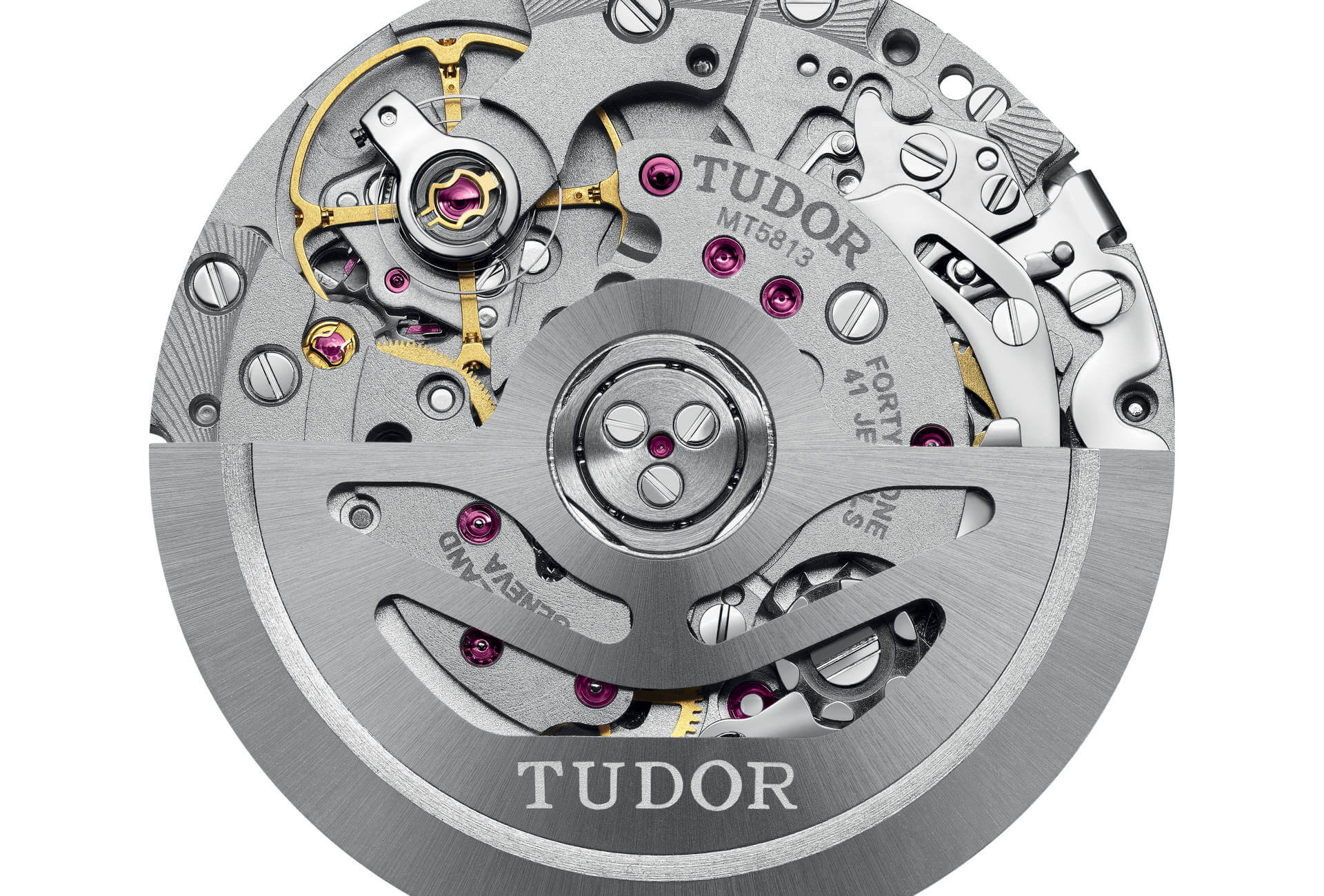 Essentially, this deal is an exchange between the two brands, since Breitling gets to use Tudor's in-house caliber MT5612 movement to power its Superocean Heritage II. Breitling has, in turn, renamed it the B20 after its modifications.
Tudor's modifications to the B01 caliber include a tungsten winding rotor, variable inertia balance wheel, silicon balance spring, and the axis.