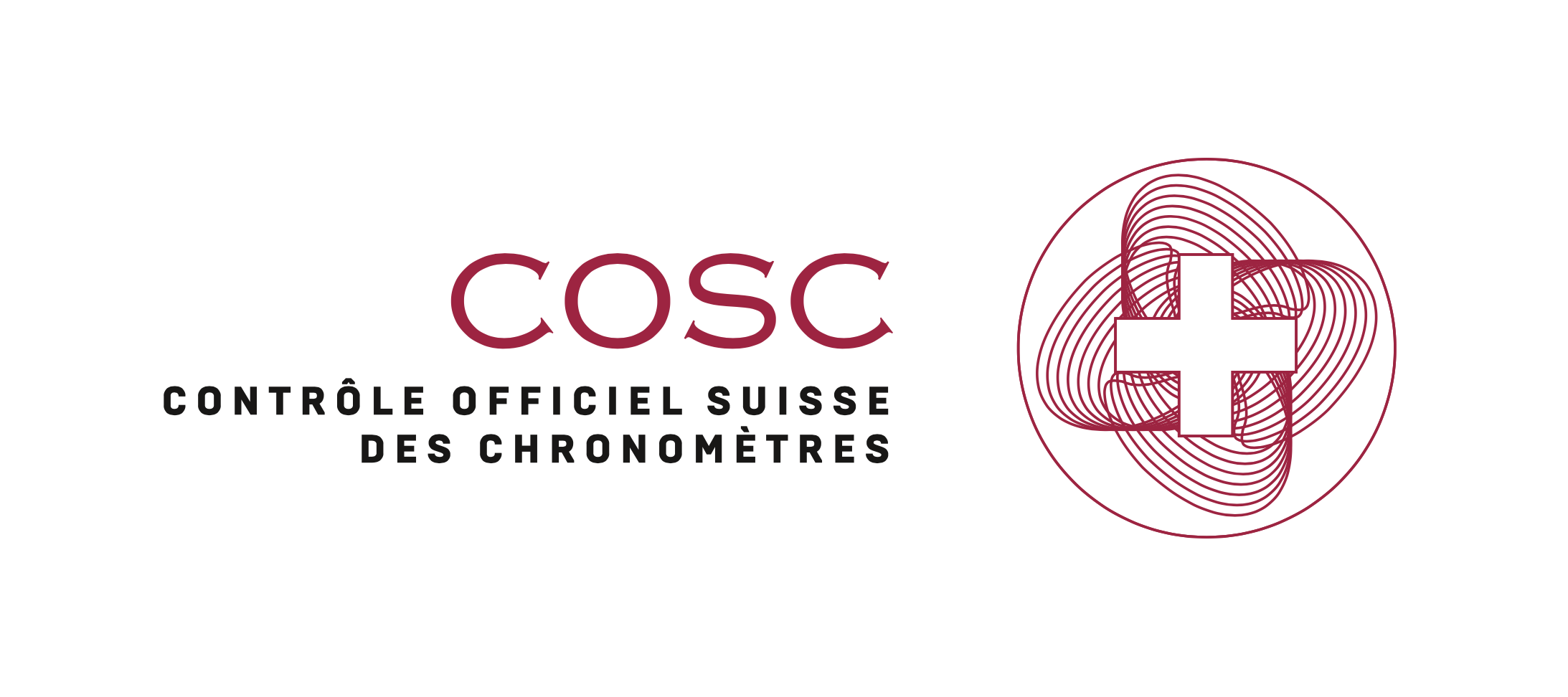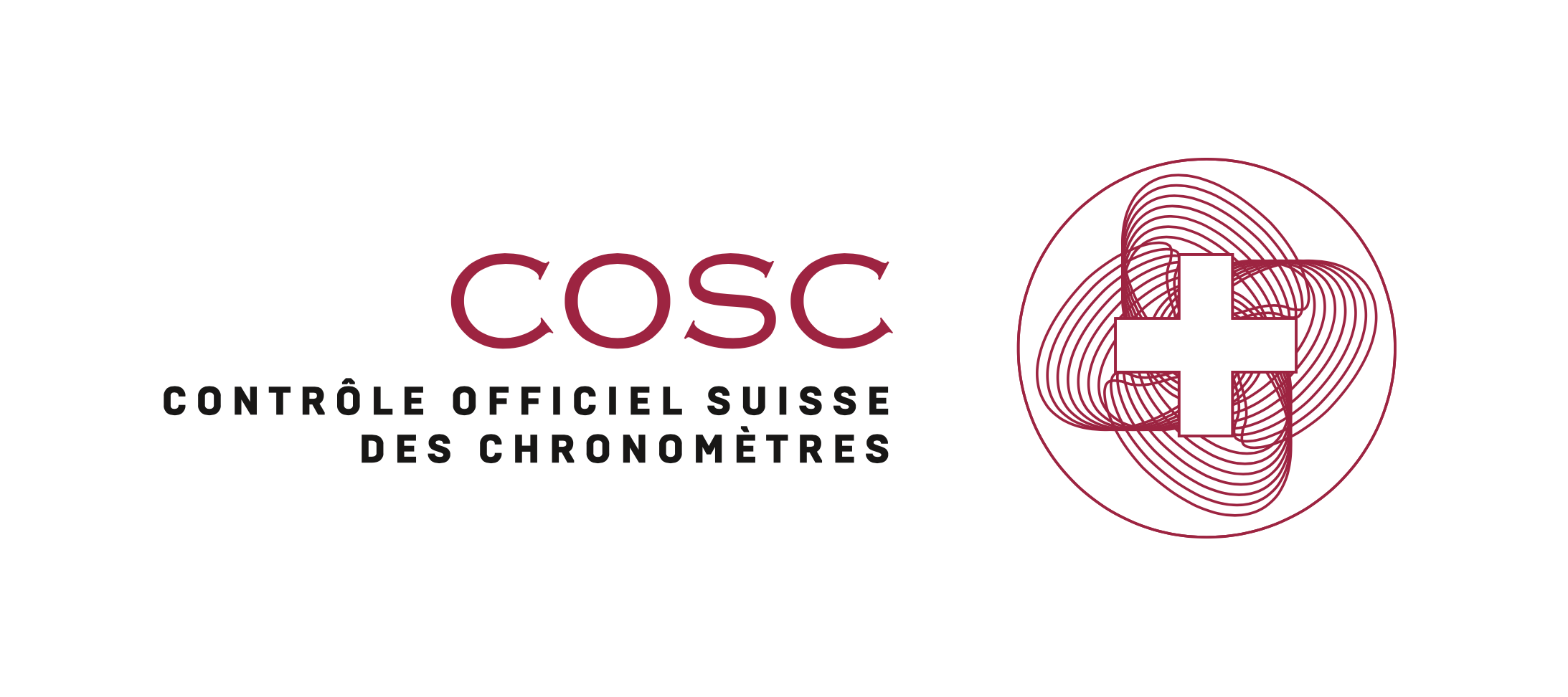 What is COSC? COSC-Certification For Watches [Complete Guide]
You have probably come across the term "COSC" and "COSC certification" more than once if you have been browsing for watches.
But what does this mean and how important is it? This is exactly what you will learn in this complete guide to COSC.
What is COSC in watches?
COSC is simply an acronym that stands for Contrôle Officiel Suisse des Chronomètres. Or, in English, the Official Swiss Chronometer Testing Institute.
COSC is a neutral and impartial Swiss non-profit organization of which a large number of manufacturers send their watches in order to have them certified.
If a watch passes the tests of COSC, it will receive an official certificate. Many watch brands include the chronometer certificate in the set when you buy a watch, for example, Breitling, but the certificate has of course been designed by the brand themselves to follow the design of the brand, but it will still include all the COSC certification numbers and details.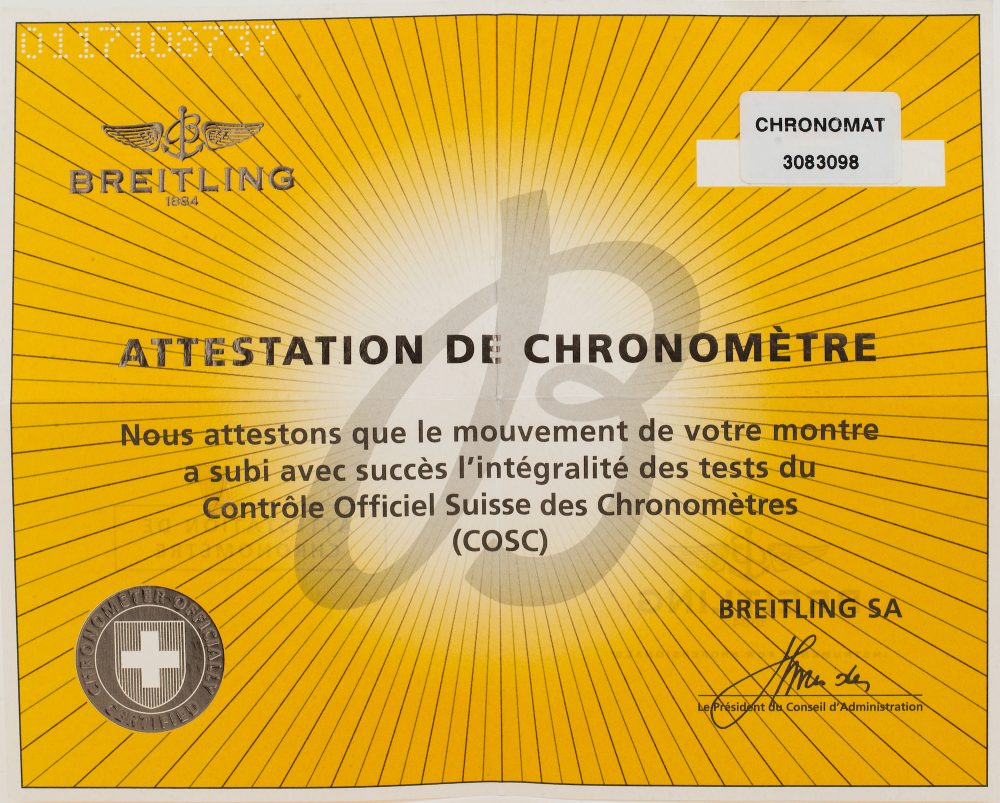 The certification today is proof of a highly accurate movement that has passed a number of stringent tests that the institute performs.
Contrôle Officiel Suisse des Chronomètres has existed in its current form since 1973, but movements have been tested for accuracy since the 1800s in Switzerland.
Furthermore, only Swiss-made watches can be submitted for this certification. In order to be able to call a watch "Swiss Made", there are strict rules that say that the movement has been cased in Switzerland, final tests are run there, and at least 60% of the production costs are generated in Switzerland. The requirements also say that the value of 50% of the components are made in Switzerland.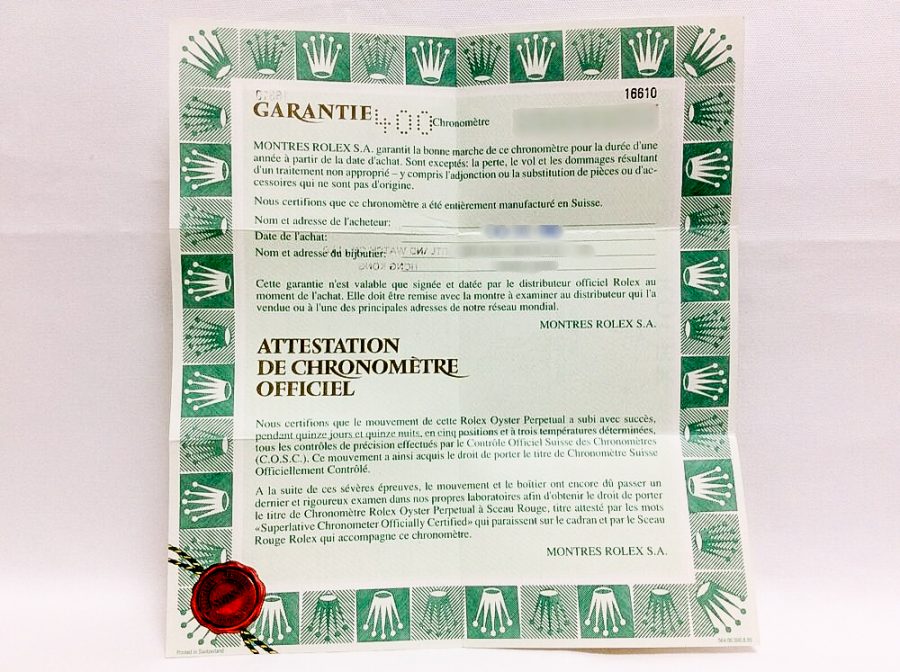 These requirements are in place because COSC operates as a non-profit, in place to strengthen the prestige and reputation of the Swiss watchmaking industry. This means that watches made, for example in Japan, cannot be COSC certified. But fine watches made in other countries often have their own qualification test with similar strict tests to prove their accuracy and reliability.
Because the COSC certification has such prestige and reputation in the watch industry, many watch brands choose to include a line of text about it in the dial. In Rolex's case, the text "Superlative Chronometer Officially certified" it's referring to this COSC certification. It's simply proof that the movements have an accuracy that is rather impressive for a mechanical movement.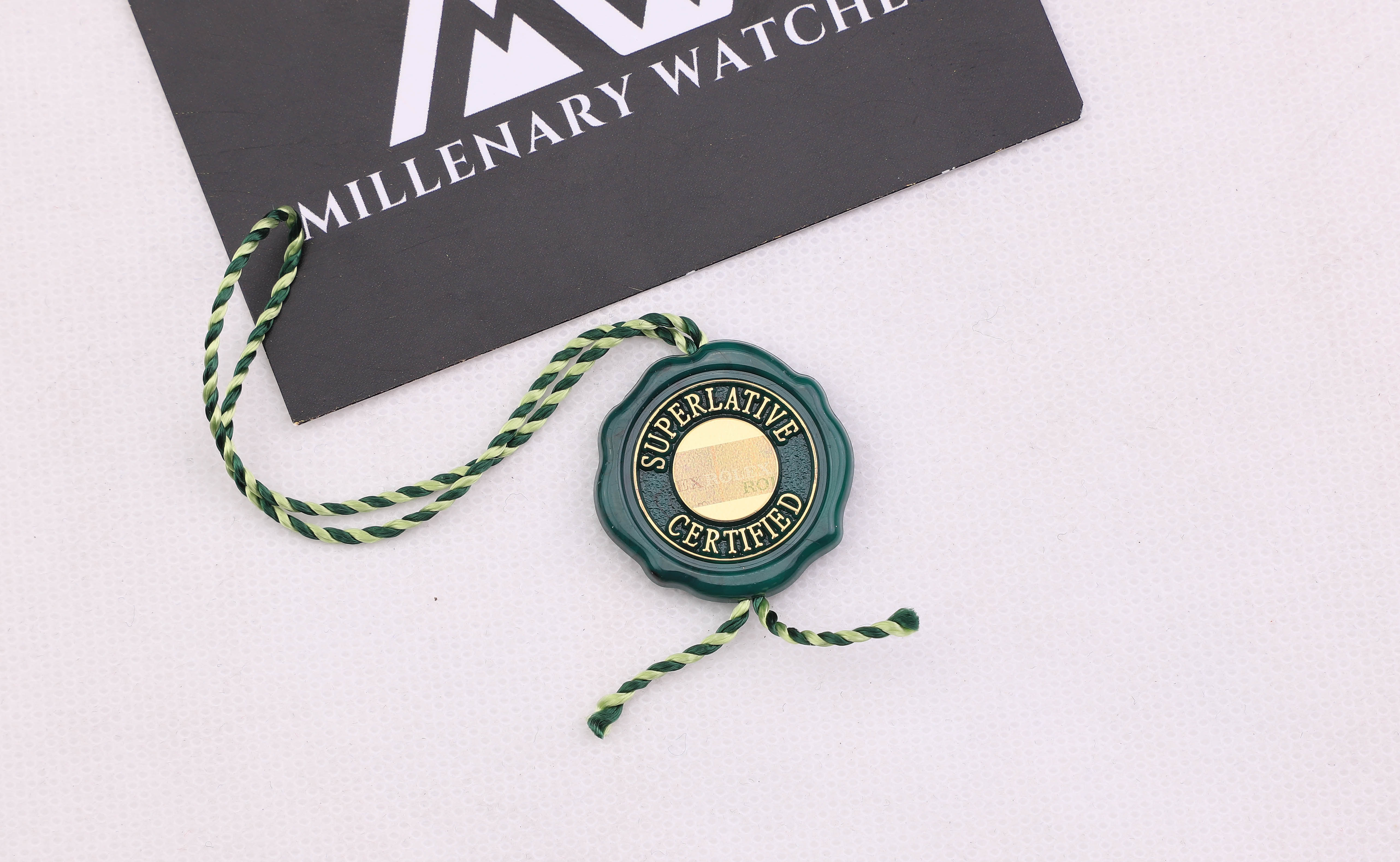 COSC certifies more than one million watches a year, but this is still only a small part of all Swiss watches (about 6%) Of all mechanical Swiss watches that are exported, 21% are COSC certified.
Requirements for a movement to be COSC certified
The requirements for a watch to pass the COSC tests are strict. Each individual watch will be sent to COSC by the manufacturer where it is tested in the following way:
The movement is placed in a 5-slot clasp, the movement is wound according to the brand's supplied guidelines, and the parts are placed in a temperature-controlled enclosure for 12 hours at exactly 73.4°F (23°C). Then, the watch is tested over the next 15 days daily. First and foremost, it is tested for accuracy, to ensure it does not lose or gain too much time. The more time a watch loses or gains per day, the less accurate it is, and if a watch is not accurate enough, it will not be COSC certified.
At the end of the 15-day period, the watches are judged by seven different criteria: average daily rate, mean variation in rate, the greatest variation in rate, the difference in rates in a horizontal and vertical position, largest variation in rate, and variation in rate depending on temperature and rate resumption. If a watch passes all of these criteria, it will be awarded the certification.
Have in mind that COSC does not only measure mechanical wristwatches. The institute also measures pocket watches, fixed time measuring instruments such as carriage clocks, and lastly quartz timepieces.
The COSC requirements for a quartz timepiece are based on the same ISO 3159 standard used in their measurement of mechanical wristwatches. Each quartz watch must also be thermo compensated which is a necessary feature of the high-accuracy quartz (HAQ) designation. What this means is that the quartz movement is able to adjust automatically to the frequency of the oscillator according to the ambient conditions. And lastly, it must also be completely watertight to keep moisture out.
Unlike mechanical watches, each quartz chronometer is tested for 13 days in one position. And it is tested at 3 different temperatures and 4 different humidity levels.
What is interesting to point out is that from 2016 and onwards, COSC no longer publishes the exact figure of watches from each watch brand which COSC has certified.
This was after a request from the brands to protect their confidentiality. However, 2015 is the last year that the numbers were published officially, and these are quite interesting to look at. In that year, 795,716 watches from Rolex were certified, Omega 511,861, and Breitling is third with 147,917 – of which 28,499 were quartz models. Furthermore, Swatch Tissot had 96,563, and Mido 49,962. Then came Tudor with 23,003, Chopard with 16,107, Zenith 6,824, Panerai 6,262. Since the official numbers are no longer disclosed, there is no way for us to know what the ranking of the different manufacturers is, nor the number of certified watches from each brand.
What is a chronometer?
A chronometer "is a specific type of mechanical timepiece tested and certified to meet certain precision standards. In Switzerland, only timepieces certified by the Contrôle Officiel Suisse des Chronomètres (COSC) may use the word chronometer on them". In other words, all timepieces certified by COSC are chronometers.
It is also common to hear the term "certified chronometer", and as you may suspect, it means that it is a watch that is certified by COSC (same meaning as chronometer).
Chronograph vs Chronometer
These two are often mixed up, however, they are certainly not the same thing.
A chronometer is a watch certified by COSC, but a chronograph is "a specific type of watch that is used as a stopwatch combined with a display watch". Simply as that.
COSC is a non-profit
As touched upon briefly earlier, COSC is a non-profit institute. It is spread out among three separate testing laboratories that employ 60 full-time staff members and 70 auxiliary employees. The laboratories are located in Biel/Bienne, Saint-Imier, and Le Locle.
Their laboratories operate seven days a week to keep up with the constant testing guidelines mentioned previously and 350 total days a year.
The operation has grown substantially since 1976 when the current iteration of the COSC was founded, only 200,000 watches passed. Today, that number is well over 1 million.
Conclusion
In the watch industry, people take COSC very seriously. Non-certified chronometers can be just as accurate as COSC watches, but it means that the manufacturer has gone above and beyond in proving its watches' reliability and accuracy.
It's just another level of peace of mind to you as an owner of knowing that your timepiece is tested to the extreme so you can be confident in your timepiece and that it will serve you accurately for many years to come.