Orient Bambino Version 4 FAC08004D0 Review & Complete Guide
The Orient Bambino is one of the most popular affordable automatic dress watches on the market. And for good reasons. Orient is a brand that not everyone is familiar with, as it, in some ways falls in the shade of brands like Seiko and Casio.
But that doesn't mean that Orient's products are inferior. In fact, quite the opposite.
There are few affordable dress watches on the market that offer the same build quality, finish, and of course in-house automatic movements like the Orient Bambino.
Another thing is that Orient consistently upgrades, revises, and improves its products, leading to new versions. In this article, we are going to look closer at the Orient Bambino version 4 reference FAC08004D0.
The fact of the matter is that price isn't always reflective of the value of a watch, and this is certainly the case with the Bambino. The FAC08004D0 is a watch that offers exceptional value for money, and offers much of what far more expensive alternatives do. At the same time, it is affordably priced.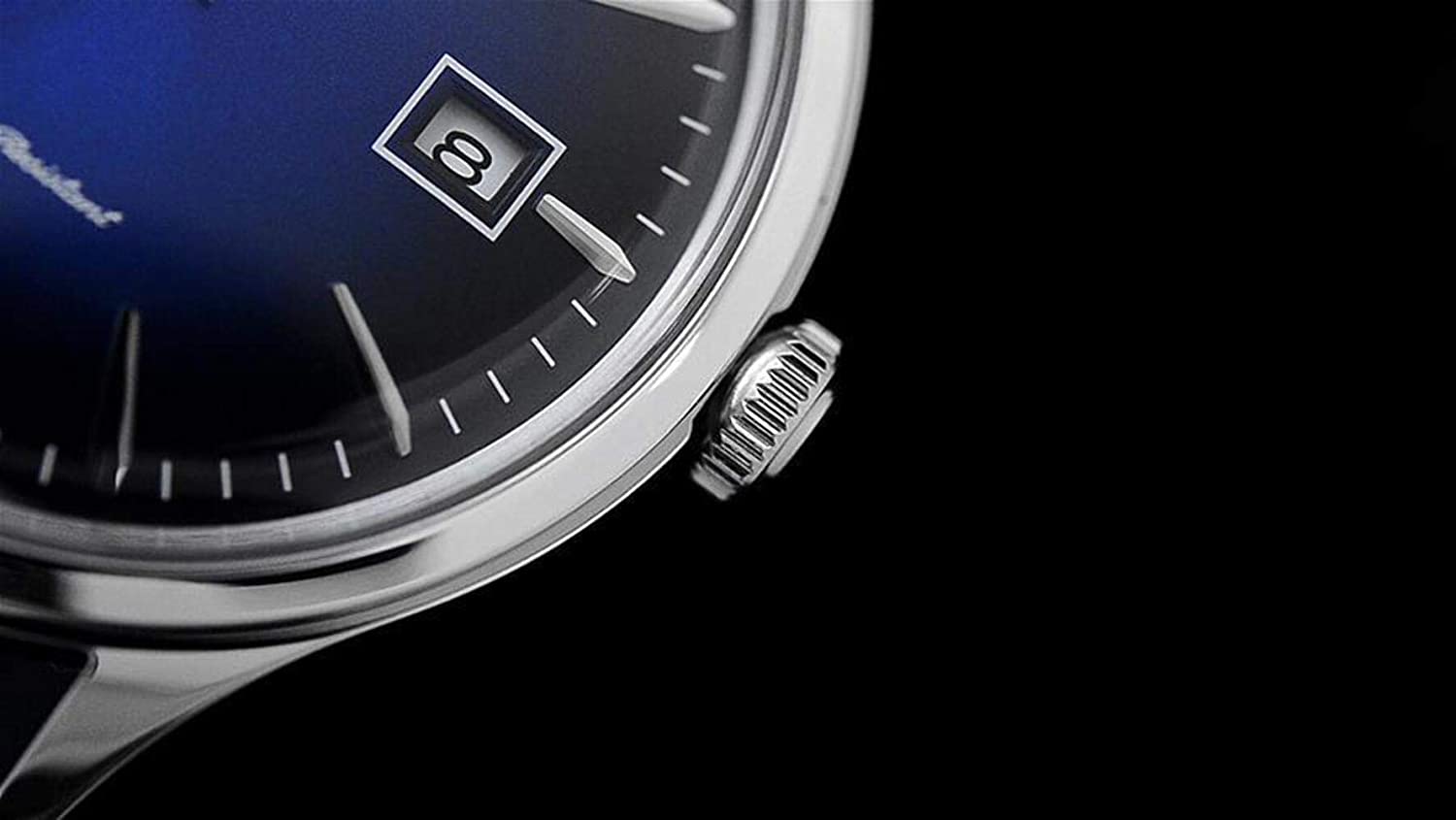 As an Amazon Associate, we may earn from qualifying purchases, at no extra cost to you.
Orient Bambino Version 4 FAC08004D0 Review
The Orient Bambino V4 FAC08004D0 is a classic, stylish, and elegant dress watch. It works great as an everyday watch or for formal occasions and has a sleek and modern design with vintage-inspired elements. What stands out about this watch is certainly its mesmerizing blue dial which is unique and vibrant.
Since this is version 4, a lot of things have happened since they introduced the first version. At the same time, Orient recognizes the fact that threes no reason to change an already winning concept, and therefore Orient has consistently made subtle tweaks and improvements in its performance in order to make it higher quality, more appealing, and more durable.
The biggest upgrade to this watch is the fact that Orient upgraded it with a new movement. This movement is more accurate, more robust, and has both manual-winding and hacking seconds functions.
Now without further ado, let's look closer at the Orient FAC08004D0 and what it has to offer.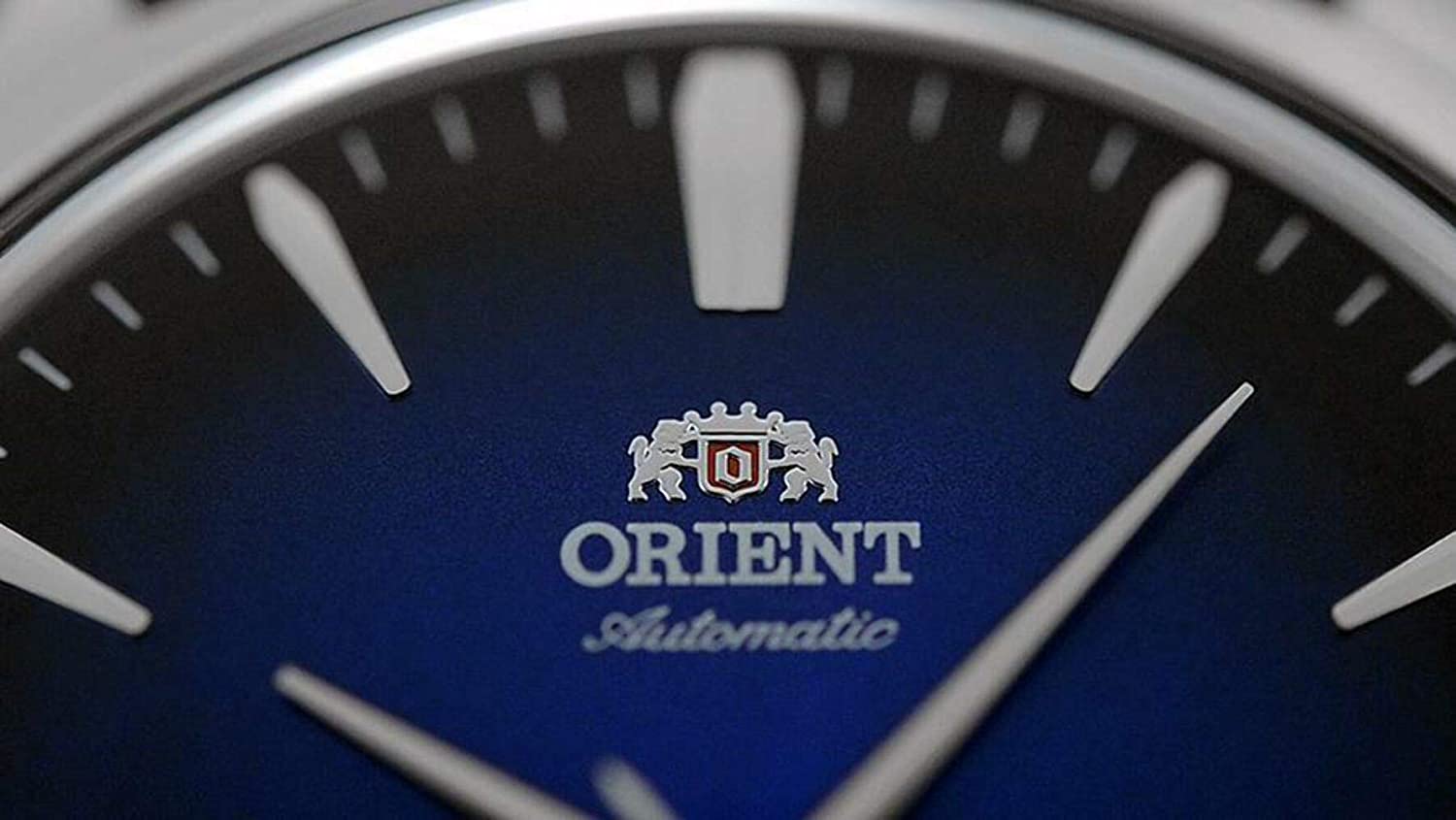 Orient Bambino Version 4 FAC08004D0 Case
Starting off with the case, the FAC08004D0 has a sleek, minimalistic, and classic case design which gives it a perfect elegant appeal. When it comes to dress watches, the case shouldn't steal the show, but rather complement the dial, and this is something that Orient has done exceptionally well.
The case measures 41mm in diameter and has a thickness of 11.8mm. With that said, the watch has a relatively classic size that doesn't stand out of the ordinary. The case is completely polished in order to achieve a sleek and elegant appearance. The lugs are relatively short and curved and blend into the case nicely. In addition, thanks to the relatively short lugs, the case isn't perceived as huge, meaning it is suitable for many different wrist sizes.
Positioned at 3 o'clock on its side, the watch has a push/pull crown. The crown blends in nicely without stealing the show. This watch has a water resistance of 30m which obviously isn't great, but it's important to keep in mind that this is a dress watch and it will likely not come anywhere near water. In practice, it means it can withstand water splashes but shouldn't really be submerged underwater.
On top of the case, we have what is one of Orient's iconic and distinctive traits which has a domed which gives a vintage-inspired appearance. This is a nice touch that makes it stand out from the crowd.

FAC08004D0 Dial
In addition to the crystal, the watch also features a domed dial. The domed dial adds depth to the watch and most importantly, gives it a vintage-inspired appearance. The highlight of this dial is however the blue design which starts at a lighter blue in the center and then shifts to a very dark, almost black color towards the edges. For convenience's sake, the dial has a date window at 3 o'clock which is great for knowing what date it is with just a glance at your wrist.
Orient has done a great job with the finishing and detailing of the watch which makes it appear much more expensive than it actually is. For example, the dial has applied polished metal hour markers with a diamond shape and beveled design. These reflect the light beautifully and also give depth to the dial. The hands have a matching polished and beveled design. The dial has a sunburst finish to it as well which makes it reflect the light beautifully, and together with the color transitioning makes it very vibrant. You will surely never get bored of this dial.
To add some color, Orient has painted the tip of the seconds hand red which pairs with the blue background perfectly.
The sunburst dial colors are striking as well: the midnight blue and emerald models feature an ombré-like transition which is most likely attributed to the domed dial.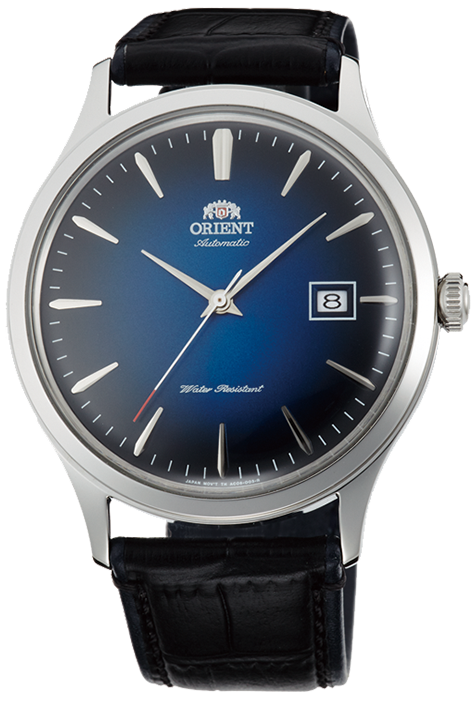 FAC08004D0 Movement
Inside the watch is the Orient in-house Automatic caliber F6724, and this is certainly one of the highlights of this watch. The F6724 is an automatic movement with manual winding and hacking seconds functions.
This is a great movement that has proven to be a robust and sturdy workhorse that can continue to tick for years without service or maintenance. The previously used movement also had accuracy issues, but this one is quite good when it comes to accuracy as well.
All in all, the movement is great in a number of ways. It is high-quality, high-performing, and most importantly, in-house. There are few watches in this price range that use automatic in-house movement, so this is a big deal.
Specifications
Movement: Orient in-house automatic caliber F6724 with manual winding and hacking functions
Case: stainless steel
Crystal: domed mineral
Power reserve: 40 hours
Water resistance: 30m
Diameter: 41mm
Thickness: 11.8mm
Lug width: 22mm
Conclusion
All in all, it's safe to say that the Orient Bambino Version 4 FAC08004D0 is a watch that offers great value for money in so many aspects. It is well-built, has great attention to detail, is stunning to look at, and has an in-house movement.
This watch has an elegant and classy design which makes it suitable for formal occasions and everyday wear when you wear more formal attire. Its stunning dial and attention to detail will ensure you will never get bored. And with its price, you really cannot go wrong with this timepiece.
The Orient Bambino Version 4 FAC08004D0 is available to order on Amazon.