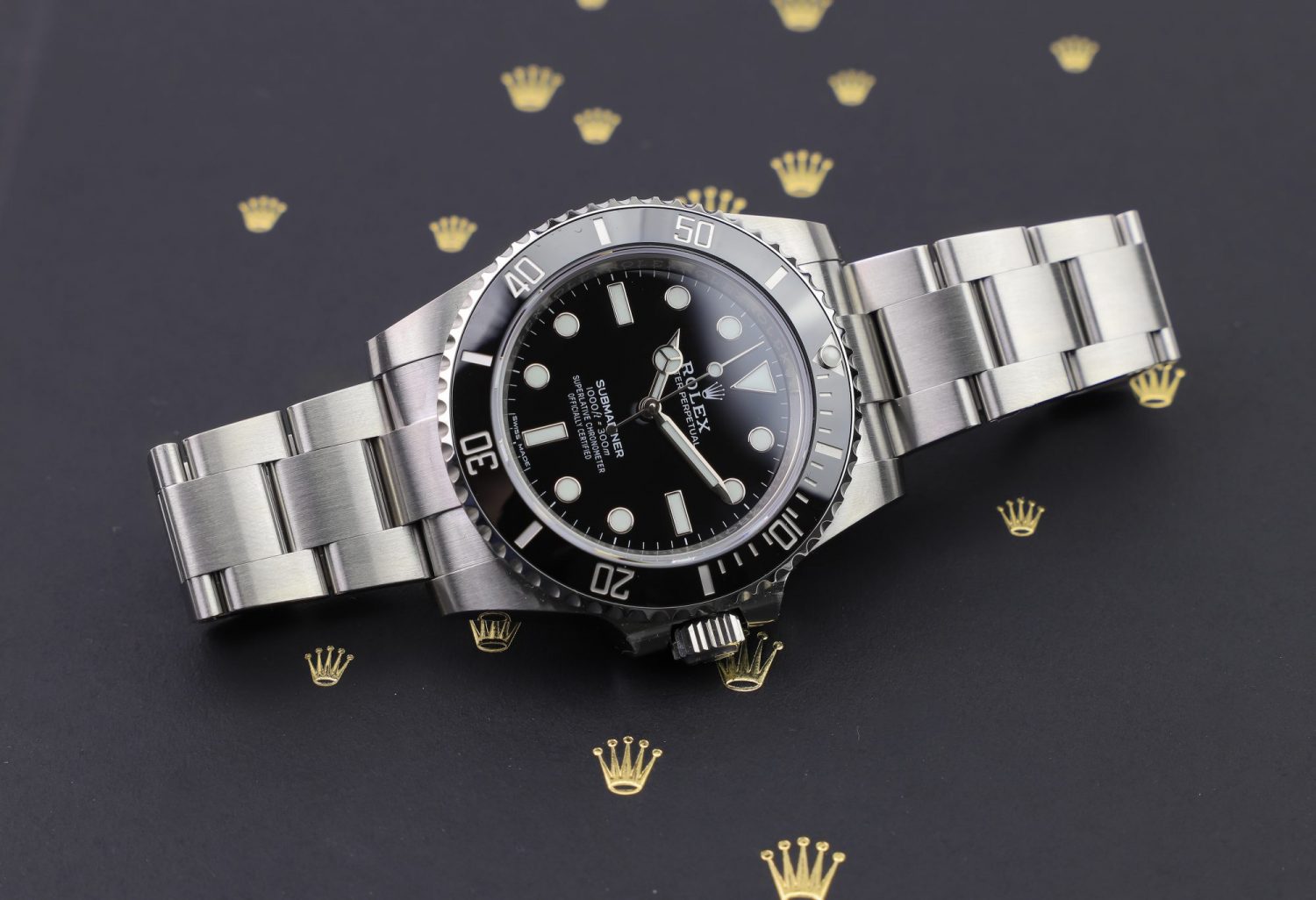 How much does a new Rolex Submariner cost? (In 2020)
Note: This article has been updated in January 2020 to be up-to-date.
If you are looking for the answer to that question, you have come to the right place.
The Rolex Submariner is one of the most iconic and distinct watch models from Rolex. Not only does it have historical importance, as it was released as one of the first dive watches in the 1950s, it has also come to become the design ideals for a dive watch.
Since the first Rolex Submariner was first launched, Rolex has released a large number of Submariner variants. The prices of the Rolex Submariner watches have also changed over time – both on the new and secondhand market.
When people think about the Rolex Submariner today, most people think about the modern Submariner reference 116610LN with a black dial and a black bezel. This Submariner is priced at 8500 EUR. The cheapest Rolex Submariner in stainless steel is the Rolex Submariner no-date 114060 which costs 7500 EUR. The most expensive Rolex Submariner is the Rolex Submariner in full white gold, reference 116619LB. This is based on the official Rolex retail prices in the writing moment.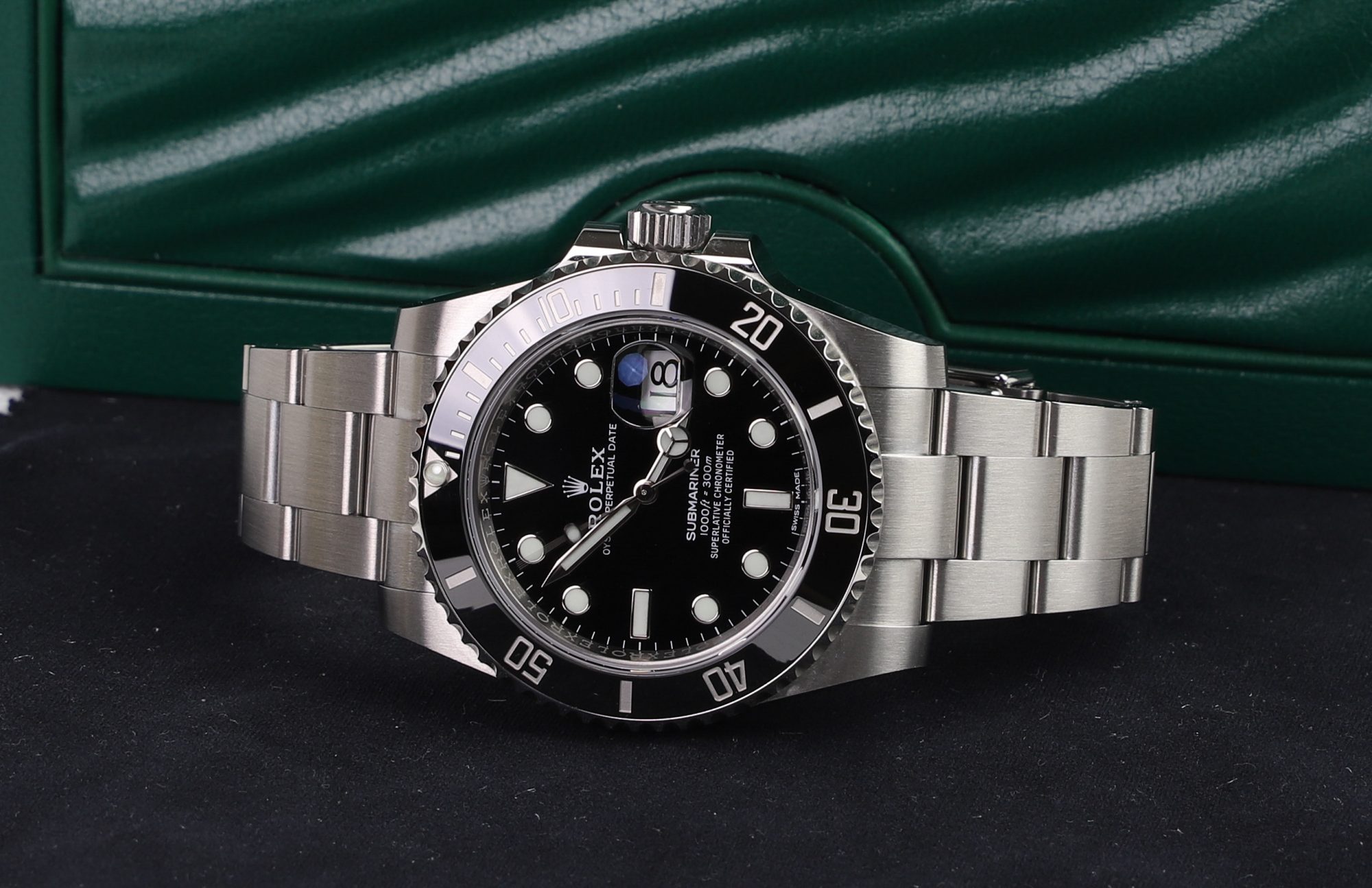 In this article, we will go through how much a new Rolex costs and what makes the prices vary. When you take a step towards gold with the Submariner, you can expect the price to increase quite substantially.
Rolex Submariner variants affect the cost
Remember that the Rolex Submariner has been in production since the 1950s. This means that there is an ungodly number of Rolex Submariner watches to choose from.
The only catch is that if you want to buy a new Rolex, you will have to choose from the newer versions.
Now, it is also good to factor in the difference between authorized Rolex retailers and secondhand watch dealers, because these operate a bit differently.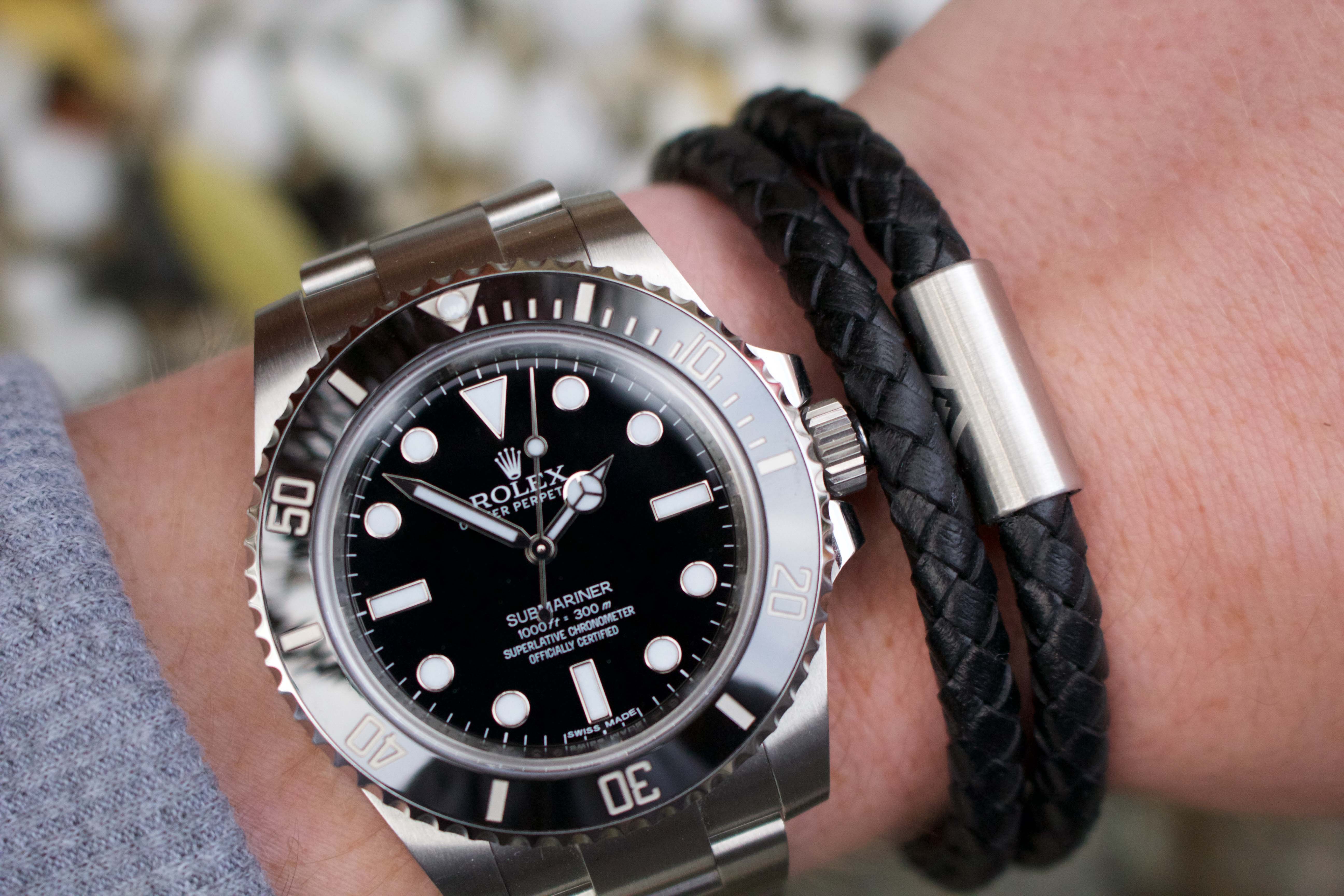 The Rolex retailers have to set their prices according to what price Rolex has set in that respective country for that specific model. But what is particularly interesting is that because of the extremely high demand, in particular for the Rolex Submariner watches in steel, they are getting increasingly difficult to get a hold of, even impossible, with authorized Rolex retailers closing their interest lists, This is because the boutiques are simply not getting enough of them.
This is where it gets interesting, both regarding availability and pricing.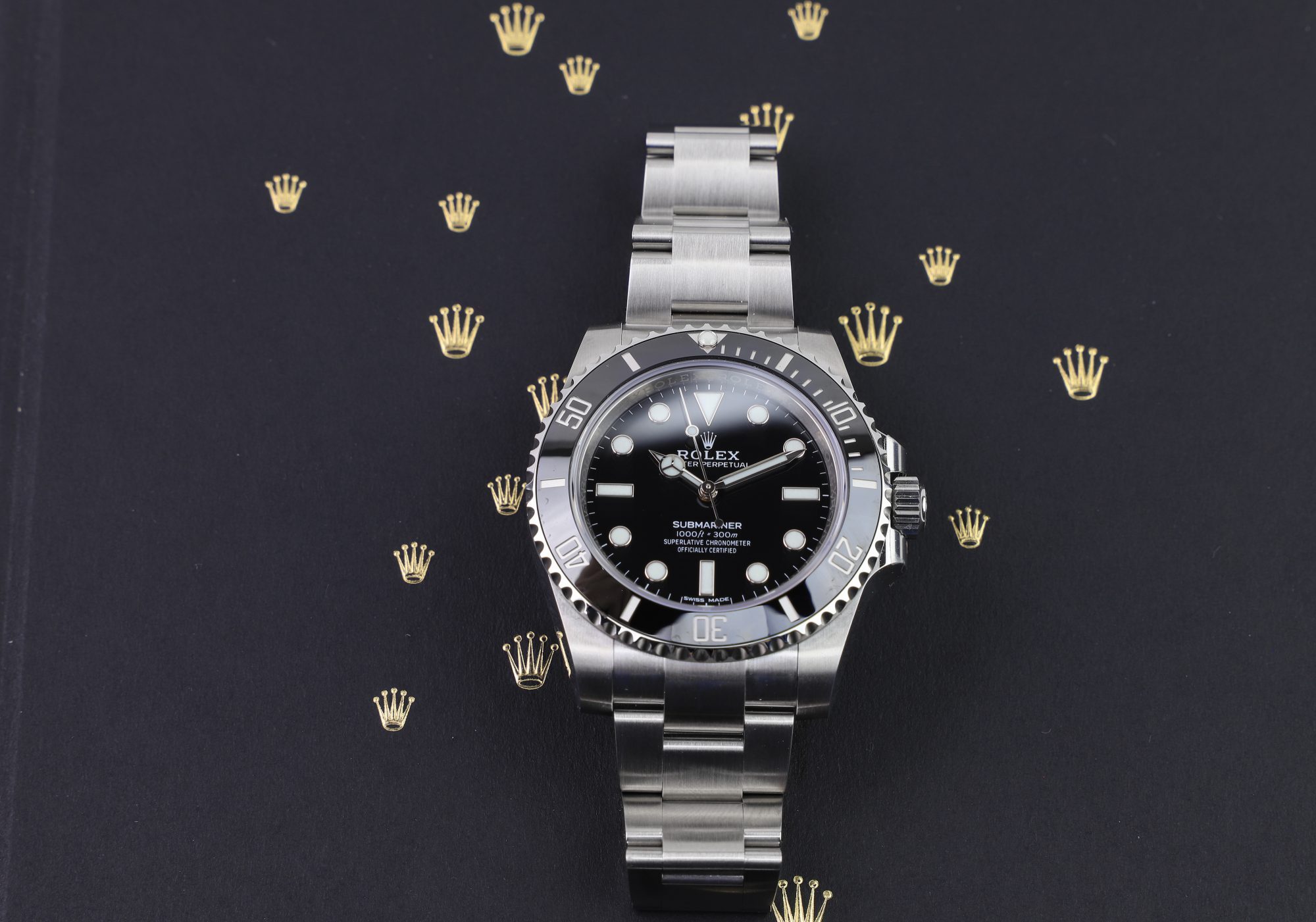 Secondhand watch dealers operate things differently from authorized Rolex dealers. These dealers buy the watches they can find and can often come across popular Rolex models that the authorized dealers are lacking. And as you can expect, secondhand watch dealers adjust their prices according to the demand, and this is why, at least right now, the prices of the steel Rolex
Submariner watches cost more on the secondhand market than they do at an official retailer. People are simply willing to pay a little extra just to get their dream piece right now, as opposed to going to an authorized Rolex retailer and waiting to finally get a Rolex Submariner, if it ever comes. This principle mainly applies to steel Submariner watches. And remember, in this article, we are mainly talking about new Rolex Submariner watches, but have in mind that you can, of course, buy new watches on the secondhand market as well.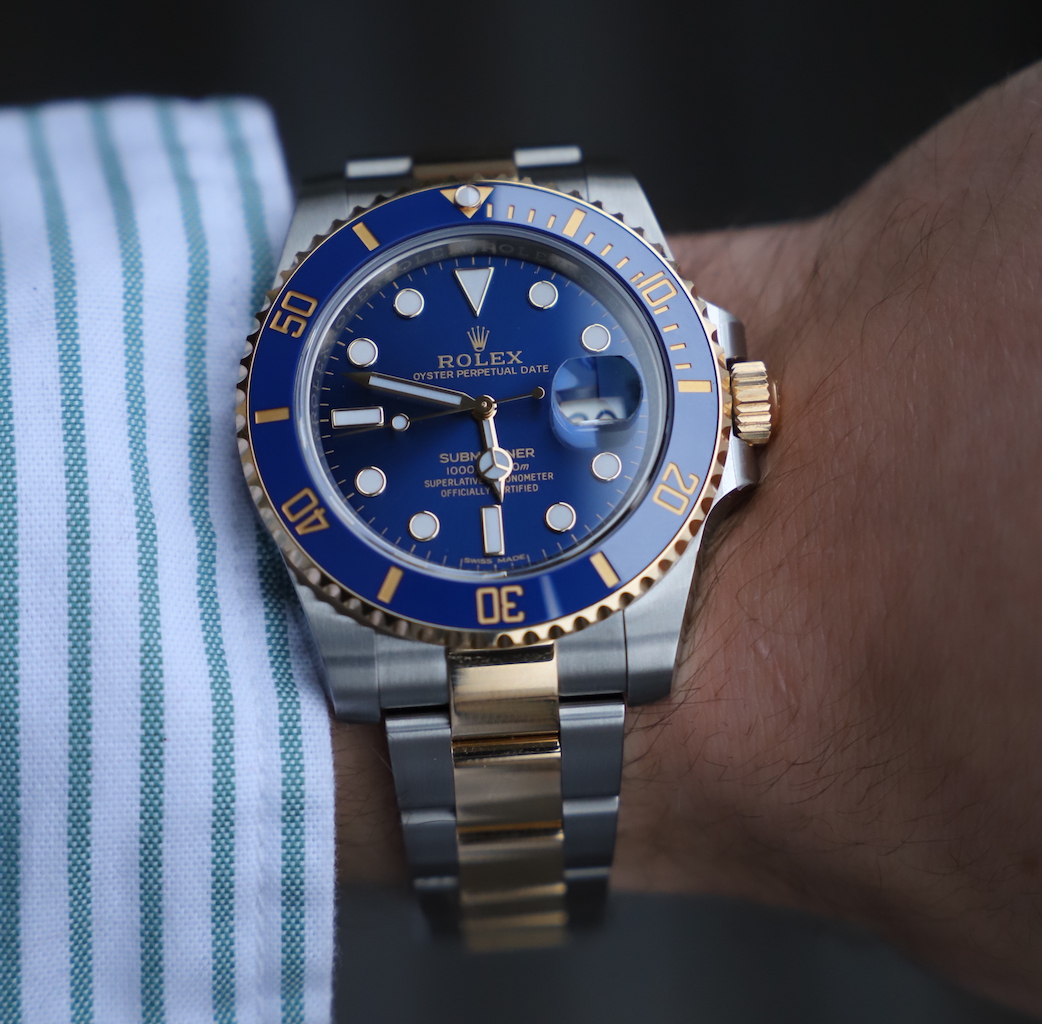 The cost of a Rolex Submariner not only depends on the model, but also if you buy a used, slightly used, what year it is, and so on. Another aspect to consider is that the Rolex Submariner cost varies not only depending on the model but also because Rolex continuously increases prices.
How much does a Roles Submariner cost?
Here are the costs of different Rolex Submariner watches in euros which are still in production. If you want to know how much a Rolex Submariner cost in a different currency, you can simply Google "Amount EUR to "insert currency here"
Rolex Submariner Date 116610LN: €7,800
Rolex Submariner No-date 114060: €6,850

 

Rolex Submariner Date green 116610LV: €8,300
Rolex Submariner Full white gold 11619LB: €33,800
Rolex Submariner Full yellow gold 116618LN: €31,300
Rolex Submariner full yellow gold 116618LB: €31,300
Rolex Submariner Two-tone 116613LN: €12,350
Rolex Submariner two-tone 116613LB: €12,350
Updated Submariner retail price 2020
Rolex announced a worldwide price increase in 2020 and thus new retail prices apply. This will allow you to compare the price differences from the previous retail price and the new retail price. Find the new Rolex Submariner retail prices below:
Submariner reference 114060. Recommended retail price:  €7500.
Submariner reference 116610LN. Recommended retail price:  €8500.
Submariner reference  116610LV. Recommended retail price:  €8900.
Submariner reference 116613LN. Recommended retail price:  €13400 .
Submariner reference 116613LB. Recommended retail price:  €13400.
Submariner reference 116618LB. Recommended retail price:  €34000.
Submariner reference 116618LN. Recommended retail price:  €34000.
Submariner reference 116619LB. Recommended retail price:  €36500.
As you can see, a Submariner 114060 no- date now costs almost the same as a Submariner date did before the price increase, so it's quite a substantial price increase.
NEW ROLEX SUBMARINER 2020 Models retail price
Below, you can find the retail prices in EUR for the new Rolex Submariner 2020 novelties:
Rolex Submariner 126613LB. Recommended retail price: €13450
Rolex Submariner 126613LN. Recommended retail price: €13450
Rolex Submariner 126618LB. Recommended retail price: €34800
Rolex Submariner 126619LN. Recommended retail price: €37900
Rolex Submariner 126610LV. Recommended retail price: €9050
Rolex Submariner 126610LN: Recommended retail price: €8650
Rolex Submariner 124060: Recommended retail price: €7650
Secondhand vs retail Rolex prices
Today, it is extremely difficult to get your hands on a Rolex Submariner in steel from an authorized retailer, and thus at retail price. The supply of the Rolex Submariner is limited, but there are plenty of them on the secondhand market to buy. So that means, would you rather pay a little extra to skip waiting lists and get the watch directly?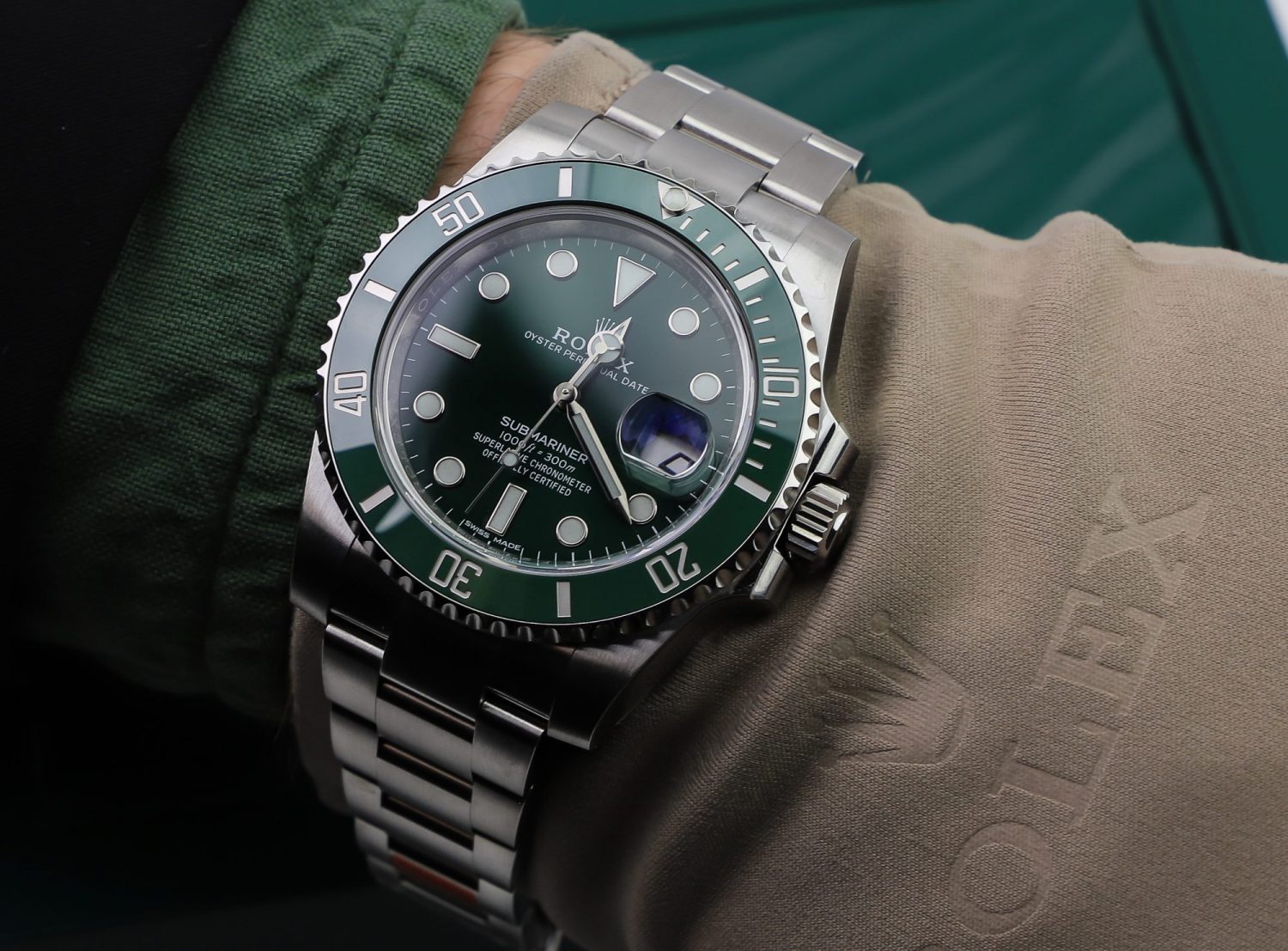 Depending on where you buy your Rolex watch, which you can choose can vary. Many people choose something else when they can't get what they want in the Rolex boutique (which is normally the steel variants – Rolex currently makes three).
If you can consider buying a pre-owned Rolex, you have substantially more Submariner watches to choose from, as you can also choose from vintage Rolex Submariner watches.