Top 12 Best luxury Lighters [Guide & Review]
Lighters have been around since the 1800s when the German chemist named Johann Wolfgang Döbereiner invented the first lighter. Today, their core concept remains the same, whilst some things have changed.
A lighter can be convent to have with you at all times. Whether you are smoking, need to light a candle, light a fire, or do anything else.
As with most items, there are cheap and affordable items, and there are luxurious and qualitative items that put utmost importance on the use of material, build quality, and finish. And as is the case when affordable and cheap items are put in contact with qualitative luxury items, it is partly about how long the item will last, but also the feeling it gives you, as well as the impression it can make.
It looks a lot more proper to use a luxury lighter than to use a generic and basic plastic lighter that is to be thrown away of when it runs out of gas.
One of the main reasons you may want to consider a luxury lighter, just like many other luxury items, is that it is an investment, rather than a consumer purchase. Not necessarily an investment in terms of increase in value (although that is possible, just look at certain Cartier and Zippo, as an example), but as an investment in an item that can last for generations, follow you through all of life's events, and become a precious heirloom or historical gift further down the road.
If you are a person who appreciates high-quality luxury items, you know exactly what we are talking about. You can either opt for cheap items which you have to replace constantly, or you can opt for more qualitative, luxury items, which will last a lifetime, but also bring you lots of joy whilst using them.
And investing in these types of luxury items tells a lot about you as a person and that you pay attention to the details and appreciate quality.
If you have decided to invest in a luxury, high-quality lighter, you have come to the right place. But if you have started to look around for lights, you have probably also noticed that there are endless options on the market. But which should you choose?
Because of the vast amount of lighters available on the market, it can be difficult to make your pick. This is why we have created this guide and list of some of the most popular luxury lighters that have received great reviews and are considered some of the best there is.
When talking about luxury lighters, most of them are very similar at their core. The biggest difference, apart from the way you light them, tends to be in the materials they are made of, the decorations they have, and which brand produces them.
Some of the most popular and iconic brands of luxury lighters are:
Zippo
S.t. Dupont
Colibri
Cartier
These are brands that have become synonymous with quality and luxury, and therefore make products that you can rely on, so this is a great start. Some brands are specialized and focused on making lighters, whilst others are known for making luxury goods in general. But have in mind that "luxury" does not necessarily have to be about the material itself (for example gold and diamonds), but it can equally simply mean extremely high quality.
Top 12 Best Luxury Lighters
As an Amazon Associate, we may earn from qualifying purchases, at no extra cost to you.
---
Xikar Verano Flat Flame Cigar Lighter
This stylish lighter is made in an all-metal construction and will hold up really well over time. It has mostly a brushed finish but also diamond pattern accents for improved grip and stylish look.
At the bottom, it has an overused fuel adjustment wheel. It has a double flame for better beath and at the same time great fuel efficiency. It is easy to use, portable, and has a simple and clean design. It doesn't stand out from the ordinary, but instead, it is quality in its purest form.
The lighter is ignited by pulling down the diamond-patterned "button" on its side.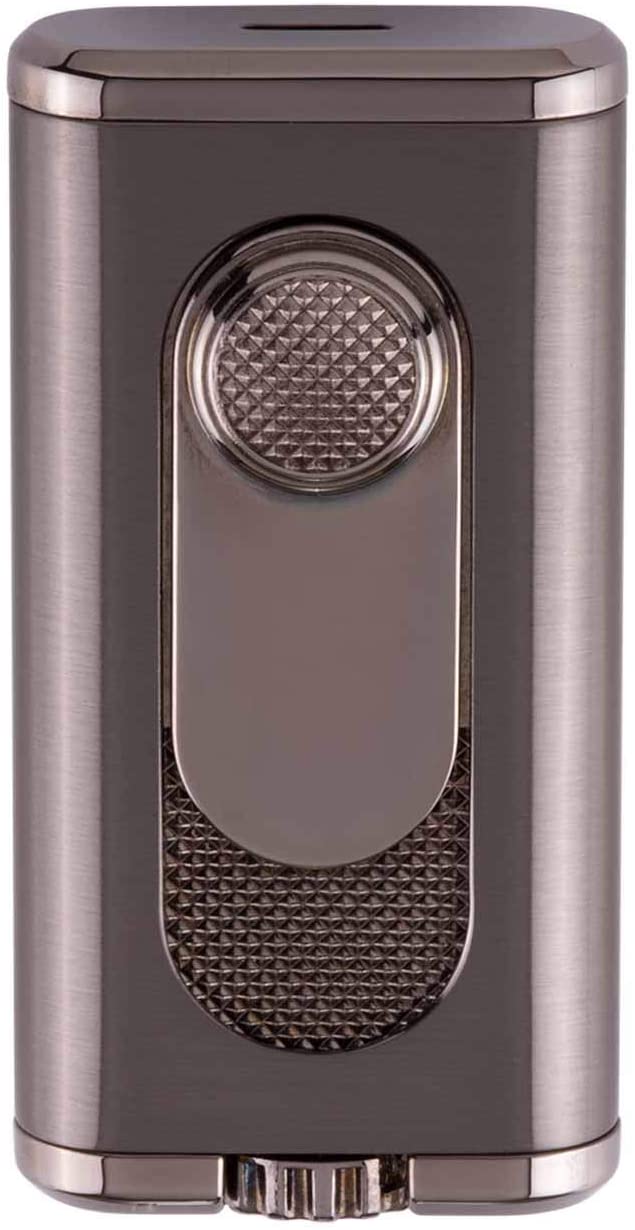 ---
Zippo Luxury Diamond Design Pocket Lighter
This is a very stylish and elegant lighter from one of the most, if not the most, well-known and respected lighter manufacturers in the world.
The lighter has the classic Zippo shape and is made in gold-plated brass. The case of the armor is 1.5 thicker than standard Zippo lighters, and this is what allows its luxurious engraving which really enhances its appearance.
From the very first glance, it looks very exclusive and luxurious, like a piece of art.
If you want a stylish and timeless luxury lighter with uncompromised quality, this is definitely a lighter you should have in your possession.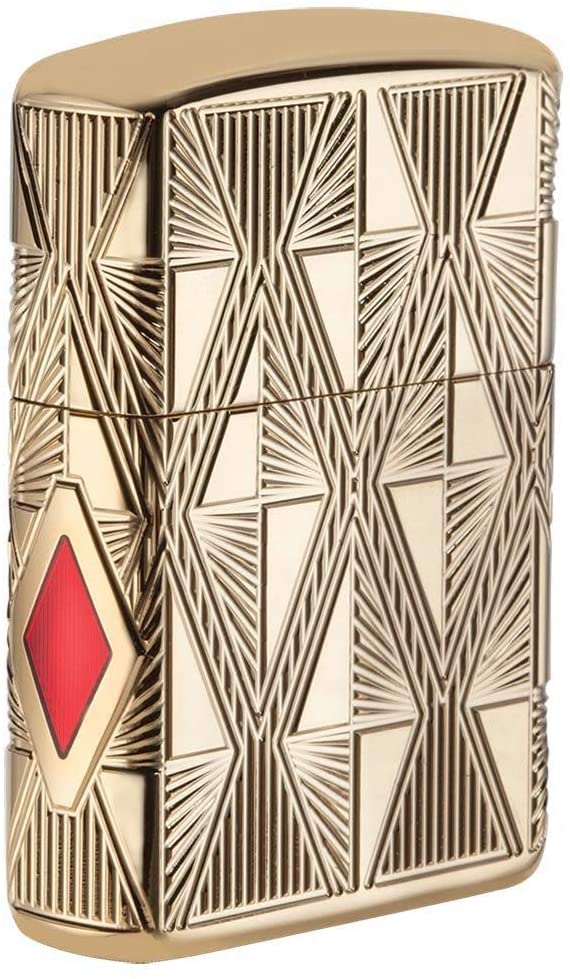 ---
S.T. Dupont "Initial" Line Golden Bronze Finish Flint Lighter 2017
The epitome of luxury is highlighted in this stunning piece of art lighter from St. Dupont. It has a timeless vintage-inspired design that reflects a gentlemanly style like that of the old days. It is specifically inspired by a model which was created by S.T. Dupont in 1941, for a special commission from the Maharaja of Patiala, who was known as "The Magnificent".
It has a timeless luxury design with a guilloche cap, rounded corners, and a roller for the ignition. It offers a double flame cigar burning which ensures perfect light. It uses brass as its base for improved resistance and durability.
This is a lighter that is sure to catch everyone's attention and which says everything about you and your sense of style without having to say a word. It is appreciated just as much today as when it was originally launched in 1941.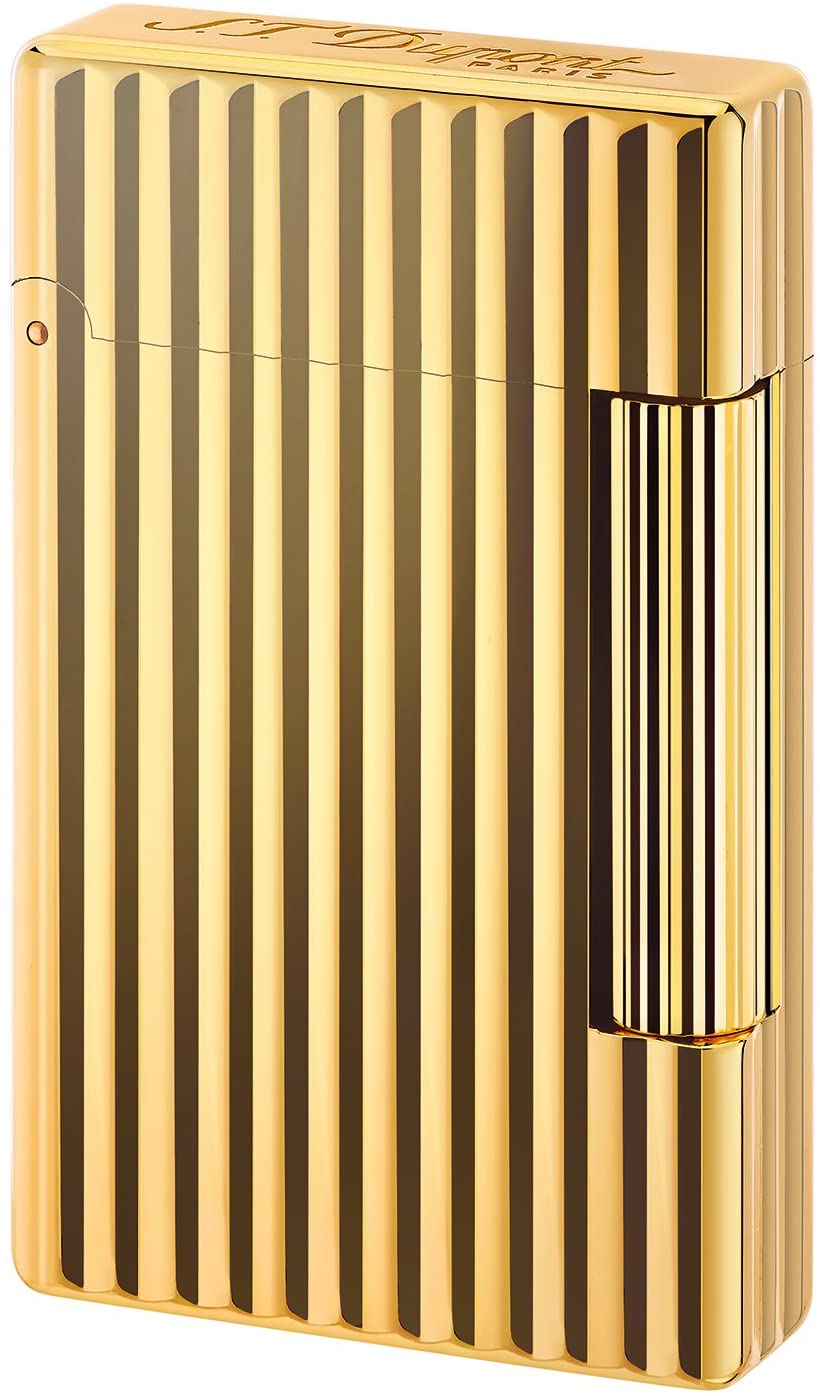 ---
S.T. Dupont SLIM 7 golden brushed Jet Lighter
This lighter can be described as a modern lighter with a classic look.
It is slightly different from many others thanks to its sleek and slimmer profile, giving it a more modern appearance. At the same time, it has everything you would expect in a luxury lighter from one of the most prestigious brands in the world. It has a brushed matte gold color on its sides, contrasted by a polished side for the ignition. It has a flame torch with great power, allowing you to operate it regardless of the weather conditions.
Modern meets classic in a luxury form and its slim design makes it easy to carry in your pocket.

---
Colibri Quasar Table Triple Flame Lighter
Colibri is a lighter brand that is first and foremost focused on making high-quality lighters that will last a lifetime. But this particular lighter also has a modern and sleek design with pyramid shapes on it.
It is a quality lighter for those who want something more modern, whilst not compromising on quality. In addition, with a price of around 150 USD, it is more affordable than some of the other alternatives.



---
Dupont Maxijet Lighter Torch Flame
This St.Dupont lighter is classic, elegant, and masculine. It is finished in polished chrome and has a beautifully engraved surface which shows an example of beautiful attention to detail. The engravings are executed in a grid of intersecting lines, and it achieves its stylish appearance through its combination of polished and engraved surfaces. The shape is sleek and curved for a nice grip. The lighter is finished in brass.
It has a Maxijet lighter which is powerful, and it also has a gauge that makes it possible to measure the level of gas remaining.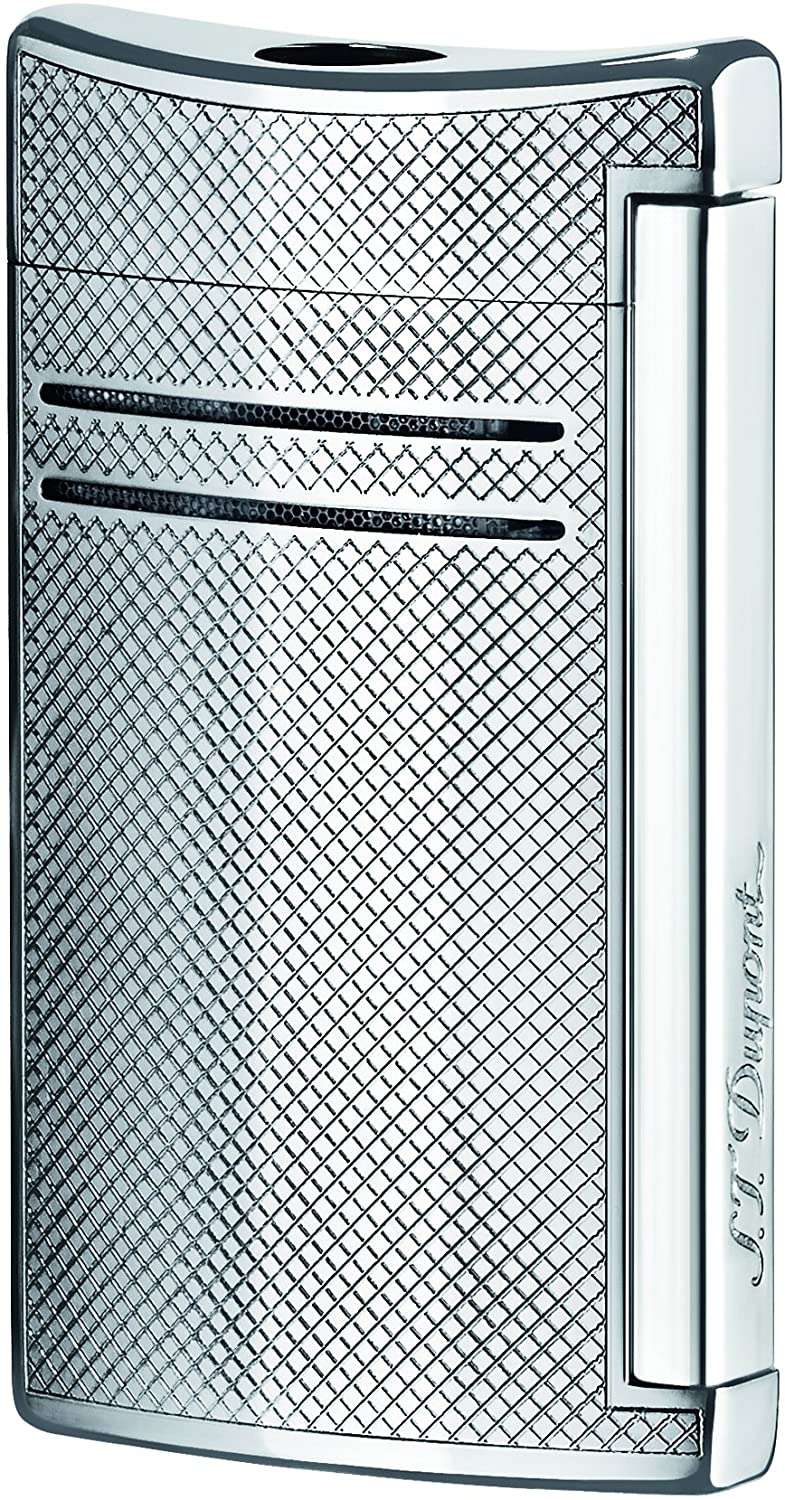 ---
S.T. Dupont Le Grand Dancing Flame Lighter
The St.Dupont Le Grand Dancing is a lighter that has a classy and traditional design. It has a classic roller on its side as you find on many vintage lighters. It is finished in gold with a beautiful embossed pattern. With its rectangular design, it fits easily in a pocket, and the soft double flame it offers is made to gently hat your item, such as a cigar, in the most effective way.
This lighter is a pure work of art that radiates luxury. Of course with the unmistakable quality that ST. Dupont offers.

---
S.T. Dupont line 2 Lighter Double Flame Gold Dark Brown
With a price tag of more than 1k USD, it is one of the more expensive lighters on this list, but this is certainly also reflected in what you are getting. St. Dupont calls it a "masterpiece" and we can only agree.
First and foremost, this lighter offers exceptional quality with impeccable attention to detail and the use of quality materials. The lighter combines a polished gold trim with a beautiful brown natural lacquer.
The lighter is operated by using the classic roller on its side and it has a double flame which is powerful and resistant to wind and the outside environment. When not in use, you stylishly close the hat. But that's not all. When you open the hat, the lighter will start the musical note "la". This truly is luxury and attention to detail in its most impressive form.
Yes, it is rather pricey compared to other lighters, but wow what an impressive piece of art.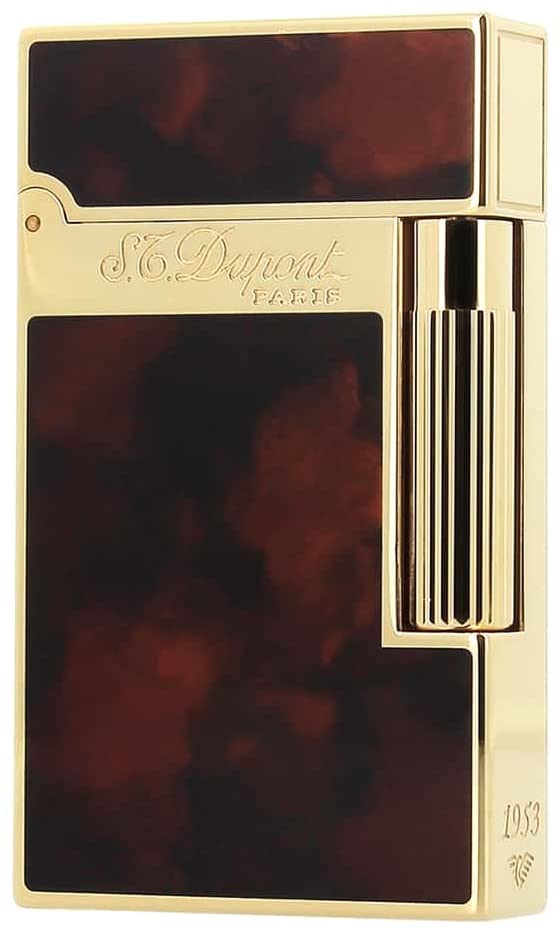 ---
Colibri Quantum Triple Jet Lighter
This Colibri lighter puts functionality at the forefront. It is not as stylish as some of the other lighters on this list, but its performance is uncompromising.
The lighter has a triple jet flame including a V-shaped cutter. The lighter is wind resistant and is altitude tested up to 10,000 feet (3,048m). For practicality, it also has an easy-to-read blue fuel level window.
If you want a high-quality lighter that offers exceptional quality and performance at a great price, this is undoubtedly a great option.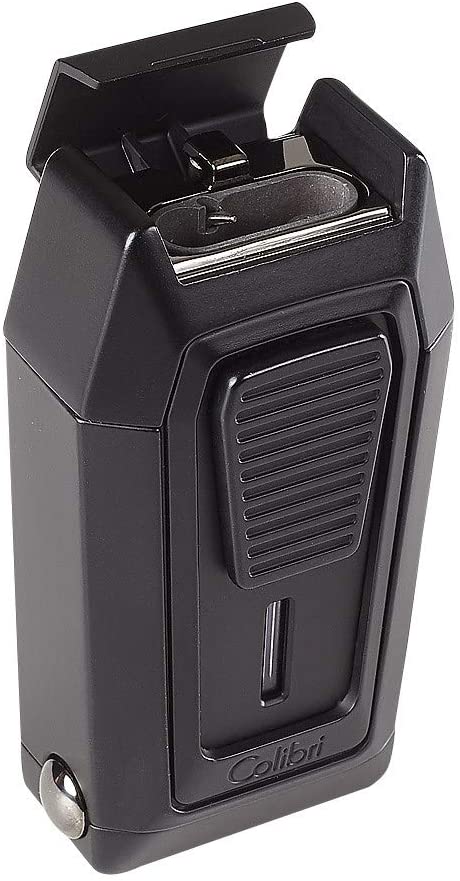 ---
S.T. Dupont D-016296 Ligne 2 Lighter
Priced at around 1K USD, it is a premium lighter that puts focus on quality, finish, and attention to detail. As a nice touch, the lighter will play a melody when opening the hat. It has a classic St. Dupont shape and design with a roller on its side.
The lighter features a double-flame cigar burner. It is made in black lacquer and palladium which results in a luxurious yet refined look. It looks simple and clean, and these elements go together to create a discreet yet beautiful lighter. This makes it perfect for those who want a luxury item that is not too flashy but rather speaks for itself.

---
S.T. Dupont Ligne 2 Diamond Head Gold Lighter
This is a vintage-inspired St Dupont lighter that has a traditional and classic design that reminds of vintage luxury lighters like those from Cartier and Hermes, to name a few.
It proves that certain designs truly never go out of style and remain just as relevant today as when they were first presented. It is presented with a guilloche ignition roller and an engraved Dupont logo on the top. The embossed rectangular pattern shows beautiful attention to detail, making it a true work of art.
This is a real "gentleman's lighter" that radiates class and style.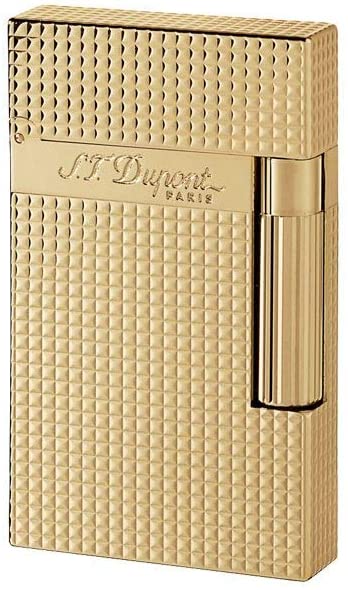 ---
S.T. Dupont Maxijet Lighter
This is a sleek and stylish ST. Dupont lighter with a modern design, whilst still offering exceptional quality that we have come to expect from this manufacturer.
Its refined contemporary design makes it perfect for those who want a reliable, qualitative lighter that looks great. Its powerful jet flame allows efficient lighting in all conditions. And thanks to its use of materials and slim profile, it is lightweight and easy to carry, for example in your pocket. It is also easy to use, and its window shows the exact fuel level.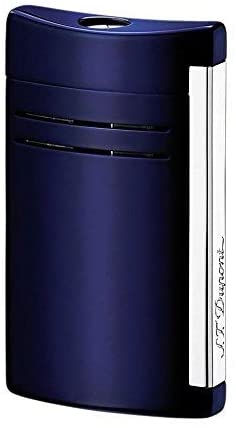 ---
What is the best lighter brand?
There are many great lighter brands on the market. The difference between cheap lighter brands and luxury brands is of course their quality, material use, and finish. Whilst cheap lighters, often made of plastic, are meant to be used and then disposed of, luxury lighters are meant to last for many years. As such, they keep a much higher quality and can last for a long time when maintained and taken care of properly. Not only that, but it looks much more stylish to use a luxury lighter than a cheap plastic lighter. There is no "best" lighter brand since ultimately, it depends on what you are looking for, but the most popular luxury lighter brands are:
Alfred Dunhill
Black Label
Colibri
Lotus
Ronson
S.T. Dupont
Xikar
Zippo
Cartier
All of these put utmost importance on the quality of their products. Some of them, like St.Dupont and Cartier, put more focus on the luxury side, often using luxury and premium materials, hand engravings, and so on. So consider if you just want a qualitative luxury lighter, or if you are willing to also pay more to get added luxury in the form of premium materials as well.
What's the most expensive lighter?
The most expensive lighter ever made is the Dupont Ligne 2 Champagne lighter which is priced at $79,000. This lighter is really the epitome of luxury, part of Dupont's Prestige Collection, made in solid 18-carat white gold and decorated with 468 brilliant-cut diamonds.
In addition to this, there are also plenty of vintage luxury lighters that have fetched insane amounts at auctions. As the interest in craftsmanship is increasing, so is the interest in vintage luxury lighters. One of the most expensive luxury lighters sold at auction is a Dunhill cigarette lighter that sold for $110,000. The lighter was 18-inch tall, made in solid 18K gold, and had the form of a lighthouse, fitted to a 110-pound amethyst base.
Are Zippo lighters worth it?
Yes, Zippo lighters are definitely considered to be worth the money. As a matter of fact, they are considered among the top lighters when it comes to value for money. Yes, they are naturally more expensive than standard cheap lighters, but they offer exceptional quality and can last for a long time.
In addition, Zippo makes lighters in all kinds of different price ranges, so they don't have to be insanely expensive.
Zippo stands behind the quality of its products with its limited lifetime warranty. Through this warranty, Zippo will repair or replace defective products even if your lighter is 10, 20, or even 50 years old (Assuming the issue is covered under warranty).
In addition, it's not only the quality but also the performance. Compared to other cheap alternatives, Zippo lighters offer great performance. They're rugged, durable, and also windproof. They're made of high-quality materials and can actually increase in value over time. Unlike a cheap lighter that you throw away when it runs out of gas, you'll always have your Zippo lighter and can also sell it if you don't need it anymore.
With this said, it's easy to see why Zippo lighters are so popular. And we can certainly say that Zippo lighters are worth the money.
Here's a look at the pros and cons of Zippo lighters:
Are windproof lighters good?
Windproof lighters are a feature that a lot of people look for when looking to buy a lighter. There's nothing more frustrating than trying to light a lighter in the wind and the flame is constantly put out. Using a windproof lighter ensures that you can use the lighter regardless of the circumstances which are obviously really practical and valuable.
How long will a Zippo flint last?
Flint is something that will naturally wear out over time and needs to be replaced. According to Zippo, you should replace the flint on your Zippo lighter approximately every few weeks for an average user. If you use it very frequently, you may need to replace it more often, and if you use it more seldom, you will not need to replace it that often.
You'll notice when it is time to replace the flint when it isn't performing as well as it used to.
Zippo advises that you replace the wicks on the lighters once or twice a year depending on how frequently you use them. You need to trim the wick over time and because the wicks are almost 4 inches in length, you'll need to replace the wick after a few trims.
How much is a Zippo?
The cost of a Zippo lighter varies a lot depending on which type you choose. Zippo makes basic and more affordable lighters, but they also make ultra-luxury lighters in premium materials like gold. Zippo's most affordable lighters are relatively affordable with a price of around $20.
As a general guideline, we can say that the price for a Zippo lighter varies between $20 and $12.000 dollars for top-level solid gold lighters. Most Zippo lighters are priced between $50 and $500.
Do Zippo lighters last forever?
With the proper care, a Zippo lighter can last for a really long time, potentially even several generations. Naturally, things like wicks or flint need to be replaced consistently, and the butane needs to be refilled, but when it comes to its functionality, Zippo lighters can last for a really long time. This is one of the key reasons why they are so popular in the first place.
What is the highest quality butane?
There are plenty of different types of butane gas that you can buy for your lighter from countless different brands.
But the most popular and highest quality butane gases are:
How do you refill a luxury butane torch lighter?
How you refill butane gas for your lighter obviously varies depending on the lighter you have. Usually, the lighter (or torch) has an opening at the very bottom of the lighter that you attach the butane gas bottle to with its nozzle and then apply pressure to the nozzle so that it releases butane that fills the lighter.
You can refer to this video for a simple guide:
Why do butane lighters stop working?
There are many reasons why your butane lighter stops working. The most common reason is of course that it has run out of butane gas. This is an easy fix that is done according to the video above.
But if the butane is not the issue, it may be because the burner is clogged. This will require you to clean it with compressed air. Another potential issue is that you have an air bubble in the lighter's tank. To solve this issue, you will need to empty the lighter and refill it with butane.
If none of this doesn't work, it may be broken in some way. In this case, you can take it to a lighter expert or repair shop and have them evaluate what may be the issue.
Which types of lighters exist?
As you can see in the list above, there are many different types of lighters that exist on the market – all with their own sets of pros and cons of course. Each of these is built to function differently and uses different means of providing a lighting function.
The different types of lighters that exist are:
Electric
Blue flame
Green flame
Butane
Flint
Waterproof
Windproof
Electric lighters
Known as electric arch lighters, these types of lighters do not actually use gas. Instead, they create an arch with electricity that you can use to light things. Not only is this environmentally friendly but it is also practical as it is windproof and easy to use. There is also another type of electric lighter, called electric coil lighter that works in the way that electricity from the battery heats up a coil inside the lighter which can then be used to light things like cigarettes.
Blue flame
The blue flame lighters use butane and piezoelectricity to work. They work on the principle of pressure and heat which is similar to traditional gas stoves. The result is a blue flame.
Green flame lighters
Lighters with green flames use butane gas, but to create a green flame, the butane interacts with a copper coil.
Butane
Butane lighters are a classic type of lighters that use butane which comes from petroleum. This is one of the most common types of lighters and they exist in all types of price ranges. From non-refillable plastic lighters to refillable St.Dupont lighters.
Flint
Flint lighters are available in all kinds of different designs. They usually work in the way that you spin a wheel which then causes a spark that results in a fire when you press the gas button. Think of a regular, cheap lighter as this is the principle they use.
Waterproof and Windproof lighters
Both of these features can be really practical and useful. A waterproof lighter is one that is built to withstand water and a windproof lighter is one that has a strong and powerful flame that can still be used even during strong winds.
Luxury lighter guide