NEWS! Tudor New Models 2022 Watches & Wonders
March is an exciting time for Tudor enthusiasts each year. This is the time when Tudor officially presents new models for the year. And finally, the time has come for Tudor to unveil the new models for 2022. And they have done so at Watches & Wonders in Genèva,
Every year, Tudor releases a selection of new models, discontinues certain old models, and introduces new versions of already existing ones.
Let's look closer at the most significant Tudor watch releases for 2022.
New Tudor watches 2022
---
Tudor Black Bay Pro 79470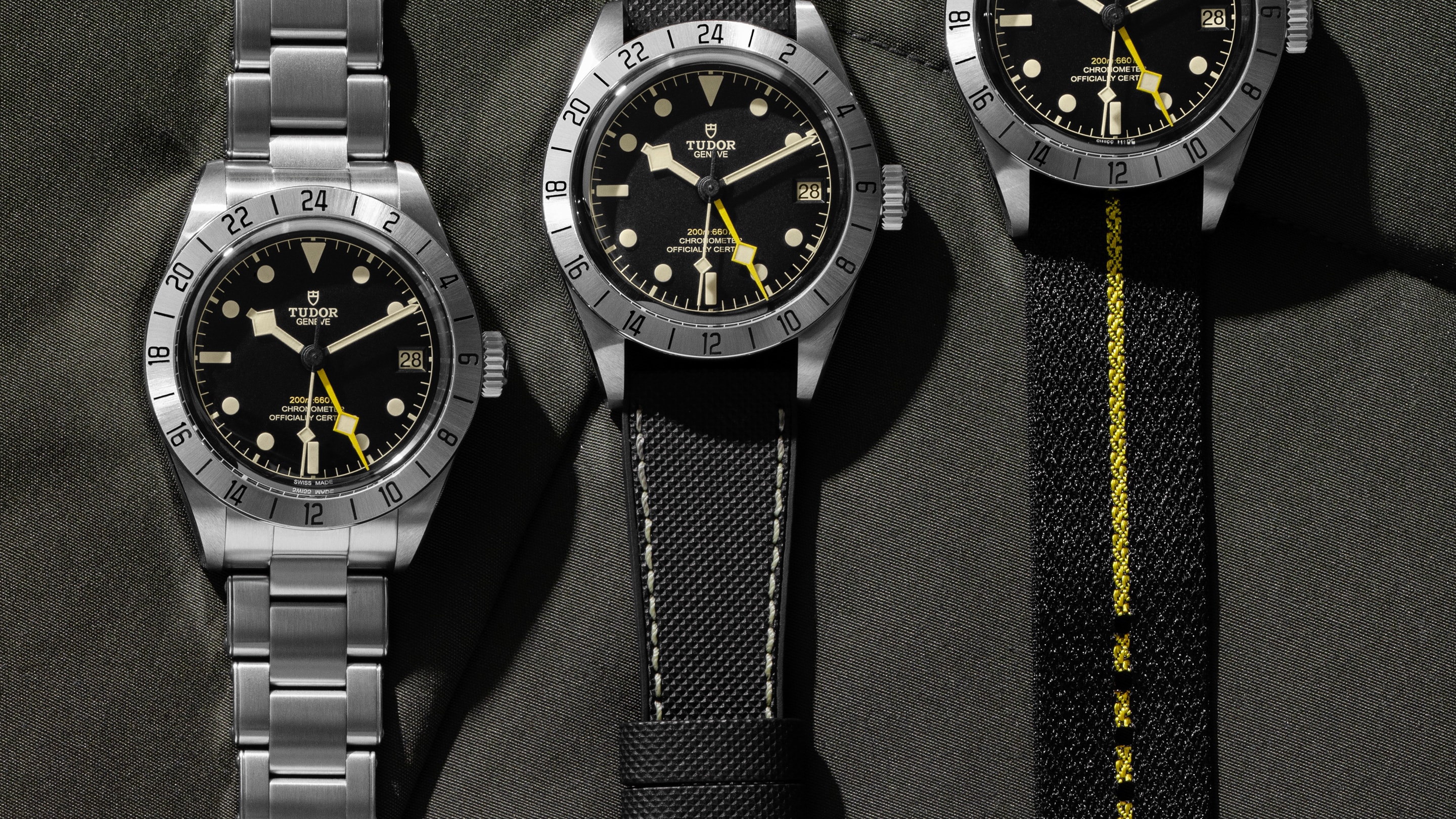 The Tudor Black Bay Pro is perhaps the most significant release from Tudor for 2022. After all, it's technically a completely new model, even though it is still a part of the Black Bay family. The Black Bay Pro 79470 is a 39mm GMT watch with a GMT function. Designed as a true adventurer's watch. It has a 39mm stainless steel case and is presented on Tudor's T-fit adjustable bracelet. It has a fixed 24-hour stainless steel bezel and a yellow snowflake GMT hand.
---
Tudor Black Bay GMT "Root beer" 79833MN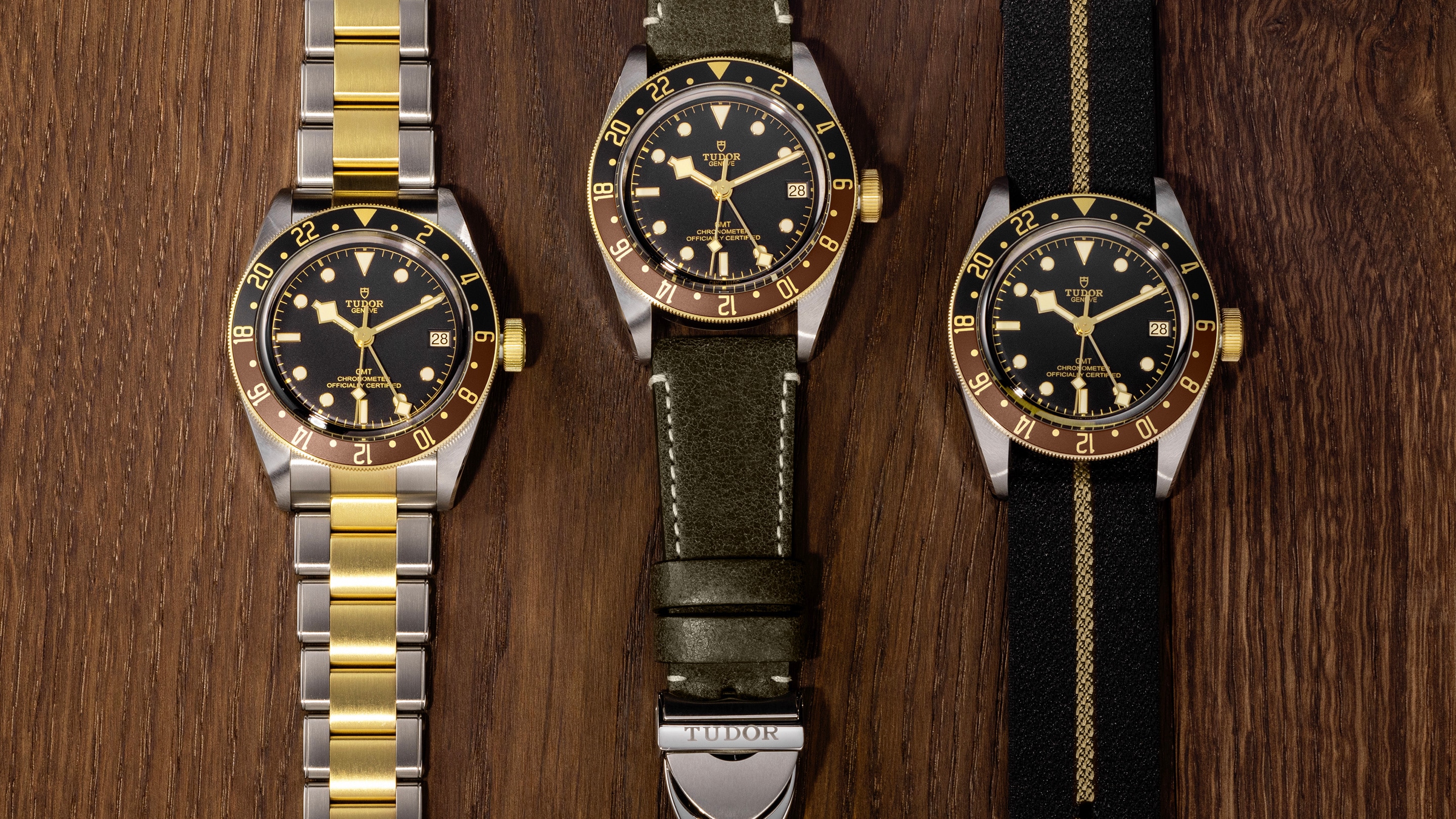 When the first Tudor Black Bay GMT reference 79830RB was released at Baselworld 2018, it instantly became a huge success. With this in mind, it was only a matter of time before Tudor would decide to continue to build upon this success. A lot of people had lots to wish for new variants. New colors, a smaller case, and reduced thickness. Throughout the production of the 79830RB, Tudor met some issues with the GMT, where the well-known date wheel issue would haunt the movement. The result was that Tudor received a lot of complaints and service errands where customers brought their watches for repair to have the date wheel issue resolved. There have also been reports that in some cases, Tudor would replace the faulty movement with a new one altogether.
Perhaps this was the reason why it would take 4 years before Tudor finally thought it was time to introduce a new GMT to the family. Perhaps they want to reassure themselves that they had perfected the GMT movement and the issues revolving around it before they started to build on the collection for real.
With that said, the release of a new Black Bay GMT doesn't come as a surprise, but any Tudor enthusiast will be very happy about the news that finally, the time has come. But the fact that Tudor chose to release it in gold and steel under the reference 79822MN. This watch is the same as the 79830RB but it has been upgraded with a two-tone yellow gold configuration and a brown and black bezel insert, reminiscent of Rolex's iconic "Root Beer" GMT.
---
Tudor Black Bay Chrono S&G 79363N
Over the last couple of years, Tudor has introduced numerous gold and steel watches into their collection, starting with the Black Bay 79733 back in 2017. Introducing more gold and steel watches is a natural step for Tudor in order to increase the exclusivity of the brand, bring up the overall price point for its watches, and move the brand more towards luxury. In 2021, for example, Tudor released – for the first time ever, a full gold watch, the Black Bay 58 79018V.
In 2021, Tudor also updated its Black Bay Chronograph by replacing the 79350 and replacing it with the 79360. The new model became a huge success and, apart from having a really appealing design, it solved one of the biggest criticisms of the Chrono since it was released – its thickness. But whilst Tudor released the 79360N in full stainless steel, they never made any changes to the gold and steel version, reference 79363N that was released in 2019.
With that said, it still retained one of the key criticism of the Black Bay Chrono, which is its thickness. But now, for 2022, Tudor has also applied what they took into consideration for last year's Chrono models and presented a slimmer and more refined Black Bay Chrono in gold and steel. Replacing the previous 79363N with a solid bezel, it has been upgraded with an aluminium bezel, as can be found on the 79360N in stainless steel. The watch receives a vibrant and new champagne dial with black sub-seconds.
---
Tudor Black Bay 31, 36, 39-and 41 S&G in steel & Gold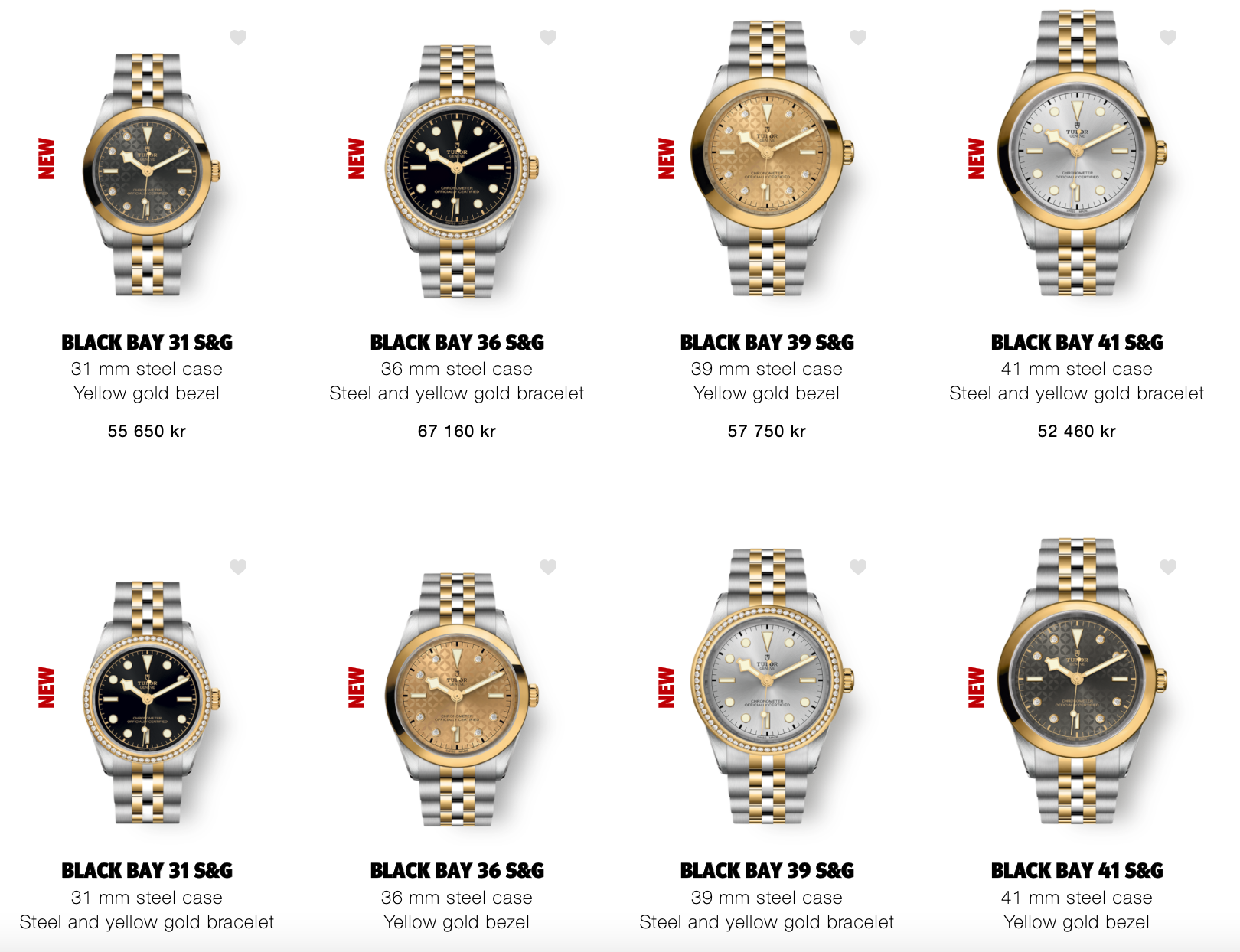 At Baselworld 2019, Tudor presented the Black Bay in gold & steel for the first time ever.
Specifically, they presented Three different sizes with two dial color options (black or gold) with Jubilee-style bracelets.
For 2022, they are updating and building on this collection by introducing the whole lineup of sizes, from 31mm to 41mm. Perhaps most notably is that this watch is, for the first time ever, made in 41mm. This is definitely something that will be appreciated by men with larger wrists who cannot wear a 36mm because it is too small.
This model line has been upgraded with a large selection of sizes, dials, and bezels. The most important change is the upgrade of the movement to the whole line as well as a new"T-fit" folding clasp and safety catch, allowing the wearer to adjust the size of the bracelet without any tools.
---
Tudor Royal
The Tudor Royal was first presented in 2020 and was met with great praise. Unlike many of Tudor's other watches, it was not based on the Black Bay family which, in our eyes was a good move. The introduction of the Tudor Royal allowed Tudor to establish a greater variety of models and not become known as a "one watch brand", like Audemars Piguet with the Royal Oak. The Royal has a distinct, retro-inspired integrated bracelet design that is recognizable from a mile away. At least amongst Tudor enthusiasts. When Tudor first released the Royal, they released it in a selection of different sizes as well as a wide array of dial options.
But in 2022, Tudor continues to build upon its popular Royal collection and expands it further. They did so by introducing two new ladies' watches with mother of pearl dials, diamonds, and a diamond bezel.
---