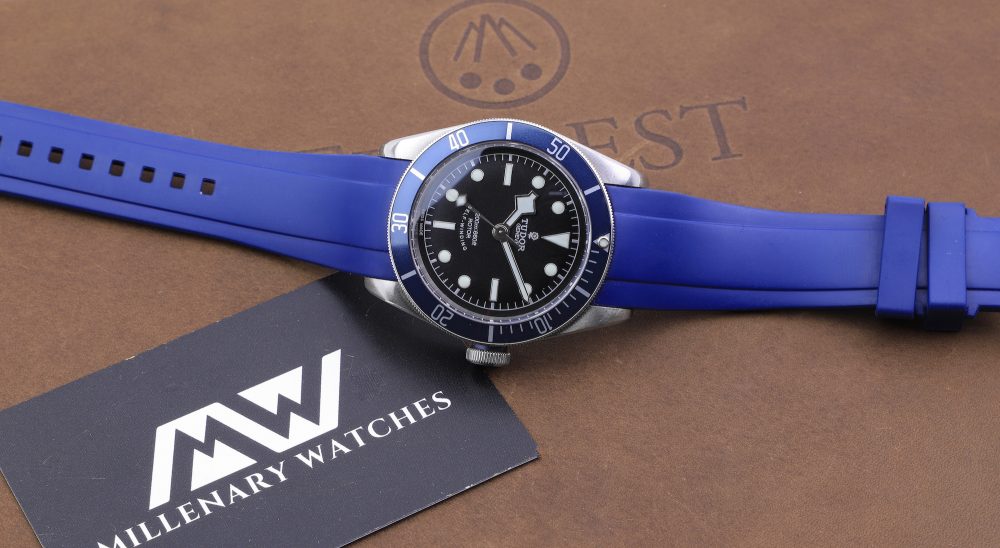 Tudor Rubber Strap – Rubber Strap for Tudor Watches
Are you looking for a rubber strap for your Tudor watch?
Everest bands is one of the top manufacturers of rubber strap for Tudor and Rolex, with superior quality and great comfort.
Everest bands specialize in rubber straps for Tudor and Rolex watches, and mixing it up with a rubber strap for your Tudor watch can be a good idea.
A rubber strap for your Tudor watch can be both a fun way to give your watch some color and new life, but also a comfortable alternative to the other bracelets or straps that Tudor offers.
Tudor Rubber strap
The number one model that people associate Tudor with is the Heritage Black Bay, and this is also the watch that is the best to wear on a rubber strap considering the fact that it is a diver's watch. It also looks extremely good on a rubber strap.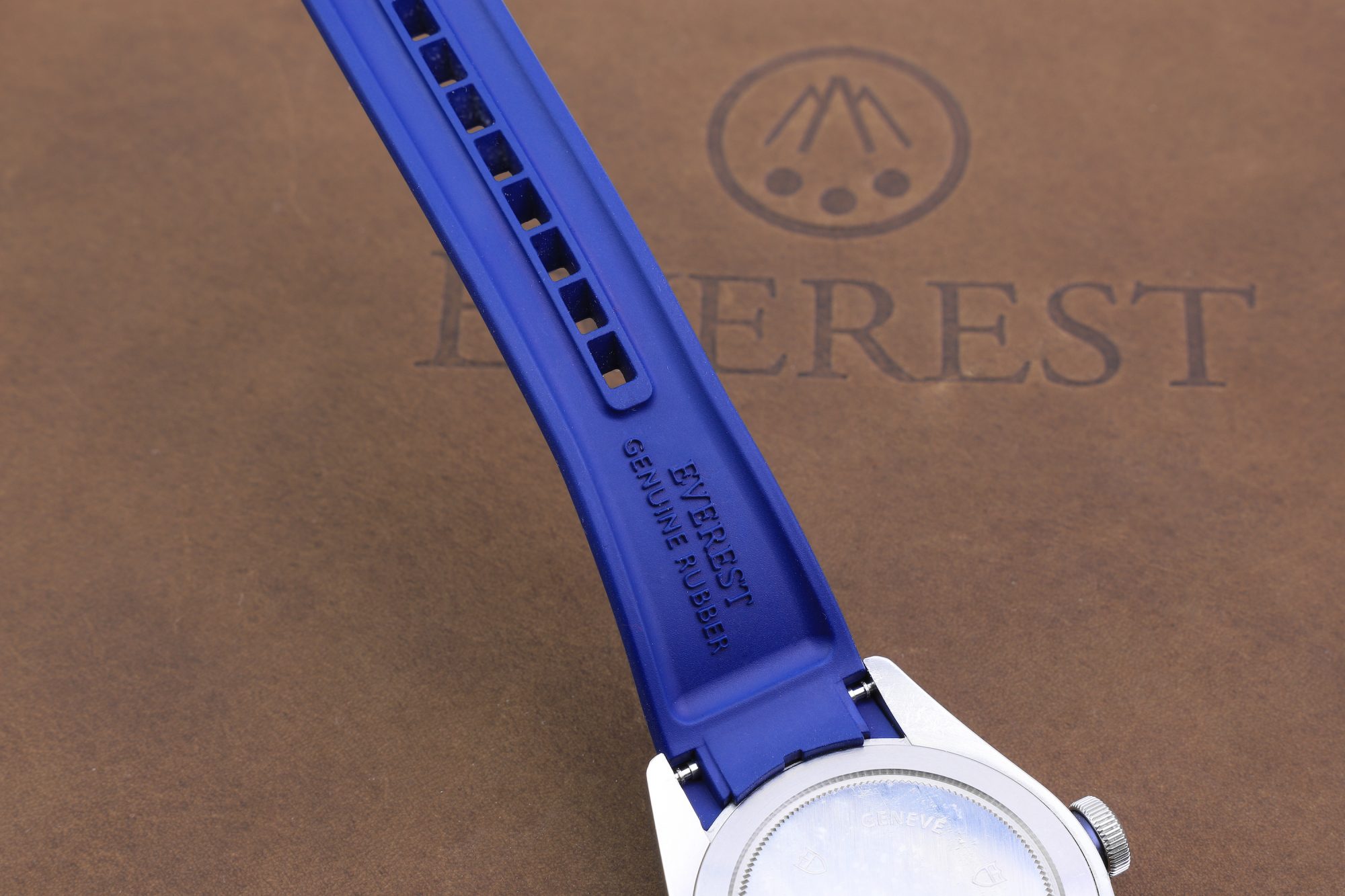 The Everest Tudor rubber strap features a tang buckle in matte stainless steel. The clasp is really well finished and gives you the impression that it will never let you down. Regardless if you are going diving on 200m depth or rocking it at the gym.
In terms of size, the Everest bands have enough holes to fit most wrists. You also have two loops on the strap to hold the end piece in place.
There are plenty of Tudor rubber strap colors to choose from, and they are developed with the Black Bay colors in mind. But even if you don't want to have the same color on your strap as you have on your bezel, it will look great.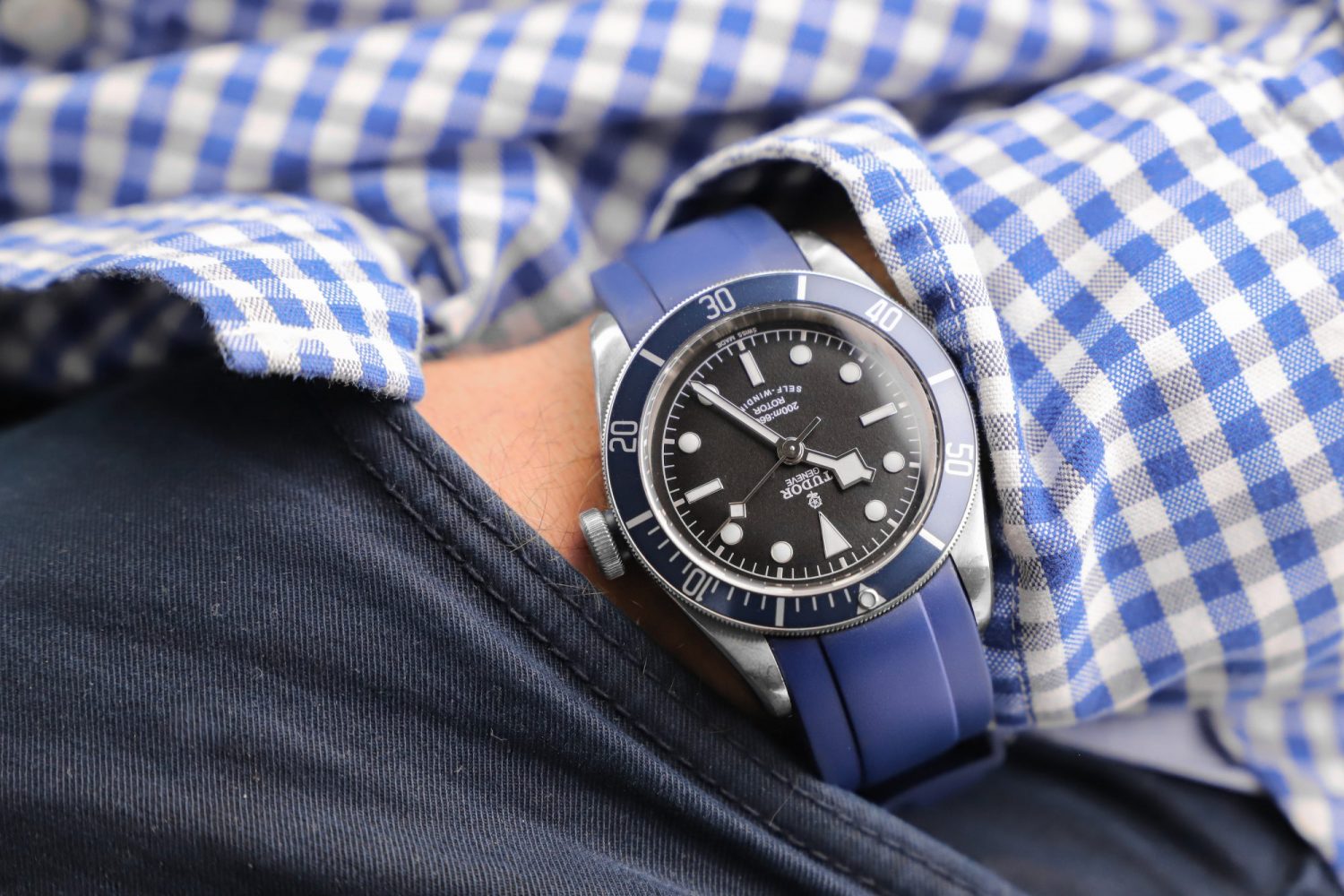 Case fit
The Everest rubber straps for Tudor have a curved end which means they integrate into the case perfectly. The straps look as if they originally were meant to be attached to the watch. The straps also have hardened inserts in the rubber at the connection of the case, which ensures a perfect fit as well as protects and relieves pressure on the spring bar channel.
The Everest rubber straps for Tudor are compatible with the Tudor Black Bay, Tudor Black Bay 41, Tudor Black Bay Chrono, Tudor Black Bay GMT, Tudor Black Bay S&G & Tudor Heritage Chrono.
The issue with a lot of rubber straps is that they have a cheap quality rubber which results in them tarnishing, losing color, and discoloring over time. They also tend to have an inaccurate fit to the case of the watch, creating gaps between the strap and case. Additionally, many cheaper rubber straps do not have curved ends with solid inserts for improved strength, and as mentioned, if they do have curved ends, they do not fit perfect as Everest do.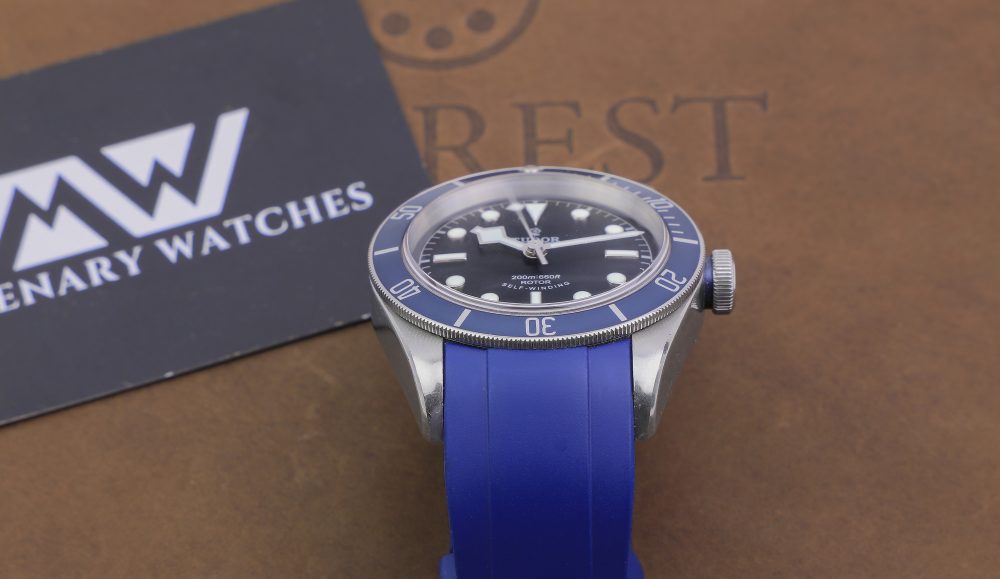 Comfort
The Tudor rubber straps from Everest bands offer great comfort. They are made in soft and supple vulcanized rubber and feature air pickets which allows the wrist to breathe a bit. The straps have impressive quality. Every single aspect of the Everest strap has been made with comfort and quality in mind. It's water-proof, mud proof, does not tarnish and will keep its luster for years. They can be worn for the toughest of adventures such as diving, snorkeling, hiking, sporting, and much more.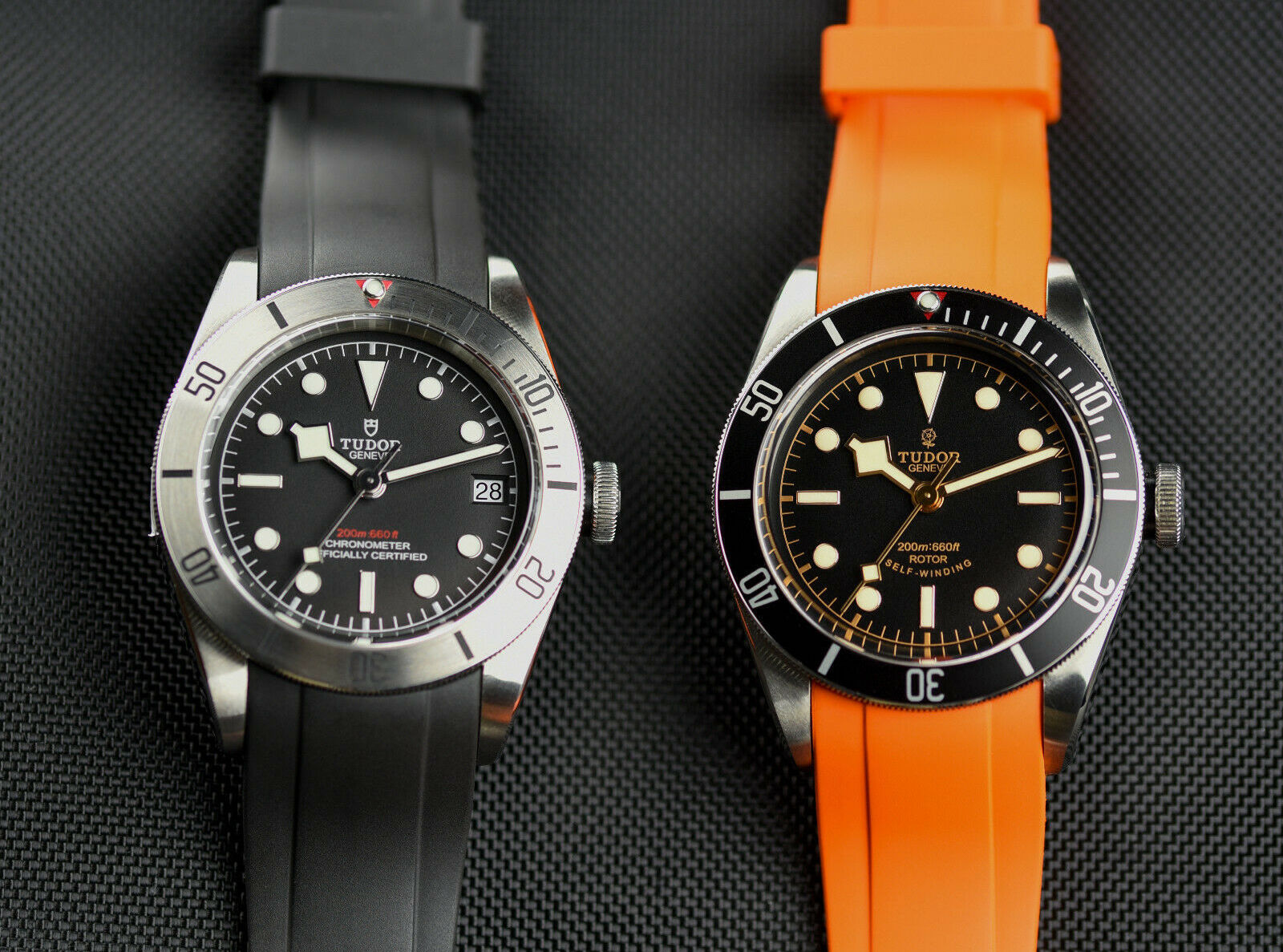 Tang buckle
The Everest rubber straps are equipped with tang buckles that hold a very high quality – just like the strap itself.
The tang buckles are finished in satin/brushed 316L stainless steel, made from a solid piece of steel. This is different from most cheaper straps which are most commonly made from folded metal instead of a solid piece of steel. The buckle has a tongue which fits perfectly into the buckle, ensuring that the strap is securely locked into place.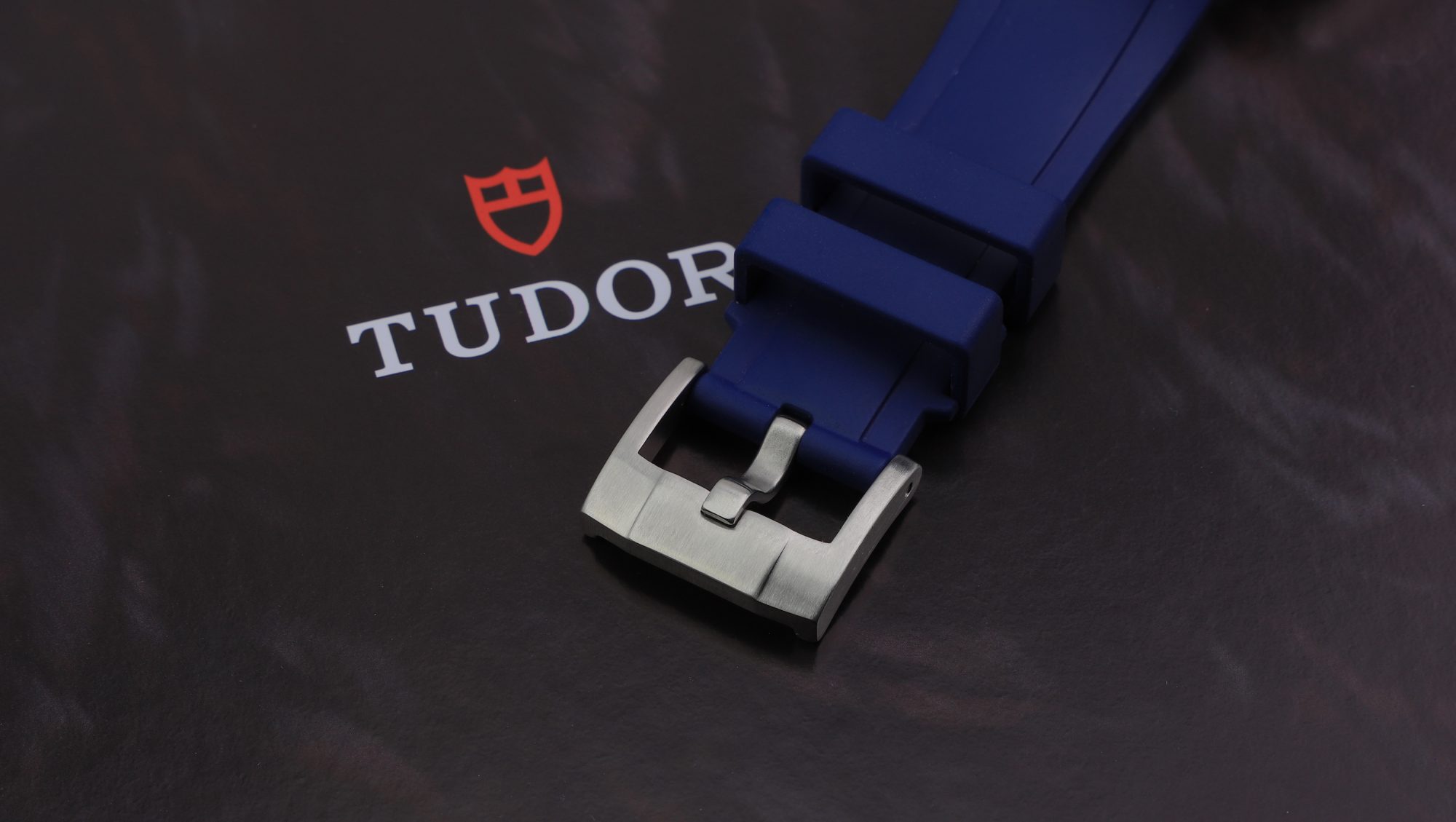 Spring bars
The Tudor Everest rubber straps also come with a set of spring bars. These spring bars are not your basic type of spring bars. Instead, they have impressive build quality, similar to the original Tudor and Rolex spring bars. They give the impression that they will never break or let you down – something that we have never heard happens when it comes to these.
The spring bars are 1.8mm.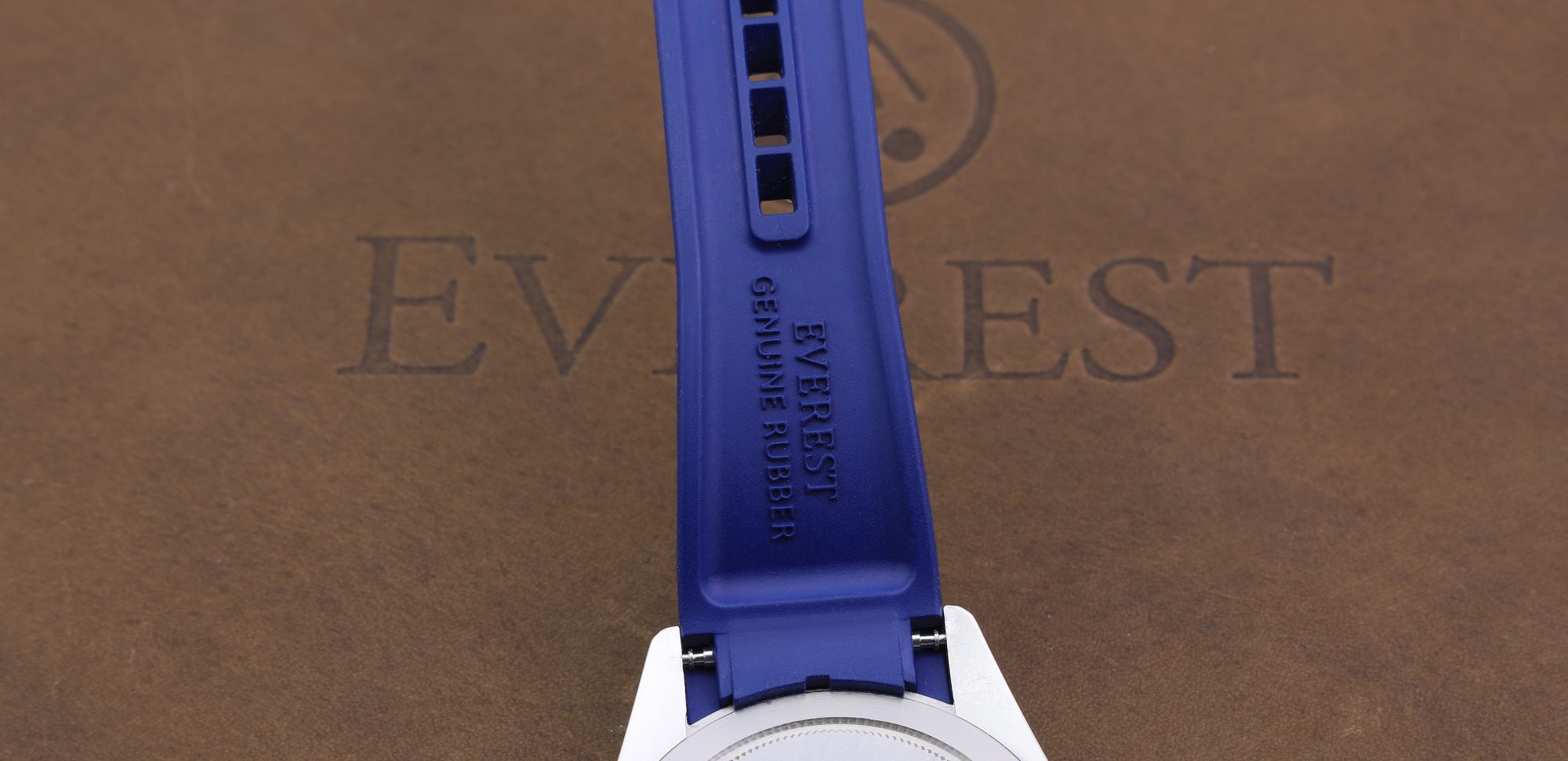 Swiss Made
All Everest straps are manufactured in Switzerland, which is a great connection to your Swiss Tudor watch. The straps are actually manufactured in a watch strap facility that is used by several well-known luxury watch brands.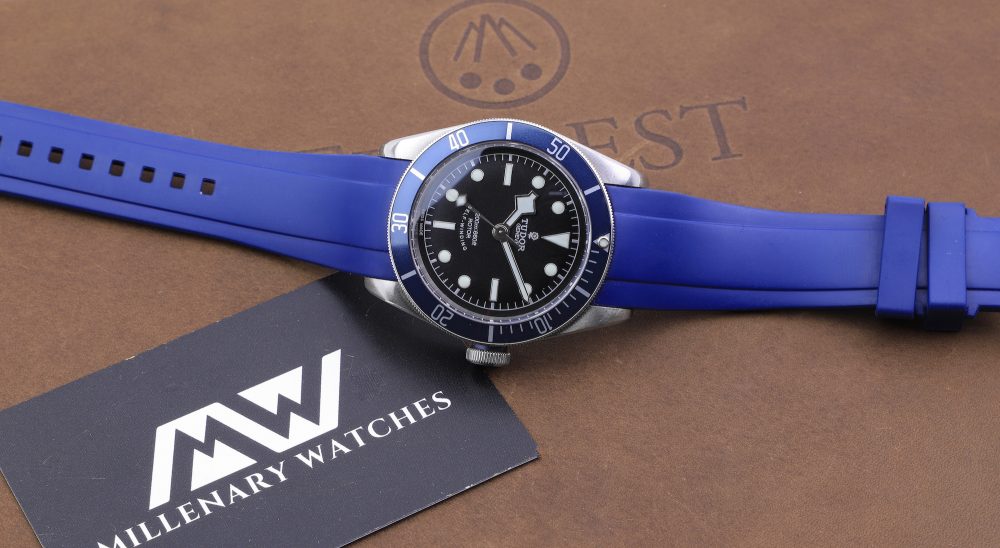 Tudor Rubber straps summarized specifications
Made of the highest quality rubber in the world – Vulcanized Swiss Rubber
Precision fit to your Tudor model – perfectly connects to the case
Swiss made by the world leader in vulcanized rubber watch straps
Resistant to UV rays, discoloring, dust, water, sweat, chemicals, staining and stretching.
Incredibly comfortable, durable and supple
Custom Curved End Rubber strap
To fit 20mm lug width
Solid 316L Steel Buckle
Your order includes two Tudor style 1.8mm spring bars and custom buckle
9 sizing holes to fit to any wrist
80mm + 120mm length
2 heavy-duty strap keepers
Available in 3 Colours
Watch not included
Benefits of wearing your Tudor on a rubber strap
Apart from the fact that putting your Tudor watch on an Everest rubber strap looks extremely good, using a rubber strap also comes with a number of other benefits.
The first and most obvious is that you protect your original Tudor bracelet from scratches and dings.
If you have changed the strap of your watch, you know how much of it does for the way it does to the way the strap looks, so switching up the strap every now and then is a great idea to bring your watch new life and make it appear as a totally different watch.
The last benefit is comfort. A rubber strap is very comfortable to wear, often much more comfortable than a stainless steel bracelet. So if you feel that your steel bracelet is heavy and not that comfortable, it may be a good idea to try a rubber strap for your watch to add some extra comfort.
Millenary Watches is a proud official retailer of Everest horology products, including the Tudor rubber straps.