How to Adjust Rolex Oysterflex Bracelet
First presented on the Everest gold Yachtmaster 116655, the Rolex Oysterflex is a new addition to Rolex's collection of bracelets.
With the increased popularity of rubber bracelets on watches, the introduction of a rubber strap for some watches as the official bracelet for those models was a clever move.
However, Rolex doesn't call its bracelet a rubber bracelet, but instead, in order to be unique, it's not a rubber bracelet, instead, the bracelet is called the Oysterflex.
The Rolex Oysterflex bracelet is made of Elastomer which is formed from "elastic" and "polymer". Essentially a general term for natural and synthetic rubbers.
The Rolex oyster flex bracelet isn't your ordinary rubber bracelet, and as you would expect from Rolex, it's nothing else than perfection. To make it sit better on the wrist, Rolex has even made ridges and molded them into the wrist-side of the bracelet.
The Oysterflex bracelet has since it was first released presented on several watches, including the Rolex 116519 LN Cosmograph Daytona. The bracelet adds a sporty feel to the watch, and is very comfortable on the wrist as it is soft, unlike a metal bracelet. In Rolex's words "it offers a sporty alternative to metal bracelets without compromising robustness, waterproofness, or reliability."
Now that we've got a better understanding of what it is we're dealing with, let's look at how you can adjust the Rolex Oysterflex bracelet because it's not as given as Rolex metal bracelets. With a regular metal bracelet, you can just remove links, but obviously, you cannot do that with an Oysterflex bracelet.
How to adjust Rolex Oysterflex bracelet
Micro-adjustments
The first way you can size your Rolex Oysterflex bracelet is by using the micro-adjustments on the clasp.
This can be done in the same way as you can adjust any clasps on a Rolex Oyster bracelet. This is made possible since the Oysterflex bracelet carries an Oyster clasp and not just a regular pin-hole lock system which most of the rubber straps that you buy separately do.
The catch with the micro-adjustments on the Rolex clasp is it only allows for just that – micro-adjustments. More specifically, 7mm of adjustment.
As such, you cannot adjust the Rolex Oysterflex bracelet to a large extent using this method.
So, what is the solution..?
If your Oysterflex bracelet is still too large (it's seldom too big from scratch) when you've made the micro-adjustment on the clasp, you will have to find another approach.
Different sizes of the bracelet
If you purchase a Rolex watch with an Oysterflex bracelet from an Authorised dealer, you'll have the opportunity to choose between several different lengths of the Oysterflex bracelet when you buy it. Of course, you may need different sizes on each side. With the sizes on each side, you combine to create the perfect fit when you buy your Rolex with an Oysterflex bracelet.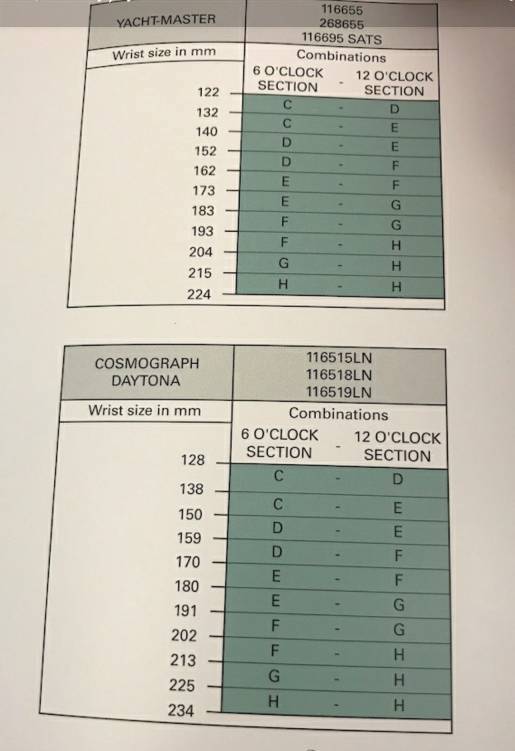 When you buy a watch from an authorized dealer, they will measure your wrist and choose both sides of the bracelet that will make the watch fit your wrist perfectly.
If you don't buy the watch from an authorized dealer, you will obviously not have this opportunity to adjust Rolex Oysterflex bracelet in the store, since the bracelet will then come on the size of the bracelet that it comes on.
Some people's natural thought when the band is too big is to cut or punch holes to adjust the Rolex Oysterflex bracelet because there's a nickel/titanium support inside that you could damage. Additionally, you'll significantly reduce the value of the watch.
If you haven't purchased your Rolex watch at an AD, it means that you probably won't get an Oysterflex bracelet that is optimized for your wrist. As such, you need to buy new pieces of the Oysterflex bracelet. These cost about $175 each, which means about $350 for a complete set that suits your wrist perfectly. If you don't wish to purchase an official Rolex Oysterflex bracelet, you can always buy a rubber strap from a third-party brand.
2019 Update: Rolex introduces Glidelock clasp for the Oysterflex
At the 2019 Basel watch fair, Rolex introduced yet another way for Rolex Oysterflex-bracelet owners to adjust their Rolex Oysterflex bracelet. And they did so by introducing their praised Glidelock system to the Oysterflex. Read our complete guide to the Rolex Glidelock system.

Firstly, Rolex discontinued the Rose gold Yacht-Master 116655 with Oysterflex bracelet and introduced the new reference 126655. The difference was that the watch got the second generation movement – the caliber 3235, but it also received the Glidelock clasp. This clasp extension system enables easy adjustments in 2mm increments of up to a total of about 20mm without the use of any tools. This system has existed on some of Rolex's dive watches, such as the Submariner, for many years.
Furthermore, Rolex introduced the 42mm Yacht-Master in white gold, a complete version of the Yacht-Master for Rolex, and this watch also features an Oysterflex bracelet with a Glidelock clasp.
Because the Glidelock system is so praised and appreciated, it does not seem unlikely that all Oysterflex-bracelet watches receive this clever clasp system in the future.
If you have more questions about adjusting your Oysterflex, you are more than welcome to contact us!