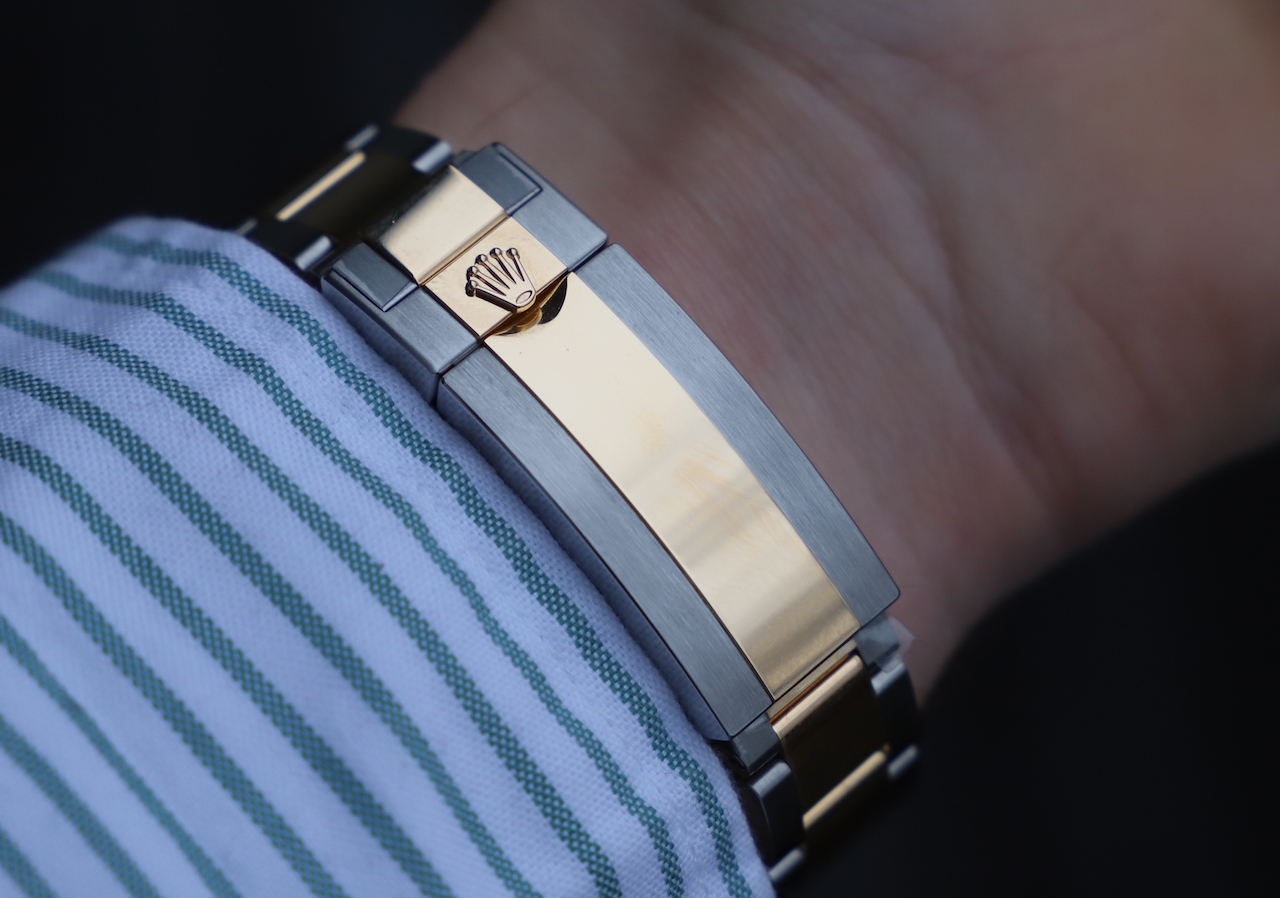 How To Adjust Rolex Glidelock Clasp
Wearing a Rolex is a special sense of occasion as it means you're wearing a piece of fine craftsmanship on your wrist which is carefully handmade and has taken years and years to develop.
But when wearing your Rolex watch, you want it to sit comfortably on your wrist, and not be too tight or too loose. Everyone has different preferences when it comes to wearing a watch, and also, temperatures can affect how your watch sits on your wrist. In certain temperatures, your watch might sit perfectly on your wrist, but in others, it might become tight and uncomfortable.
When you buy your Rolex watch, you set your bracelet's size by removing links from the bracelet to make sure that it sits perfectly on your wrist. But when you remove or add links, you cannot make tiny adjustments to your watch's size, and this is why, sometimes, with temperatures and for some people, the size of the bracelet needs adjusting.
The good news is that on some models, there is a way to quickly and effortlessly adjust your Rolex's size to better fit your wrist.
This way of changing the watch's bracelet size is called the Rolex Glidelock clasp and is a fine-adjustment system that Rolex designed and innovated to allow you to quickly adjust the bracelet size of your Rolex watch. The Rolex Glidelock clasp exists on the ceramic Submariner model, on which the Rolex Glidelock clasp can be adjusted by 20mm.
The Rolex Glidelock clasp also exists on the Deepsea, or SeaDweller on which you can adjust the Glidelock clasp up to 26mm.
How to adjust the Rolex Glidelock clasp
The most interesting part is that many of the people who own any of these Rolex models have no idea that their watch has this feature, and they certainly don't know about adjusting the Rolex Glidelock clasp.
This is because this feature is very well integrated into the bracelet and is non-visible to someone who doesn't know about it.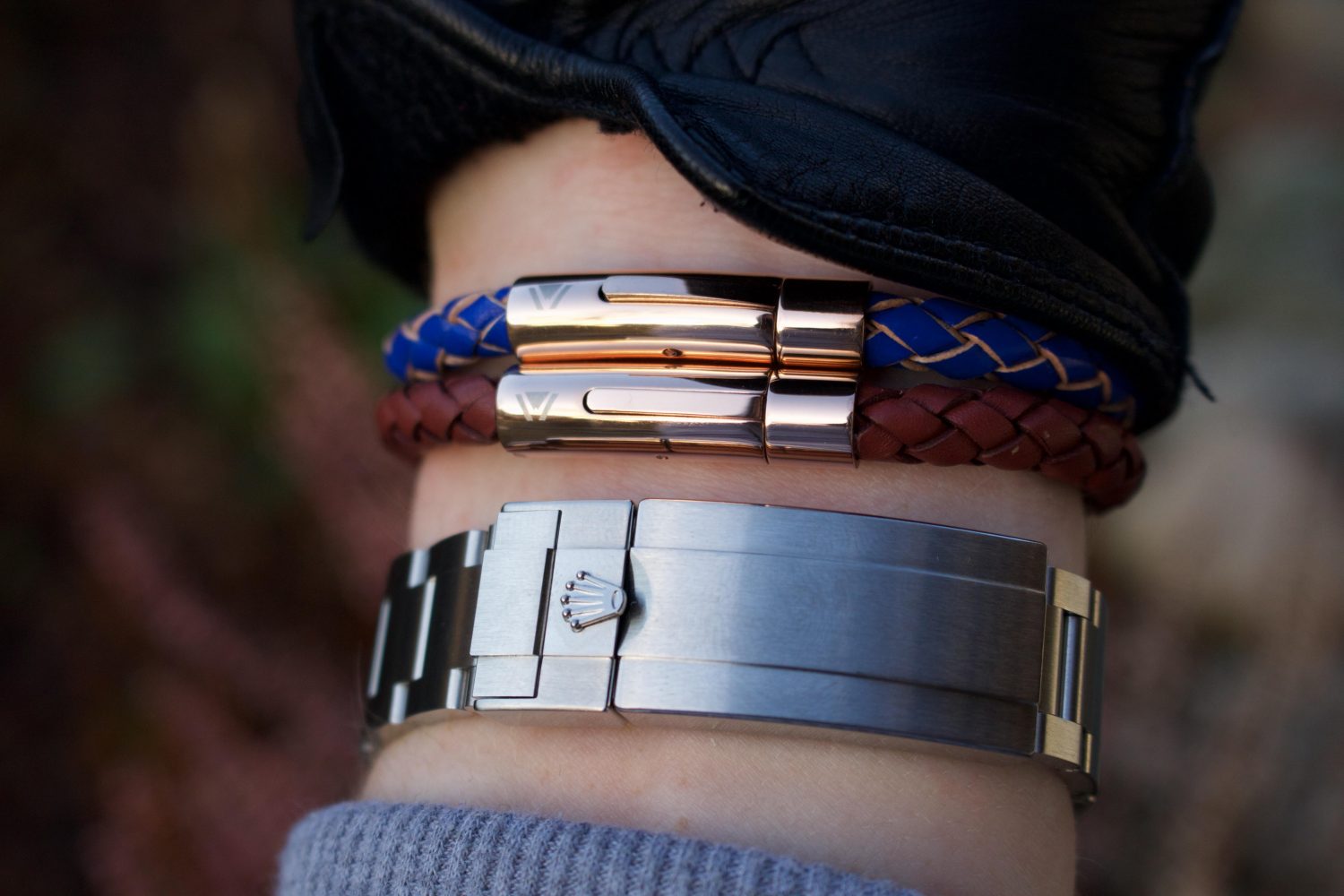 The GlideLock Extension System enables easy adjustments in 2mm increments. For Submariners, it offers a total extension of up to 20mm and for Deepsea or Seadwellers, it is 26 mm due to them having the diver's extension.
This instant and easy Glidelock clasp allows the watch bracelet to be long enough to fit over a 3mm wetsuit, long-sleeve shirt, or thin jacket. After all, these watches are made for diving.
There is an Oysterlock safety clasp with an Easylink extension system which is standard on many of the Rolex watches (GMT, Datejust, Explorer, and others) but this cannot be adjusted in the same way as a Rolex Glidelock clasp since it only provides 2.5mm of adjustment.
Additionally, the Easylink only flips open and closed. Furthermore, for these watches, there is also an additional 6mm adjustment which can be found inside the clasp and is enabled by moving a spring bar inside among three "positions". This method, however, requires a spring bar tool and can be tricky to adjust when you're on the go or don't have any tools to do it.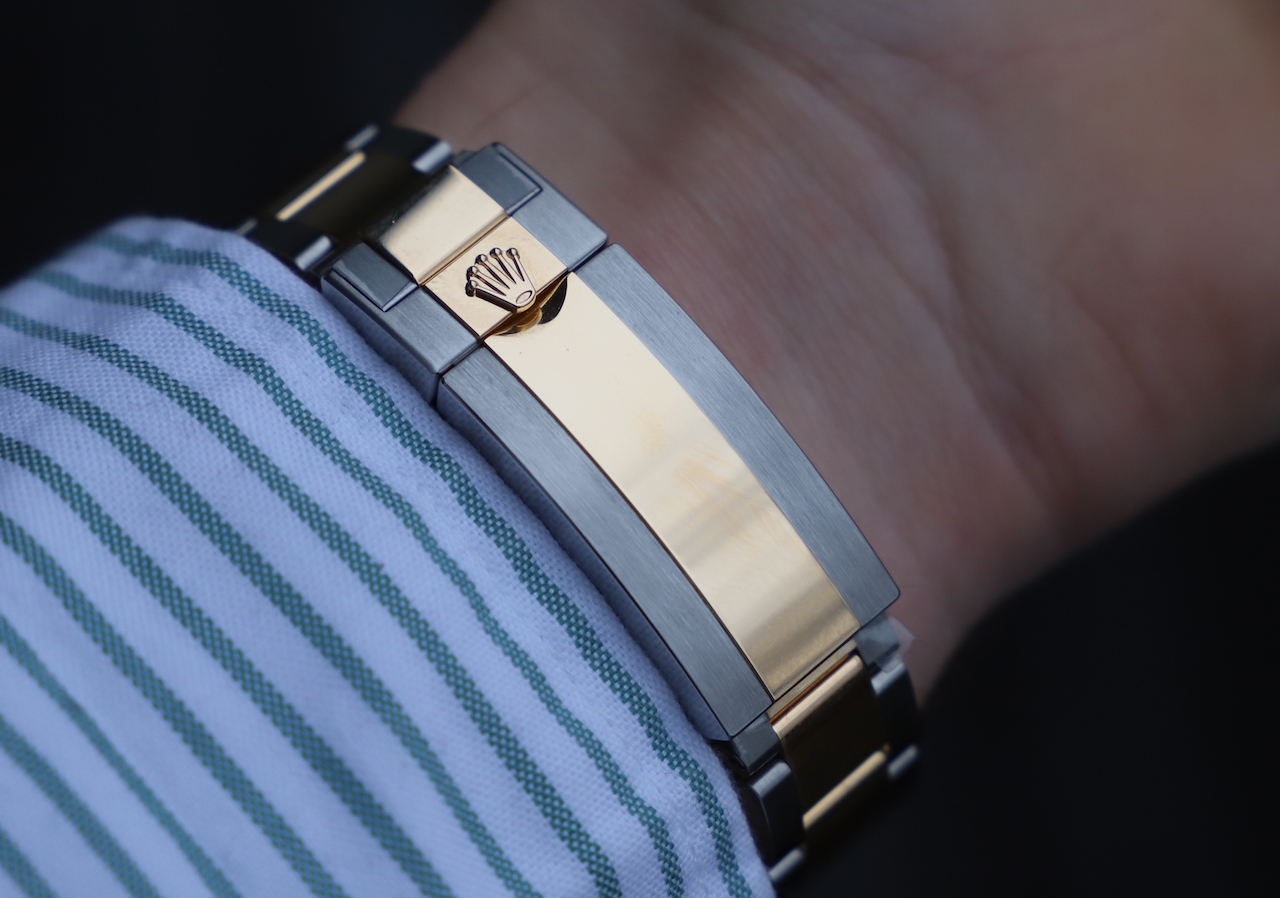 On the contrary, Rolex's Glidelock clasp enables instant and effortless size adjustment to your Rolex watch. There's a misconception about the GlideLock clasp, as people tend to believe that it is longer, taller, and bigger, however, this is not the case. Instead, the clasp is the identical size as the one on the Rolex Explorer II's and GMT's Oysterlock clasp.
The only difference is that the clasp cover is a little bit longer in order to allow for size adjustments and extra adjustability.
Now, you probably want to learn how to adjust the Rolex GlideLock clasp, and you'll be happy to hear that it is super simple.
This is a guide on how you adjust your oyster lock clasp on a Rolex SeaDweller belonging to Rolex S.A, but the same method is used for all watches to adjust the Rolex GlideLock clasp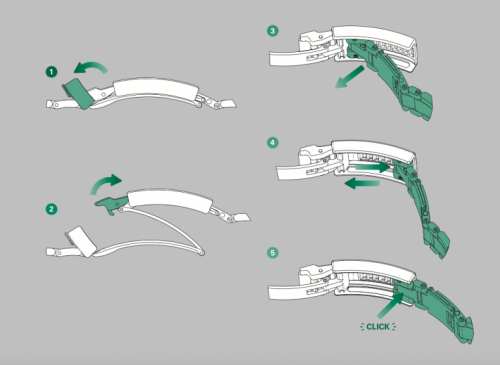 You adjust the GlideLock clasp by pulling on the bracelet link, and detaching the lock from the detents on the underside of the clasp. Doing this allows the link to slide in the grooves which have been machined in the underside of the clasp.
The Submariner has a detachable half-link that is connected to the clasp, and this link allows you to use it on one end of the clasp which needs it in order to help center your watch better on your wrist.
The Rolex GlideLock clasp is an impressive innovation that makes it effortless to adjust your watch's size without any tools on the go. There are just many people who are wearing a watch with this clasp but just don't know how to adjust the Rolex GlideLock clasp, and hopefully, we have helped prodiving some education about its existence and how it works!