Breitling Reference Numbers: A Complete Guide
Breitling is a brand that is known to make durable, sporty, and innovative watches – sometimes with the help of digital elements in them.
Many of Breitling's watches are professional watches that truly make a difference for the people wearing them. At the same time, to widen its line, Breitling also offers dressier watches that are more attractive to the general public. Breitling is probably most known for its chronographs, and specifically its Navitimer model. Breitling has received lots of credit for its chronograph movements as they are considered really good.
But if you have seen the reference numbers on a Breitling watch, you've maybe been overwhelmed. Breitling doesn't have short reference numbers such as Patek Philippe, for example, 5711. Instead, Breitling's reference numbers are a long line of letters, dots, and numbers that, as a result, are impossible to memorize.
This, of course, can make it a bit more difficult to talk about a specific timepiece, since you cannot refer to its reference number.
But while the Breitling reference numbers are hard to remember, and maybe unnecessarily long and complex, they actually have a great thought and purpose.
In this article, we share what the Breitling reference numbers mean, and what information you can get solely by looking at the reference number.
Breitling reference numbers
All watch brands use reference numbers for their different models for the purpose of easily identifying a model, rather than having to say the full model name.
Let's take a Rolex example. Rather than saying "Rolex Daytona White mother of pearl & diamonds", you can simply say the reference number: 116503.
In the same way, Breitling uses reference numbers to make it easier to identify specific watch models. Now, before we move on, it's important that you know that there's a difference between a watch's serial number and reference number. The reference number is the same thing as the model number, which simply refers to a specific model, however, the serial number is unique to each and every timepiece, to make it easier to identify it for different reasons, such as insurance and theft.
Over the years, Breitling's reference number has changed slightly, and this means that there's a bit of a disconnect between the modern and older watches if you are to look at the reference numbers you'll learn today.
The good news is that Breitling has used the same reference number system since 1991 which makes it a lot easier to follow the same reference structure and format when examining what these really mean.
What are Breitling reference numbers?
Like many watch brands, each number in Breitling's reference numbers provides information about the timepiece. The reference number normally consists of six characters, followed by six characters. The last characters focus on the finish of the case, the dial, and its color.
The reference number on Breitling watches can be found on the caseback (like on most watch brands).
An example of a Breitling reference number is AB0121211C1P1. This is the reference of a Breitling Navitimer. Now, since Breitling makes so many Navitimer variants, it is good to have the reference number and know how this is used, because, with the help of the reference number, you can know exactly which watch it is and how it looks.
This is the format Breitling reference numbers have:
1 – Single letter representing the Case Material
2 & 3 Two numbers or letters representing the Movement used
4 Single number designating if the movement is COSC Certified
5 & 6 Two numbers representing the Model Type
7 & 8 Two numbers representing the bezel/case Finish
9 Single letter representing the Dial Colour
10, 11 & 12 – Three numbers representing the Design of the Dial
The first letter of the Breitling reference numbers refers to the case material. Breitling reference numbers begin with a letter. In my example above, the reference number used the latter "A". If you look at the list below, you'll find that it features a stainless steel case.
Letter in the first position: Case Material
A = steel bezel/case
B = steel bezel/case/gold riders
C = rose gold bezel/steel case
D = yellow gold bezel/steel case
E = titanium bezel/case
F = 18k bezel/titanium case
G = white gold bezel/steel case
H = 18kt rose gold bezel/case
I = not in use at the moment.
J = 18kt white gold bezel/case
K = 18kt yellow gold bezel/case
L = platinum bezel/case
M = blacksteel bezel/case
N = carbon case
P = platinum bezel/steel case
R = red gold bezel/case
T = palladium bezel/case
V = black titanium case and bezel
X = Breitlight® case
Y = ceramic bezel/steel case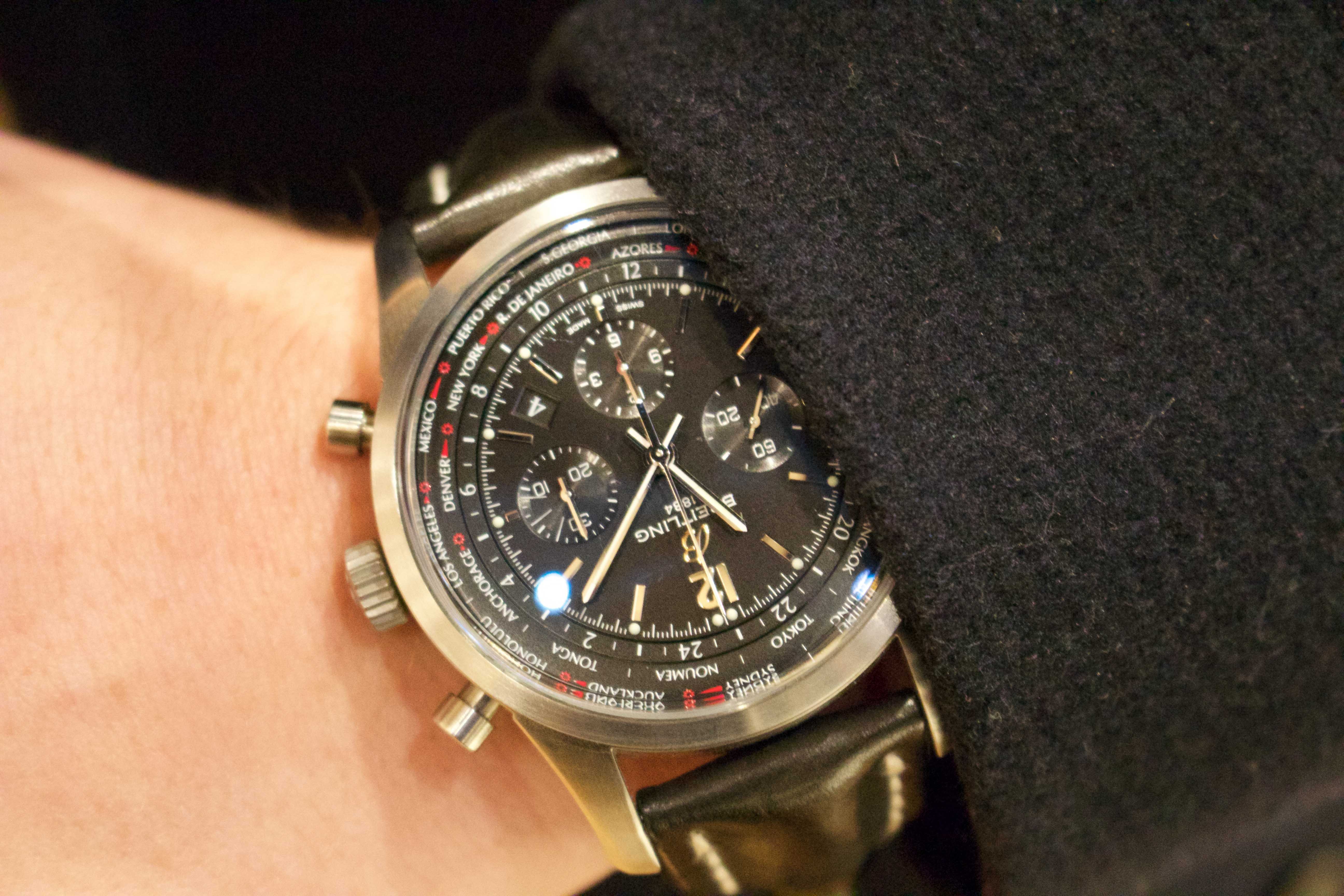 Numbers in position 2 and 3: Movement (Calibre)
The numbers in the second and third position refer to the watch's calibre. Breitling uses a rather complex system of numbering its movements, and so this is why it can be a little tricky to know which movement is used, through the reference number.
Any number that is 50 or above means that the movement in the watch is quartz. Furthermore, watches that have a Breitling in-house movement have the letter B before the number.
As for my reference number example above "AB0121211C1P1", you can see that the steel Navitimer features an in-house Breitling caliber.
If the reference number doesn't feature a "B" before the caliber number, it means that the movement used in the watch is not in-house. In other words, it is sourced from another manufacturer.
To quickly summarise. Numbers from 10 to 49 in the second and third position means that the watch features a mechanical movement. numbers with 50 and above mean that it is a quartz movement.
Number in position 4
COSC Certification

The number in the fourth position also refers to the movement, but not in the way you may think. The fourth digit actually refers to COSC certification, and whether the timepiece is a certified chronometer.

If the fourth number is:

0: It means that the watch doesn't have a COSC certification.

3: Means that it has a COSC certification

While this number is true for many Breitling pieces, it is not true for all.

Have in mind though, that Since 1999 and 2000, almost all Breitling watches have been COSC certified.
Other numbers used in the fourth position
Other numbers have been used in the fourth position of Breitling reference numbers, and this makes it slightly more tricky.
Note: For the watches with Breitling in-house movements, there is no information about COSC, and the simple reason is that all of Breitling's in-house movements are COSC
Numbers in position 5 & 6:
Model Type

The digits in the 5th and 6th position refer to the model type of the watch.

These digits describe the model type, but the catch is that these numbers are also used for different models.
Numbers in position 7 & 8:
Finish on the bezel and case

The digits in the 7th and 8th position refers to the finishing. However, there's a bit of a debate about whether this is only true for the bezel or if it includes the case as well.

These numbers describe the finishing of the watch/bezel:

10 Satin/brushed/titanium finish

11 No special finish

12 Polished finish

13 Satin & polished sections

53 Diamond bezel

The catch is that this format is not true to all models, as some models adopt the same format, but don't stay true to the above format.
Numbers in position 9: The 9th digit refers to the dial color
A = MOP, White, Beige, Ivory, Arctica
B = Black, Anthracite, Diamond Black, Royal Ebony
C = Blue, Moroccan Blue, Meteor, Neptune Blue, Peacock Blue
D = not currently used
E = Rhodium
F = Slate, Slate-Grey
G = Silver, Silver Storm
H = Champagne, Amber, Desert Dune
I = Yellow
J = Smoke Grey
K = Red, Burgundy, Sunset, Rose
L = Green, Turquoise, Laurel Green, Spruce
M = Graphite, Titanium
N = not currently used
O = Coral
P = not currently used
Q = Bronze, Havana, Grey Violet, Burnt Oak
Numbers in position: 10, 11 & 12: Dial Design
The positions 10, 11, 12 refer to the dial design of the watch.
Three numbers with no discernable pattern represent the dial type.
These last numbers have no real format, but they are used to define the dial design, such as sub-dials, date window, etc.
Conclusion
All watch brands use reference numbers in order to better refer to and identify specific models. This is especially important if it is a brand that has many different models, which Breitling has. Normally, the reference numbers used by different brands are not made up, but instead, they often follow a particular pattern, just like Breitling's reference numbers do.
Note:
This information is only for educational purposes. This information has been completed with the help of a number of information sources, and Breitling is not responsible for any information on this page. We inform that there may be incorrect information/errrors/omissions.
Do you have any additional specific questions regarding Breitling reference numbers? Consult one of our watch experts here!