Casio G-Shock GA110GB Review & Complete Guide
The Casio G-Shock range is a collection of watches from Casio that need no further introduction. They are tough, durable, and built to last. The G-Shock is today one of the most popular and recognized watches all around the world, and there are few watches that can meet the toughness of the G-Shock.
Over the years, the G-Shock collection has grown and grown to make sure it caters to different people's needs and wants. There are highly advanced watches with tons of different features and functions, but there are also more simple options for those who prefer something a little more subtle and discreet.
The most classic of them all, however, are the ones with a round resin case and integrated straps. These are available in a large number of iterations, and in this article, we are going to review one of them, specifically the Casio G-Shock GA110GB.
Casio G-Shock GA110GB review
At its core, the GA110GB is just like the classic G-Shock watches, but at the same time, it is greatly different. First and foremost, it has a design that certainly stands out from most others. It has a bold and eye-catching design that will never go unnoticed by anyone, but at the same time, it carries the G-Shock DNA which everyone loves and expect from these timepieces.
Without further ado, let's look at this watch in detail.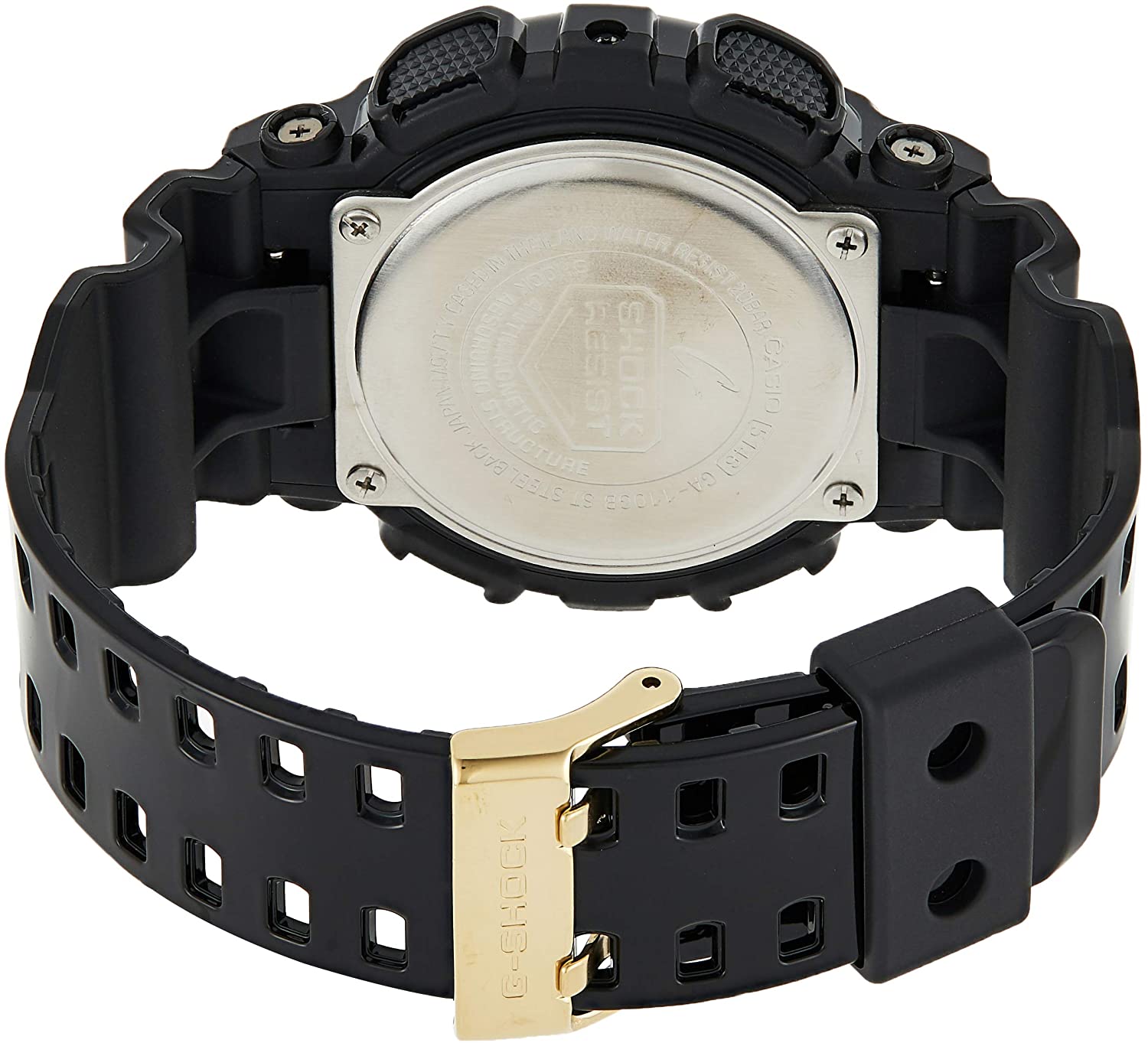 Case
Starting off the case, you'll notice something that is very familiar. It has a classic round resin design with an integrated strap. The case has a thickness of 16.9mm and dimensions of 55,0mm x 51,2mm. With these dimensions, there's no denying that it is a large watch that fits under the X-Large G-shock watches, and therefore has a relatively large wrist presence. But if you like the way G-shocks wear and enjoy large watches, you'll absolutely love the GA110GB. The integrated strap also helps in making it sit comfortably and slim on the wrist. Made in resin, it is very durable but at the same time very comfortable. A nice touch is that the buckle is made in gold which matches the dial perfectly.
The resin case provides great protection of the watch and increases its shock-resistance which is great. It has a water-resistance of 200m/660 feet. This is great seeing you can go swimming or diving with it without having to worry. It is certified according to ISO 22810. The housing is also made to shield it from magnetic fields.
The case has mineral glass on top, and on the sides of the case, you have the operation buttons. To make it easier to operate, and know what each button does, Casio has added text on top of the bezel, next to each button which tells you just that.
The battery has a lifetime of about 2 years.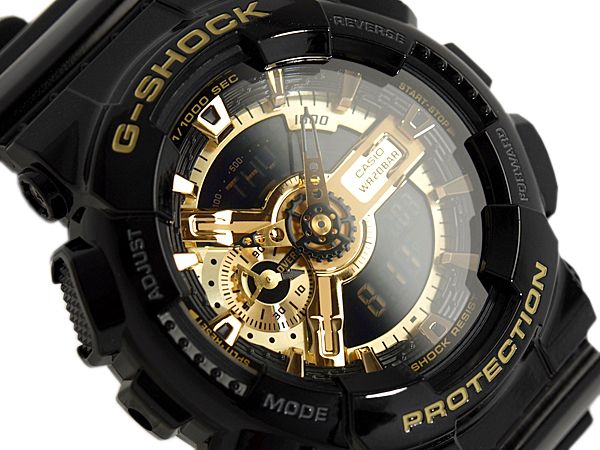 Dial
The dial and face of this watch are certainly the highlight of this reference and what makes it so popular.
Generally, G-Shocks look very sporty and tool-like, which of course the GA110GB does, but this particular reference has been equipped with an analog clock with some really striking and eye-catching gold details. This really makes the watch stand out from most other G-Shocks and gives it a more elegant and dressed-up look. It's an interesting design concept from Casio because, on one hand, you have a very sporty timepiece, but on the other hand, you have an elegant dial that appears very luxurious. It's an interesting combination that happens to work exceptionally well.
Most G-shock watches have only a digital display, but this watch is equipped with both an analog and digital display. It has two digital displays, one on the bottom of the dial, and one on the top. For improved legibility, it has an auto LED light with afterglow. This illuminates the watch face which helps both the display and the analog time. It also has an Auto Light Switch that illuminates the display when the watch is angled towards the face so you don't have to activate it manually.
The backdrop for the dial is gold, apart from where the screens are placed. The hands are rather aggressively designed with pointy hands and an industrialized look. At 3 o'clock, you'll also find an analog sub-dial.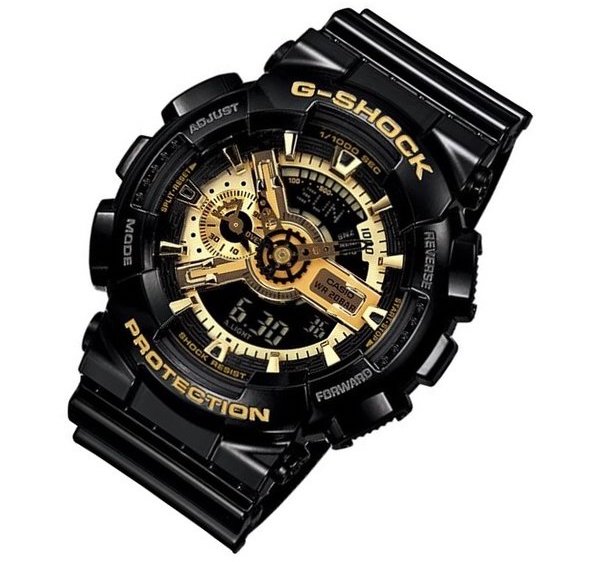 Functions
Like most G-Shocks, the GA110GB is of course packed with different functions.
With its stopwatch, it measures up to 1/1000th of a second. It has a world time, 5 daily alarms, 1 snooze, an hourly time signal, stopwatch, countdown timer, full auto-calendar and 12/24 hour formats.
The world timer displays the current time in major cities and specific areas around the world.
The countdown timer can give off an audible signal at a preset time. It can be set to the nearest minute and up to 24 hours in advance. This is great if you need a specific reminder every day, or for an endless of other opportunities. When you have the alarm, you also have a snooze feature, allowing you to stop the alarm and have it sound again after a few minutes.
With this watch, you can also calculate the average speed. You do this by entering the distance at the start and press the stopwatch when the destination has been reached. The average speed is then displayed on the screen.
Of course, it also has the basic functions which include time, date, day, and month.
Specifications
Power reserve: 2 years
Glass: mineral glass
Weight: 72 grams
Thickness: 16.9mm
Diameter: 51,2mm
Length: 55mm
Water-resistance: 200m/660 feet
Battery life: approximately 2 years
Conclusion
All in all, the Casio G-Shock GA110GB is a watch that stands out from most other G-shocks on the market. It still offers everything that you would expect a G-Shock to offer in terms of durability and functions, but to spice things up, its analog clock with gold details is something that truly stands out from the ordinary and makes an otherwise sporty timepiece rather elegant.
It's easy to see why this model is so popular with its interesting combination of sportiness and elegance. It is just as practical as it is elegant, and there are few G-shocks like it.
The Casio G-Shock GA110GB is available to order on Amazon.