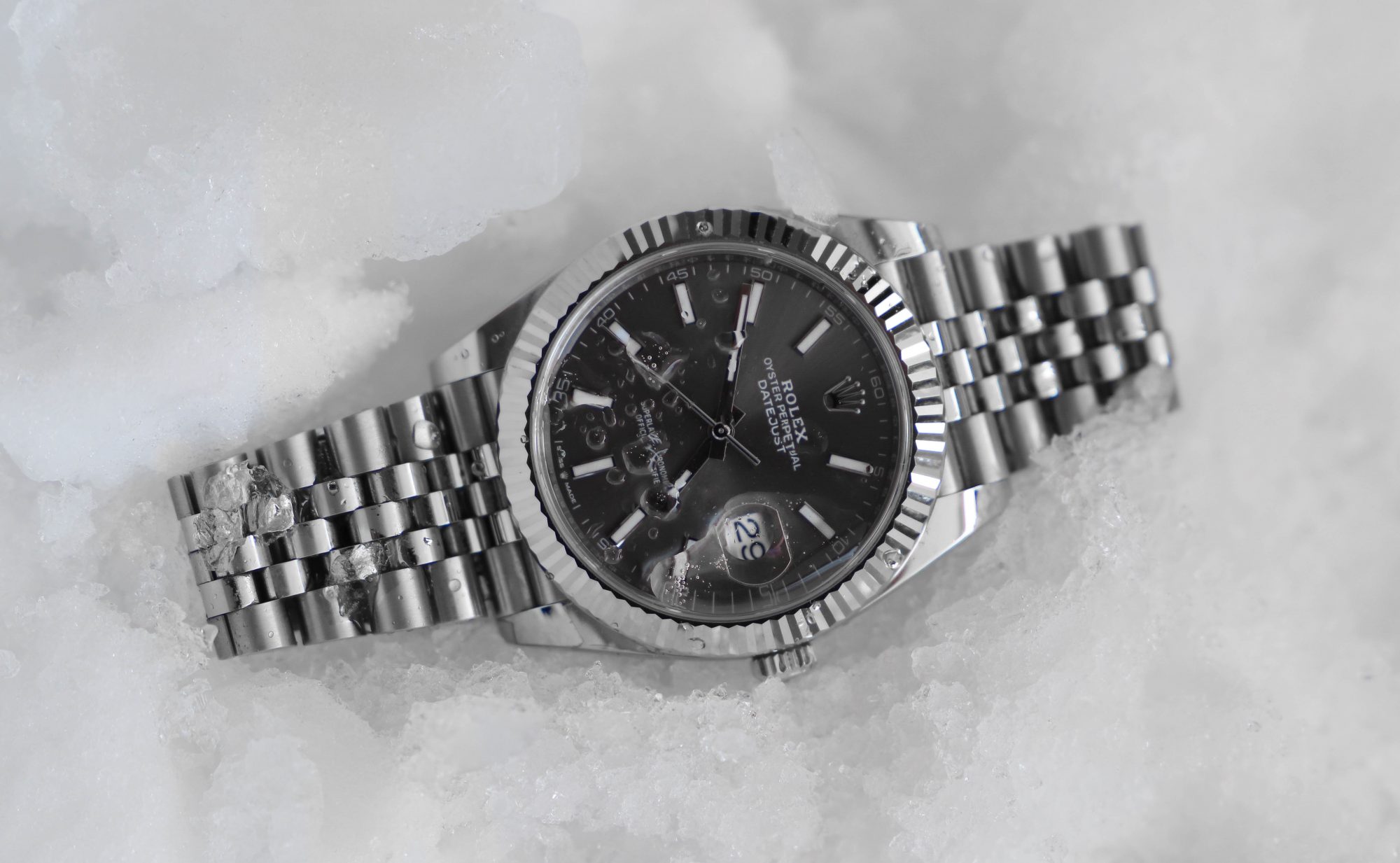 How Much heat can a Rolex take? [Can Rolex Handle Extreme Temperatures?]
Rolex consistently promotes the robustness and durability of its timepieces. Rolex consistently takes on challenges to prove that they don't only talk about it, but they also do it. Rolex was the first watch to be worn on the first successful climb of Mount Everest, and they have been heavily used by professionals in highly demanding fields such as by the professional divers at COMEX and various explorers on demanding and challenging missions.
Rolex is a company with a long list of milestones that prove just how tough and durable they are. They don't just talk about it, but they also show it. Some of the communications from Rolex have sounded like this:
"Tested to Extremes"
"Mastering the extremes"
One aspect of robustness is the ability to withstand and handle extreme temperatures. Whether you're walking in the deserts of Sahara or exploring the arctic circle. It's clear that Rolex is very proud of the performance and durability of its timepieces. And that is because they have proven themselves time and time over.
With all of this said, we know that Rolex watches are tough and that they can handle harsh environments. But can Rolex watches withstand heat? And how much heat can A Rolex take? That's what we are going to look closer at in this article.
Rolex watches – tested to the extremes
Rolex is proud to highlight the long series of tests that Rolex watches undergo to ensure and prove their durability. Rolex states that their watches are tested to the extremes and if we look closely at all of the different tests that Rolex conducts, we can absolutely agree that that is true. In this article, we go through how Rolex tests its watches in detail.
In this marketing video, Rolex shows some of the various tests that are carried out on its Rolex watches. They state the following:
"Nothing need endure this kind of torture, they say. But we do it anyway. No one can go further. It's impossible to journey that deep. But we do it anyway. Maybe, just maybe, they're right. No one will ever test a Rolex like Rolex. But we do it anyway".
Rolex watches go through all kinds of different tests in the factory. And, as Rolex stated, they will test their watches to an extreme point that no wearer will likely never subject their watches to, just to make sure. This includes shocks, magnetism, longevity, and of course extreme temperatures.
This brings us to the main question of this article: how much heat can a Rolex take?
Well, first off, the answer is yes, Rolex watches can handle extreme temperatures, both hot and cold. The question is how much they can take.
Boiling a Rolex to prove a point
To prove the toughness of its watches, Rolex performed a test where they boiled a Rolex Oyster and made an advertisement out of it. In the ad, they wrote:
"What happens when you boil an Oyster. We asked an independent lawyer to witness this experiment. This is the report he wrote afterward:
'On behalf of Montres Rolex SA, of 3 Rue Francois Dussaud, Geneva, I the undersigned, Robert Rieder, Geneva Lawyer certify that I went to the studios of a photographer. There, I met the head of advertising and the chief of the mechanical department of Rolex. They explained that they intended to photograph an experiment consisting of immersing a normal production gold Rolex Oyster Perpetual chronometer in a receptacle filled with water, which would be heated to the boiling point, without any deleterious effect whatsoever to the watch'
I did in fact see that with the aid of a bottle of propane gas, the water was heated in the receptacle until it boiled (a thermometer in the water read 100 degrees approximately). After 10 minutes of boiling, the watch was removed from the receptacle and I was able to see that the watch functioned perfectly'."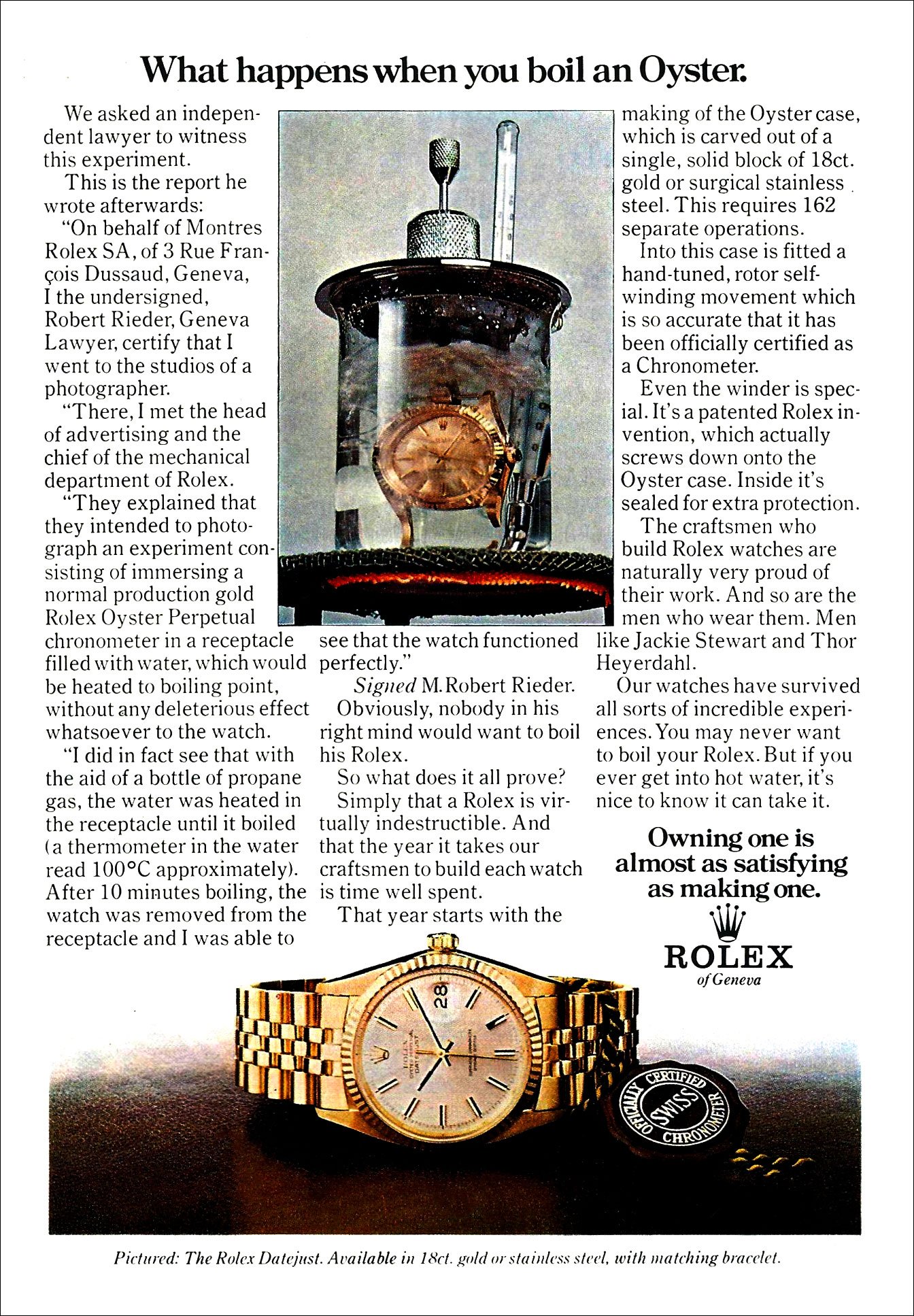 With this experiment, Rolex wanted to show that their watches are able to withstand extreme temperatures. In this case, extreme heat. So with this in mind, the answer to the question would be that Rolex watches can take a lot of heat. Like, 100 degrees of heat. Now, naturally, no one would ever consider boiling their Rolex, nor would they find themselves at a temperature of 100 degrees celsius. This would mean that they themselves would not survive. But their Rolex would, at least for a while.
Or, as Rolex says: "You may never want to boil your Rolex. But if you ever get into hot water, it's nice to know that it can take it."
The point of the ad is the following:
"What happens when you boil an oyster? – Absolutely nothing."
Rolex COSC tests
Of course, this little experiment was just a way for Rolex to go above and beyond and prove a point. But in addition to this, all Rolex watches are COSC certified. First, they must pass COSC tests, which is an external testing institute for Swiss watches. And after this, they must pass Rolex's own in-house tests in order to receive the Superlative Chronometer certification.
For a watch to be COSC certified, it needs to undergo a series of tests in regard to its accuracy and performance. This also includes testing the accuracy in different temperatures. In regards to the temperature tests performed by COSC, each movement goes through a series of different tests. Only movements or watches that meet the accuracy requirements of this standard receive an official chronometer certificate.
Most importantly, the tests involve placing the watch in an enclosure at 23°C (± 1°C), where they must remain for at least 12 hours so that their temperature stabilizes before the test phase commences. Following this, the movements are tested for several consecutive days, in five positions and at three different temperatures (8°, 23°, and 38°C).


This means that all Rolex movements have been tested by COSC in temperatures between 8 degrees Celsius to 38 degrees celsius. These are temperatures that most people will find themselves in – and subject their watches to. The movements are subject to testing for 15 days and 15 nights, involving seven eliminating criteria in five static positions and at three temperatures.
But Rolex isn't satisfied there. After the COSC tests, they go on to test their watches in-house.
"The criteria that made Rolex watches "Superlative Chronometers" in the late 1950s were reinforced in 2015 to establish a new standard of excellence for mechanical watches."
In regards to temperatures, Rolex subjects its watches to all kinds of extreme temperatures during the development stages to see how the watches perform.
There's a difference between "can" and "should"
Now that you know that a Rolex watch can take extreme temperatures. But just because a Rolex watch can handle extreme heat doesn't mean that you should frequently subject it to it.
Naturally, subjecting a watch to extreme heat or an extreme cold frequently and regularly will ultimately cause premature wear to the movement – even though it will be able to handle it.
Most importantly, it is primarily the gaskets of the watch (rubber seals) and the lubrication inside the movement that is affected by this. Extreme heat and extreme cold will inevitably cause the seals to expand and contract, causing them to wear out faster and lose their efficiency. This may, in the long run, cause the watch to ultimately fail. In addition, lubricants will also be affected over time, which may require more frequent services of the movement.
So even if your Rolex watch can handle extreme heat and extreme cold doesn't mean that you necessarily should. But if you find yourself in this sort of situation at times, you can have comfort in knowing your watch will be able to handle it.