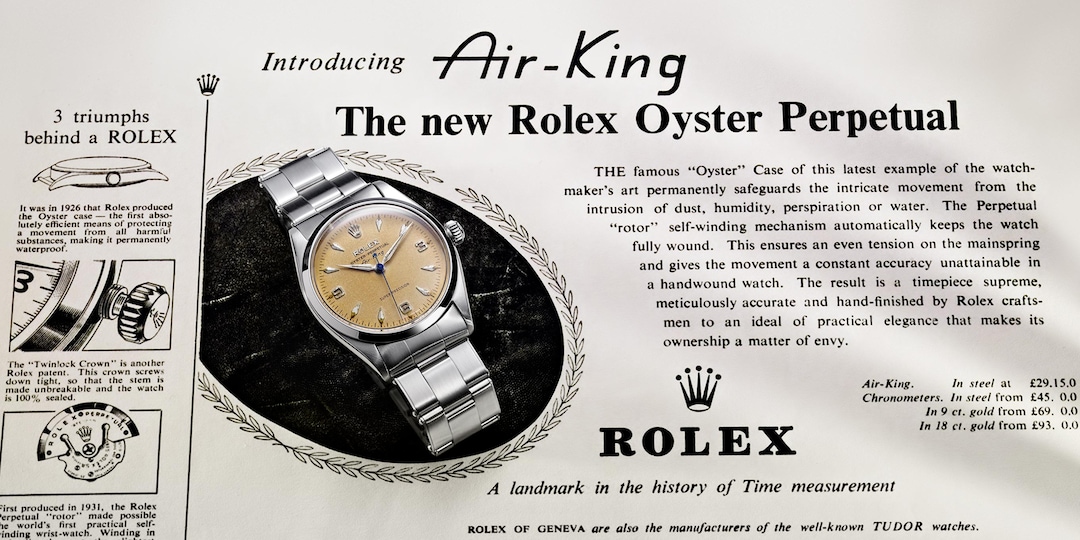 Rolex Air-king All Models – Complete List, History & Production Years
The Air-King is one of the models from Rolex with the quirkiest history. Whilst the history of models such as the Submariner and Datejust has been clear-cut, the Air-King was for long essentially just a spin-off model of the Oyster Perpetual (although it can be debated that several Rolex models are just spin-offs as well).
Still, the Air-King is a model with a lot of history as it is one of Rolex's oldest models that are still in production today. Whilst the name has remained, the Air-King has evolved considerably throughout the years. What was originally essentially a spin-off model of the Oyster Perpetual has grown to become a distinct and unique model, worthy of standing on its own legs.
This makes it even more interesting because models like the Submariner or the GMT-Master have retained their original look and design, whereas the modern Air-King watches have become quite frankly very different from what they originally wear. But regardless, the ethos behind them still remains.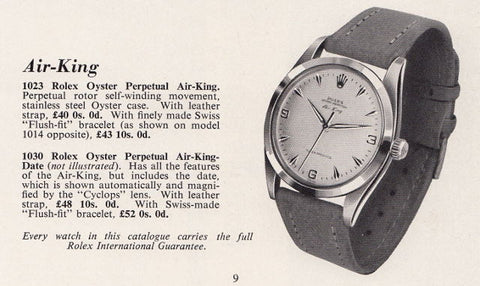 Rolex Air-King history
The Rolex Air-King was first introduced in 1945 and was an idea of Rolex founder Hans Wilsdorf. In the 1930s, many pilots were using Rolex Oyster watches and some expressed positive feedback about these timepieces. As a matter of fact, the Air Force pilots had standard-issue watches, but they chose to use Oysters instead due to their superiority.
During this time, it was still the early days of aviation but plenty of progress and technological innovations were introduced to the aviation industry which led to both greater interest in aviation but also a growing growing industry. And perhaps most importantly, greater abilities to fight its enemies in World War II.
As a result of this, Hans Wilsdorf thought that it was time to create a line of watches specifically made for pilots. The rest is history and the Air-King was born.
Hans Wilsdorf created a series of different "Air" watches within the Oyster collection as a tribute to the brave pilots of the British Royal Air Force in the Second World War. Hans Wilsdorf had a great admiration, like most British, for the RAF pilots and the sacrifices they made, but it was also because many of them had chosen to wear Rolex Oyster watches.
The "Air-King" name was not the only "Air" name used. During this time, many different "Air" names were used and printed on the dial, including "Air-Lion", "Air-Tiger", and "Air-Giant".
All of the names would eventually come to be discontinued, except for one – the Air-King – which has stood the test of time.
In Rolex's own words:
"The Air-King symbolizes the privileged relationship between Rolex and flying during the golden age of aviation in the 1930s. It pays tribute to the pilots of the era and the Oyster's role in their epic story."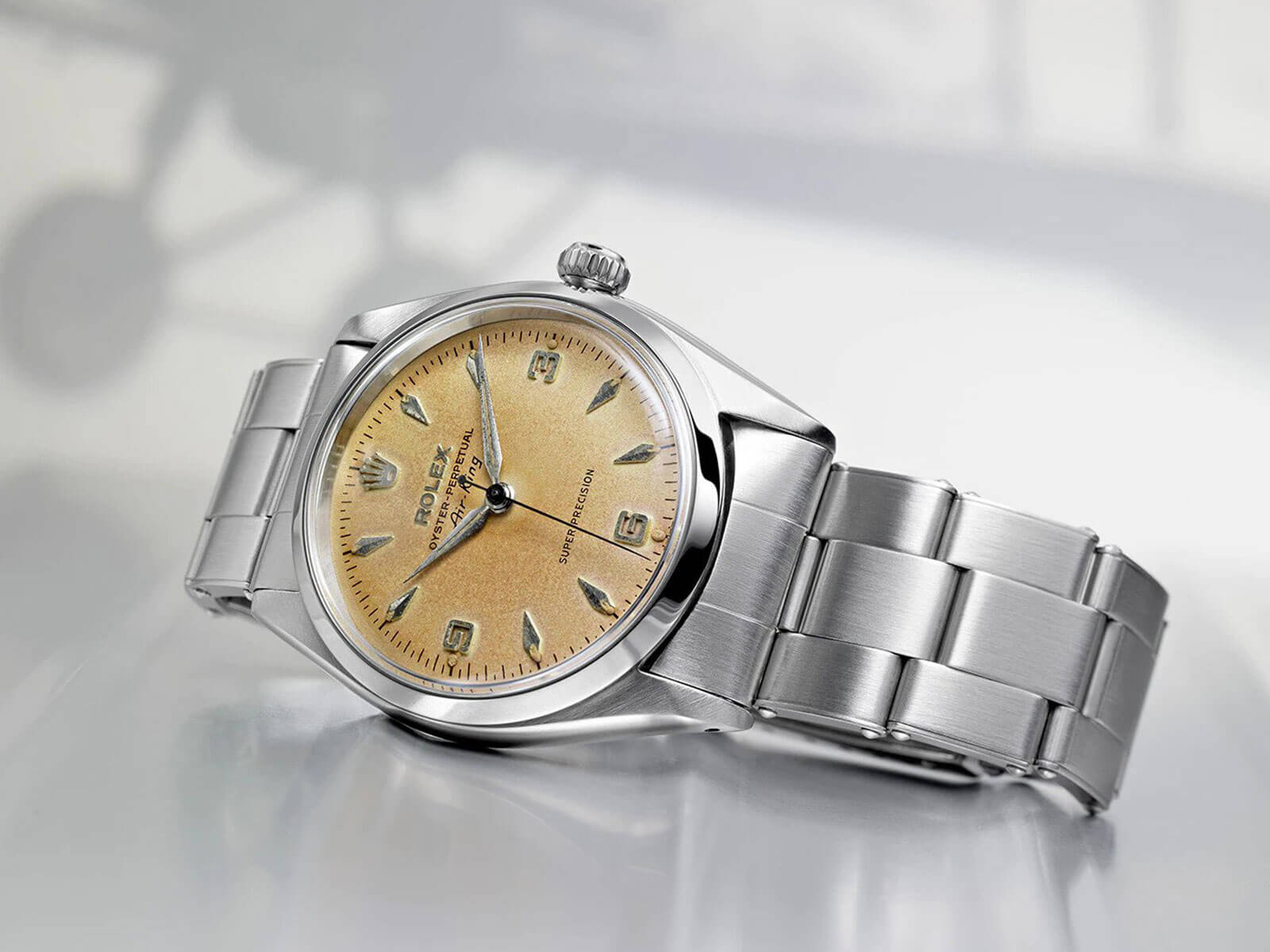 Whilst the Air-King name was first seen on Rolex watches in 1945, Rolex's official communication is that the model was launched in 1958. How come? Well, there are several reasons why Rolex states that it is 1958 even though the model name was used more than a decade before that. One explanation is that for the early Air-King watches, Rolex didn't use the iconic lettering for the model name which has been used for all models since that. About this, they say:
"The name 'Air-King' has featured on the dial since its launch in 1958, in lettering that makes the model immediately recognizable."
This further supports the idea that Rolex considered the earlier models mere spin-offs of the Oyster Perpetual and not distinct enough to deserve to be its own model. Bear in mind that this was a time when Rolex experimented a lot with different dial prints and the models in its lineup were not as clear-cut as they are today. The first time that the signature Air-King lettering appeared was in 1953.
During the 1930s, aircrafts were not as technically advanced as they are today. Therefore, the pilots needed to equip themselves with reliable and functional tools to assist them on their journey in the skies. One of those things is a wristwatch. And Rolex played an important role in this as their wristwatches were popular amongst pilots. Some pilots even used Rolex watches as onboard chronometers.
Rolex was also a part of a number of major achievements during this time. In 1933, Oyster watches were used by the Houston Expedition as they made the first-ever flight over Mount Everest. In 1934, a Rolex Oyster, used as an on-board Chronometer accompanied Owen Cathcart Jones and Ken Waller on a journey from London to Melbourne in a record-breaking time flying a twin-engine De Havilland Comet.
The English aviator Charles Douglas Barnard said of the Rolex Oyster "The peculiar qualities of this Rolex watch render it eminently suitable for flying purposes and I propose to use it on all my long-distance flights in the future."
Whilst brands like IWC with its iconic Big Pilot tend to be perceived as closely associated with the skies and aviation, Rolex is not the first brand most people think about when they think of aviation and watches. Rolex does have its fair share of history in aviation. But partially because the Air-King was never made into a true pilot's watch and because it didn't have a lot of distinct features, Rolex fell short within this space.
Early Air-King watches
Whilst Rolex considers the first Air-King to have been launched in 1958, the first Rolex watch to feature "Air-King" on the dial was launched in 1945 under the reference 4925. This is quite strange
This was a self-winding Oyster Perpetual watch featuring a manually-wound movement, specifically caliber 10.5.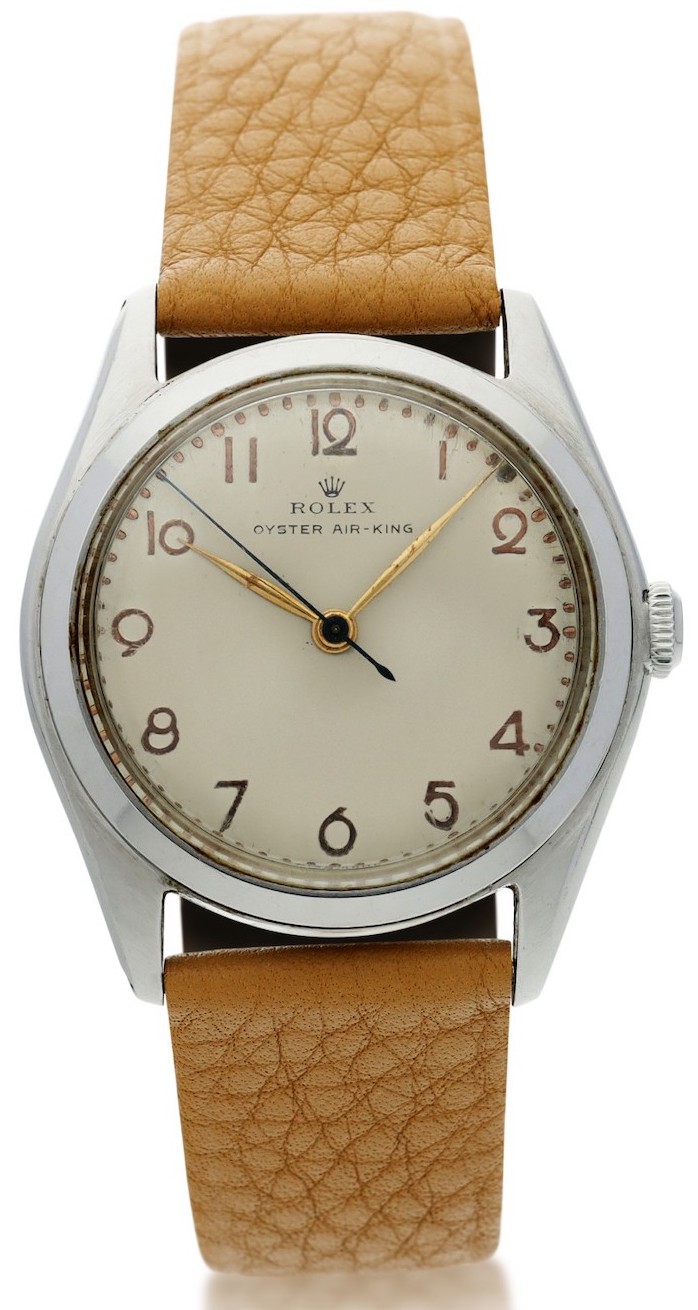 A year later, in 1946, Rolex released the 4499 Air-King. The first two Air-King models were both powered by manual movements but all of the successors use automatic movements, seen by the text "Oyster Perpetual" on the dial. Because all of the Air-King watches are Oysters, it means that they have a water resistance of 100m. Perhaps not crucial when you're 10.000 meters above ground in an airplane, but certainly practical for everyday use.
It was reference 6552, launched in 1953 that became the first watch to have the signature Air-King script font which is still used on the Air-King to this day.
The Rolex Air-King was always intended as an entry-level Rolex. This is why it took some time until the movements became COSC certified. Rolex didn't see any point in doing this as the increased cost would make it less attractive.
Rolex Air-King background
As mentioned, the Air-King has changed a lot in design over the years. Whilst it is possible to see a clear resemblance between the first Submariner and the latest, or the first and latest GMT-Master, Daytona, or Day-Date watches, the same cannot really be said about the Air-King.
Being based on the Oyster Perpetual, the early Air-king models were very simple, classic, and clean in design. Frankly, they were far from what you would consider a "sports" or "professional" watch to be. Whilst, as mentioned, you could argue that most of Rolex's models are just spin-offs of existing ones, it is particularly true for the Air-King. The reason is that the early Air-King watches were Oyster Pereptuals with "Air-King" printed on the dial. The movement was the same, the case was the same. The only difference was the small but oh so important "Air-King" line of text.
Throughout the years, Rolex would revise and change the Air-King to give it a more unique look, but the similarity to other, existing Oyster Perpetual models would still be great. It didn't take until 2016 that Rolex finally released a model that was unique and distinct enough to completely break into something that would enable it to become a recognized icon.
During this time, production, models, and variants could change or vary slightly. Rolex created some variants for export, some with date windows, and others with slight dial variations. And due to the long production period of the Air-King 5500 as well as other models, different iterations were produced throughout the years. For example, Rolex created the reference 5504, a larger model made for the export markets. This watch was virtually an Explorer from that time but with an Air-King dial instead.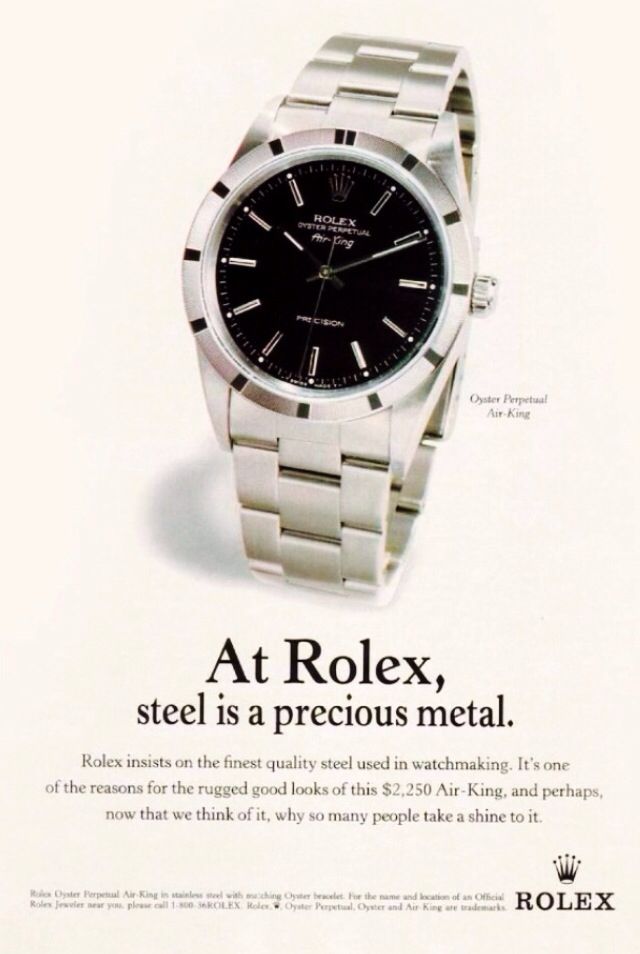 Rolex Air-King 5500
The Air-King 5500 is the reference that has had the longest production of all Air-King watches, ever. It was launched in 1957 and was discontinued in 1991, 33 years later. There are few models from Rolex that have had as long of a production period of 31 years.
Due to its long production period, reference 5500 is considered the iconic Air-King model. It was launched in 1957 and is characterized by a sleek and polished bezel, a simple dial and hour index, simpler hands, and no complications. In terms of visual design, the model is all about minimalism and simplicity. Inside you will find the reliable movement cal. 1520 alternatively cal. 1530. In general, you can identify if a watch has caliber 1520 or 1530 by looking for the text "Precision" on the dial. If the watch has "Precision", it uses the caliber 1520, and if it has "Super-precision", it uses caliber 1530.
Rolex used two different calibers due to import restrictions of jewel counts in movements. The 5500 is actually the first Rolex to feature an all-in-house movement made by Rolex.
The watch measures 34 mm in diameter, which was considered large at the time. It usually came together with the classic Oyster bracelet from Rolex. Although the dial and hour marker design has changed over time, the purity of style has been a recurring theme.
The reference was blessed with minor upgrades throughout its long production but these were primarily minor visual changes. The lume was, for example, changed from radium to tritium.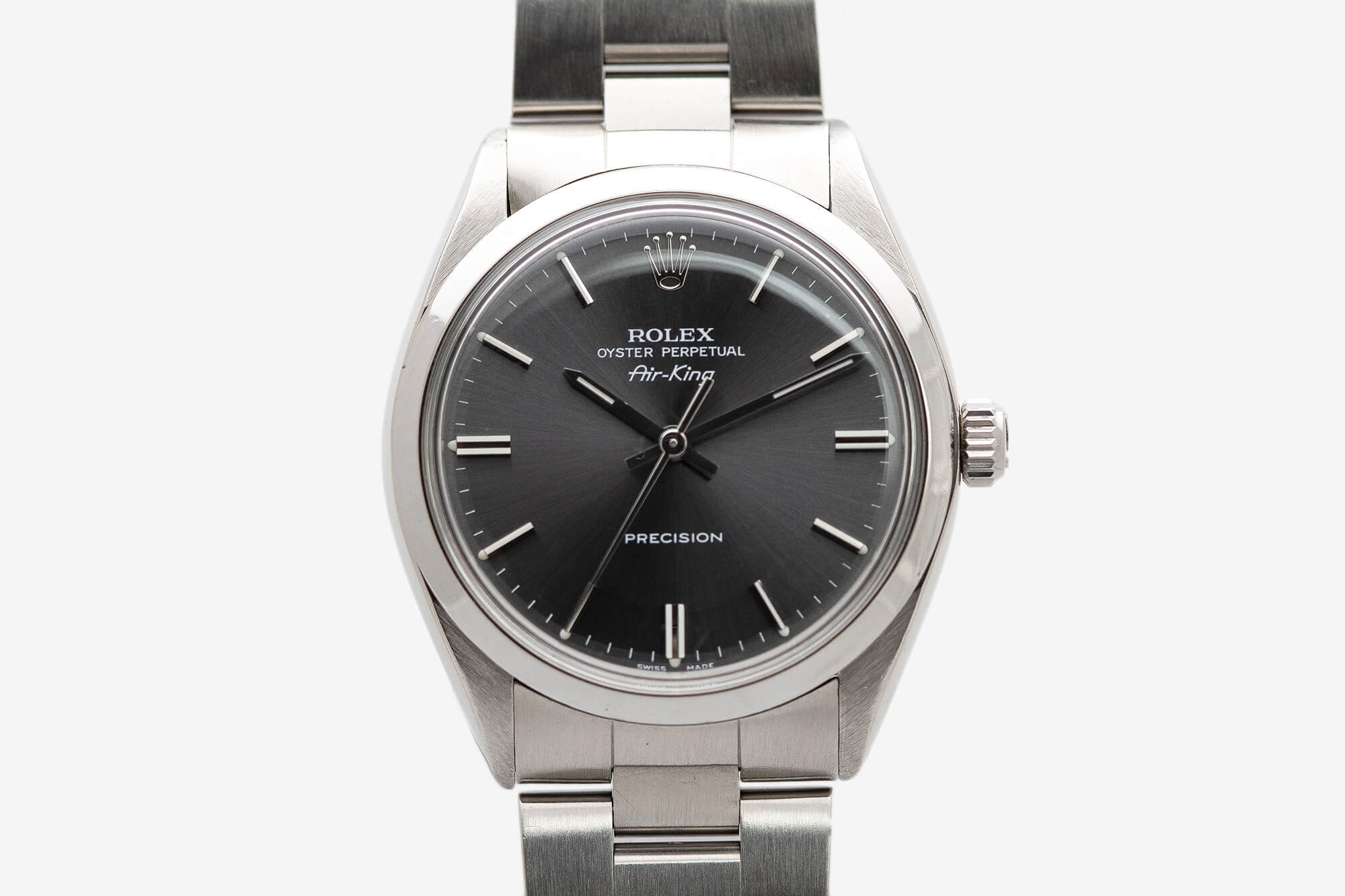 Rolex Air-king metals
Unlike what many people think, the Air-King has not only been made in stainless steel. In fact, early Air-King models were available in a variety of different metals. Throughout the years, Rolex has made various Air-King models with white gold fluted bezels, in two-tone yellow gold, 14ct yellow gold, 9ct yellow gold, and 18ct gold. The steel versions are naturally much more common, being entry-level models. The gold versions have come to become very unusual.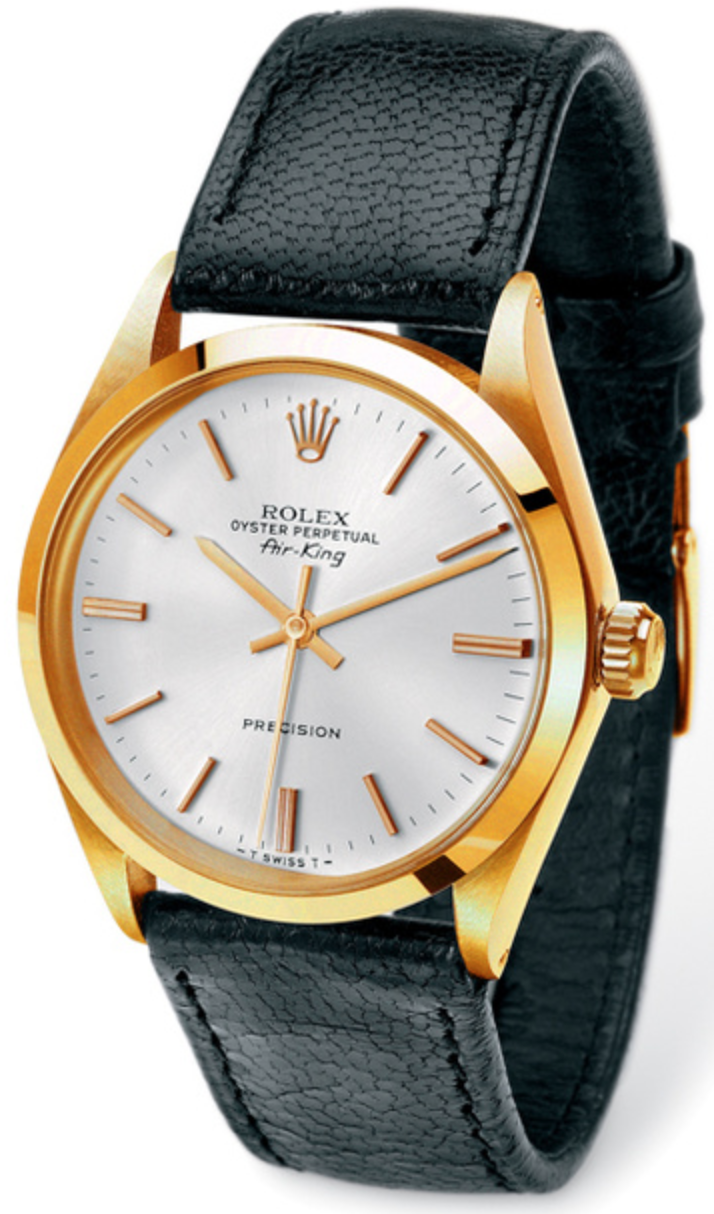 Air-King Date
It may come as a surprise to learn that Rolex did not only make the Air-King a time-only watch. They also made it with a date function, under the name Air-King date. The first Air-King date was introduced in 1959 according to Rolex, and was essentially reference 5500 but with a yellow gold fluted bezel and a date function. One year later, Rolex released a full-steel variant that looks essentially the same as a regular Air-King 5500 but with a date window.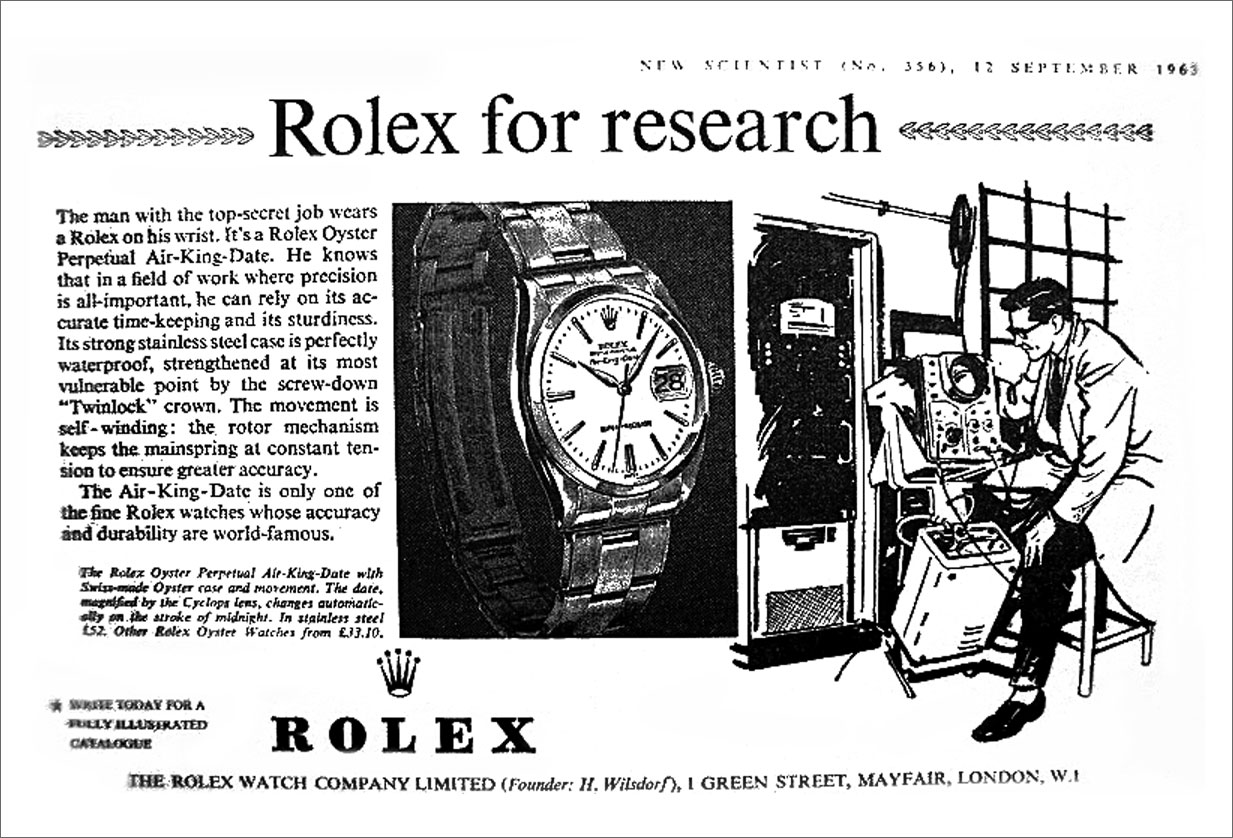 All of the Air-King dates were part of the 5500 family, but when Rolex discontinued this model, it also meant discontinuing the Air-Kind Date for good. Interetingly enough, Rolex did make "Date" watches after this, with watches that were virtually the same as Air-King watches but without a date. For example, the 14010 is an Air-King without a Date. The 15010 is the exact same watch but with a date function. But it doesn't have the Air-King name on the dial. Instead, it is simply named "Date".
The Air-King Date 5700 line was produced in considerably fewer numbers than the Air-King 5500. This makes the Air-King considerably more uncommon and rare today.
The watch has the same 34mm case and is presented on an Oyster bracelet and was powered either by the Cal 1525 or 1535 depending on when it was produced.
Rolex Air-King production years
It can be difficult to pinpoint the exact production years for certain Air-King models due to the fact that many Air-King watches are essentially just Oyster Perpetual watches. In other words, Rolex could essentially take an Oyster Perpetual, install a dial with an "Air-King" print, and voilá, it is an Air-King.
As a matter of fact, it is only the 116900 and 126900 that Rolex classifies as "true" Air-King watches, worthy of being divided into a separate category. In older catalogs and reference materials, they are segmented into the Oyster Perpetual collection because, frankly, that's what they are. A simple line of text on the dial won't change that.
However, that didn't stop Rolex from using the term "Air-King" in advertisements and when talking about the product. After all, there's a reason why Rolex introduced the model in the first place.
What's more, Rolex could use different dials with different model names printed on the dial, making it even more difficult to specify clear-cut answers to what's what. As an example, the gold and steel Oyster Perpetual reference 5501/3 was made with a regular Oyster Perpetual dial, Air-King dial, or an Explorer dial. So would that make it those three models all at once? As you can see, Rolex's model lineups were not as strict and clear-cut as today. This explains why there's sometimes never a definite answer.
The production years of the Air-King models below are Rolex's own production year information. For various reasons, there may be minor discrepancies between when Rolex considered they officially launched a model and what some serial numbers have suggested in terms of production years. The Air-King 5500, for example, is considered to have been launched in 1957, but Rolex has stated its launch as 1960.
In other words, the production numbers below are not guesswork or estimates. They are the official production years, according to Rolex themselves.
List of Air-King models
4925: 1945 (the first Air-King model, hand-wound)
4365
4499: 1946
6552: 1953
55001957-1989
5506
5501/3: 1959-1978
5500/7: 1960-1964
5516/1
5502/5: 1960-1964
5520/5: 1973-1986
14000: 1991-2001
14000M: 2000-2006
14010: 1991-2001
14010M: 2000-2006
5500/0: 1960-1991
5504/0: 1960-1964 (Export watch)
114234: 2007-2012
114200: 2007-2020
116900: 2016-2022
126900: 2022-
Rolex Air-King Date models list
5700/0: 1959-1967
5700/0N: 1990-1991
5701/3: 1960-1967
5701/3N: -1991