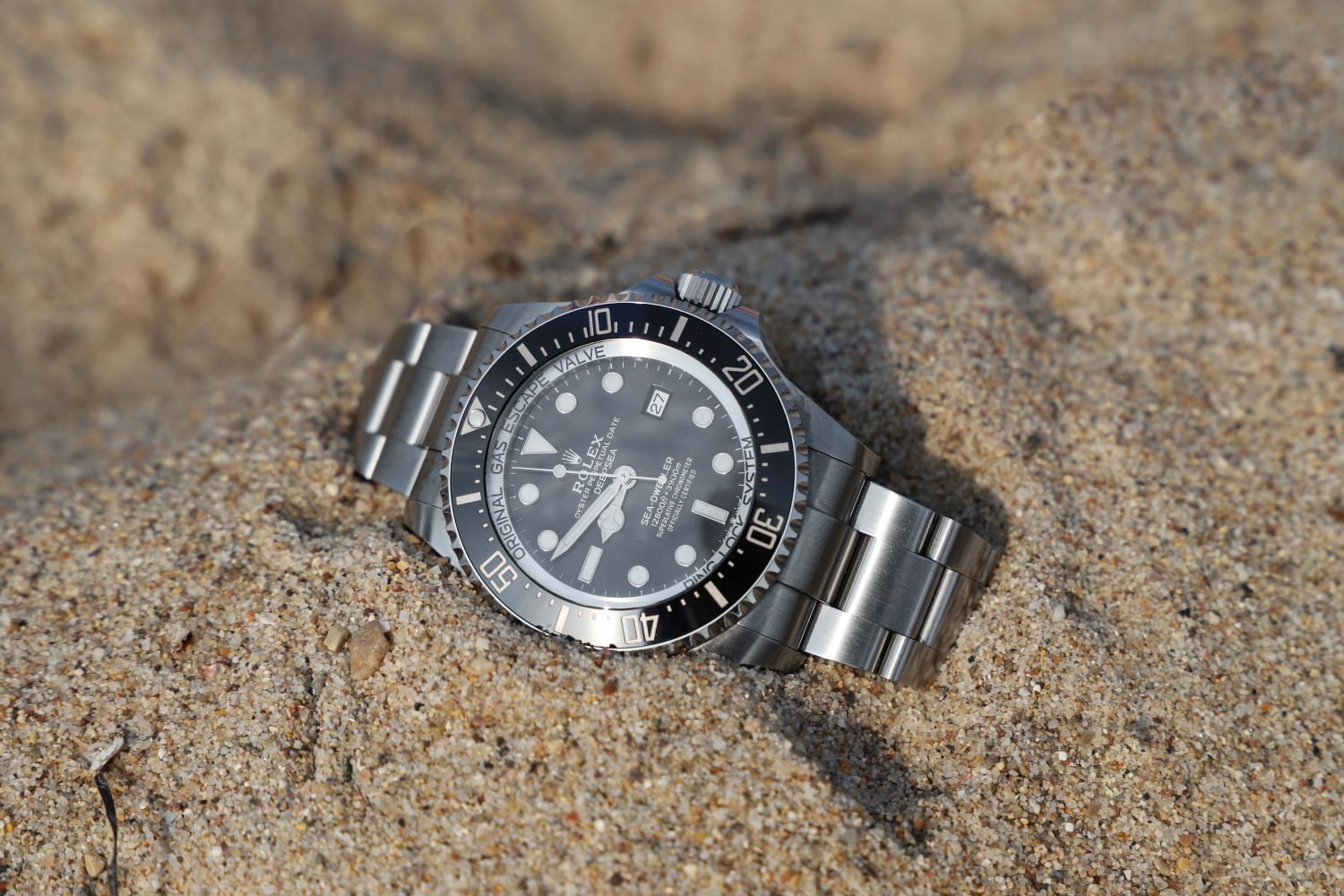 How Tough are Rolex watches? Complete Guide
A quote that Rolex frequently use is "tested to the extremes". Rolex frequently highlights the toughness, durability, and robustness of their watches. But how tough are Rolex watches, really?
Whilst Rolex watches are regarded as luxury watches, they are, at their core, tool watches, built to withstand extreme conditions and the demands of professionals. To make this possible, Rolex invests heavily in research and development. And most importantly, puts its watches through a series of tests.
How tough are Rolex watches?
In Rolex's own words:
"The quality of a Rolex watch is the result of a strict methodology. Rolex has played a pioneering role in developing tests and protocols to guarantee the reliability and robustness of its timepieces."
When Rolex builds their watches, they do so that they can withstand all kinds of different challenges that they may be subject to. Extreme temperatures, shocks, bangs, humidity, extreme depths, magnetic fields, and more. They themselves say that they require their watches to be able to resist the harshest conditions over a prolonged period of time – without being compromised.
"For Hans Wilsdorf, the brand's founder, it was essential that each Rolex watch give the exact time and that its movement be protected in the best way. More than a hundred years after the first models were created, this philosophy still underpins the development and production of every watch stamped with the emblematic crown."
-Rolex
When it comes to things like "toughness", "durability", and "longevity", there's always a risk that they will be used as buzzwords by many manufacturers. In other words, they use these terms, but then cannot back them up. Rolex is different because, over the years, they have used testimonials and real-life tests to back up their statements. Not only have these events been able to prove Rolex's performance, but they have also been ways to further develop and improve the timepieces.

"Rolex watches accompanied some of the most challenging adventures of the 20th century. Each of these expeditions was an opportunity to test and improve the reliability and robustness of Rolex watches, using the world as a living laboratory."
The list can be made long, but here are some of the times when Rolex has used testimonies to prove its performance:
1927: Mercedes Gleitze became the first British woman to swim the English Channel in 1927. She did so wearing a Rolex Oyster and spent more than 10 hours in the chilly waters. After the Swim, the Rolex was in perfect working order. This was the first time Rolex used testimonies in their marketing. And it was a perfect way to promote Rolex's new invention, the world's first waterproof wristwatch.
1953: Sir Edmund Hillary and Tenzing Norgay became the first men to climb Mount Everest. Many people have tried – and failed before them. With them on their journey, they had Oyster Perpetual watches. High altitudes, extreme temperatures, shocks, and bangs, proved to be no issue for these Rolex watches.
2012: In this year, the filmmaker and explorer James Cameron made a record-breaking solo dive of 10,908 meters (35,787 feet). With him on his dive, he had a prototype experimental Rolex watch. The Deepsea Challenge Rolex watch was attached to the exterior of the submersible's hydraulic manipulator arm and had two additional watches on its hull. And at 10,908 meters down, the Deepsea Challenge continued to work flawlessly.
Rolex testing
As mentioned, Rolex watches undergo a series of strict tests to ensure performance, longevity, and toughness. Whilst the tests are performed at the end of the production, it starts already at the drawing and designing table. Because in designing watches, toughness is one of the key factors that are taken into account.
In developing the watch, Rolex defines a set of challenges and stresses that the watch will likely have to withstand. According to Rolex, they overview the risks, which are then organized in order based on how they should be approached. After this, Rolex programs simulations that are then used to develop the first prototypes. Throughout each step, Rolex will analyze the results and revise the prototype.
Superlative chronometer tests
In 2015, Rolex introduced the Superlative Chronometer certification for all of its watches. This is a highly strict series of tests that focus on the performance, accuracy, and durability of its movements.
The Superlative Chronometer tests guarantee that Rolex's watches run with precision within -2/+2 seconds per day. This is far better and more strict than the certification of COSC, the Swiss Official Chronometer Testing Institute (COSC). Furthermore. the Superlative Chronometer certification does not only focus on accuracy. The tests also involve the watch's water resistance, its power reserve, and the proper functioning of its self-winding module.
Shocks and bangs
In everyday life, shocks and bangs are perhaps the most common types of stress that Rolex watches are subject to. Bicycling on uneven terrain, clapping, sports, and other activities naturally put a lot of stress on the movement. To ensure that Rolex watches are able to withstand this, year over year, Rolex performs a series of tests focused on shocks and drops.
Rolex's shock tests reach a force of a maximum of 1,000 g in terms of acceleration. In terms of shocks, Rolex's tests simulate the event of a Rolex being dropped involving impacts that can peak at 5,000 g. To carry out the test of the shock from 5,000 g, Rolex uses a shock-testing process they call bélier. And they don't just perform this test once. They do it hundreds of times, similar to a car crash test. In order to pass, the watch needs to be unharmed and fully functional after the test.
Rolex watches need to pass more than 20 different drop and crash tests before they can be approved for series production.
Aging tests
As you may know, one of Rolex's most critical goals is to ensure that their watches can last for generations. And furthermore, they look virtually the same, unaffected by things like oxidization and aging. Lots of innovations and improvements have been made to Rolex watches that reflect this. Some of these include the change from 316L steel to 904L to prevent rusting and pitting, changing from aluminum bezels to ceramic, and much more.
Rolex carries out a series of aging tests on the case, bracelet, and movement to ensure the watches' longevity. To ensure the dials look exactly the same for many decades to come, Rolex evaluates the dials' resistance to UV rays to ensure that the colors remain stable over time.
In a test that Rolex calls years in a week, Rolex tries to simulate the real-life use of a typical Rolex wearer over several years. These tests are carried out at Rolex's factory in Plan-les-Ouates. These tests are made on specific parts, but also on the watch as a whole to understand how it will function for years and years to come.
The robot arms run day and night with watches attached to them, performing a series of seemingly random movements repeated at regular intervals which are simulations of the typical movements of a Rolex wearer. The robot arms alternate between everyday gestures, daily activities like running, as well as low-intensity shocks. The robots help designers get rapid feedback on several years of wear, in a matter of weeks.
For its bracelets, Rolex uses robots to test the wear on metal bracelets by simulating their daily use for many years. They then evaluate the wear on metal bracelets and in particular parts that are subject to friction such as connecting elements, the closing of the clasp, and where the case meets the bracelets. To test this, Rolex has developed robots to simulate the typical movements of a Rolex wearer and even does so with abrasive substances to speed up the deterioration process.

As an example, when Rolex released the new generation Oysterlock clasp on the Professional models, the new clasp underwent 26 different types of drop tests during its development stages. Rolex immersed it in tanks of chlorine and saltwater and added sand, opening and closing the clasp tens of thousands of times. This simulated about three times the clasp's given lifecycle. All of this was done so that Rolex could be confident that the clasp would remain fully functional and able to withstand the most extreme and harsh conditions.
When it comes to the movements, Rolex systematically tests them to ensure their longevity. This is particularly applied to the capacity of the self-winding movement which is one of the parts that is subject to the most friction and movement over time. The goal with all of these movement types is to ensure that the movements can continue performing year after year in real-life conditions.
In Rolex's own words, "thousands of hours are devoted to studies, tests, and consultations to ensure that every detail of the watch embodies the excellence of the brand."
Rolex Deepsea Test tank
Rolex of course stringently tests the water resistance of all of its timepieces. But it puts particular importance on testing the Deepsea due to its extreme water resistance. The Deepsea is water-resistant to the extreme depth of 3900 meters (12,800 feet), and testing the watch to such extreme depth requires some serious machines.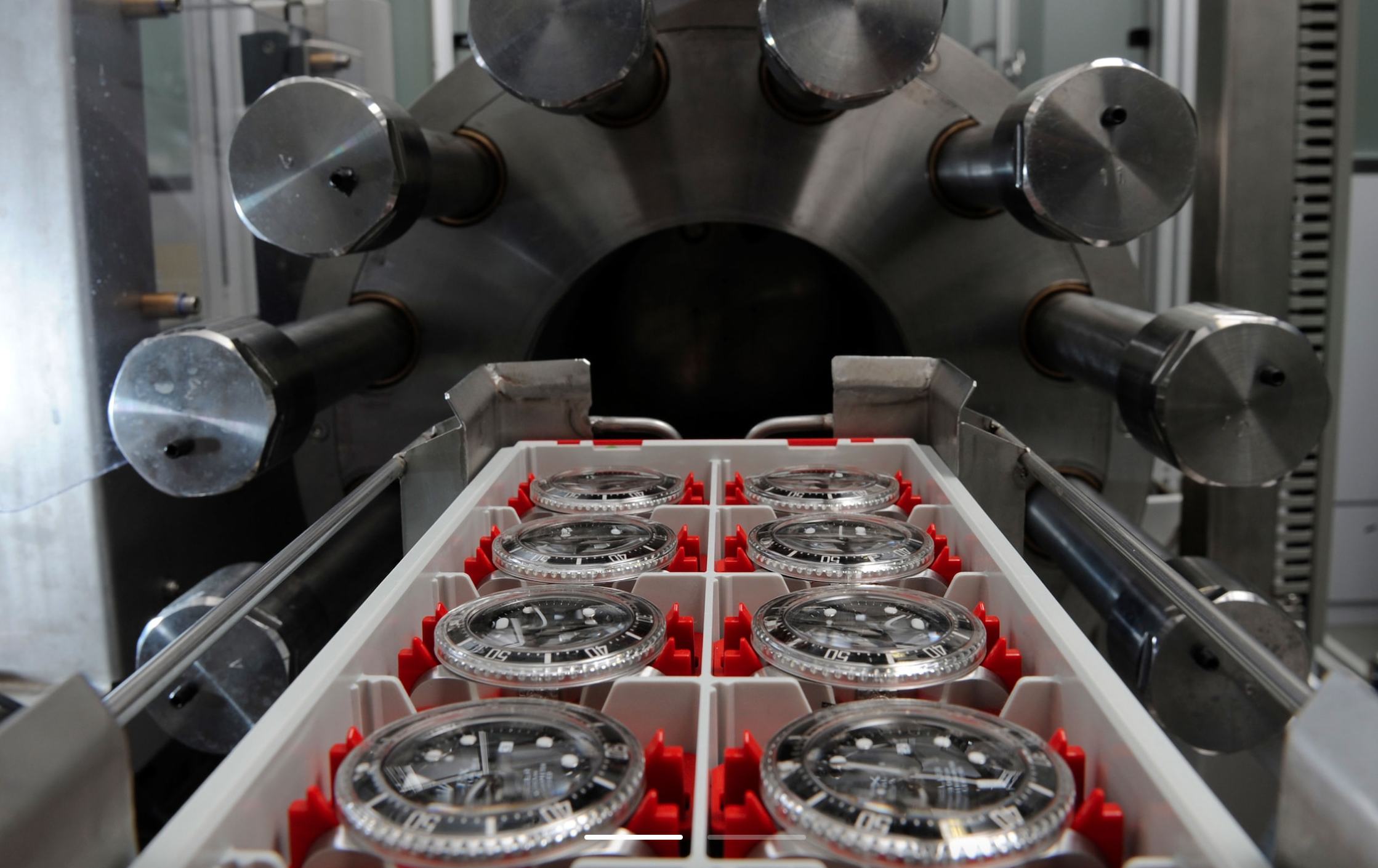 To make testing possible, Rolex has specially designed a high-performance tank, a stainless steel hyperbaric tank cast in a single piece weighing 1.3 tonnes. The machine is used to simulate the pressure at 4,875 meters (16,000 feet) below sea level, about 25 percent greater than what is specified. Each and every single Deepsea must pass this.
So Rolex doesn't just make sure that its watches meet the minimal water resistance. They also go above and beyond in testing it. This doesn't just apply to the Deepsea, but to all of their Oyster watches
Boiling a Rolex
In addition to being able to withstand shocks, bangs, and aging, Rolex watches are also built to handle extreme temperatures. This is of course natural considering that many of its professional watches are built to be worn in conditions where this is to be expected. The Rolex Explorer, the Deepsea, and others are, after all, built for the extremes.
To prove Rolex watches' capabilities of withstanding extreme temperatures, Rolex created an ad that showed them boiling a Rolex watch: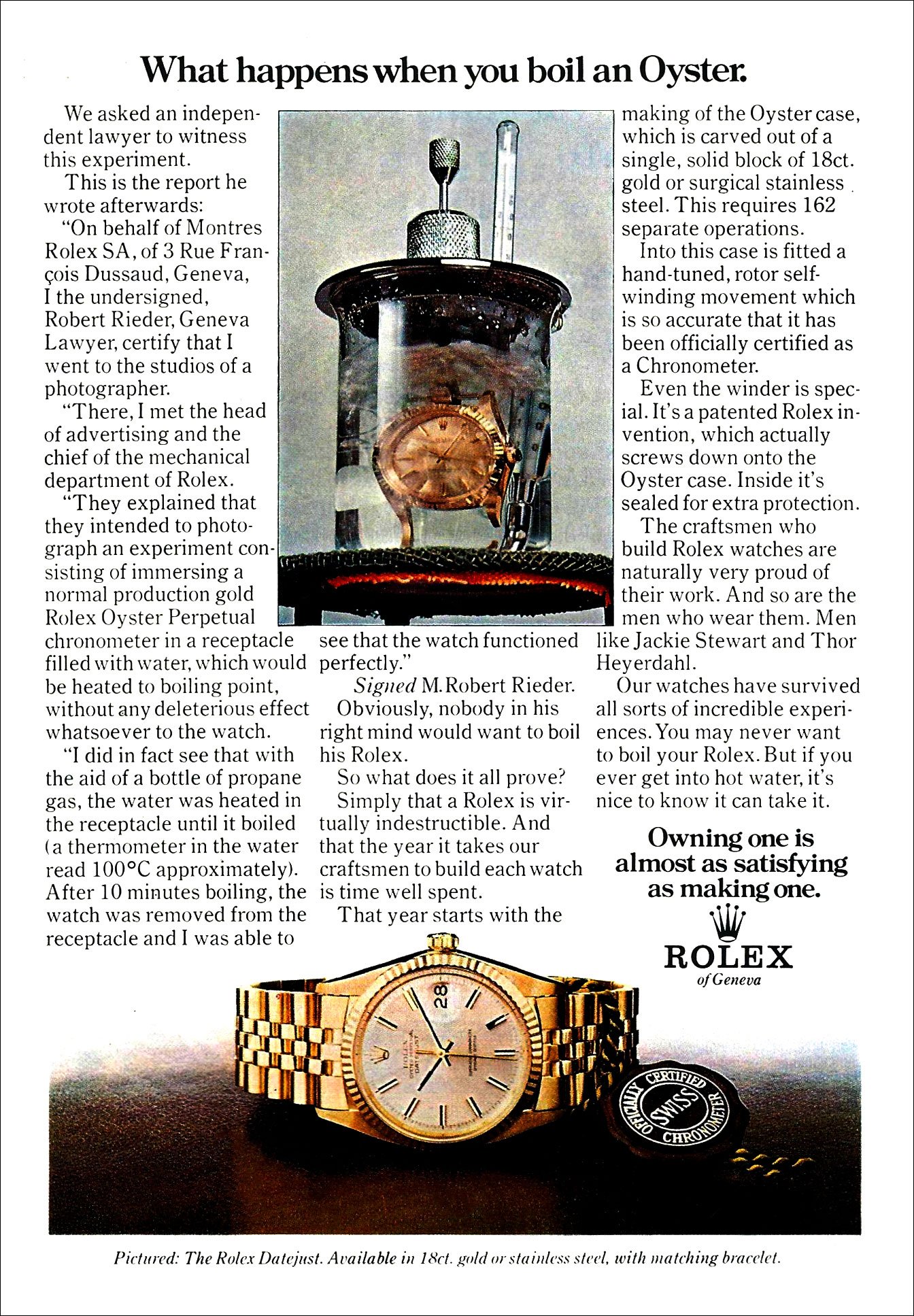 The purpose of this advertisement was of course to show just how durable and robust Rolex watches truly are. In the ad, it stated:
"I did in fact see that with the aid of a bottle of propane gas, the water was heated in the receptacle until it boiled (a thermometer in the water read 100 degrees approximately). After 10 minutes of boiling, the watch was removed from the receptacle and I was able to see that the watch functioned perfectly".
This just goes to show to which extent Rolex goes to test its watches to the extremes.
With all of the above in mind, Rolex makes some of the most robust and durable luxury watches on the market. They are built for the extremes and are known to last for decades, even generations, even when worn in extreme environments and subject to harsh conditions.