IWC Schaffhausen watches Warranty Guide
IWC Schaffhausen, in its early days known as International Watch Company, was founded by the American watchmaker Florentine Ariosto Jones in 1868. Since 2010, IWC has been owned by the Swiss Richemont Group.
IWC is a well-respected brand in the watch industry. The brand has a long and interesting history of pilot's watches, and today push the watchmaking industry by launching many different movements with impressive complications, all made in-house.
The watches from IWC have a very distinct style, and the DNA of the brand is very evident. Being a reputable Swiss watch brand, IWC is known for its quality products with a high finish and standard. But is the brand's warranty up to par with what its other Swiss competitors are offering?
In this article, we'll deep-dive into IWC watches warranty. How it works, what it covers, and how long the IWC warranty is.
How long is the IWC watches warranty?
On November 19th, 2019, IWC Schaffhausen announced that it extended its international warranty from two to eight years through its new "My IWC" program.

Buyers who have bought an IWC timepiece within the last two years from the announcement date will also be able to register for the extension on the My IWC program. This is under the condition that the watch is still under warranty. Seeing that IWC had a two-year international warranty prior to this, all IWC watches purchased at the earliest 19th of November 2017 would still be able to register for the extended IWC eight-year warranty, if registered on the day of the announcement.
The My IWC program gives IWC owners the ability to join after they have purchased a watch. By registering online at www.iwc.com/myiwc, your warranty will be extended from the standard two years to eight years. Apart from an extended warranty, you will also get other benefits by joining, which include access to extra services and early information about new products and events.
---
"As a consequence of our continuous investment in the quality, durability, and longevity of our products, and the opening of our new Manufacturing Centre in 2018, we are now renewing our legendary promise of quality to our customers. We are proud to introduce the 'My IWC' programme, which enables clients to extend our International Limited Warranty from two to eight years."
-Christoph Grainger-Herr, CEO of IWC Schaffhausen
---
Upping the length of the warranty a whopping six years is not a small decision. But having a long and solid warranty has become more important in recent years, and manufacturers have competed in increasing their warranties, which consequently has led to many manufacturers abandoning the industry-standard two years and offering a longer warranty. IWC didn't want to be worse than its competitors, and now actually offers a warranty that is longer than most of its Swiss competitors, including brands like Audemars Piguet, Patek Philippe, and Rolex.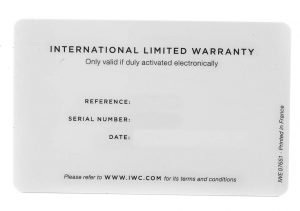 Having a long warranty is not only important for customers, but for the manufacturer. A long warranty sends signals that the brand trusts the quality and long-lasting durability of its products, making it a great marketing strategy. Especially since many customers do factor in the warranty into their purchase decision.
IWC's new manufacturing center
The new IWC Manufacturing Center that was opened in 2018 and has also helped the company along the way in taking this step. The opening marked the 150th anniversary of IWC and was a huge milestone for the company, which also enabled the extended warranty.
The new manufacturer's facility includes case-making, movement-part making, and movement assembly. All in one production line. This means taking raw material and making it into a finished product in one facility. IWC has made the production into sequential steps, and this has ultimately allowed IWC to make the production more effective.
IWC warranty and how it works
Do note that the My IWC warranty extension is an application, which means it may not be approved. This can happen if your original warranty has expired or if the serial number you provide upon registering is incorrect or in any other way wrong.
IWC is careful to point out that the IWC international warranty cannot exceed eight years for any reason. The original manufacturer's warranty is two years, and you then get an additional six years of warranty – if you decide to register for the My IWC program. If you don't register your watch's warranty will expire after two years, and there will be no way for you to extend it after that period.
You can check the expiry date of your IWC warranty at any time by calling the IWC Schaffhausen call center, or by checking your watch profile in your IWC Schaffhausen customer account.
If you have lost your original IWC warranty card, you can find a copy of the original 2-year IWC Schaffhausen International Warranty on www.iwc.com. Have in mind, however, that IWC does not issue new physical warranty cards.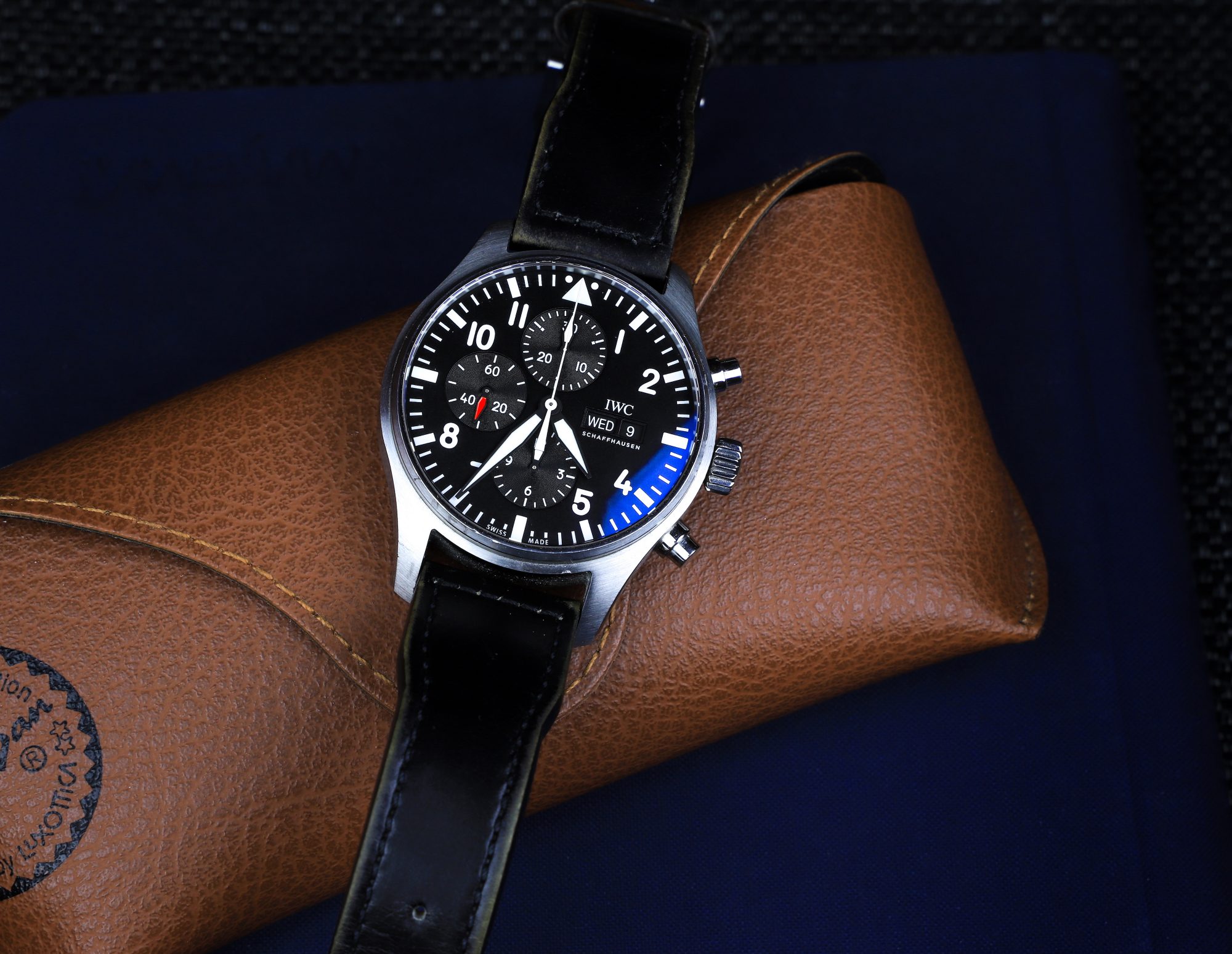 The IWC warranty means that IWC will repair your defective watch, whilst under warranty, free of charge. The warranty covers the manufacturer's defects from the factory and not damages or issues caused by you due to neglect or improper handling.
In order to get your watch repaired under warranty, you need to include your warranty card which needs to be duly completed, dated, stamped, and signed by an authorized IWC boutique or IWC retailer.
Like all warranties, the IWC Schaffhausen warranty has terms and conditions.
IWC Schaffhausen warranty terms and conditions
IWC reserves the right to cancel your "membership" in the My IWC program and/or the Warranty Extension for the same reasons that result in a denial of participation. These are as follows:
Applying for the extension after your original 2-year warranty has expired
If you are not registered as a participant in My IWC
If you apply for the extension and the reference number of your watch does not match the original reference number that IWC Schaffhausen has recorded.
If you do not opt-in to receive marketing information when applying for a Warranty Extension
If you refuse to provide additional information and/or related documentation about your purchase, for example, purchase invoice, original IWC Schaffhausen International Warranty, etc.
If you apply and IWC Schaffhausen finds it is a "not for sale" watch, such as a prototype.
If you are not a "bona fide final customer" or in case of abuse.
IWC requires you to be at least 18 years of age in order to register for the My IWC program. If you are 13 or older, yet under 18, it is required that you obtain your parent's or legal guardians' consent prior to registration.
The My IWC warranty program is limited to one account per individual and only to individuals.
You are not allowed to sell, transfer, or shared your participation in My IWC. If IWC finds that you are abusing their service, they reserve the right to terminate your benefits, including the extended warranty.
If you wish to cancel your participation, you can email concierge.europe@iwc.com.
Now, relating to the actual warranty and what it covers, IWC has some terms and conditions.
The IWC Schaffhausen warranty does not cover:
"Defects and damages due to loss, theft, flood, earthquake or fire, or other causes beyond our control
Defects and damages resulting from misuse or negligence, or from accident
Defects and damages caused by improper use (knocks; dents; crushing to the case, crystal, bracelet, or strap, etc.), alterations (functionality or capability), tampering, dismantling, modifications, or services and repairs completed by anyone other than an authorized IWC boutique, IWC retailer or IWC service center, or by the use of components other than those recommended by IWC"
Defects and damages due to normal wear and tear
Watches where the serial number originally imprinted on the watch case is removed or not clearly legible, or where any part of the original watch back or any original number has been removed, changed, altered, replaced, erased, or defaced;
Lack of accuracy of the watch if within the limits of average industry tolerance;
Routine maintenance and cleaning."