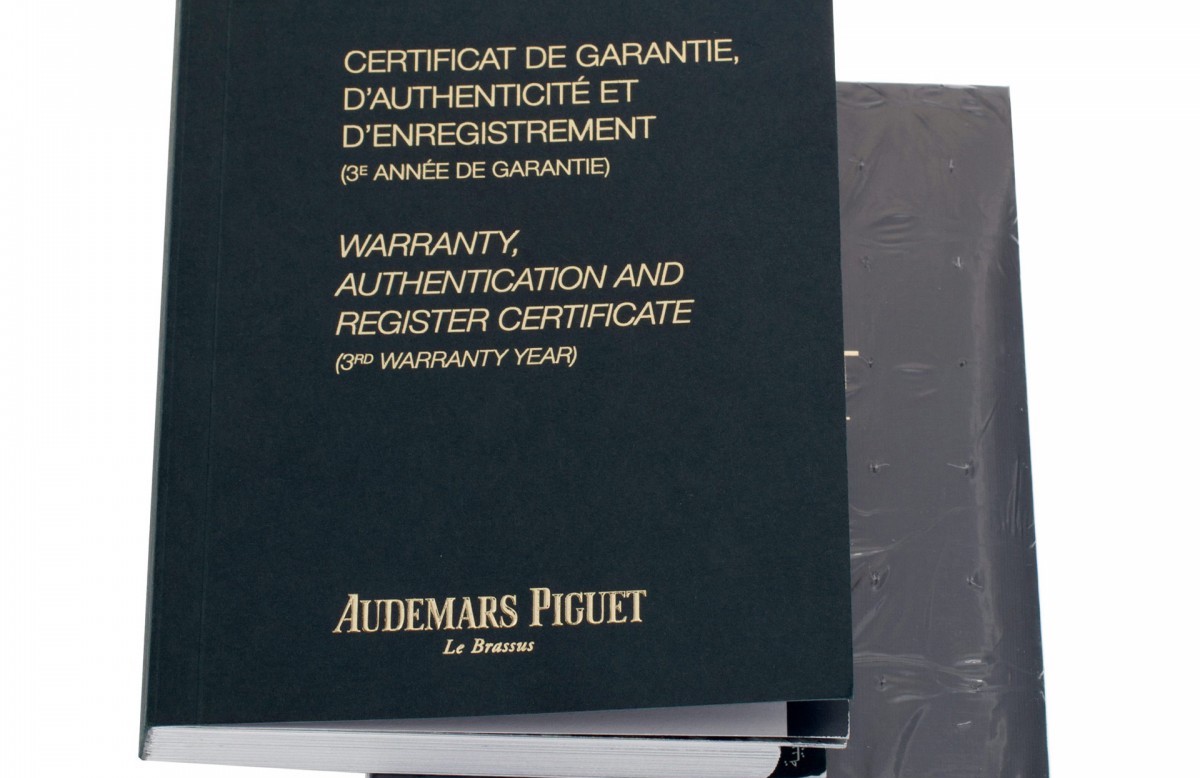 Audemars Piguet warranty Guide
Different watch brands have different warranty lengths but also different warranty policies. This makes it awfully hard to keep track of how long the warranty lasts and what they cover.
Audemars Piguet is today, one of the most prestigious and well-known watchmakers today. Audemars Piguet competes at the very top tier of fine watchmaking. But with fine craftsmanship and Haute horology also comes a price tag that reflects that. When buying premium goods, it can bring peace of mind knowing that your watch is backed by a warranty shall there be any issues with them.
So this leads us to ask how long is the Audemars Piguet Warranty, how does it work, and what does it cover?
Continue reading to find out.
How long is Audemars Piguet's warranty?
The Audemars Piguet warranty lasts for a period of two years (24 months) starting from the original point of sale. But you can also extend your warranty an additional 3 years online. This means Audemars Piguet watches have a total of 5 years of warranty, which is certainly up to par with the warranty lengths that many of its competitors have. More on how you can register for an extended 3-year warranty further on.
Do note that, as always, terms and conditions apply to the Audemars Piguet warranty. The terms clearly state what it covers and what it doesn't.
For your warranty to be valid, the warranty cards need to be properly filled out, signed, and the purchase date recorded. Note that, unlike what some myths online say, you do not have to be the original owner of the watch. The Audemars Piguet warranty follows the watch, not the owner, which is the case for the vast majority of watch brands.
What does the Audemars Piguet product warranty cover?
The AP warranty primarily covers manufacturing and workmanship defects. If you have issues with your watch that are covered by the international warranty, you can bring your watch to an authorized Audemars Piguet retailer or boutique for help. Keep in mind that you need to bring your warranty cards with you for you to be able to use the warranty.
Audemars Piguet extended warranty
As mentioned, customers will have the opportunity to extend their warranty by 3 years, which means a total of 5 years of warranty.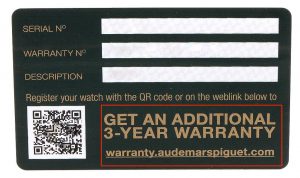 To extend your Audemars Piguet warranty, you need to complete the form at: https://www.audemarspiguet.com/en/warranty/registration/ before the end of the 2nd year of purchase. If your two-year warranty has expired, you will not be able to extend it for an additional 3 years.
Audemars Piguet recommends that you do a water-resistance check every year at an Audemars Piguet boutique. The test is free of charge and confirms that your watch is safe and good to go. Keep in mind, though, that no warranty is granted for water resistance. If it proves to be necessary, a water-resistance service should be performed.
Some water-resistance services fall under the AP warranty and will be performed free of charge. If they do not fall under the warranty, they will not be free.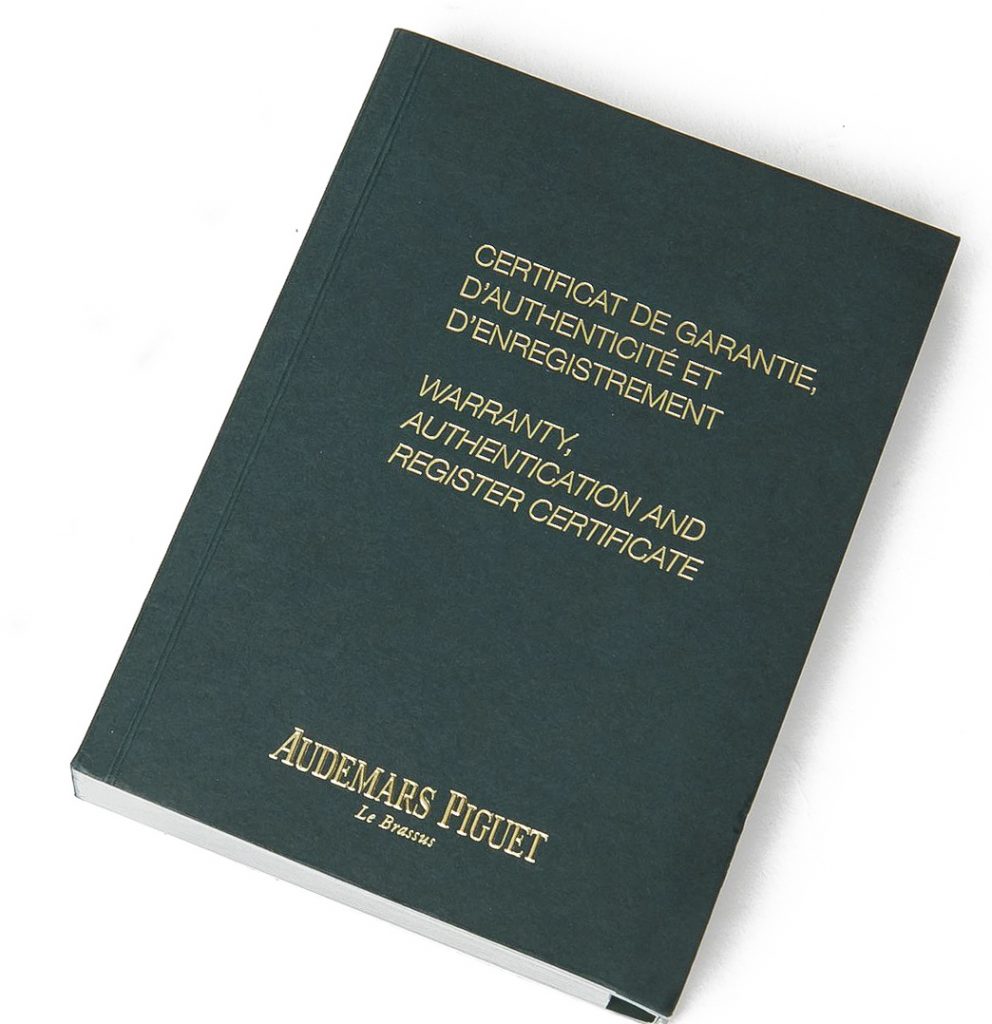 Audemars Piguet service
If a service is performed on your watch by Audemars Piguet, the work will be under warranty for two years from the date shown on the warranty document/invoice.
Audemars Piguet advises that it is also required to perform a paying water resistance service every two years. A water resistance service means that these are replaced.
After a water resistance service, AP guarantees water resistance for two years.
After a service has been performed by Audemars Piguet, the customer is responsible for checking and confirming that the watch does not have any defects. This must be done within 10 business days of receiving the watch from the service. If you do not do this and then later than 10 days find any issues or defects, AP deems the watch to have been accepted in good condition, and "AP shall be released from all and any claim or liability unless it relates to a defect which could not have been reasonably noticed promptly. In such an event, the Customer may only request that AP repairs such defect under these Customer Service General Terms and Conditions."
How long does an Audemars Piguet service take?
How long an Audemars Piguet service takes varies depending on a number of different factors, including the caliber, the type of watch, the condition of the watch, etc.
AP states that it normally takes 21 calendar days to repair your watch. Complete service when it is under warranty. If your watch is not under warranty, it normally takes 42 calendar days.
The Audemars Piguet warranty does not cover
As with all warranties, there are a lot of things that the Audemars Piguet warranty does not cover.
The warranty does not cover:
Abnormal use
Damages caused by improper handling
Normal wear and tear
Work carried out on the watch by non-authorized watchmakers
Not following the recommended water-resistant control or service
Excessive shocks
Damage that has been caused by moisture penetrating the watch
If the customer declines to do a water resistance service on their quartz watch, no service warranty will be given
What should you do if you have lost your warranty certificate?
Audemars Piguet only issues the warranty certificate once – when the watch is originally purchased.
However, you can send your watch to Audemars Piguet to have it authenticated as AP then issue a certificate of authenticity. Furthermore, when your watch is serviced, you will get a service warranty card.