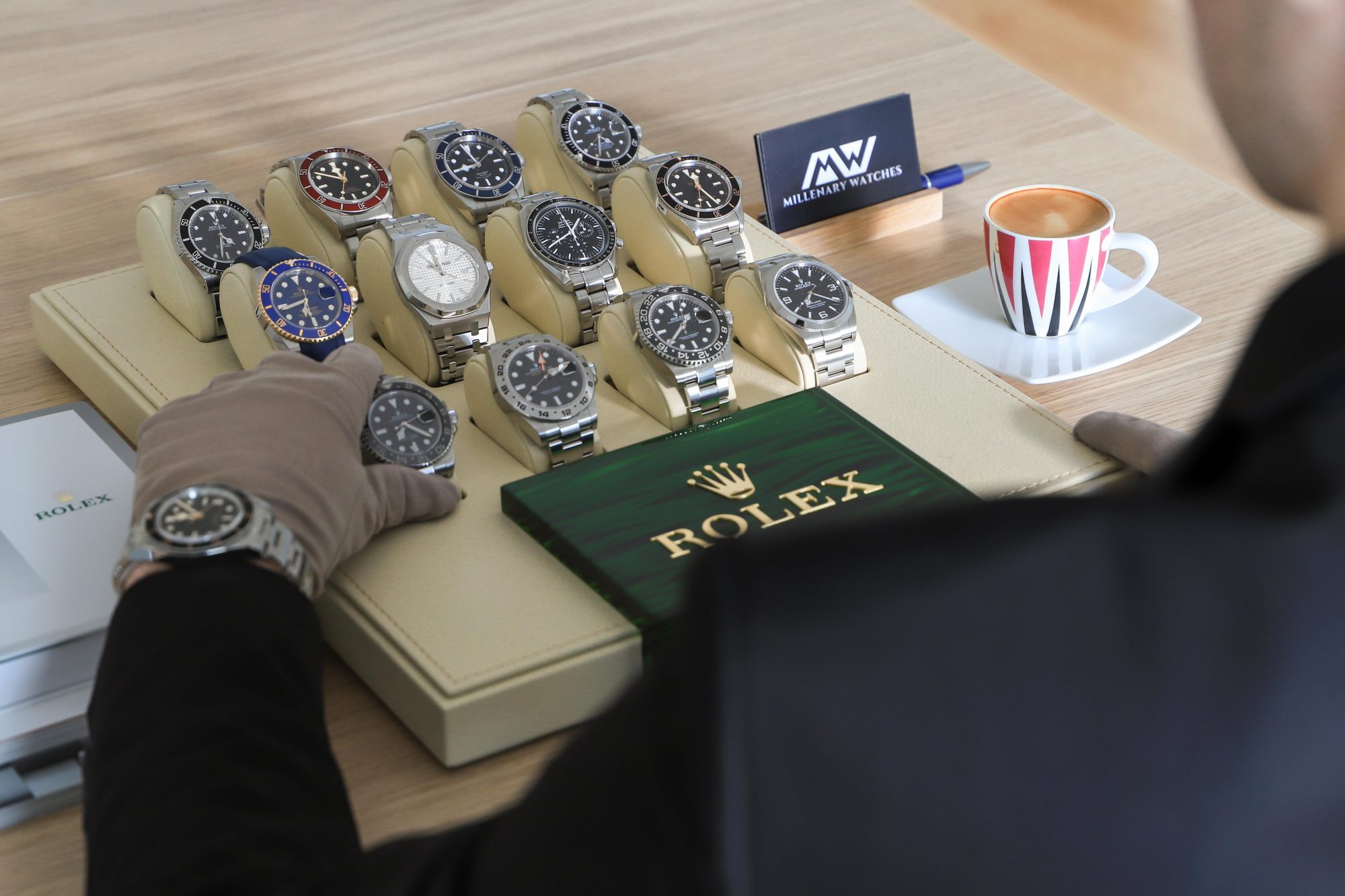 6 of the World's most iconic Watches
Time has been necessary for several hundred, even thousands of years and has been an instrument to keep track of routines and daily tasks for an extremely long time.
Ever since the pocket watches were developed and wristwatches thereafter were introduced, some brands have been leading in developing in design, reliability and precise timekeeping.
The iconic look of a watch that was developed in the 50s can still be recognized today, just take a look at the Rolex Submariner or Gerald Genta's brilliant design of the Royal Oak or Nautilus that are told to be drawn on a napkin just outside of Basel in the 1970s. These designs will always stick with us and has truly made a permanent mark when it comes to design, reliability, and fashion in the watch industry.
Watches that dare to go their own route, push boundaries, and experiment with design, shape, and form, tend to be what leads the way for the new icons.
To a large extent, when it comes to making new and unique watch designs, it is a hit or miss. The history of watches is full of models that tried to be new-thinking and unique, but instead were complete disasters that never seemed to get any traction and love by the public. At the same time, the models that succeeded, have become timeless icons that leave a big mark on the industry, and that remains just as relevant in design today, as many decades ago.
Here is one of our editors' top six watches that are so iconic that they have had a huge impact on what we consider a beautiful watch design, and which will remain loved and appreciated forever.
Rolex Submariner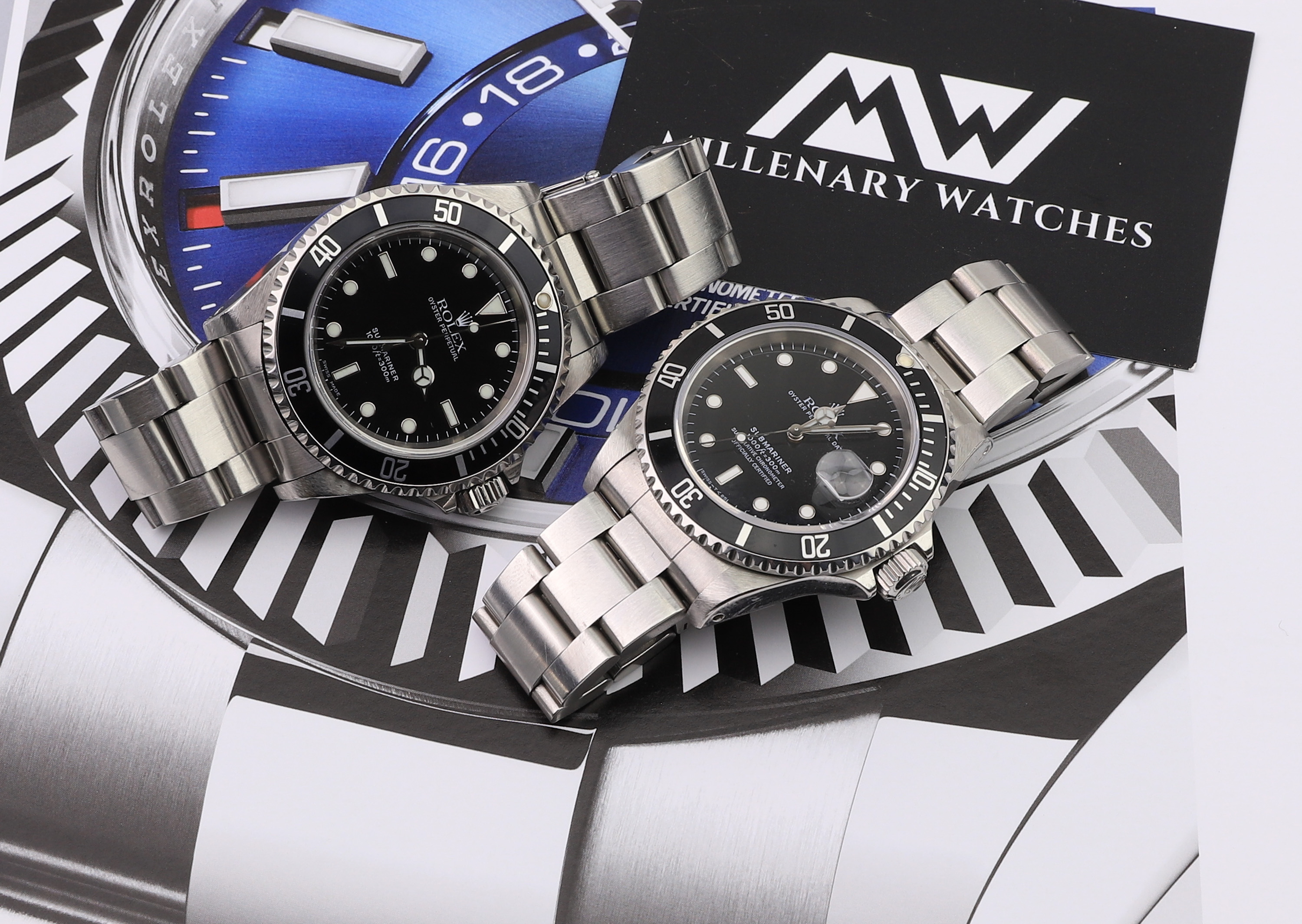 Presented in 1953, the Rolex first official Rolex Submariner to bear the Submariner name was the reference 6204. The model was a true diver's watch and is even to this day one of the most iconic and recognizable watches to date. The first Submariner offered a bi-directional bezel, used to measure diving time, 100m water resistance on an iconic oyster bracelet. Now, it is not hard to understand why this watch instantly became so popular with its' tool-looking design, the robustness and how Rolex decided to advertise their divers watch as the ultimate watch if you were to explore the mysterious world below the sea surface.
Ever since its' release, the watch has gotten a lot of improvements, but although the model has been given a lot of updates that really differentiate it from the original Submariner 6204, it is safe to say that the old heritage still exists in the newest model. This watch is truly an iconic diver's watch, and will forever be recognizable.
Omega Speedmaster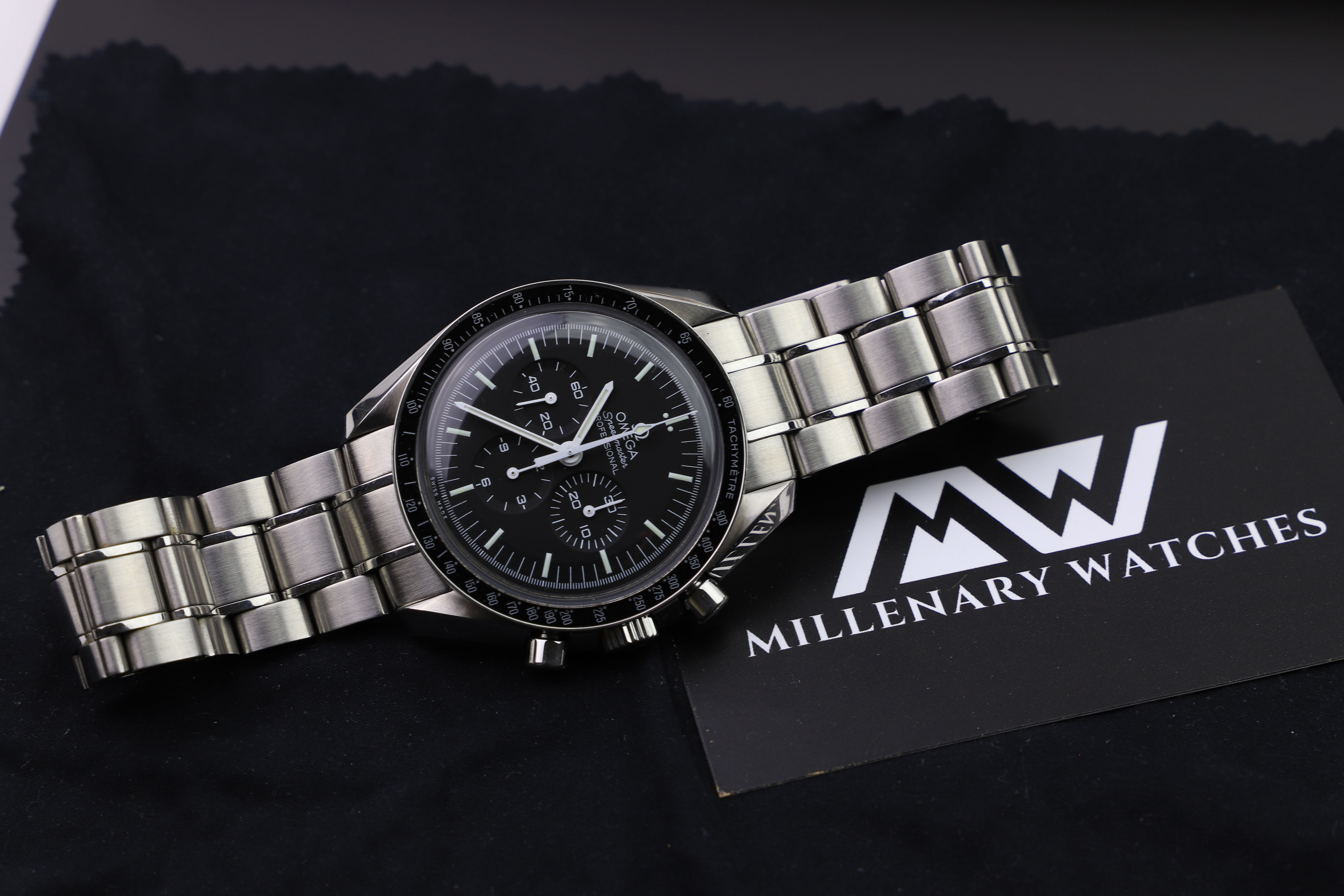 As of today, we often relate the Speedmaster as the Moonwatch, although it originally was developed as a racing watch with a tachymeter scale that was used to time laps of a driver.
It could also be used to time the speed of racing cars. When NASA was interested in finding the ultimate watch that could handle all of the difficult tasks and conditions that an astronaut was to be put to test to before going to the moon. The moon Omega qualified and became the best-performing watch amongst many other candidates. In 1969, it was the first watch to ever be on the moon.
The Speedmaster's iconic look is well-known and instantly-recognizable with its three sub-dials placed on the dial. It is a design that any watch collector or even someone that not is into watches will have an easy time to appreciate. This is perhaps the most iconic and recognized model from Omega along with their Seamaster Collection.
The Speedmaster is still being produced today, and made surprisingly similar to the original. Because, why change a winning concept? Although there are many other modern Speedmaster versions and iterations as well, apart from the Moonwatch.
Every now and then, Omega releases special editions and even limited editions to commemorate the connection between NASA and Omega. This is a watch that not only has a lot of history connected to it but also offers the fun option of switching out straps to give the watch a different look, which makes it the ultimate luxury tool watch to own in many ways. This is unlike many of the other iconic watches, which have an integrated bracelet. Not only are there extremely affordable Speedmasters comparing with many other iconic watches, but it is also a great watch that truly offers a timeless look and important historical heritage.
Audemars Piguet Royal Oak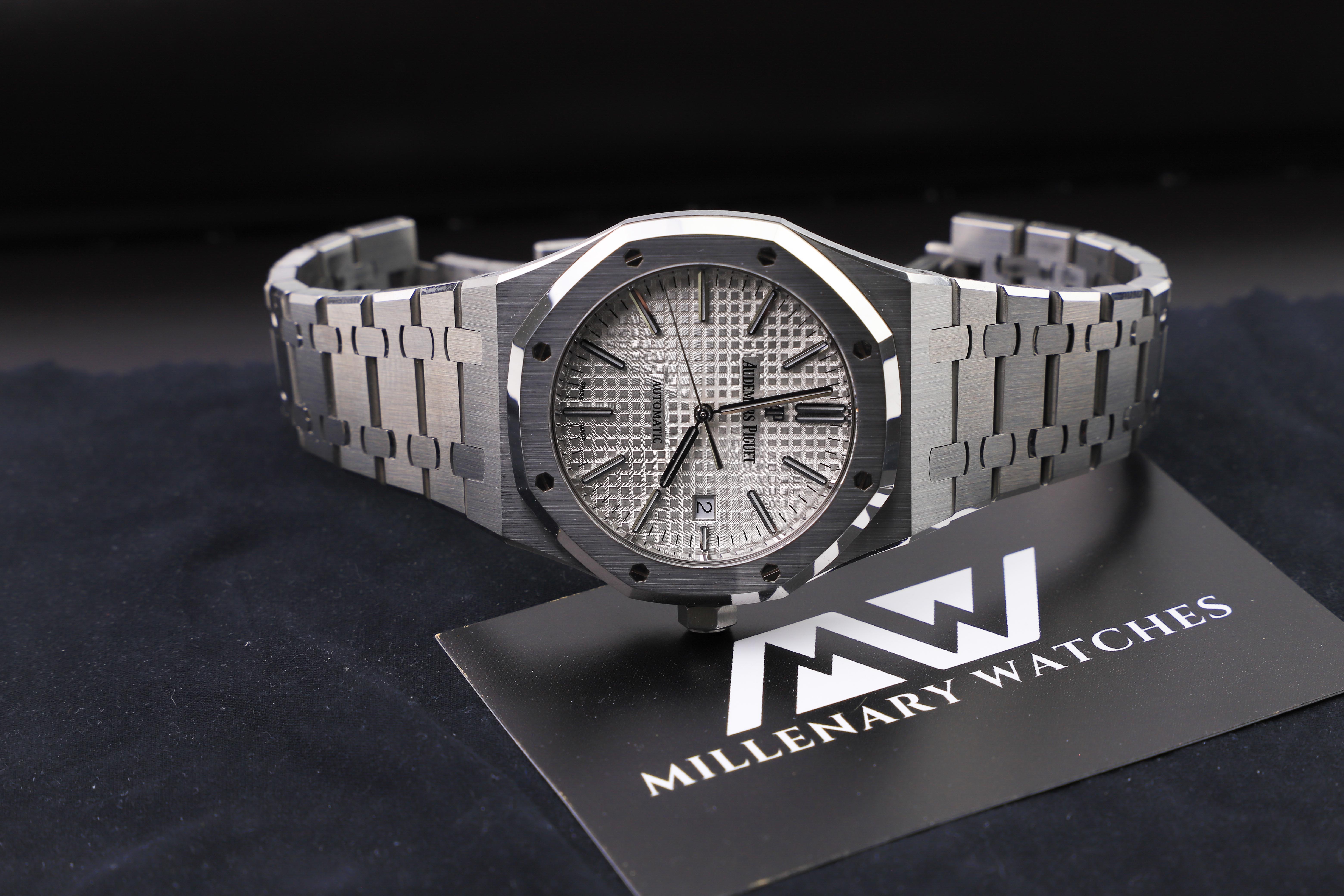 As the legend is being told, Gerald Genta was sitting just outside Basel with only a pen and a napkin and started to draw what later became the legendary Royal Oak. At the time, when the Royal Oak was introduced in 1972 the Royal Oak was the most expensive luxury watch, as Audemars themselves described it as, that costed ten times more than something similar such as the Rolex Submariner.
This meant that the first collection, also known as the Royal Oak A-series wasn't sold in large numbers, making it rather unique and rare find today, on the second-hand market. But also highly sought-after as it is the watch that started it all. Today, the first thing people think about is the Royal Oak. It is the flagship and an extremely important watch for the brand.
Gerald Genta was not initially supposed to name, what we know as the Royal Oak. Originally he wanted the model to be called "Safari" but Audemars Piguet didn't think the name reflected the feeling and concept of this watch and instead gave it the name Royal Oak.
However, Genta's idea was later commemorated when Audemars Piguet developed the Royal Oak Offshore, a larger much more masculine version of the Royal Oak, meant to be big, in fun creative color schemes and also materials such as rubber-straps and bezels.
Rolex GMT Master
During the 1960s Rolex presented their GMT Master reference 6542 with a bakelite bezel in red and blue together with the airline Pan Am. A red and blue bezel, also known as "Pepsi" among collectors, was originally developed to match the logo of Pan Am, but also the day (blue) and night (red).
What was unique for the GMT Master, and also a requirement from Pan Am was that the watch was required to be able to show two different time zones, simultaneously. This would help their pilots who flew across timezones to keep track of the local time and the home time.
Rolex fulfilled this request, which was made possible due to an extra modified hour hand, known as the GMT-hand that, together with the 24-hour rotating bezel, would help the wearer keep track of two timezones.
Ever since, with new releases and models, the GMT Master has always been iconic and has an important meaning when it comes to the design of watches and the history and heritage of Rolex. It has also been a historically important watch as it was the first-ever wristwatch to display two timezones.
The original bracelet of the Rolex GMT Master was originally the famous and patented Oyster bracelet. However, this model was also later offered on a jubilee bracelet making it the first steel, sports watch from Rolex being sold and offered on both an oyster bracelet, but also a jubilee bracelet. Although the oyster bracelet was the original bracelet for the GMT Master, Rolex in Basel 2019 decided to discontinue the GMT Master in steel and only offer it on a jubilee bracelet, which instantly became a hit and success.
Hublot Big Bang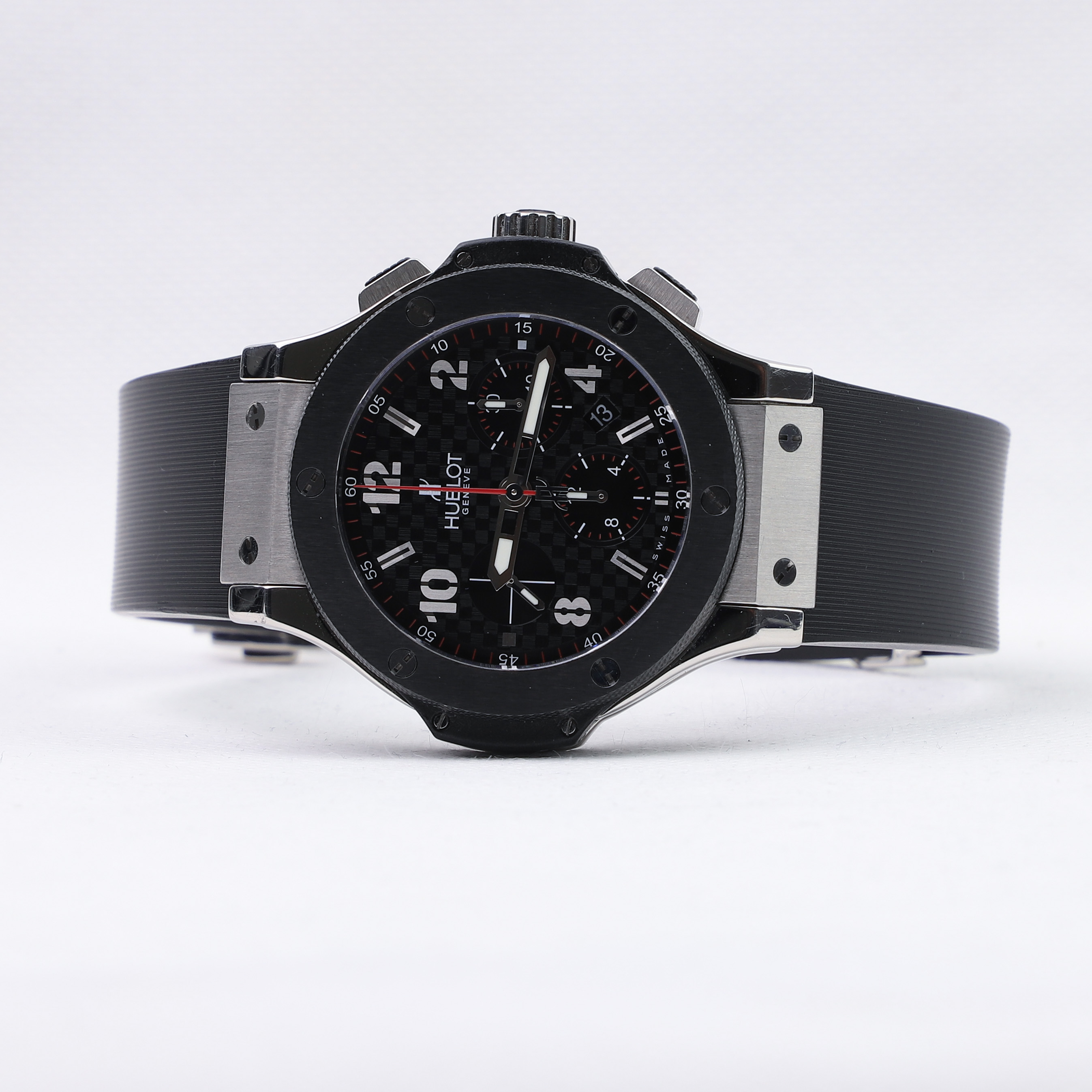 Although Hublot is a brand that tends to split opinions, it is worth mentioning as the legend itself who helped to develop the watch, Jean-Claude Biver, has an interesting story and made this watch help the Hublot brand to success.
According to Jean-Claude Biver, he wanted to create something sporty, yet classic, and he had the intention of combining luxury materials with sporty elements and lines. Now, this for some may be a difficult task, as what he did really was innovative and something that at the time wasn't really developed yet.
He, therefore, struggled to come up with a suitable name for the model and had to start thinking deep. The obvious, and perhaps only, answer for Jean-Claude Biver was to name the watch after something, when all the materials were together in nature. As a rubber band on a rose gold case was not fully explored yet, he knew, that his decision of developing this watch would create strong reactions. A great name, according to Jean-Claude Biver, was of course where all this together begun, with the creation of the earth, also known as the Big Bang.
Patek Philippe Nautilus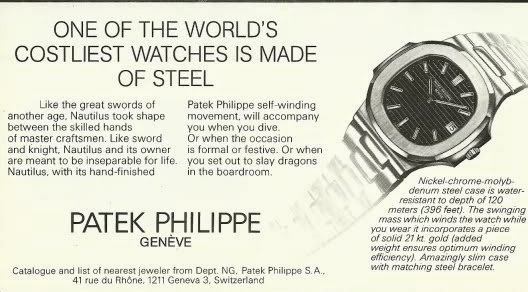 It's safe to say that the Patek Philippe Nautilus is one of the most iconic watches in the world. It is designed by one of the most famous watch designers who is responsible for designing many other iconic and legendary watches including the Ingenieur and Royal Oak, to mention two. We are of course talking about Gerald Genta. This man can be viewed as the creator of a new species of timepieces – the luxury sports watch. From Genta's own words, it took him 5 minutes to sketch the watch that would become the legendary Nautilus.
The Nautilus is appreciated by collectors and watch enthusiasts alike. It is instantly recognizable with its porthole-inspired design and octagonal bezel. The watch has two "ears" which are reminiscent of the hinges that can be found on ship windows. Looking at its design, it's safe to say that it is new-thinking and dared to go its own route. In the case of Patek Philippe, it proved to be a huge success. What was particularly special about this watch was that it was made in stainless steel – a material which  – at the time – was not used in the same sentence as "luxury".
Rounding off
There are, of course, many iconic watches that have had a huge impact on the watch industry, including models such as the Aquanaut, Daytona, Fifty-Fathoms, Ingenieur, and many, many more. Do you agree with our list? Which watch models do you think are the most iconic in the world, and have left a long-lasting legacy on the industry?