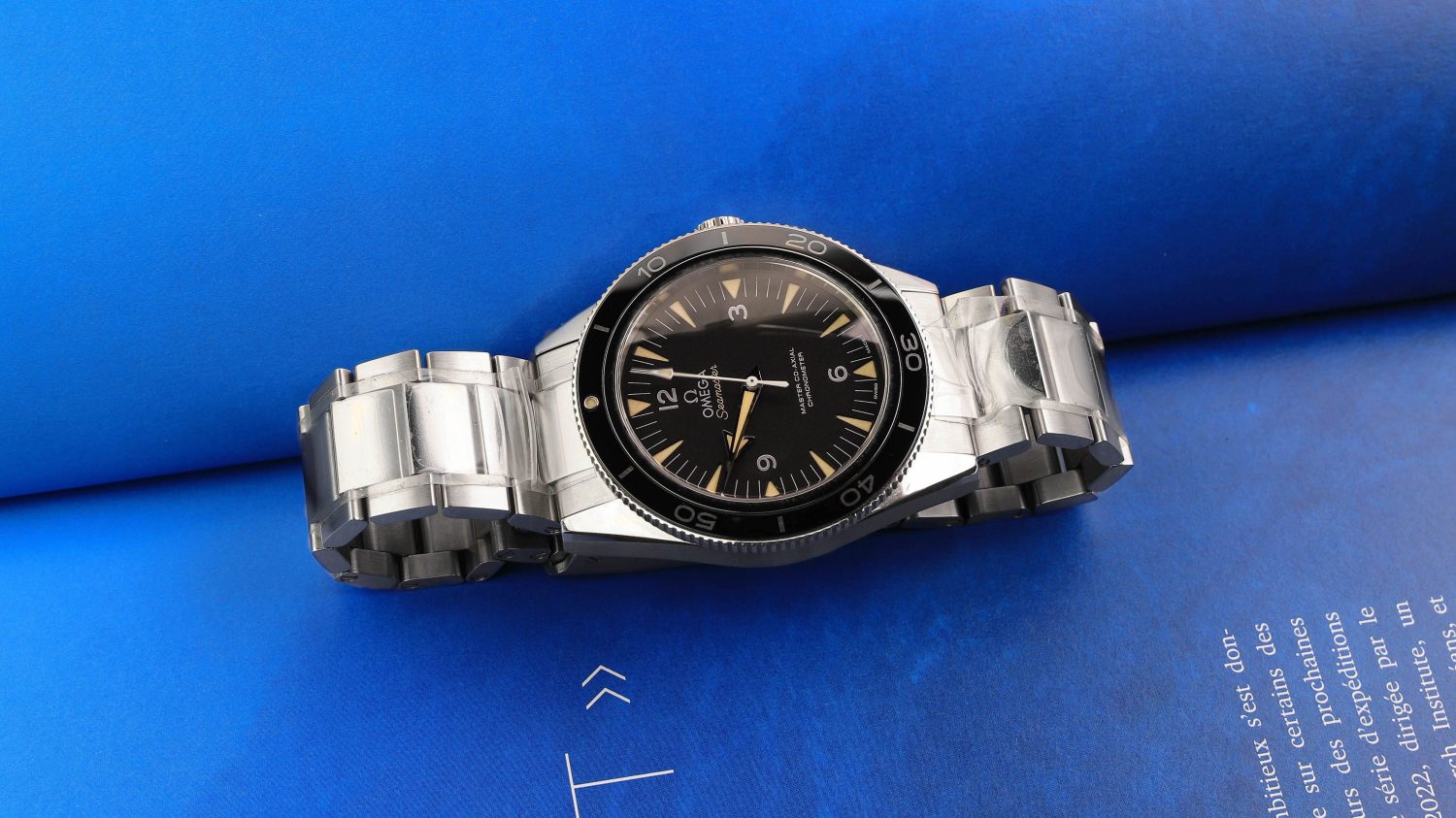 Omega Seamaster 300 Co-Axial 233.30.41.21.01.001 Complete Guide
The Omega Seamaster 300 co-axial is a watch with a clear vintage connection. It's a vintage-inspired timepiece that combines classic design traits with modern build-quality.
But whilst the model gives the impression that it has a clear vintage connection, what many people do not know is that it is essentially a re-issue of a Seamaster released by Omega in 1957. This is probably because Omega does not advertise it as such. If you want a true re-issue of the watch from 1957, you probably have your eyes set on the 1957 Seamaster trilogy already. But if you are looking for a modern interpretation that is packed with modern tech, yet still has a design that is a nod to Omega's past, the Seamaster 300 co-Axial may be the watch for you.
With that said, in this article, we are going in-depth into the Omega Seamaster 300 co-Axial.
Omega Seamaster 300 Co-Axial background and history
In 1957, Omega released the Seamaster 300. This was a watch designed especially for divers and professionals who worked underwater. During this time, the dive watch industry and the trend were very hot, with dives such as Jacques Cousteau creating a cool and iconic image of diving. And naturally, as a professional diver, you need a reliable and robust dive watch. With this in mind, the dive watch over time established itself as a trendy and masculine symbol.
The Seamaster 300 pays homage to the history of Omega, and more specifically, the original Seamaster 300, but in its modern interpretation, it has been packed with modern tech and functions that you would expect from a modern Omega sports watch.
This watch was released at Baselworld in 2014 – more than half a century later – and was mostly met with positive critique at its unveiling.
Omega Seamaster 300 co-Axial specifications and details
The original Seamaster 300 features a 39mm case, but for the modern version, Omega has made it in a 41mm case which is more aligned with the size ideals for dive watches today. The good news is, of course, that if you would prefer a version that is more true to the original, Omega did release the Seamaster trilogy limited edition which is in fact 39mm in diameter – just like the original. But that's a watch for a different article.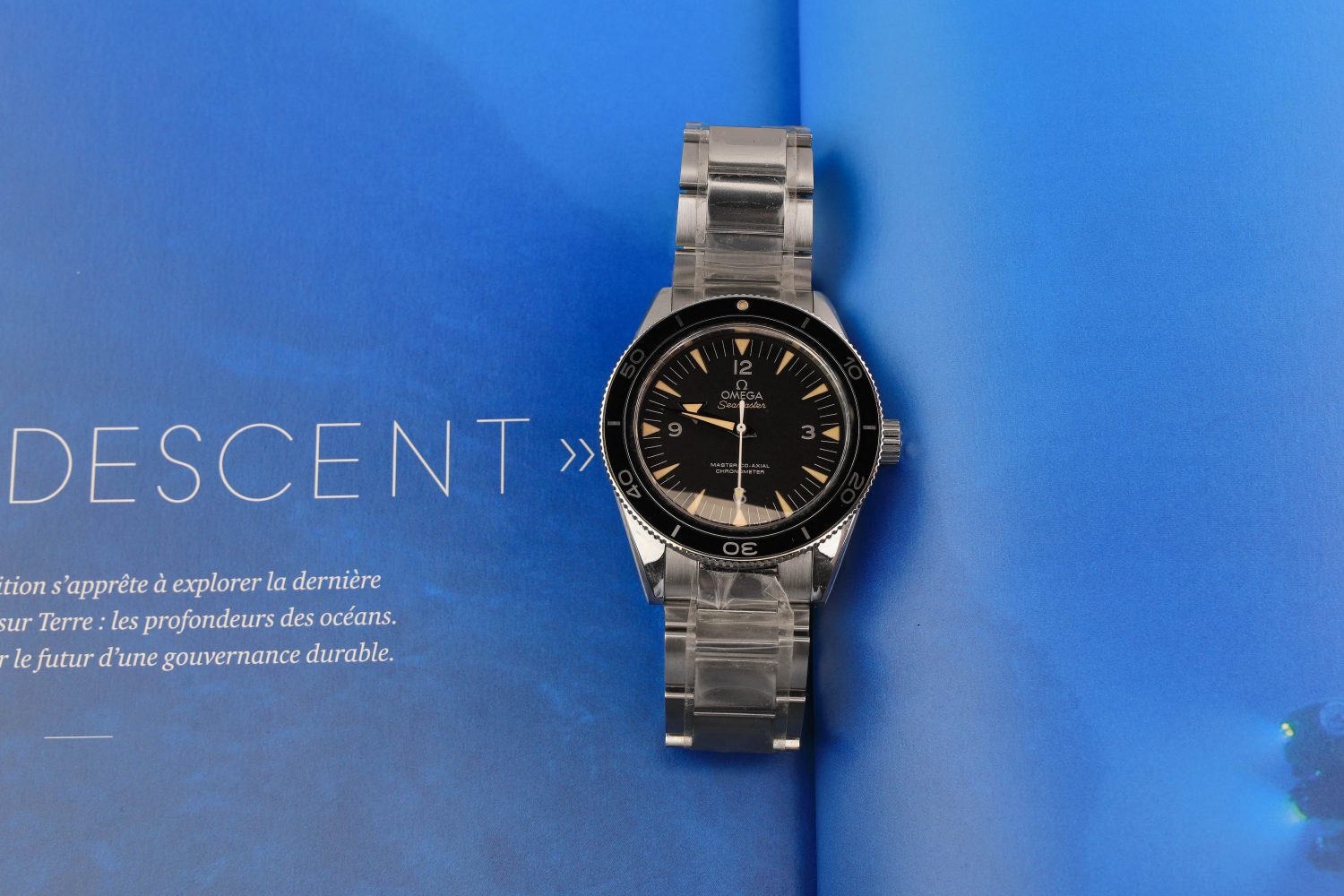 And just like the original, the Omega Seamaster 300 co-Axial has a straight-lugged case. And it does not have any crown guards
All three watches made use of the same 39mm case but diverged in form and function. That prototypical Seamaster 300 sported a rotating elapsed-time bezel with a narrow Bakelite insert, broad-arrow hands, and 200m of water resistance, which Omega says was the limit of testing equipment at the time. The watch straddled utility and style better than many other dive watches of the era and remains a desirable collector's piece to this day.
The Seamaster 300 is what many people consider the perfect combination of vintage and modern design and technology, and we would agree that it is a great watch both from a design perspective and a technology standpoint.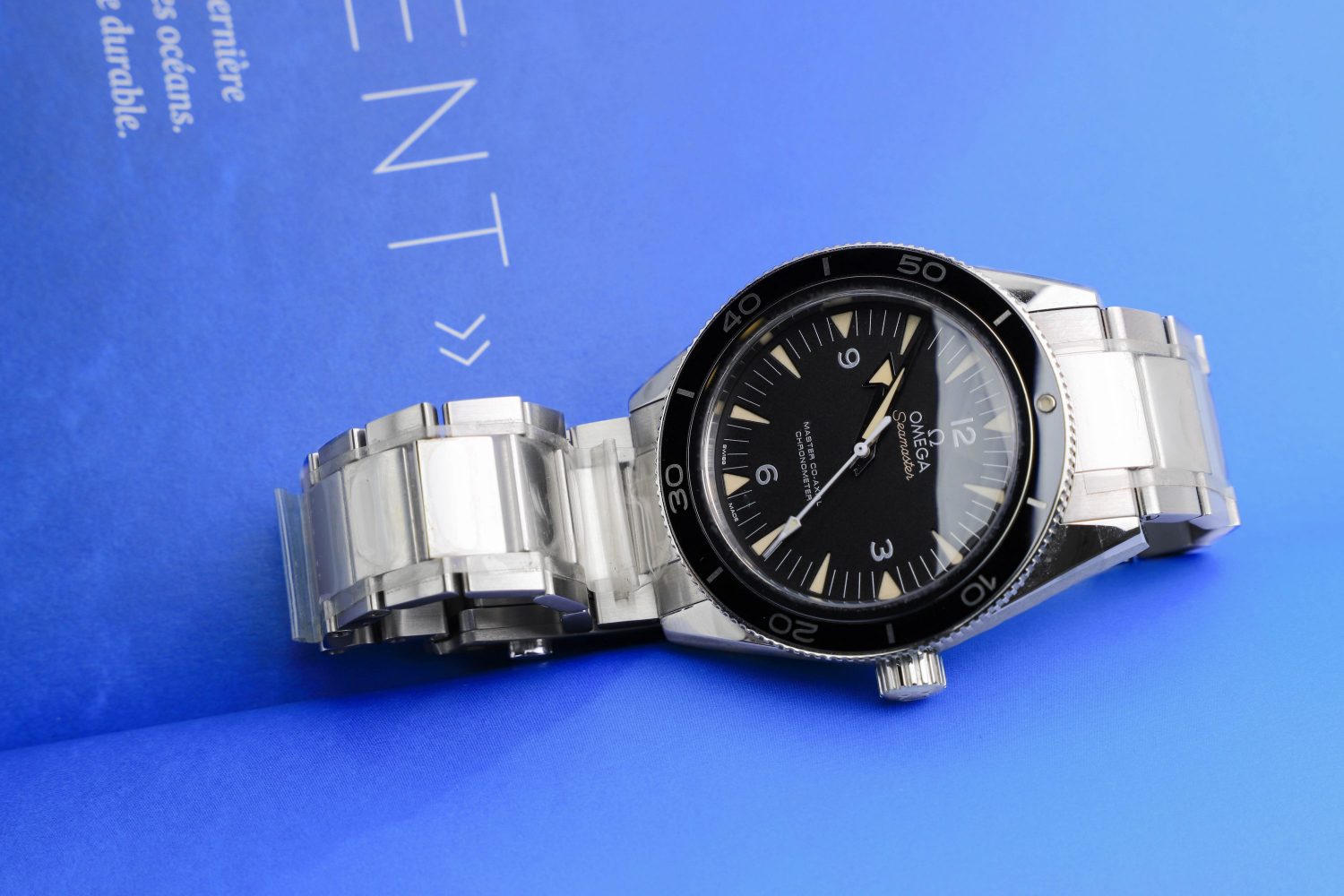 The Seamaster 300 has a sand-blasted black dial with rhodium-plated hands coated with "vintage" Super-LumiNova, referred to as "faux patina". This is something that always tends to spark debate every time a brand releases a watch with a faux patina. It seems that either you like it or you don't, but regardless, the choice of using it from Omega's side makes sense as it has a great effect on the vintage look of the watch.
The indexes are made in the shape of triangular markers.
The polished bezel ring has a Liquidmetal™ diving scale with a ceramic insert (read: modern material that has great practical benefits – practically scratch-proof).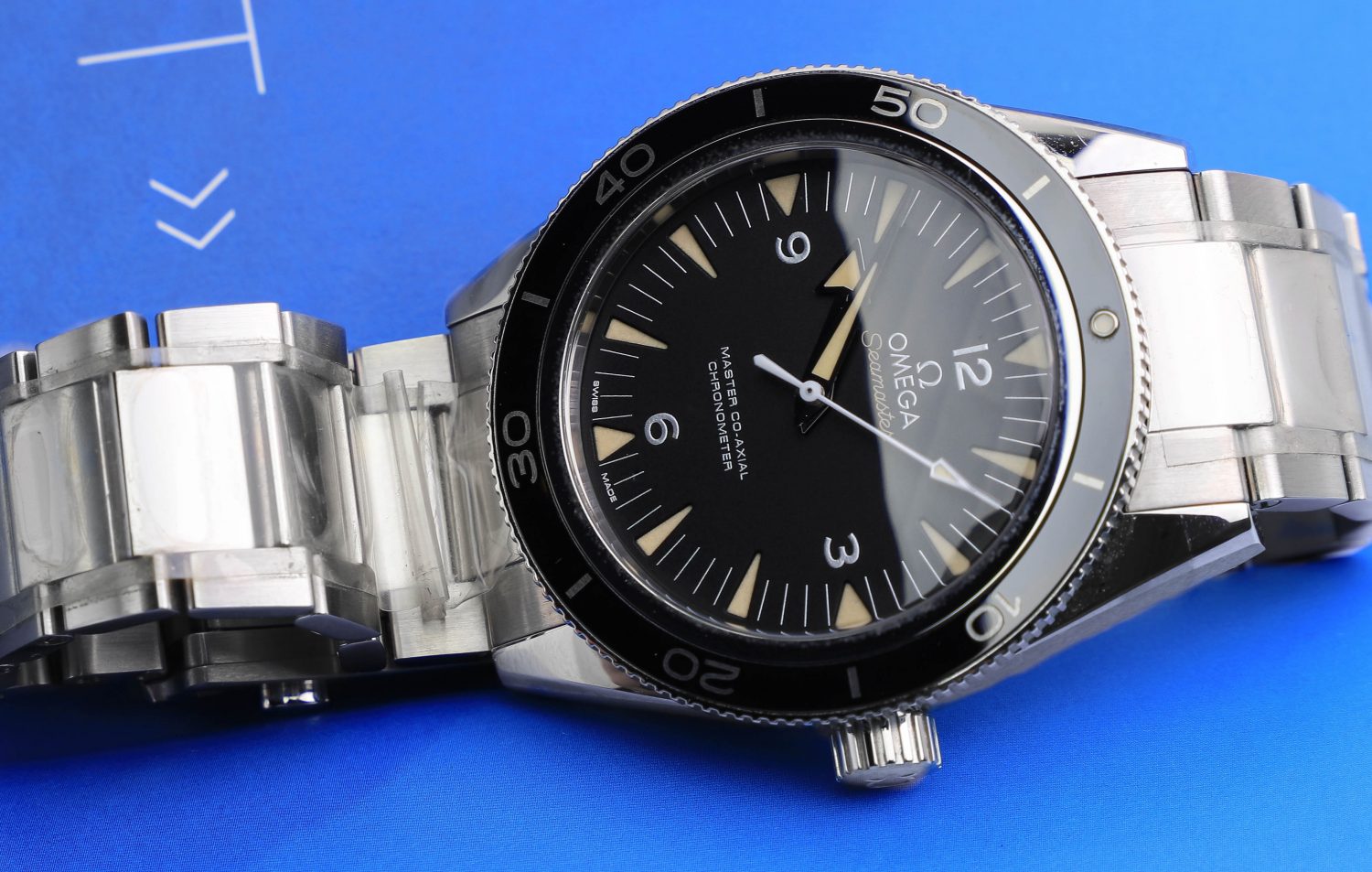 The watch is presented on a matching stainless steel bracelet with brushed middle links and polished outer links. The watch is powered by Omega's in-house 8400 caliber, and to highlight this, Omega has equipped the watch with a see-through case back.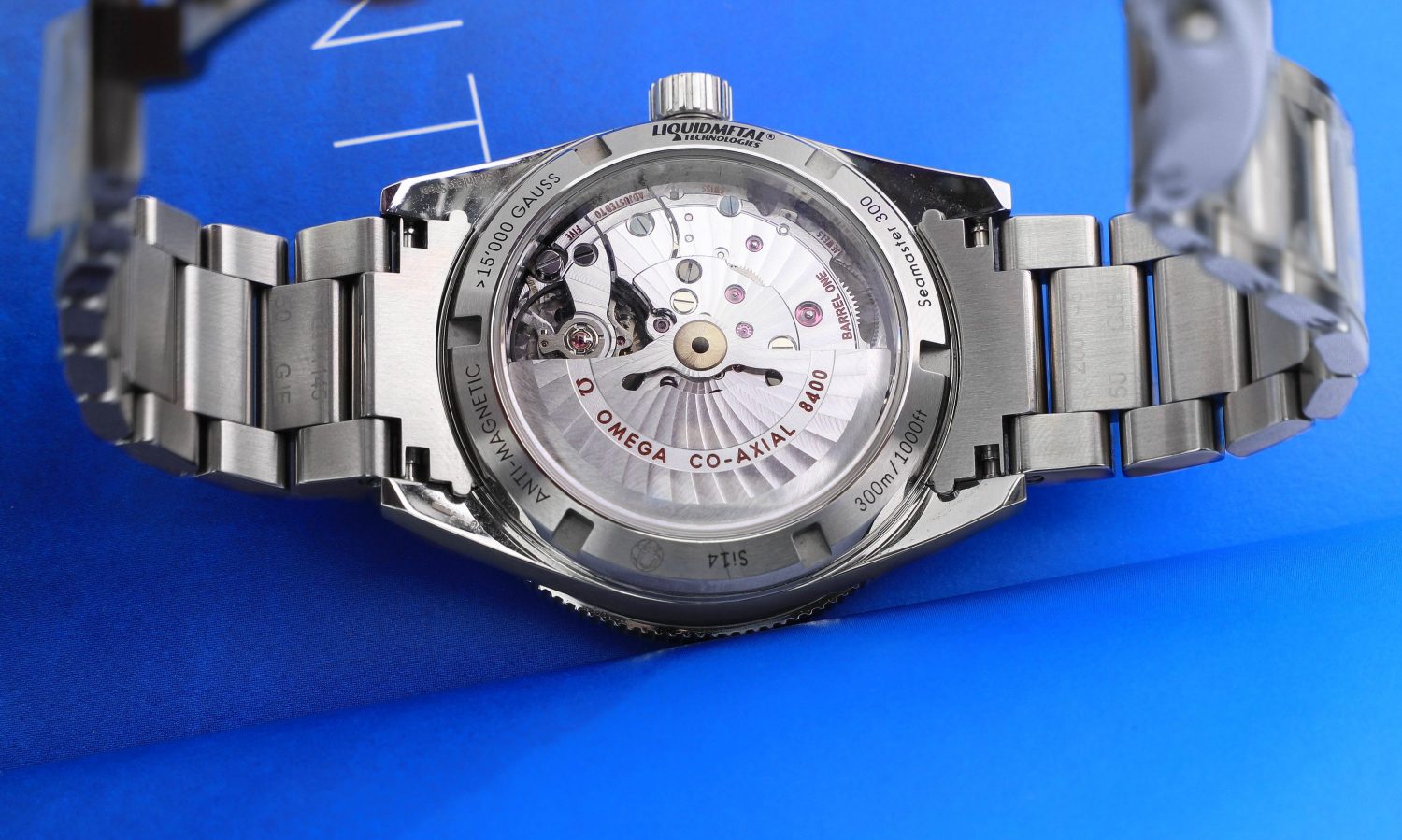 Again, a modern idea as making the see-through case back in the 1957s wasn't really a thing.
As you can clearly see from the movement from the case back, Omega has naturally decorated it to be a sight to behold. Now, it's not Patek or Lange standard, but for the price, you can say that the movement is well-decorated.
As the name "Seamaster 300 Co-Axial" suggests, the movement is a Co-Axial caliber. This simply means that it is a twin-barrel self-winding movement that doles out seconds and minutes through a Co-axial escapement.
The movement has antimagnetic technologies that help it withstand magnetic fields, even those greater than 15,000 gausses. As you would expect from a movement like the 8400, it has a COSC certification. It also has a 60-hour power reserve.
Furthermore, being a dive watch, it is water-resistant to 300m.
The watch has text printed on the dial in brown /gold fonts, and while not everyone seems to like it, it does make for a contrast against the rest of the text which is printed in white. It also happens to tie nicely together with the vintage style of the watch.
An interesting detail to point out about the dial is that it has a "sandwich dial".
This means that the markers on the dial are lowered, which gives it a greater depth and also helps with legibility somewhat. The lowered "wells" that are the indexes have then been applied with Super-Luminova which has a grainy texture.
The grainy texture of the lume, the sandwich dial, and the rich texture of the matte black dial are all really nice details that give the Seamaster 300 great depth and really allow you to appreciate the level of detail gone into the dial – especially when the light hits it.
Touching upon the case, it is, as mentioned, 41mm in diameter, but also 15mm, which some consider a bit thick. This partly has to do with the sapphire crystal that has been fitted to the back in order for you to admire the movement.
Moving on to the bracelet, it is made of stainless steel and has a combination of brushed and polished elements. This ensures that the watch keeps its sporty look, but also makes it elegant enough to match a suit – Bond style. The bracelet is comfortable to wear and feels robust. The great thing about it is that the clasp is equipped with Omega's micro-adjustment system which allows you to adjust the size of the bracelet without the use of any tools but by pushing and sliding a button on the inside of the clasp.
One critique that is sometimes mentioned about the bracelet is that the clasp is modern-looking, and doesn't really tie the knot of vintage design. But.. if you enjoy Omega's Seamaster diver 300M clasps, you will also enjoy this.
Circling back to the bezel, it is worth mentioning that it is quite thin – just like the original.
Omega has since releasing the black Seamaster 300 co-Axial released several other versions. This includes a blue version as well as gold and steel versions. Moreover, they completely revised and upgraded this model by releasing a completely new Seamaster 300 collection of timepieces that stays even truer to Omega's heritage models.