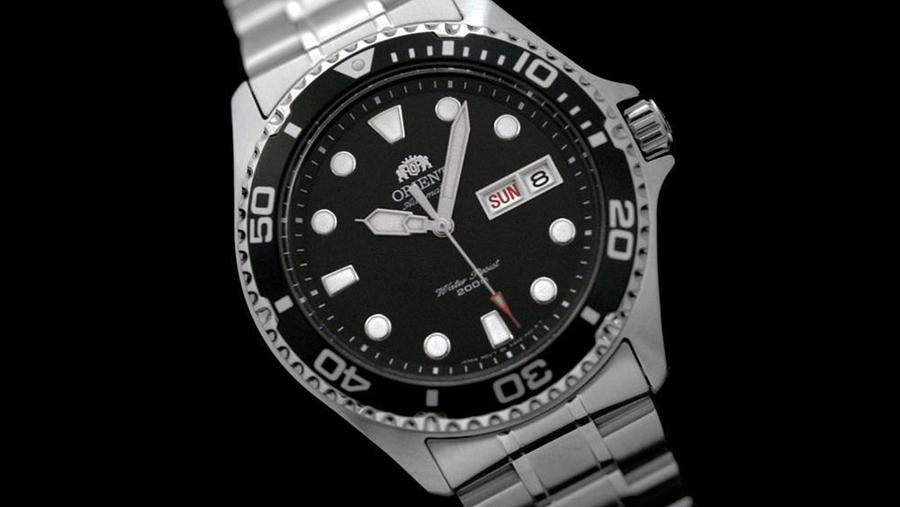 Orient Ray II FA002004B9 Review & Complete Guide
When most people think about a dive watch, they probably think about the Rolex Submariner. But what if you want a good, durable, reliable, and good-looking dive watch that brings you the same joy as a dive watch but doesn't cost tens of thousands of dollars?
The answer may be the Orient Ray II FA002004B9.
Orient is frequently praised and appreciated for making high-quality and well-finished watches at affordable prices. The Orient Ray II is one of those watches. Priced at just over 100 USD, it definitely falls under the "affordable" category, but is it worth owning? Or does it compromise on quality?
In this article, we are going to review and look closer at the Orient Ray II FA002004B9.
Orient Ray II FA002004B9 Review
The Orient Ray II FA002004B9 is an affordable sporty dive watch that looks very much like what people think about when they think of a dive watch. It is mostly monochrome with black and white, made in steel, has a unidirectional bezel, has a sporty design, and offers good legibility. But what about the quality?
Despite its affordable price, the reviews of this watch are exceptionally good. Of course, at this price, you can't expect Rolex quality and finish, but at the same time, this watch doesn't cost thousands of dollars either. The conclusion is that the Orient Ray II FA002004B9 is a watch that offers great value for money. With an automatic movement, a water resistance of 200 meters, and for-its-price high build quality and finish, there are not many better alternatives on the market.
Let's look at this watch in detail to understand what it is all about.
Orient Ray II FA002004B9 case
The Orient Ray II reference FA002004B9 has a sporty stainless steel case with a diameter of 41.5mm and a lug-to-lug size of 47mm. Its case design is just what we expect in a diver's watch. It has a sporty presence, has brushed lugs, features crown guards, and has a screw-down crown.
The case is very well-proportioned and there's not much to complain about. Its brushed lugs are contrasted by polished sides which creates a nice contrast and a perception of quality. It has a thickness of 13mm which is about what you would expect from a dive watch. The lugs are slightly angled downwards which allows them to hug the wrist and wear more comfortably. The lugs are also slightly angled which creates a sportier profile – which of course is exactly what we are looking for in a sports watch.
One complaint people have about this watch, however, is that it is hard to operate due to its relatively small size. But the most important part is that it screws down and ensures the watch's water resistance.
Photo: Twobrokewatchsnobs
As we would expect from a dive watch, it features a unidirectional rotating bezel with a black aluminum insert with a luminous pip at 12 o'clock for better legibility in the dark. It has the first 15 minutes marked, followed by only every five minutes after that, and with each 10-minute marking printed with numerals.
The bezel has a coin edge for improved grip and easier operation. A unique design feature of this watch is that it has larger "notches" every 10 minutes that stretch all the way into the aluminum insert. The coin edge does not stick out from the case (the case sticks out more), and they are not very tall, so sometimes it can be hard to grip and rotate the bezel. The bezel is polished. The bezel rotates with 120 clicks.
If you turn the watch around, you can find a solid case back, which we can expect from a sporty dive watch (for better water-resistance security and fewer potential leaking points). The case back has a dolphin logo (now iconic for Orient).
Sitting on top of the case is a mineral crystal. For a sporty watch like this, it is always nice with a sapphire crystal, but at this price point, it's certainly not something we can expect.
Orient Ray II reference FA002004B9 dial
Moving on to the dial, the FA002004B9 has all of the iconic characteristics and traits of a dive watch. It has a black, slightly matte dial which can look shiny from some angles. In the sunlight, however, you can really appreciate the rich texture.
The watch has large applied circular markers applied at each five-minute marking except for 3, 6, and 9 o'clock. The markers have a polished chromed edge and are applied with a generous amount of luminova. At 3 o'clock, we have a day and a date window with a metal frame around it. Sunday on the day wheel is printed in red, unlike the rest of the days which are printed in black. The day and date are also separated by a piece of metal.
The minute and hour hand are large and make it easy to read the time. These, too, have luminova applied to them. The watch is also equipped with a seconds hand with a red triangle at the top which creates a nice contrast against the otherwise quite monochrome dial and adds a touch of sportiness.
The dial printing is kept at a minimum with an applied Orient logo at 12 o'clock and the Orient text printed beneath it. Just beneath that is an "Automatic" text. Beneath the center of the hands, we have Water resist" and "200m" printed.
The dial also has a small chapter ring on the very edge where the seconds markers are printed. The chapter ring enhances the feel of quality and also creates an attractive depth to the dial.
The lime on this watch is actually great. It provides good legibility in the dark and has a green bright sheen. Oftentimes, affordable watches compromise with the lume, but not the Orient Ray II FA002004B9.
Overall, the dial is very clean and well-made.
This watch is also available with a striking blue dial or with a PVD-coated bracelet and case.
The Orient Ray II reference FA002004B9
movement

Moving on to the movement, the Orient Ray II FA002004B9 is equipped with an automatic mechanical movement powered by a rotor.

It uses the F6522 caliber which has all the functions that a premium automatic movement has, including hacking seconds and hand-winding. Oh, and it is made in-house, too. Pretty good for the money.

The movement has 22 jewels and offers a power reserve of 40 hours according to specifications. The movement is sturdy and robust, which is just what you need from a sporty dive watch.
The Orient Ray II reference FA002004B9 bracelet
The watch is fitted on a stainless steel bracelet.
The bracelet is usually the part that manufacturers compromise with the most when it comes to manufacturing. The bracelet is certainly not the best in the game but it is what you can expect in this price range. Not all parts of the bracelet are solid which results in a lower-quality feel and more rattle. The end links are hollow which has a negative effect on their quality and robustness. The end links are 22mm.
For improved comfort, the bracelet tapers slightly but not much (From 22 to 20mm). This is an area where there is room for improvement, but the question is if a thinner bracelet would result in making it rattle even more. But for improved comfort and a new look, you can easily replace it with a nice NATO strap.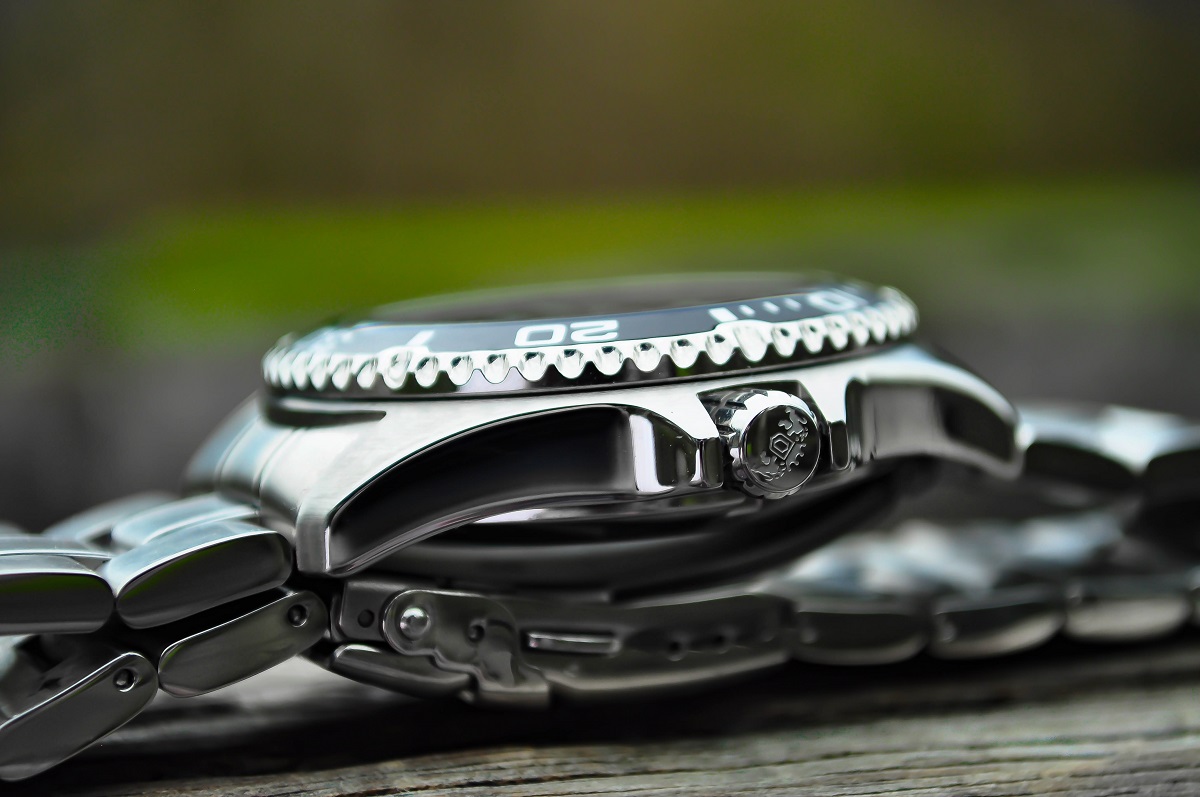 Photo: Twobrokewatchsnobs
The Orient Ray II FA002004B9 specifications
Movement: caliber F6522. Automatic. Hacking seconds, manual winding function, rotor.
Jewels: 22
Water resistance: 200m
Diameter: 41.5mm
Height: 13mm
Lug-to-lug: 47mm
Conclusion
All in all, the Orient Ray II reference FA002004B9 is a sporty dive watch that offers great value for money. Priced at about 150 USD, there are not many automatic dive watches that can compete with this watch.
Yes, there are some areas for improvement, but these would likely result in a higher price. With that said, it really is a watch that punches above its own weight. It looks great, has a sturdy in-house automatic movement, and will be able to take a beating. If you are looking for an affordable automatic dive watch, this is definitely one of the best options out there.