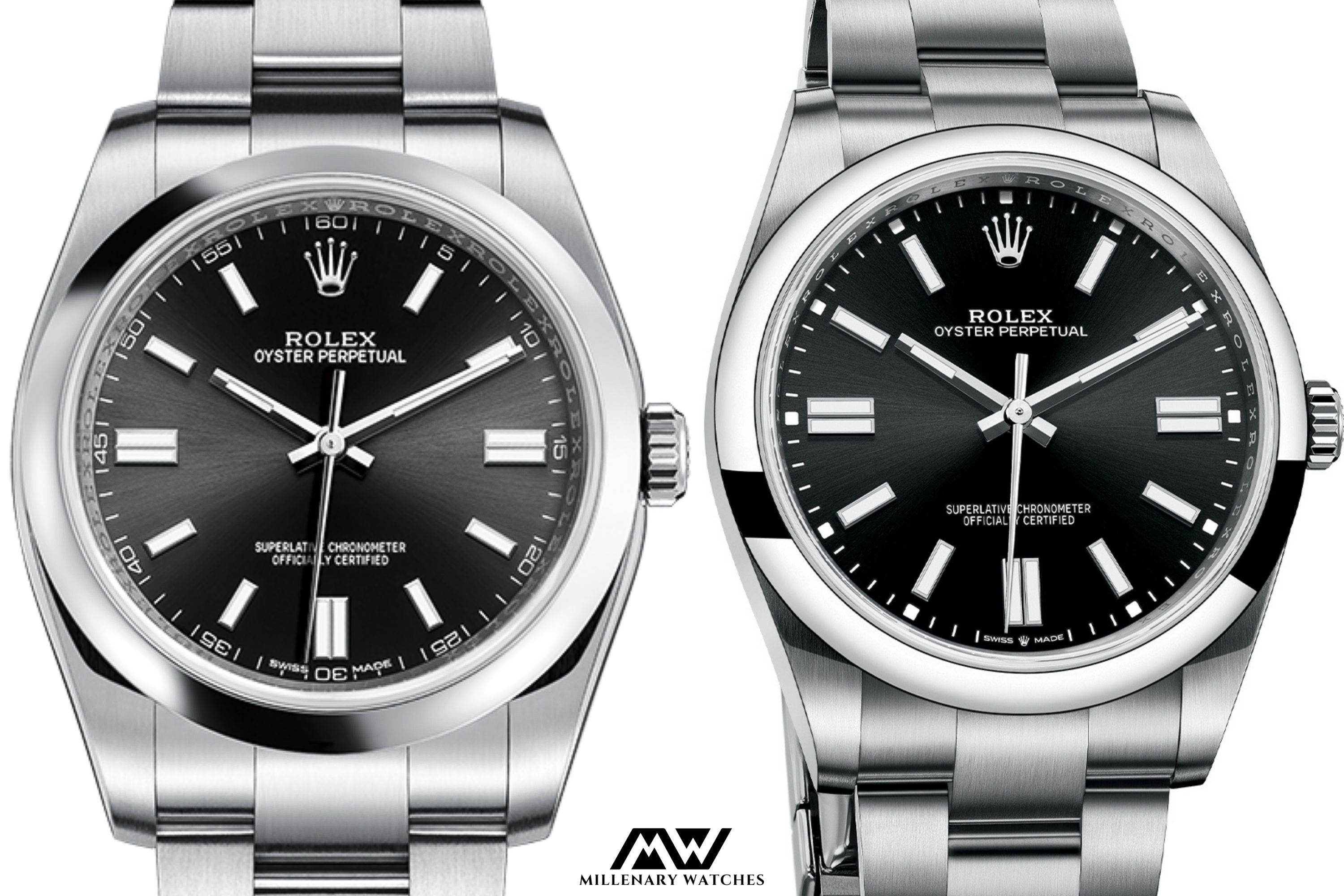 Rolex Oyster Perpetual 36 116000 vs 126000 Old VS New
2020 proved to be a big year for the Oyster Perpetual collection. Most notably, the collection was presented with a number of new bright and bold dial colors. Some may think that this was the only change to the Oyster Perpetual, but if you ask Rolex, the colors were not the biggest news. The internal upgrade, which is the movement, was the biggest change to this watch. Today, the Oyster Perpetual 36 is powered by the latest generation Rolex caliber.
The more you read about the new Oyster Perpetual 36mm, reference 126000, you will soon realize that not only are there new colorful dial configurations, but also a new movement, a slimmer case, and a small yet very important update to the bracelet that the market had been requesting for years.
Since the previous Oyster Perpetual in 36mm, reference 116000, was introduced in Basel 2008 it had been around for a while. Over the course of its production period, Rolex had also introduced (and discontinued) a number of different dials.
However, in Basel 2018 Rolex presented an updated dial configuration for the reference with a new layout of the dial. The new dial featured double indexes at the 3, 6, and 9 o'clock position. With this update, Rolex only presented two new dials: black and white. But now in 2020, these have been discontinued. With this in mind, it is, therefore, safe to say that these two particular dial configurations were produced for a short period of time (at least from a Rolex perspective).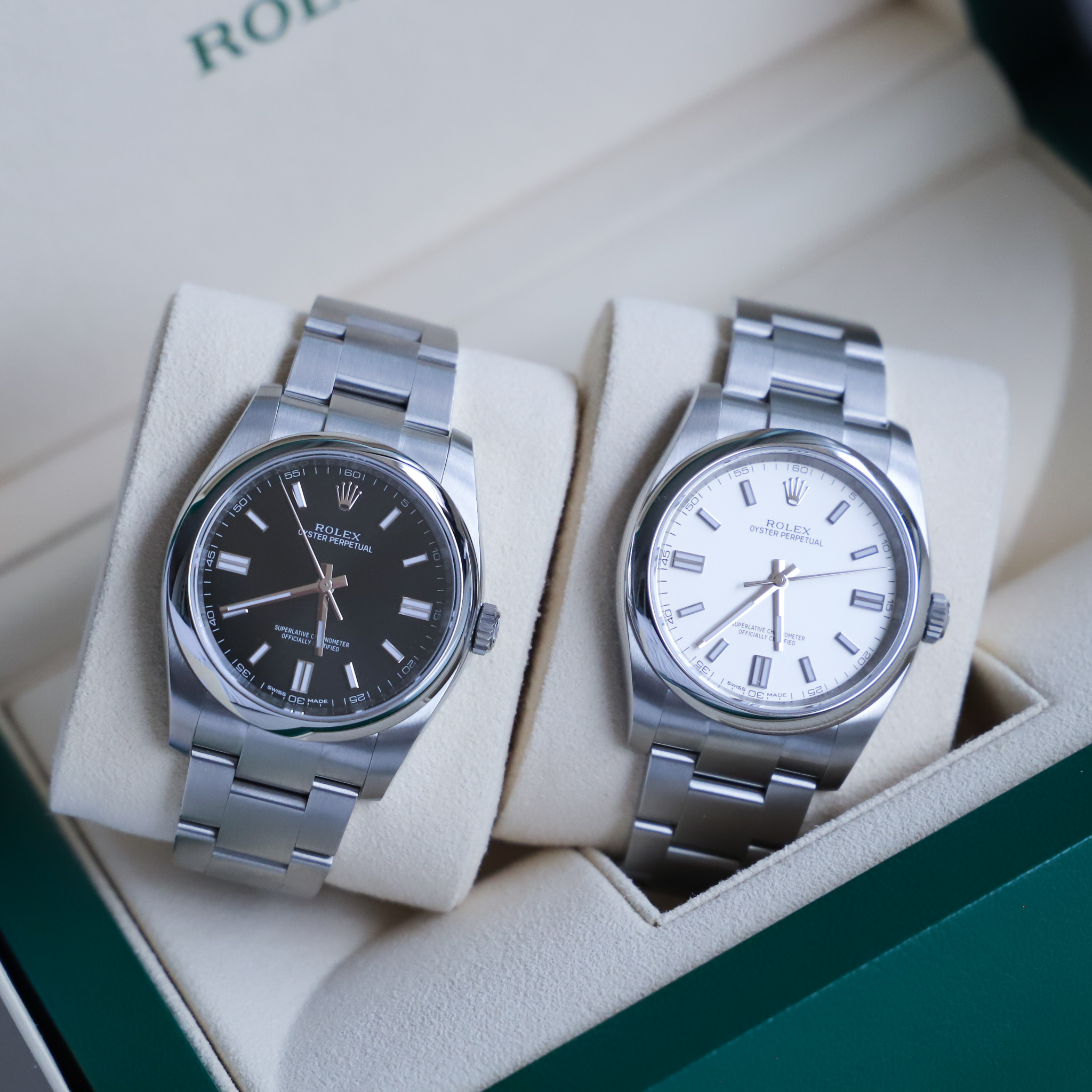 In the eye of many Rolex collectors and enthusiasts, special, unique, or watches with a short production period might, in the future, prove to be future classics and highly collectible. In this article, we will compare the two Oyster Perpetual 36 references against each other – 116000 VS 126000. And perhaps, after reading this, the decision of either picking up the older reference or the brand new might be a bit easier for you.
Reference 116000
This reference 116000 was first presented at the Basel watch fair in 2008. For the first time in a long time, Rolex decided to update the Oyster Perpetual 36 by improving it with its latest technology and refining its design. The at-the-time new model featured 904L steel and was equipped with a rehaut along with a more solid bracelet and well-built bracelet, but also the new maxi-case.
The watch suddenly became a lot more robust, but still with the classic Oyster Perpetual DNA with its simple and elegant look as a time-only watch that only displays hours, minutes, and seconds.
The 116000 features the Rolex caliber 3130, which is the movement used in the Rolex Submariner no-date reference 114060, with an upgraded Parachrom hairspring that offers greater resistance to temperature variations and shocks. The movement is capable of running 48 hours when fully wound, which is fairly good and generally more than enough, especially if you wear the watch on a daily basis. In 2018 at Basel Rolex, as mentioned, announced an updated dial configuration for the lineup featuring double indexes at the 3,6 and 9 o'clock position.
The colors black and white were also added which is quite interesting, as they haven't been available for the model previously. The black and white dials were only produced for two years since they were announced discontinued when the new reference 126000 was introduced on September fist 2020. As a matter of fact, if you are looking to have a white dial with double indexes, the only choice from Rolex's all previous and present Oyster Perpetuals in 36mm is the reference 116000.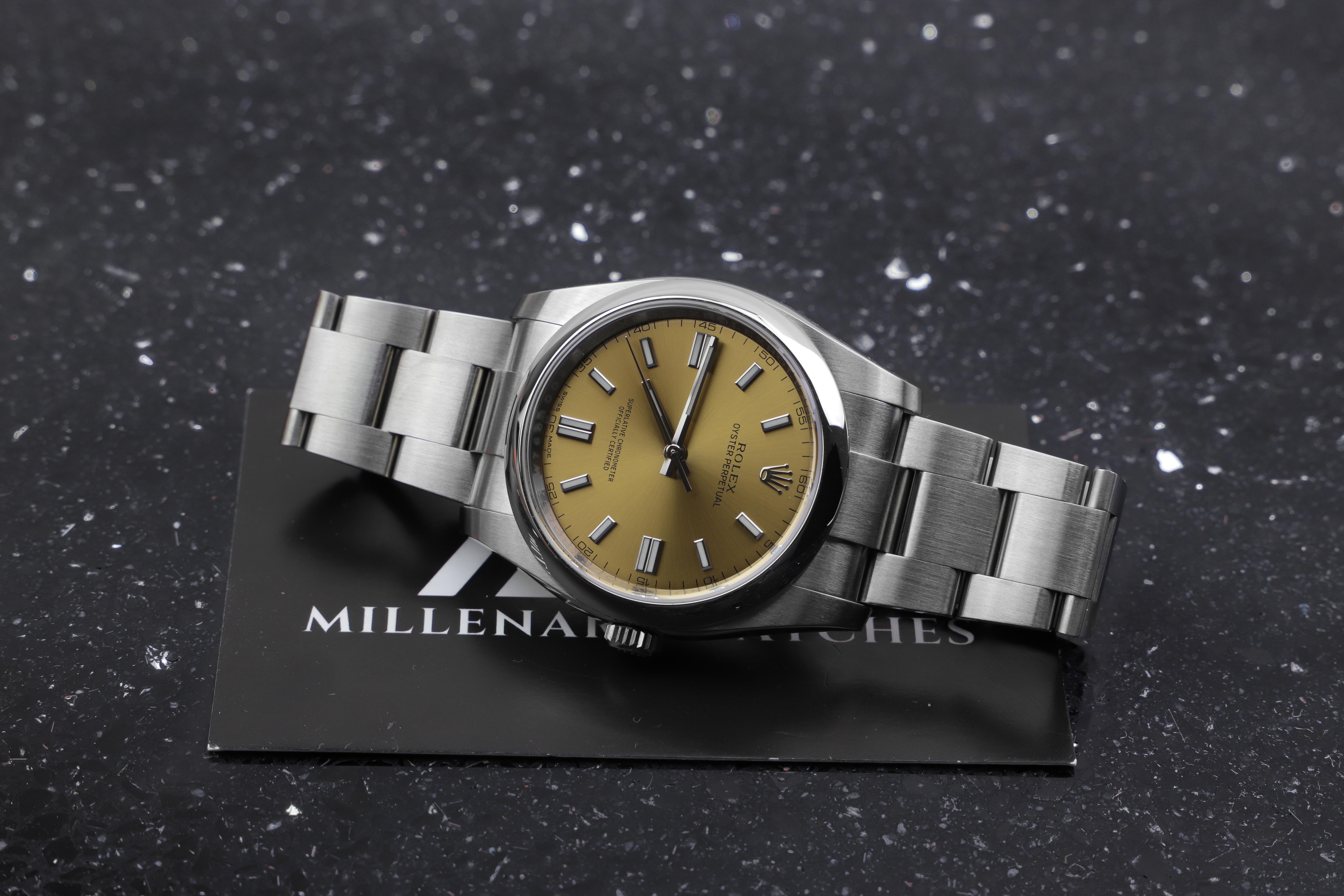 This does of course mean that the production time of only two years makes this reference with the dial configuration either in white or black rather unique and rare – at least compared to the other dials. This is something that often is greatly appreciated by collectors as the production numbers are naturally lower, making them potentially more sought-after and collectible in the future.
However, what often is brought up when talking about reference 116000 is the lack of the Easylink extension system. If you have ever been in a warm climate with this watch, it doesn't take long until you realize that the size of your wrist changes with temperature changes. A bracelet that might suit your wrist perfectly in normal temperatures, may sit extremely tight on the wrist in warmer climates.
Unfortunately, as the bracelet of the 116000 does not come with an easy-link extension from the factory the only way to adjust the length of the bracelet is if you were to bring tools with you, for either removing links or adjusting the micro-adjustment inside the clasp. But this is of course not very practical. Fortunately, however, this issue can easily be resolved by adding an Easylink (originally from the Explorer 1, reference 214270 bracelet) with the part number B32-20193-D1. And this is a modification that some owners have done to their watch.
Reference 126000
The new Oyster Perpetual 36mm was presented by Rolex on the first of September 2020. The unorthodox dial configurations is quite a brave move by Rolex, which very rarely steps outside their box and dares to do something different. Bear in mind, Rolex is about evolution, not revolution. But there are exceptions. Like the colorful dials of the new Oyster Perpetual 36. The new colorful dials will definitely put a smile on your face, but if you are looking to purchase the white dial Rolex no longer offers this configuration anymore.
Fortunately, there are more discreet dial colors to choose from, for those who prefer. This includes silver, black, and blue.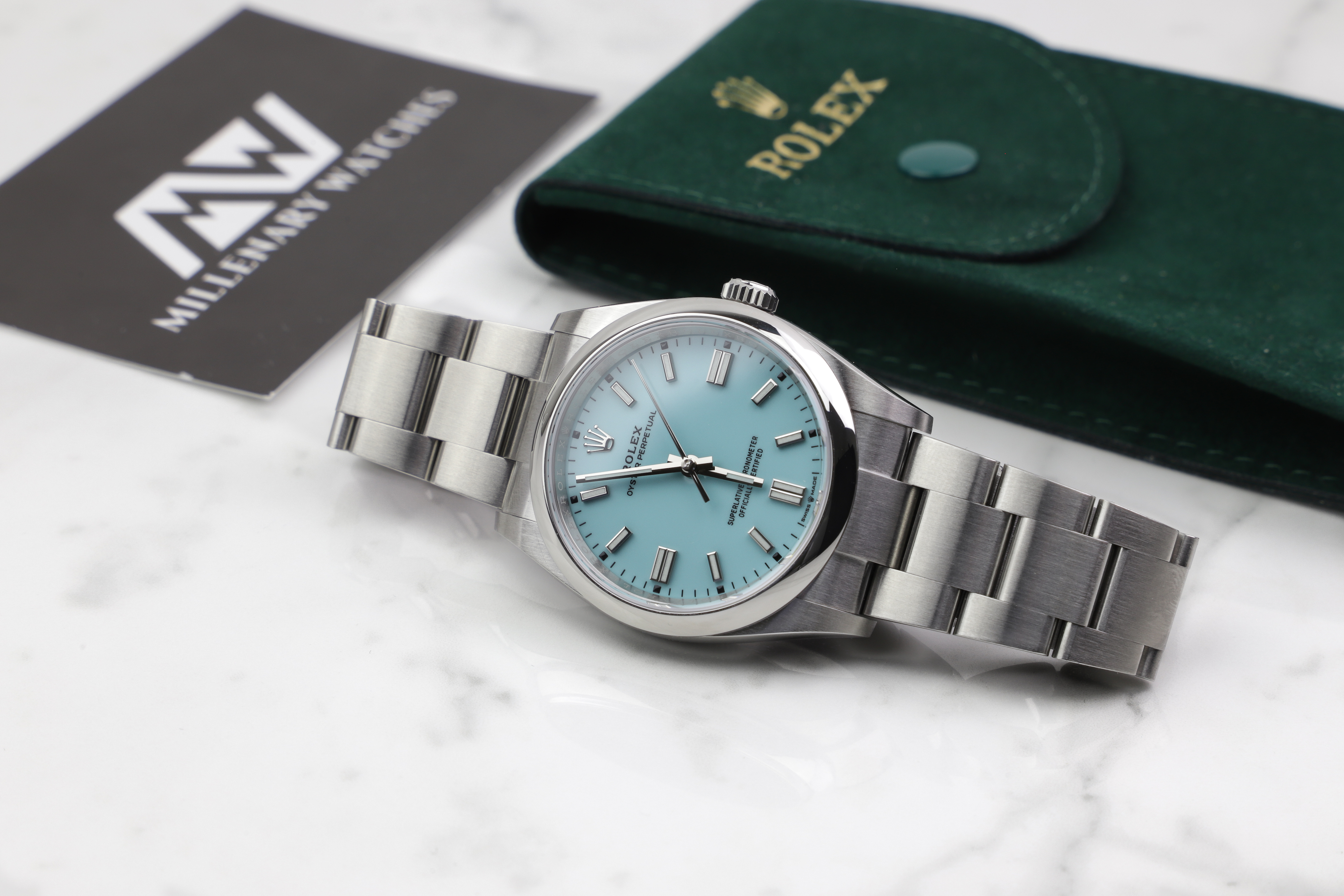 This is of course a big shock for most of us, as the white dial specifically was just recently introduced in the Oyster Perpetual lineup. However, the new dial configurations which are extremely unique and reminiscent of the vintage Rolex Stella dials, have a unique and distinct look.
Besides the new dial configurations, the previous Maxi-case which the previous reference 116000 had is now updated with slimmer lugs, which for many is a big improvement. Not only are the lugs slimmer, but the case is also equipped with a brand new movement, Rolex in-house manufacturer movement caliber 3230, which now boasts an impressive 70 hours power reserve. The previous issue with the non-existing easy-link extension has also been resolved.
The bracelet for the new Oyster Perpetual now has the Easylink extension system which offers the possibility to increase the size of the bracelet by 0,5mm which is a fantastic feature in warmer climates where you shift from being inside a cooled room with AC and going out in the heat.
Which One To Purchase?
With all of this said, it might be difficult to decide, or perhaps in some cases easy. If you are looking for a more casual and discrete dial, like the white, the only option you are left with is to go with the only-two-year-production-Oyster Perpetual reference 116000.
The lack of an easy-link might bother you, but as earlier mentioned it's a quick-fix with all original Rolex products. What's left to ask yourself is if you want a slimmer case and if a 48 power reserve instead of 70 is a big deal for you. However, if you find any of the dial configurations of the new Oyster Perpetual, the new 126000 is in fact the superior watch due to its improved specifications and importance. All of the other features and visual tweaks are just binary, and may not even be noticeable to the untrained eye.
The purpose of a new generation watch is of course to make it better, and that is exactly what the reference 126000 is, at least on paper.
This does of course not mean that the previous caliber 3130 is bad in any way, as it was used for a long time and is a tried and true movement that is a workhorse. It's a reliable movement featuring small improvements such as a Parachrome hairspring.
Oyster Perpetual 36 116000 VS 126000
Reference 116000:                                                                           Reference 126000:
Caliber: 3130.                                                                                    Caliber: 3230.
Power Reserve: 48 hours.                                                            Power Reserve: 70 hours.
Case: Maxi Case.                                                                              Case: Maxi case with slimmer lugs.
Easy-Link: No, but can be modified.                                       Easy-Link: Yes.
Great Watch: Yes!                                                                            Great Watch: Yes!
Question!
Which of these references would you go for?