Rolex Caliber 1575 Complete Guide
Rolex is a watch company that does things a bit differently from its competitors. The company is not looking to make the most beautiful movements. It is not even trying to show them off. Instead, they are tucked away, and will never be seen by anyone but the watchmaker who services them.
Rolex strives to make long-lasting and durable movements that continued to operate flawlessly year after year. And it's safe to say that Rolex has achieved this, as a word that is commonly used to describe its calibers is "workhorse".
In this article, we are going to look closer at one of Rolex's many in-house calibers that it has developed and used throughout the years.
Rolex makes its calibers in series. The 31XX series is one of the series that has been praised the most in terms of long-lasting durability. In recent years, the series has been replaced by the new generation 32XX series. But if we go back in time, we find the 15XX series, and it is one of these movements that we are going to focus on in this article. More specifically, the Rolex caliber 1575.
Rolex Caliber 1575
The Rolex caliber 1575 was introduced in the middle of the 1960s. It uses the caliber 1560 as its base, but to improve its performance, Rolex incorporated it with a number of upgrades. These upgrades include increasing the frequency from 2.5hz to 2.75hz, hacking seconds, where the seconds hand comes to a complete stop when the winding crown is pulled out to the time-setting position. It also has an increase of the power reserve from 44 to 48 hours.
The Caliber 1575 is a movement that has been praised for being robust, accurate, and extremely durable.
In terms of specifications, the movement has a diameter of 28.2mm, a height of 6.30mm, and features a date. It has an overcoil balance spring and 25 jewels. The movement has a shock protection system for the escape wheel for improved resistance to shocks. Like many other Rolex calibers, the 1575 has Microstella screws for easy regulation of the movement. It uses a free-sprung balance. It is equipped with a perpetual rotor, being an automatic caliber. This rotor uses a center axle instead of ball bearings, which is commonly used. This allows for reduced friction. Furthermore, the caliber 1575 has an instantaneous date function. This means it changes directly at midnight. This has been made possible using a cam, spring, and jewel.
The instantaneous date function is to prefer, as otherwise, the date changes slowly, which means looking at the date between about 23:55 and 00:05 does not give any useful information.
What is particularly interesting about this caliber is that when served by a Rolex service center, it is serviced to operate within COSC, which means the accuracy of gaining no more than 2 seconds per day. This is especially impressive considering the movement's age.
Rolex caliber 1575 and 1575 GMT
An "issue" is that the Rolex caliber 1575 is often confused to be a GMT movement, but this is not the case. Rolex did produce a GMT version of the 1575 which was named "1575 GMT", and these two movements are not to be confused with each other. But, of course, as the name suggests, the caliber 1575 GMT is similar to the 1575 caliber but has been modified to incorporate a GMT function. The Caliber 1575 GMT is based on the caliber 1530.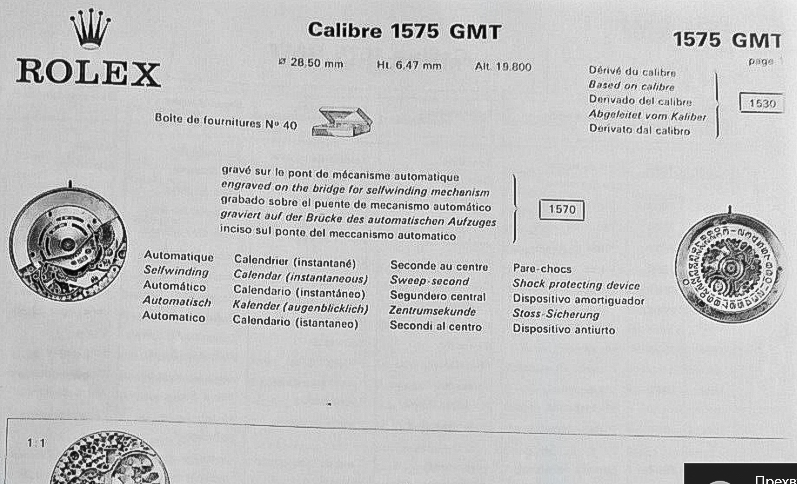 Rolex caliber 1575 specifications
Diameter:28.2mm
Height: 6.30mm
Frequency: 2.75hz, 19,800 bph
Jewels: 25
Power reserve: 48 hours
Introduced: 1965
Discontinued: 1981
Functions: Date, hours, minutes, seconds
Technology: Microstella screws, free-sprung balance, instantaneous date, shock protection system. Self-winding. Perpetual rotor.
Used in: Explorer II, Sea-Dweller, Submariner.