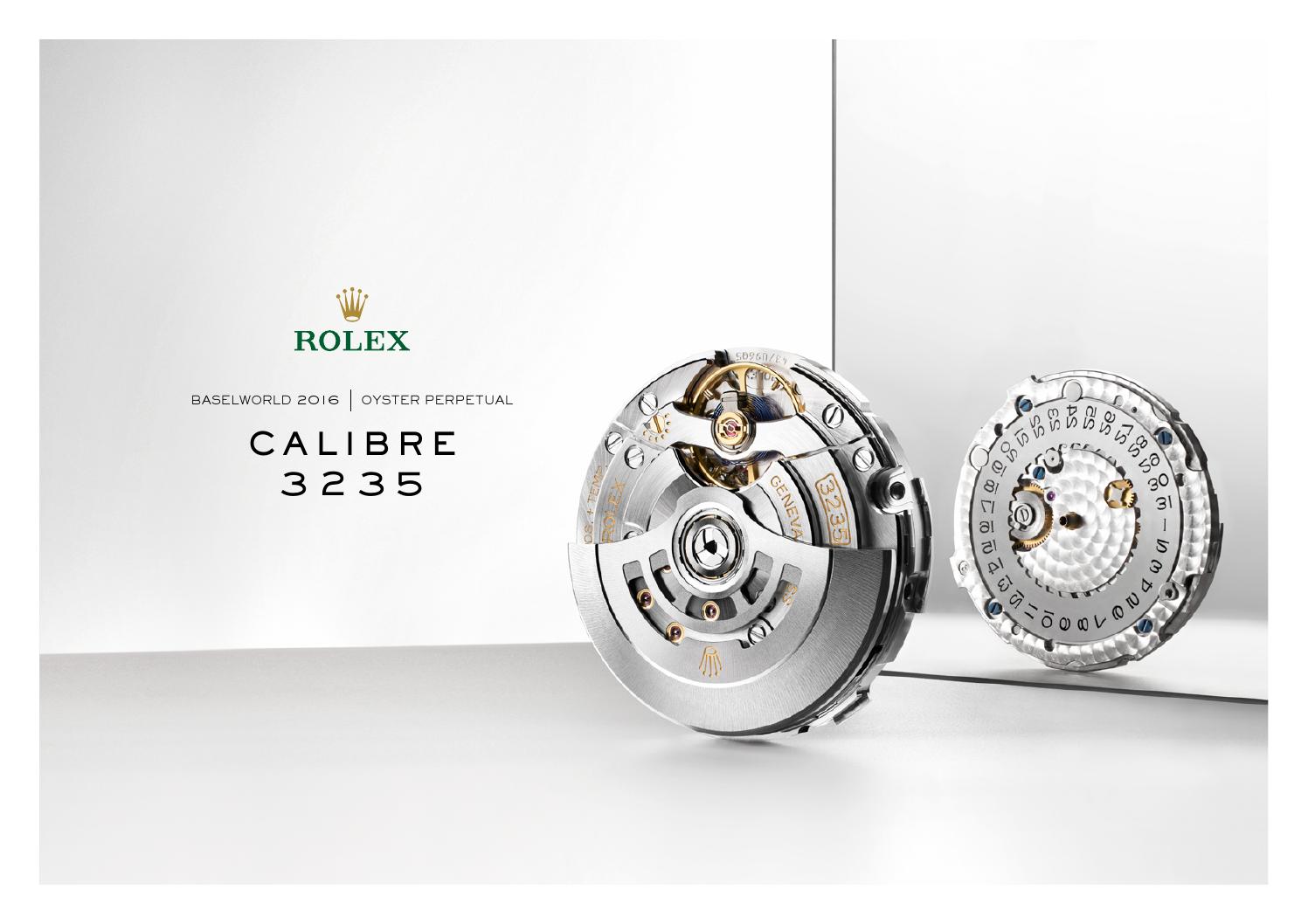 Rolex Caliber 3235 In-Depth Guide
Rolex is a watch brand that does things differently from most of its competitors. Rolex calls it "the Rolex way".
Rolex has almost always stayed in its lane and focused on itself, while other brands have glanced at Rolex and what is coming out of the factory.
In 2015, a rumor started spreading about a new movement from Rolex – the Rolex caliber 3235, and it's fascinating that a part of a Rolex watch that most people won't see can engage so many people.
But regardless, the introduction of the new Rolex caliber 3235 is a huge deal, both for collectors and Rolex as a brand, and we'll go more into detail about why further in this article.
Rolex is a company that is known for "evolution, not revolution". This means that Rolex as a brand continuously makes its products better and better through small yet important tweaks and changes to its watches and parts. Some are more noticeable than others, but when you compare the previous version of Submariner with today's, the untrained eye will not instantly recognize the difference between them. Rolex's products have come a long way technically, but many of their models are still strikingly similar to what they looked like twenty years ago.
But what is more interesting is that Rolex has had some of its movements in production for decades, and while some may perceive this as a lack of inspiration or a willingness to improve, it also sends indications that Rolex's calibers are so precise and so reliable that they don't need many improvements.
One thing is for sure, though, and that is that Rolex is very careful and restricted when releasing new things.
But the Rolex Caliber 3235 is new, it's here, and in this article, you'll learn all about it and what it means for Rolex.
Rolex Caliber 3235: a new generation movement
The Caliber 3235 is actually not a completely new movement. Instead, it is a new-generation movement. I say this because it continues to build on the already existing 3135 movement. And for Rolex, this makes sense. Remember evolution, not revolution. Plus, why change a winning concept too much?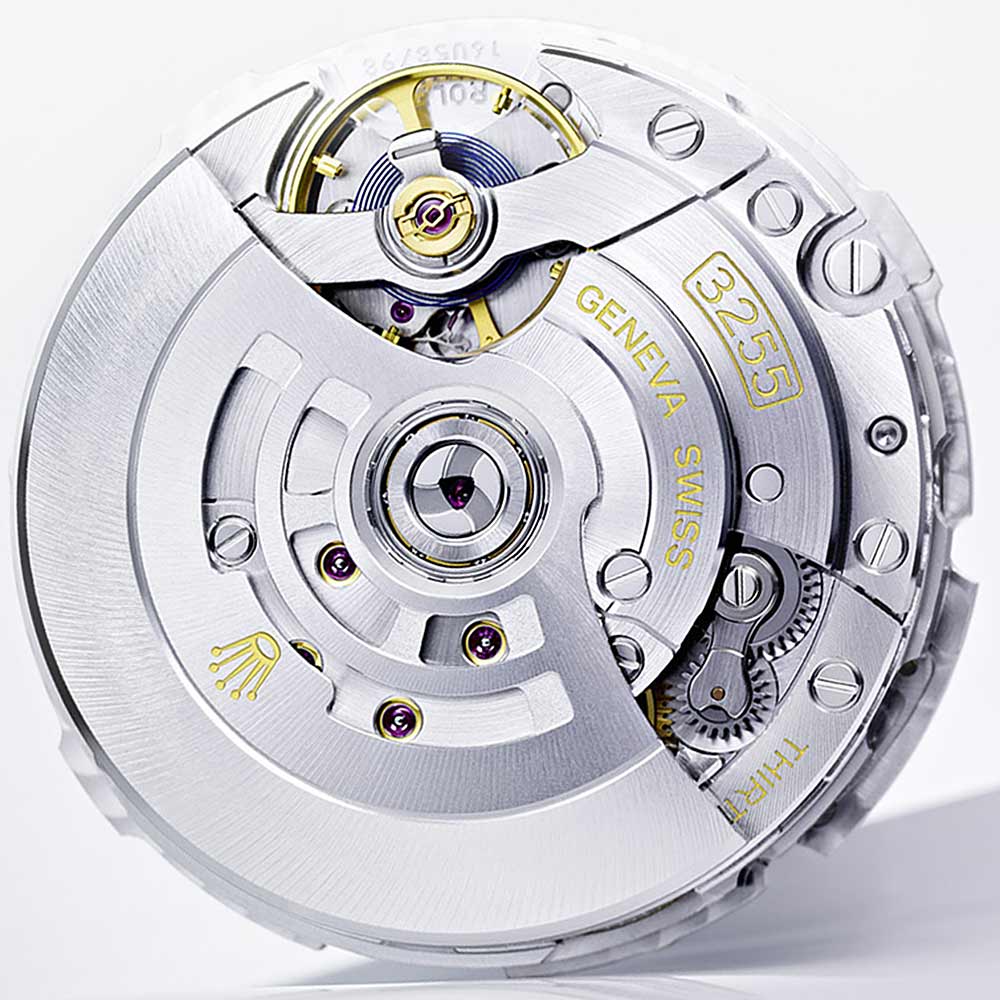 But while the Caliber 3235 movement is built on the previous generation, it has still been changed quite a bit.
Now, let's start by saying that the caliber 3235 is Rolex's flagship date-function movement that is used across a large number of different models in Rolex's lineup. Just like the previous generation caliber 3135 was Rolex's flagship go-to movement for almost 30 years, we can expect the caliber 3235 to be the same.
Now, Rolex is hardly known for making beautiful movements when comparing them to the likes of A. Lange & Söhne, Patek Philippe, or Vacheron Constantin, however, that's not what Rolex strives to achieve.
Only a handful of Rolex watches feature see-through casebooks, but that is because Rolex focuses on creating reliable, accurate, and robust timepieces that will last for generations. And in creating that, improving the visual appearance of the movement in many cases tends to compromise that.
Rolex is not known for creating the most beautiful movements to look at, but Rolex is known for creating movements that continue to tick year after year, that last for generations. Even without being serviced, although it isn't to recommend.
When thinking about Rolex, many people would perhaps not consider them the most innovative company, but the devil's in the details, and this is where Rolex truly separates itself from its competitors.
The Rolex caliber 3235 has a whopping 14 patents, which proves that it is a movement that pushes boundaries with its innovations.
Just like the previous 3135, the focus on the 3235 is to improve the predecessor and make an even more reliable, more robust, and more accurate movement.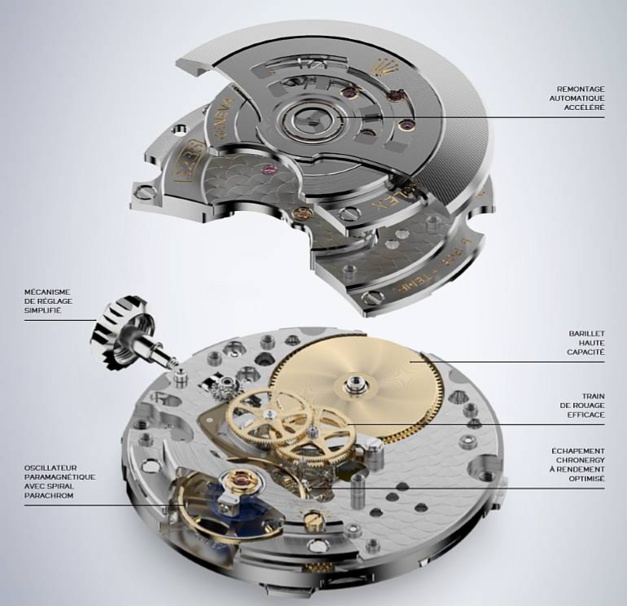 Over the years, Rolex has updated the 3135 caliber numerous times, but sometimes so little that watchmakers have a hard time noticing the difference.
But with the 3235, the differences are of course a bit more noticeable.
Let's begin with some history of the Caliber 3235 before we get into the detailed nerdy parts.
The Rolex Caliber 3235
The Rolex Caliber 3235 was officially released at Baselworld 2015 and was first introduced inside the 39mm Pearlmaster.
Since then, the movement is actively used in all of Rolex's date variant watches, seeing that it is Rolex's go-to movement. From the extremely tough Sea-Dweller ref. 126600 to the elegant Datejust, the 3235 is the movement used. This is quite interesting actually.
What is also interesting is that the caliber 3235 is actually based on the movement that is used in the Day-Date 40, which was released a year prior. For the 3235, the day display function has of course been omitted.
While Rolex is about evolution, not revolution, what is very interesting is the fact that Rolex has replaced more than 90% of the parts of the prior caliber the Cal. 3135. For the caliber 3235, Rolex didn't just make a few changes and improvements, rather, they tweaked, modified, and improved virtually every component in order to offer greater efficiency and higher reliability over the previous model.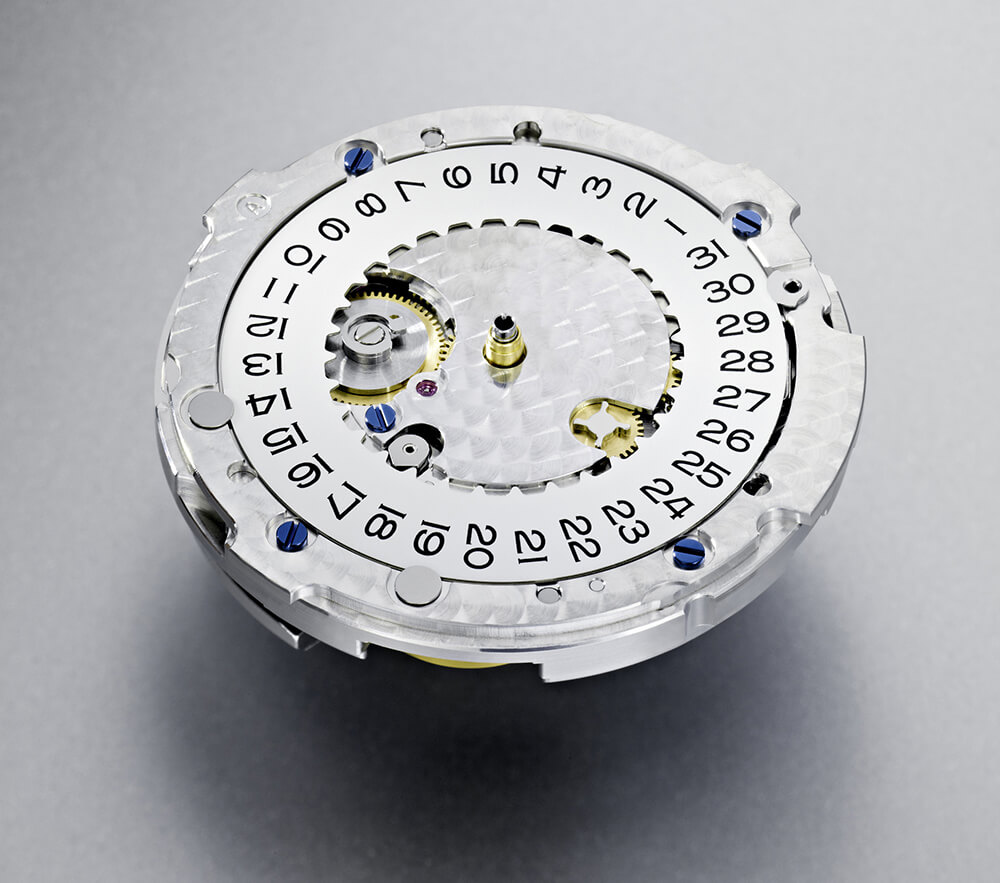 So, what new changes and updates did the Rolex caliber 3235 introduce?
Rolex Caliber 3235: The New Chronergy
The absolutely most important and significant innovation of the 3235 is the new Chronergy escapement. The escapement is the part of the movement that helps regulate the power which is delivered from the mainspring via the oscillator. The Chronergy of the 3235 improves the efficiency of the Swiss lever escapement by 15 percent. The Swiss lever escapement has always been a tricky part of watch movements, relaying to the oscillator barely more than a third of the energy it receives from the mainspring via the gear train, which means that valuable energy is lost here. Rolex, of course, saw an area where there was a need for improvement.
The escapement consists of two main components, a pallet fork, and an escape wheel. The ticking sound of mechanical watches actually comes from the teeth of the pallet fork engaging and disengaging with the escape wheel, slowly releasing energy, one tooth at a time.
Almost half of the calibre 3235's increased power reserve can be ascribed to the new Chronergy escapement itself. This escapement has been made of nickel-phosphorus, which also makes it insensitive to magnetic interference. To reduce its weight, the escape wheel is skeletonized, using a cutout design.
Furthermore, the pallet fork's teeth are only half as thick as before, but at the same time, the contact surfaces on the escape wheel have doubled.
Mainspring barrel
The Rolex caliber 3235 also has a major innovation which is the mainspring barrel. Discussions and speculations about whether the movement would increase in size due to an increased power reserve, however, Rolex was able to maintain the barrel's original size, while improving the power reserve from 40-48 hours to three days. Rolex was able to improve the power reserve by that much by halving the thickness of its walls.
Furthermore, when it comes to the rotor, which is monobloc-shaped, it rotates on ball bearings to enhance its speed.
The new Rolex caliber 3235
When we originally published this article, Rolex used both the 3135 and the 3235 calibers side-by-side. That is because the models that had not yet been updated were using the old caliber, such as the Submariners. But today, all 3135 calibers have been replaced by the new generation, 3235. In 2020, for example, Rolex updated the whole Submariner range and changed from caliber 3135 to 3235.
The caliber 3135 has performed well for close to 30 years, and will, of course, continue to perform well for the coming generation, however, there comes a time when things need to be updated.
Parachrom Bleu hairspring
Another new part in the caliber 3235 is the Parachrom bleu hairspring. The Parachrom bleu hairspring is not new itself, however, for the caliber 3235 it has been updated and tweaked.
Thanks to this, it is 10 times more precise than a traditional hairspring in case of shocks.
The hairspring is made of an alloy consisting of niobium and zirconium. It is insensitive to magnetic fields and temperature variations. The hairspring features an optimized Rolex overcoil, enhancing the isochronism of the oscillations in any position.
The oscillator is attached to a new balance staff with exclusive geometry offering added resistance to magnetic interferences.
This brings us to the next part.
Paraflex shock absorbers
The Parachrom bleu hairspring is fitted on high-performance Paraflex shock absorbers and is held in place by a traversing bridge further reinforcing shock resistance.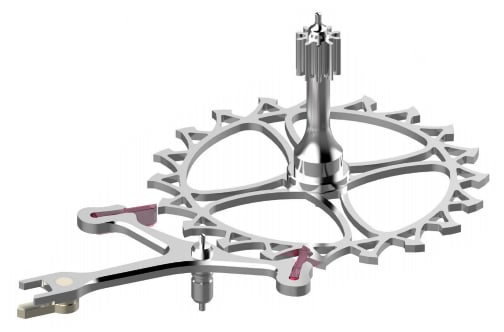 Gear train
The efficiency of the gear train has also been optimized with the Rolex caliber 3235.
To achieve this, Rolex developed high-performance lubricants with considerably longer useful life and greater stability over time. Rolex is the only watch brand in the world that makes its own lubricants, which really goes to show that Rolex does not play around, but goes above and beyond with all aspects of its timepieces to ensure perfection.
Caliber 3235: Superlative chronometer: Officially certified
In 2015, the Caliber 3235 became the first movement to receive Rolex's own certification as a Superlative Chronometer. Rolex simply was not satisfied with the COSC classification – the Official Swiss Chronometer Institute, so instead, they went out and created their own criteria for how accurate a movement should be. Rolex's criteria as a Superlative Chronometer is twice as exact as COSC, which means a tolerance of just -2/+2 seconds a day. To ensure that each movement works within this standard, they test each movement a second time after they fit it into the case.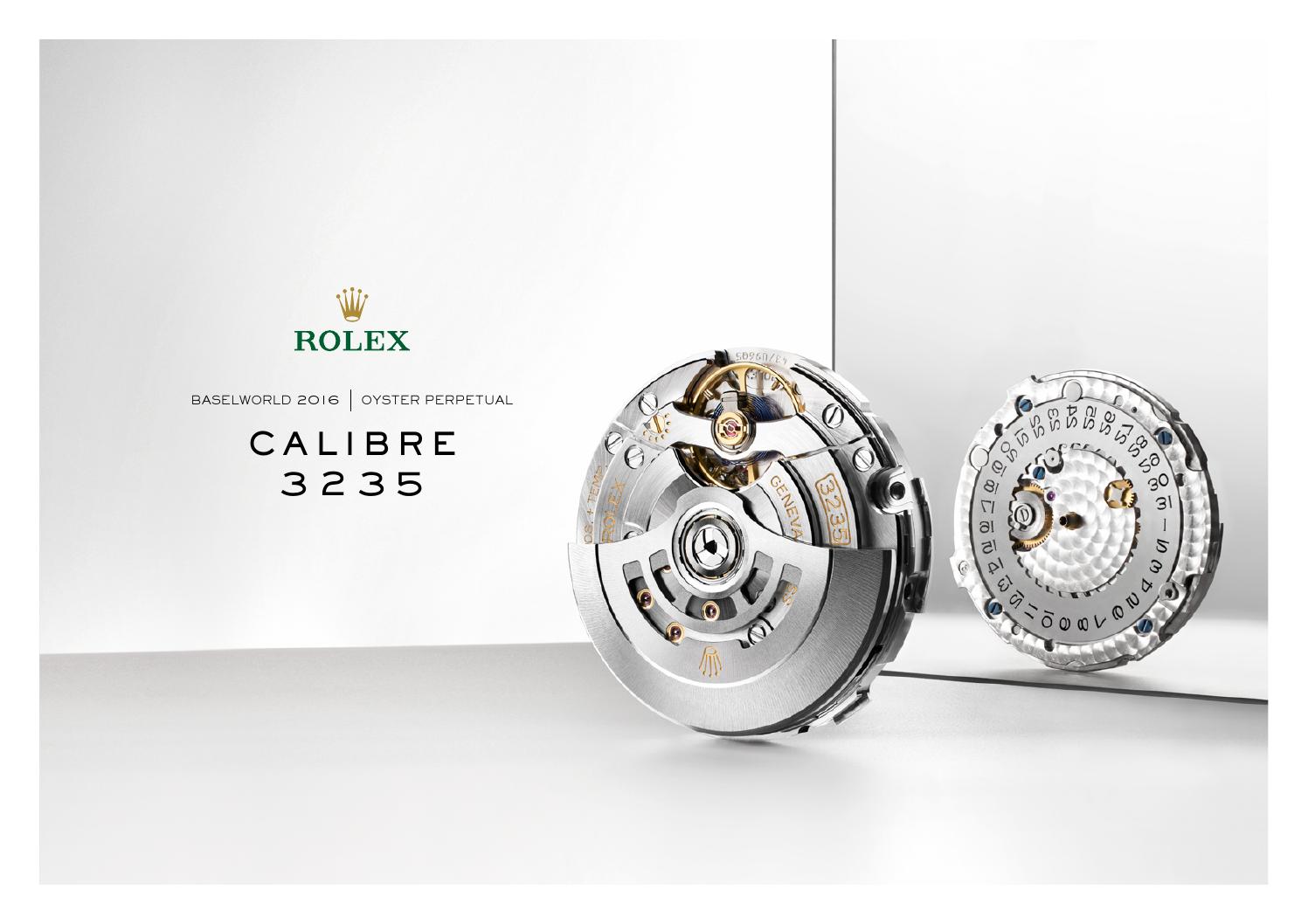 In-house engineering
Over the course of history, Rolex has moved more and more parts of its production in-house. In the beginning, Rolex used a number of different external parts and manufacturers for making their watches, but in constant pursuit of perfection, and to get full control over its production chain, Rolex has acquired external manufacturers one by one. Today, Rolex develops, researches, and manufactures its watches and calibers in-house. Having the full process in-house means having full control over each and every single stage of the production.
Each and every single component, including the lubricants for the Rolex caliber 3235 is therefore manufactured in-house.
The new high-performance oil is created to give more stability and longer useful life. The lubricants reduce the friction between parts which could slow the movement.
Conclusion
Rolex goes above and beyond in every aspect of their production and in their continuous pursuit of perfection, they have, over the years, moved more and more of their production in-house, but acquiring external parts, or developing their own.
The Caliber 3235 is evidence of Rolex's know-how and the constant pursuit of perfection and goes to show Rolex's philosophy of evolution, not revolution, of constantly improving and refining.
Ultimately, the caliber 3235 is Rolex flag-ship movement and will continue to be so for many years to come. Thanks to its improved performance and reliability in all aspects, it is a movement that will continue to work, year after year, with immense precision.