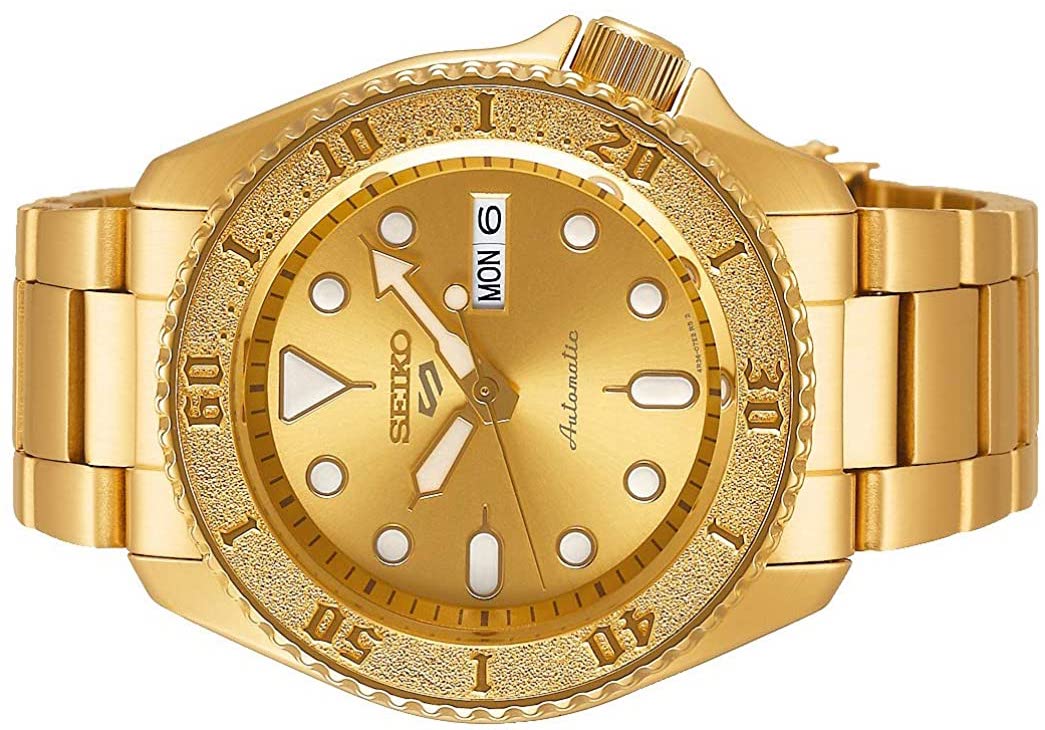 Seiko 5 SRPE74K1 Review & Complete Guide
If you are looking for a bold and bright watch with a full gold look?
Are you also looking for a sporty and durable timepiece with a reliable automatic movement?
Add those together and you have the Seiko 5 SRPE74K1.
The Seiko 5 collection is one of the most iconic and appreciated collections of affordable automatic timepieces in the world. They are appreciated for their affordable price yet solid and reliable build quality. And of course, most importantly, for their long-lasting automatic movements.
The most iconic of them all is probably the SKX, which was announced discontinued in 2019. In turn, it was replaced by a new lineup of 27 watches that go under the reference SRPE, and this is one of them. And over time, Seiko has even added additional models to the collection.
Seiko has divided the new collection into five sub-categories, "Street", "sports", "sense", "Specialist", and "Suits". The reference SRPE74K1 is part of the "street" collection, and this reveals a bit about its design and its purpose.
Without further ado, let's look closer at the Seiko 5 SRPE74K1.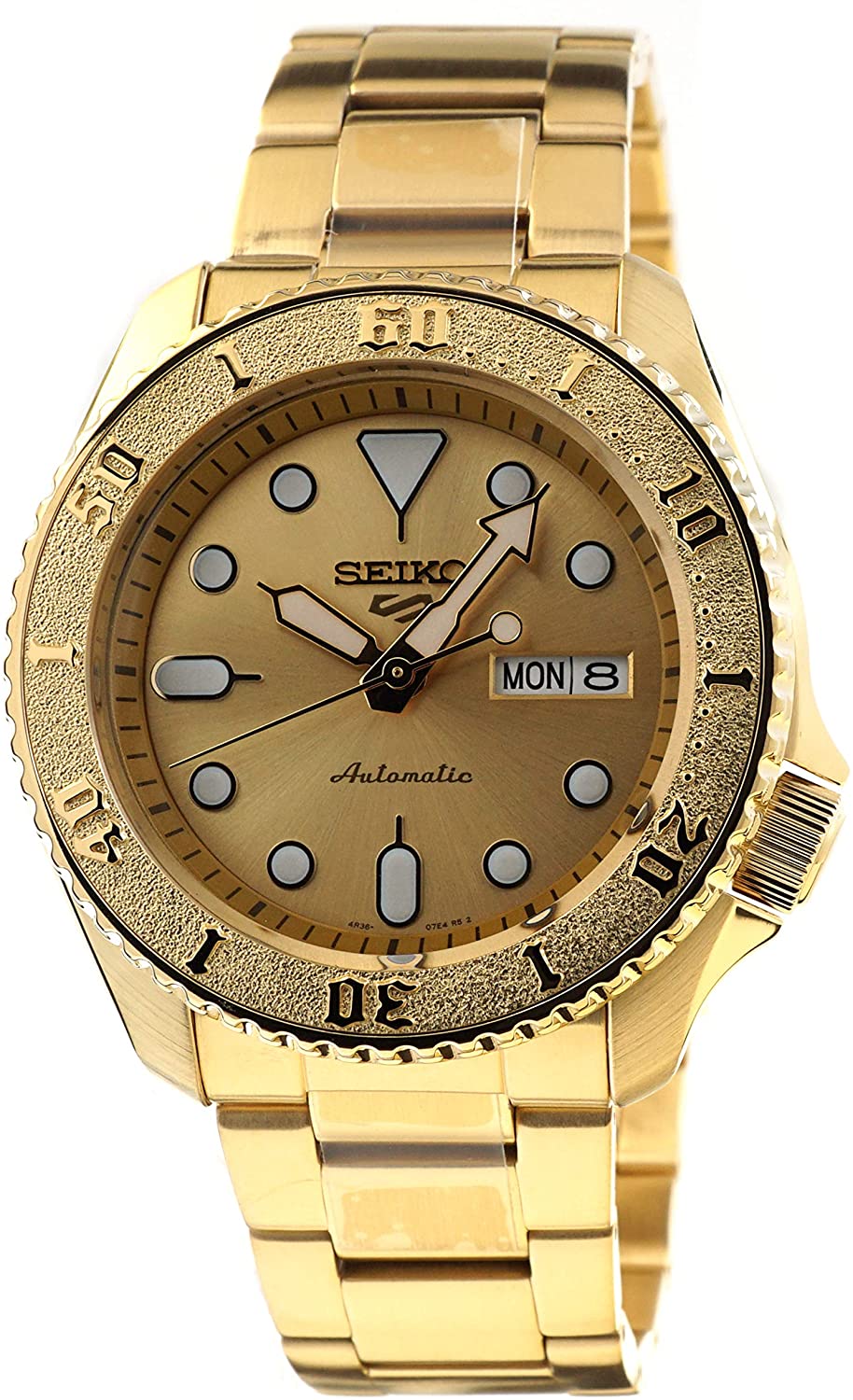 Seiko 5 SRPE74K1 review
As an Amazon Associate, we may earn from qualifying purchases, at no extra cost to you.
Already at first glance, the SRPE74K1 is an attention-grabber. Not only is the case colored full gold, but so are the bracelet and the dial. This watch shines bright with its yellow-gold appearance and is a real statement piece.
With that said, it is not a watch for people who want a discreet timepiece. This is a watch for someone who is looking for something bold and daring. If you are looking for a discreet watch, it's a better idea to look at some of the other watches in the SRPE lineup.
Apart from its gold appearance, this watch offers everything you expect from a Seiko 5. It is well-built and finished in relation to its price, has a reliable and durable automatic movement, and also, in this case, has a classic design that is very much inspired by the now-iconic Seiko SKX.
In this article, we are reviewing the Seiko 5 SRPE74K1.
Seiko 5 SRPE74K1 case
The watch features a stainless steel case that has been colored yellow gold. If you are familiar with the SKX, you'll recognize this watch. It has a diameter of 42.5mm, a thickness of 13.4mm, and a lug-to-lug measurement of 46 mm. This said, it has a sporty feel on the wrist, but it is by no means huge. The size isn't really something that a lot of people have complained about when it comes to this watch.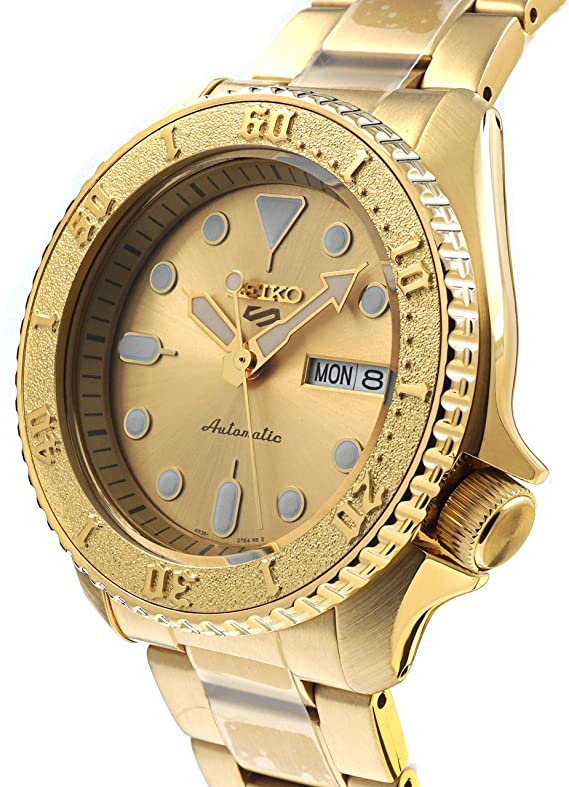 The top of the lugs are satin finished and this is contrasted by polished sides which gives a better impression of quality and finish. The crown is positioned at the Seiko 5 signature position of 4 o'clock. The crown also sits protected between crown guards. Worth noting is that the crown is no longer a screw-down like that on the SKX. Instead, it is a push-pull.
With that said, this watch now offers a water resistance of 100m/330 feet, unlike the SKX which had a water resistance of 200m. This means that the watch is suitable for swimming but not deep diving or scuba diving. It also means that it does not meet the minimum requirement of 200m for being classified as a dive watch. But it's worth noting that this is not meant to be a dive watch anyways. It is more of a sporty watch with a dive-watch-inspired design.
And with this in mind, it is of course equipped with a unidirectional rotating bezel. The bezel has notches for a better grip, the metal bezel insert has a sandblast finish, and it is made in the same gold color as the rest of the watch. The markers are raised and polished for contrast and legibility. It's also a nice design feature.
The watch uses Seiko's proprietary Hardlex crystal, which, more or less comes as standard on Seiko watches in this price range.
Seiko 5 SRPE74K1 dial
Following the gold theme, the watch features a striking yellow-gold dial with a sunburst finish. The dial layout is nothing new and will be recognized from the SKX. It puts an emphasis on legibility, so this is not something we can complain about.
The hour markers have polished metal frames in yellow-gold color and are filled with Lumibrite for legibility in the dark.
The sunburst dial really shimmers as the sunlight hits it and is a real eye-catcher.
At 3 o'clock, we have a day and date window which is a signature for Seiko 5 watches. It's a practical feature that comes in handy for everyday wear.
Movement
The movement beating inside this watch is the Seiko automatic in-house caliber 4R36. This is an ungraded movement to the one used in the SKX as it features both hacking seconds and manual winding function.
This is a sturdy and durable movement whose main purpose is to be a workhorse. This caliber is built to last and to continue to tick for years to come. In other words, a great movement to have in a sports watch.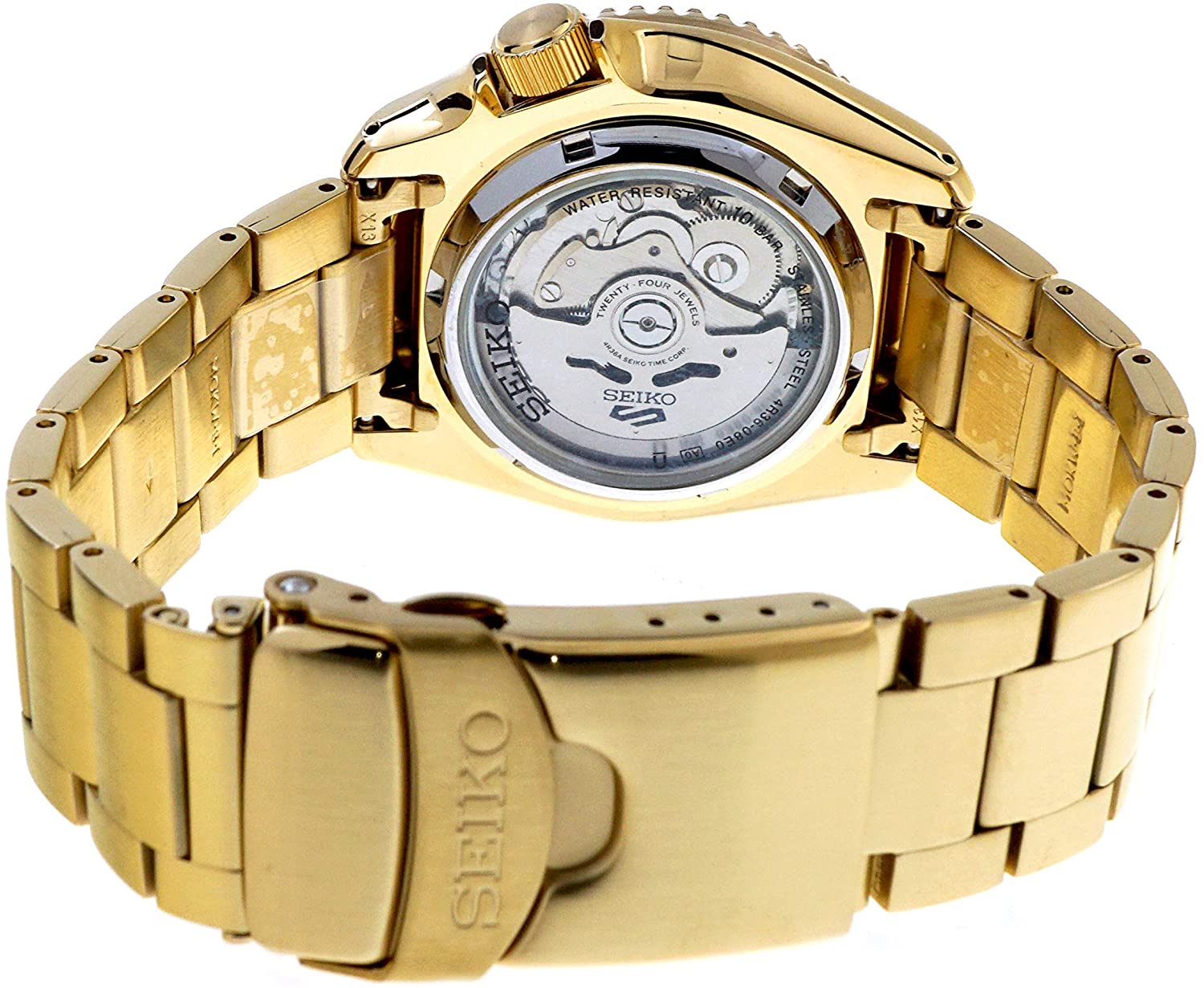 The watch is equipped with a see-through case back allowing you to see the movement inside. Whilst the movement is not decorated, it's still a nice feature to have. After all, many of the owners of a Seiko 5 watch are mechanical watch nerds and will appreciate the complicated piece of craftsmanship, which is the movement inside.
Bracelet
The bracelet is made of stainless steel and has a classic three-link Oyster style design. However, it is also gold-colored which makes it stand out, but also matches the dial and the case of the watch perfectly.
The bracelet feels sporty and relatively durable, but with that said, there certainly are looks for improvement, but it is essentially what we can expect from a watch in this price range.
The bracelet is 22mm and looks really sporty and robust, despite its very classy gold look.
Specifications
Jewels: 24
Case back: screw-down
Weight: 172.0 g
Thickness: 13.4mm
Diameter: 42.5mm
Length: 46 mm
Water Resistance: 10 bar
Crystal: Hardlex
Movement: Seiko automatic in-house caliber 4R36
Power reserve: 41 hours
Bracelet: Three-fold clasp with secure lock
Conclusion
To Conclude this article, the SRPE74K1 offers all of the things you expect from a Seiko 5 timepiece. It is robust, durable, well-built, and powered by a workhorse as a movement.
Whilst it has a classic and traditional design at its core, what makes it stand out from the crowd is obviously an all-gold look. This watch is sure to be an attention-grabber on the wrist as it shines brightly.
With this mentioned, the SRPE74K1 is definitely not a watch for everyone, but there are definitely those who enjoy a cool, vibrant, sporty, and eye-catching gold timepiece. And with this one, you definitely won't be disappointed. Just what we have come to expect from Seiko, it offers exceptional value for money.