Top 17 Best Luxury Pens [List & Guide]
There is an endless selection of different pens. Ballpoints pens, fountain pens, small, large, retractable, and so on…
As you probably know, Montblanc is one of the most, if not the most, prestigious and well-respected makers of luxury pens, and with that said, it is not strange that many of the pens in this list will be from Montblanc, but we'll, of course, look at other brands too.
Pens also vary greatly and price. And when we are talking about "luxury pens", it's not just about it being expensive. Because what you are getting when you buy a luxury pen is a writing instrument that is built to last for years, perhaps even for generations. It is built like a true work of art with the utmost care and attention to detail.
Just like your clothes, the accessories you use say a lot about you as a person and the impression you make when taking out a generic plastic 50 cent pen compared to an elegant luxury pen is huge.
It shows that you pay attention to the details and value fine craftsmanship. And frankly, buying a luxury pen is not just about "splurging", but rather, if it lasts for generations, it is a well-worthy investment that you also get joy from whilst using it.
Since you are here reading this, you probably understand exactly what we are talking about, right?
A luxury pen per se does not have to mean gold, diamonds, and other expensive materials. In fact, at its very core, luxury is associated with quality, finish, and craftsmanship. And if you're a person who prefers to buy one quality item that will last forever, rather than having to constantly replace your cheap items that break, investing in a luxury pen makes sense.
To help you find a pen that suits your style, taste, and needs, we have compiled a list of some of the most popular luxury pens that have received the highest ratings and reviews and that will be a perfect addition to any man's collection.
Top 17 Best Luxury Pens
As an Amazon Associate, we may earn from qualifying purchases, at no extra cost to you.
---
Caran d'Ache Silver Plated And Rhodium Ebony Ballpoint Pen
Caran d'Ache is a well-known and respected pen brand that makes pens of exceptional quality and attention to detail. They are made in Switzerland and are specialized in pens, you can expect nothing less than long-lasting quality.
This pen has an elegant body made in Ebony wood which is contrasted by silver-plated and rhodium-coated accents. Ebony is a luxurious and classy material that originates from the Asian and African rainforests and is synonymous with luxury for its deep black colour and delicate feel.
It has a hexagonal body for a comfortable and solid grip and a precision push-button mechanism. This is a clean, elegant pen that works for any occasion and which radiates understated class.

---
S.T. Dupont D-415697″ Line D Ceramium A.C.T Palladium" Ballpoint Pen
ST. Dupont is another luxury brand that is associated with pens, lighters, and other luxury accessories. This elegant ballpoint pen radiates class and masculine style and is made in Ceramium A.C.T. which stands for Advanced Ceramium Technology. This is a material that was conceived after three years of research by ST. Dupont and consists of an aluminum and ceramic alloy. This material has great properties in the form of shock resistance, scratch resistance, and lightness. Thanks to this material, the pen is 40% lighter than any other pen from the brand's collection, offering exceptional writing comfort.
For elegance, it is finished in palladium with a solver-colored coating. For additional attention to detail, it has guilloche engraving with a beautiful finish.
This pen shows that luxury does not have to be flashy. It is discreet luxury at its finest.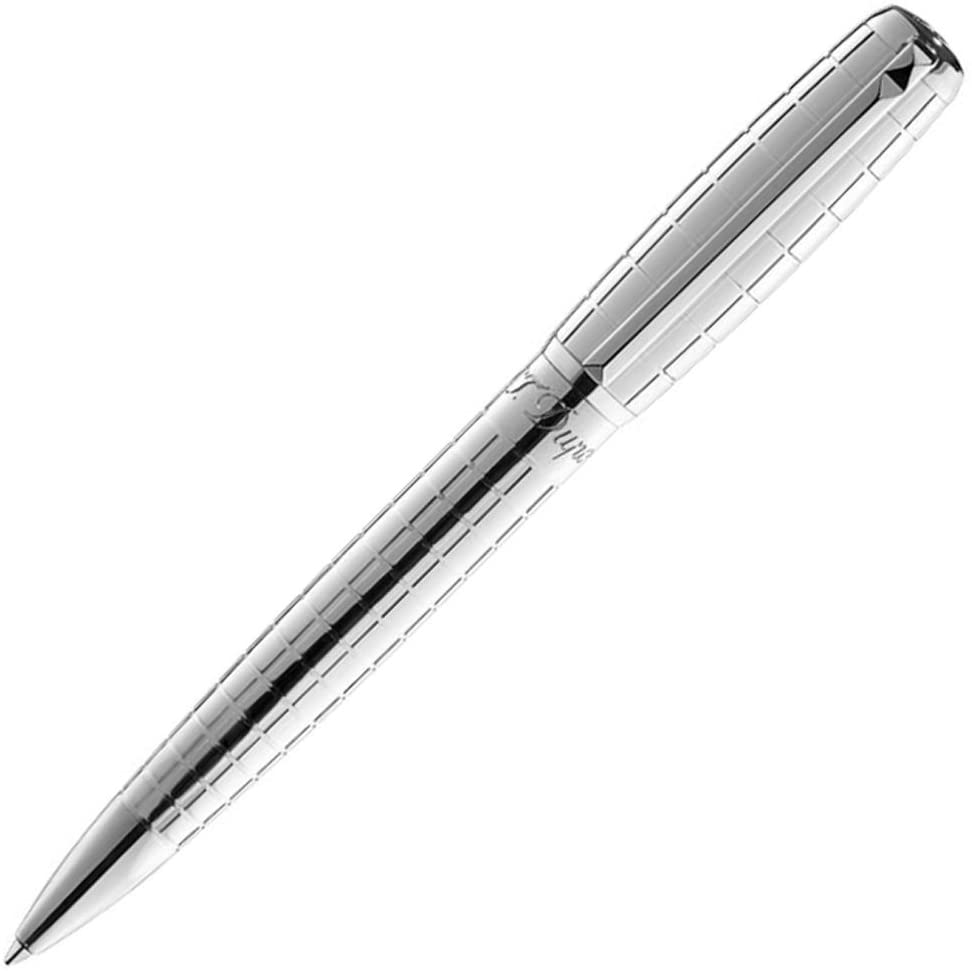 ---
S.T. Dupont Line D Medium Ballpoint Pen Goldsmith
A masculine and beautifully finished ballpoint pen from ST. Dupont with a beautiful knurled pattern. This pen is designed to offer a perfect grip and comfort. It is not about the use of material, although it is finished in palladium, it is about the beautiful decoration, sleek design, and striking attention to detail.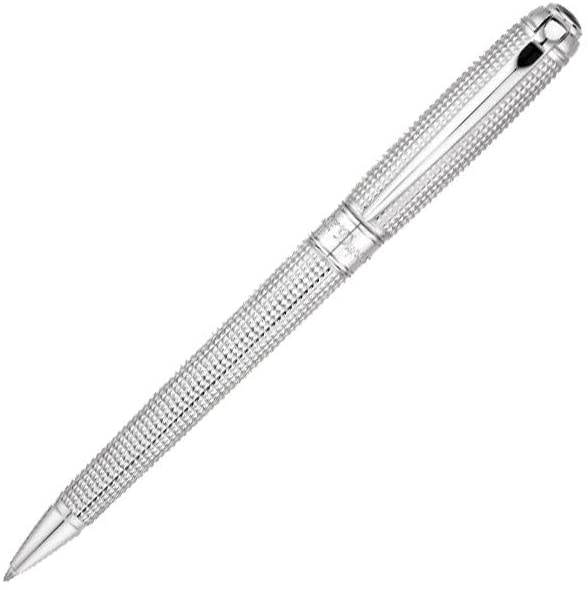 ---
Caran d'Ache Varius Ballpoint Pen – Carbon
A classy and masculine pen from Caran d'Ache, manufactured in Switzerland. This is a high-quality writing instrument that will last a lifetime. 
The pen has a hexagonal body that offers great grip and comfort. Most importantly, it combines the high-performing material carbon fiber which is rigid yet ultra-light, giving it a modern and refined look. The carbon fiber is contrasted by rhodium-coated finishes.
This is a pen for the style-conscious man who appreciates attention to detail and fine craftsmanship. Thanks to Caran d'Ache's long experience and history in making writing instruments, it combines pen-making tradition with modern technology and design.


---
S.T. Dupont Line D Large Ballpoint Pen Blue/Palladium
This is luxury in its most beautiful form. This pen has an elegant and classy design with beautiful use of materials that radiate luxury. Every time you take out this pen to write will become a special occasion.
The pen is designed with classic and contemporary influences in mind, with utmost attention to materials, but also performance and quality. This pen is not only a writing instrument but also a beautiful accessory.
The body is designed for a perfect and comfortable grip, and it is contrasted by palladium accents.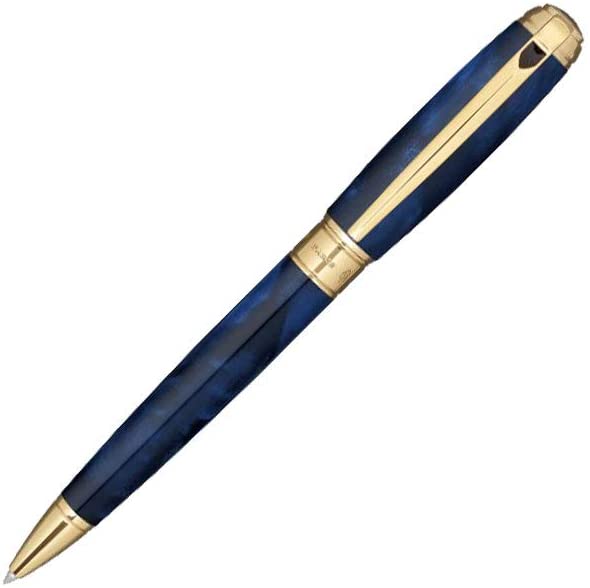 ---
PARKER ballpoint pen Duofold Black GT S1110342
This is a pen with a traditional and classic design. It radiates tradition and class with its vintage-inspired lines. It is a pen for men who appreciate vintage designs without compromising on quality, and this is exactly what the Parker Ballpoint Oil Duofold Black GT S1110342 offers.

---
J.S. Staedtler Princeps ballpoint pen black walnut wood 9PT320M-9
This is a modern take on a luxury writing instrument with a modern design. Its body is made of precious European black walnut wood, contrasted by polished palladium-refined metal. It operates with a twist mechanism.
The pen is manufactured in Germany by J.S Staedler which is a well-respected manufacturer of writing instruments, known for combining craftsmanship and an innovative spirit.
This pen radiates class and luxury thanks to its modern-looking metal cage which works as a contrast against the wood.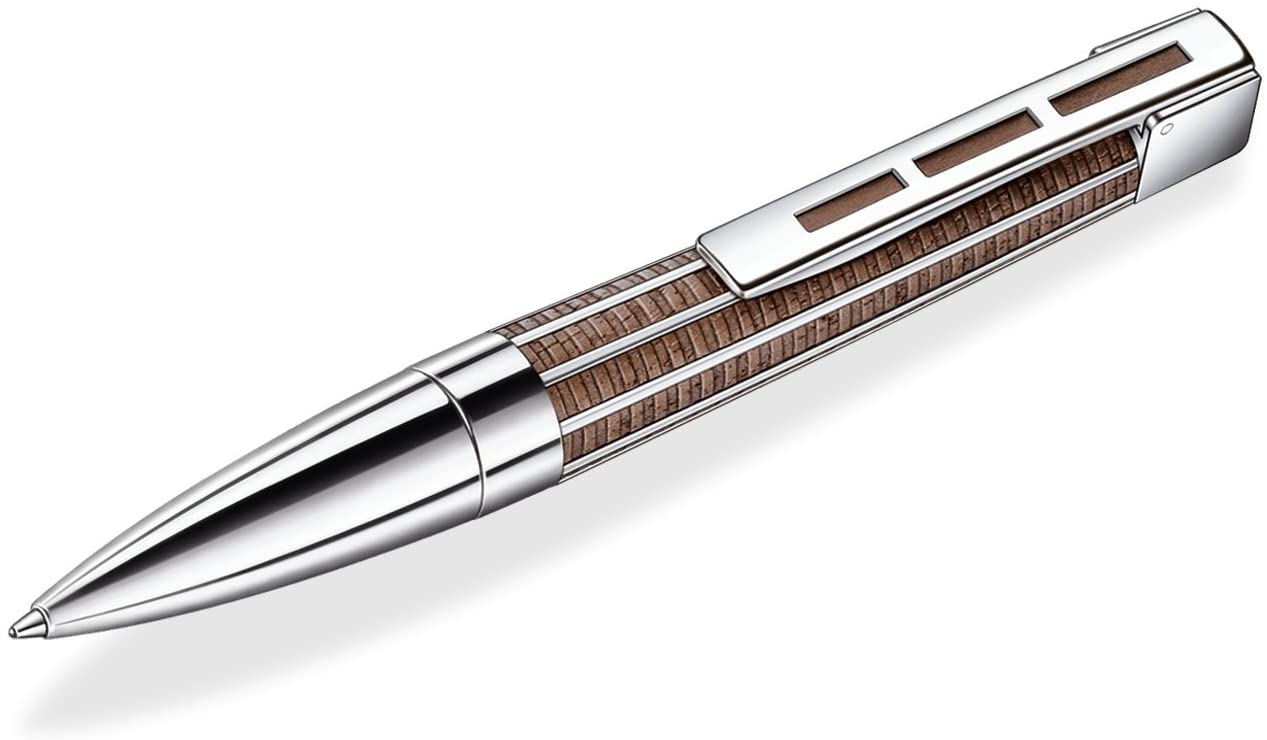 ---
Montblanc 107452 Johannes Brahms Ballpoint Pen
Montblanc is perhaps the most well-known and well-respected pen manufacturer in the world. Montblanc has an endless of different pens in all kinds of price ranges, designs, and materials, but this pen is made specifically to commemorate the life of the leading composer of the Romantic period, Johannes Brahms. 
The pen is elegant with a traditional design, crafted of black lacquer with five platinum-plated lines signifying a staff. The clip has a platinum-plating and is designed as a tuning fork clip.
At the top, is of course the signature Montblanc emblem.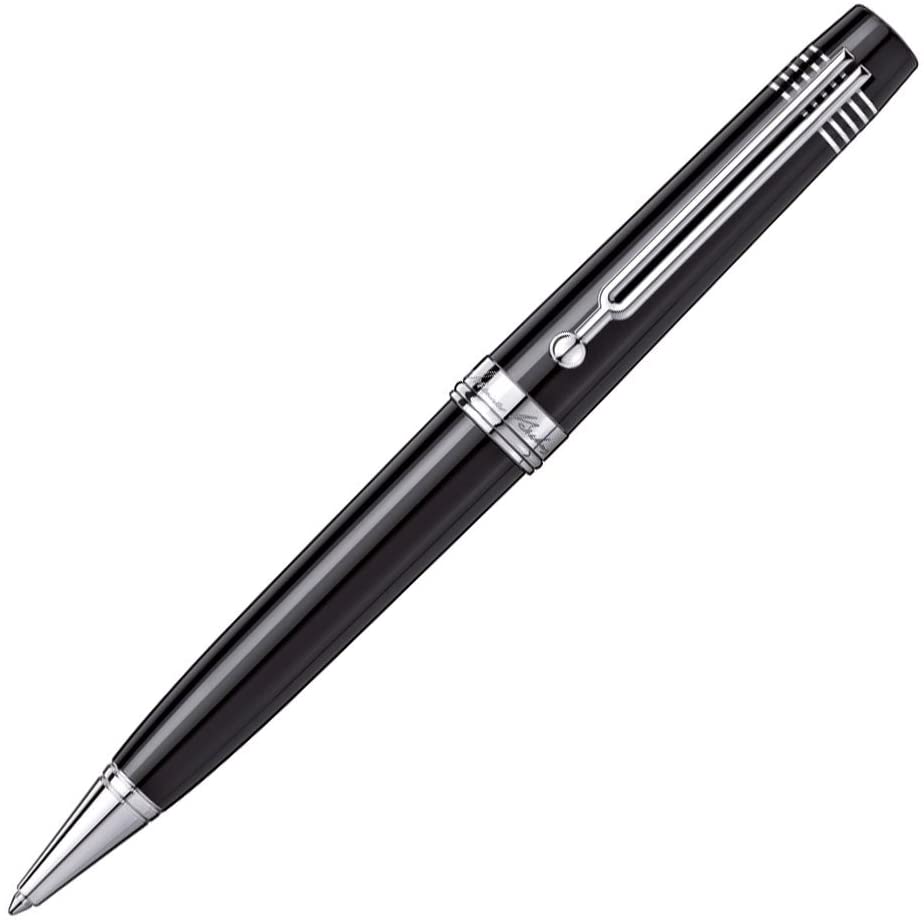 ---
Montblanc Boheme Rouge Medium Fountain Pen 3665
This is not a ballpoint pen that is most commonly used today, but rather a fountain pen. But it combines modern with tradition in the sense that this Penh's an ink cartridge inside it, so you don't have to dip it in ink.
The pen screams elegance, class, and luxury, with its impeccable attention to detail, design, and use of materials. It has a 14K gold medium nib and has a rhodium-plated inlay.
As a final touch, it has a synthetic ruby-colored gemstone in the clip. All of these things come together to create a true work of art.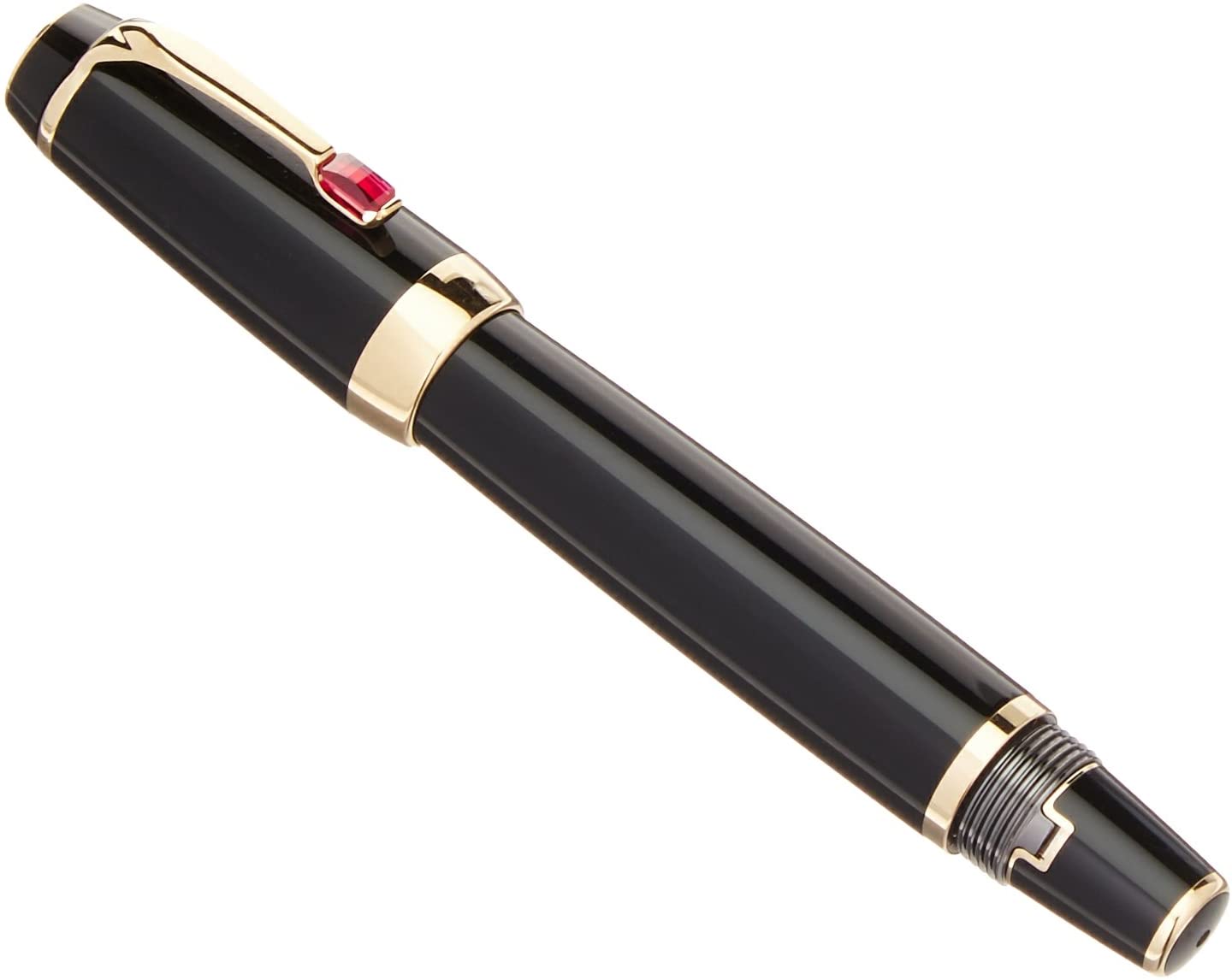 ---
Cartier de Cartier ballpoint pen in Gold
Pure class from Cartier is exactly what this pen offers. This golden striped design is iconic for Cartier and many other luxury brands for that matter and can be found on many vintage Cartier items such as lighters.
Presented in gold color, this pen screams vintage, refined class, and luxury at its finest and is sure to catch everyone's attention. This is a pen that offers true class, gentleman style.

---
Montblanc Meisterstuck Solitaire Platinum-Plated Facet Fountain Pen
This fountain pen from Montblanc has a platinum-plated body with beautiful engravings, creating a refined and classy look. It has an 18K gold nib and facet Design on the cap and barrel.
It is simplicity combined with elegance in its most beautiful form.

---
Montblanc Meisterstruck Diamond Classique Ballpoint Pen 105980
If you are looking for a pen that offers the highest form of understated luxury, this ballpoint pen from Montblanc offers just that. The pen has a sleek and refined design with a precious resin material throughout. It is a ballpoint pen with a twist mechanism with a platinum-plated clip. It has three platinum-plated rings embossed with the Montblanc name.
It is simple in design, but it also shows that simple and refined elegance can be the best form of luxury there is. What is particularly special about this pen is that its top consists of a 0.06 carat diamond in G color and SI clarity for that final luxury touch.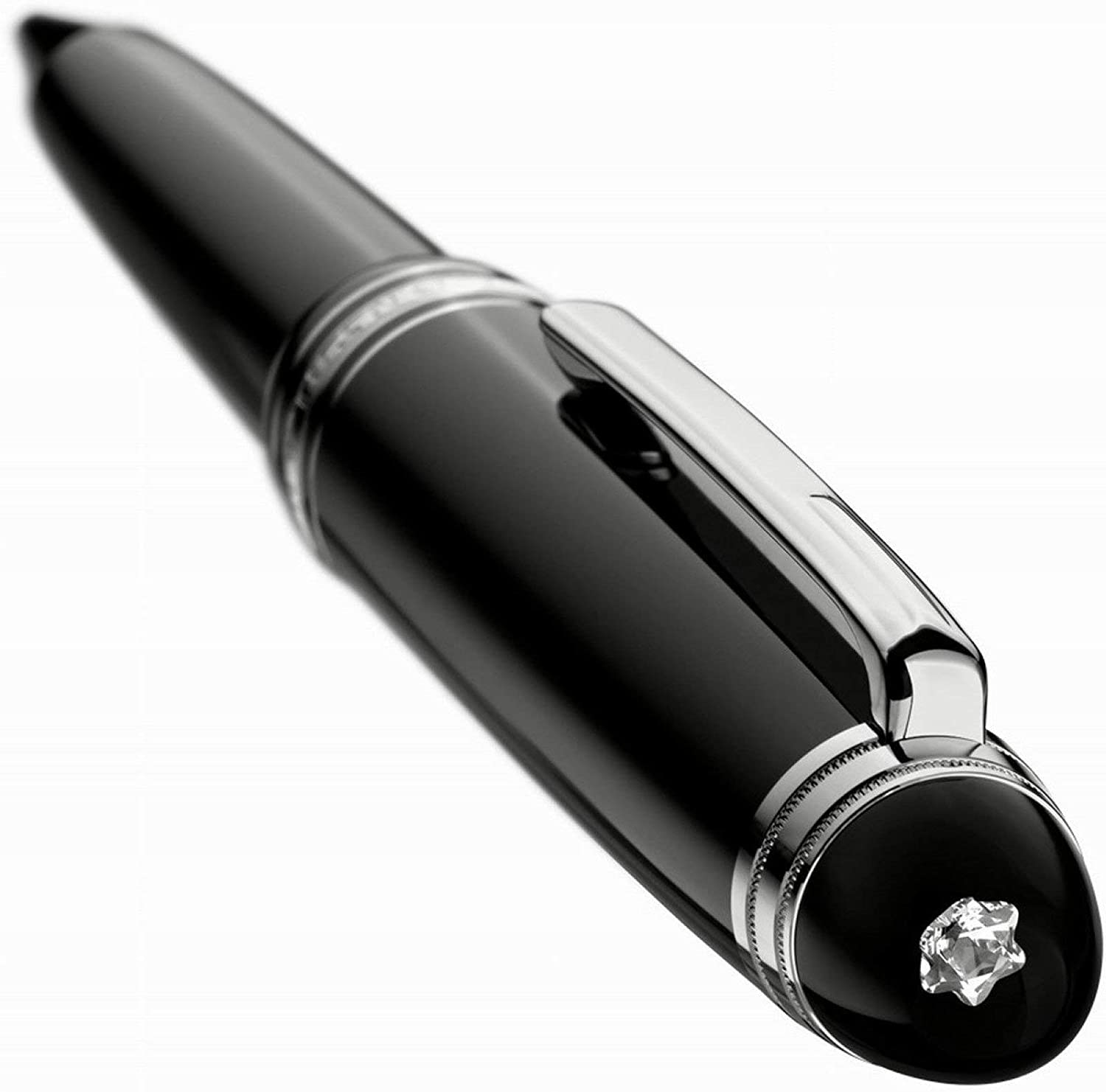 ---
Waterman Edson Diamond Black Fountain Pen PT 18K Solid Gold Rhodium Plated Fine Nib S0756470
This is a beautiful black fountain pen made by Waterman Edson. It has a metallic transparent body with platinum which creates a sophisticated and professional look. The pen has an inlaid rhodium-plated 18K solid gold nib.
Simplicity and elegant beauty are what this pen offers.

---
Montblanc Heritage Collection 1912 Black Resin Fountain Pen 109049
This beautiful fountain pen from Montblanc is classic and traditional, without compromising on material and quality. It has a black lacquered barrel and a precious-resin cap with platinum-coated details.
As a final touch, the top has a transparent finial with a mother-of-pearl lacquer cameo. It is a piston fountain pen with a retracting nib. The nib is made in 14K gold with a rhodium finish.
As the name suggests, this pen is part of the Heritage collection 1912 which is a line of pens that celebrate Montblanc's roots with contemporary designs inspired by select historic writing instruments. With that said, its traditional design is immediately noticed, but at the same time, it shows that some designs truly never go out of style.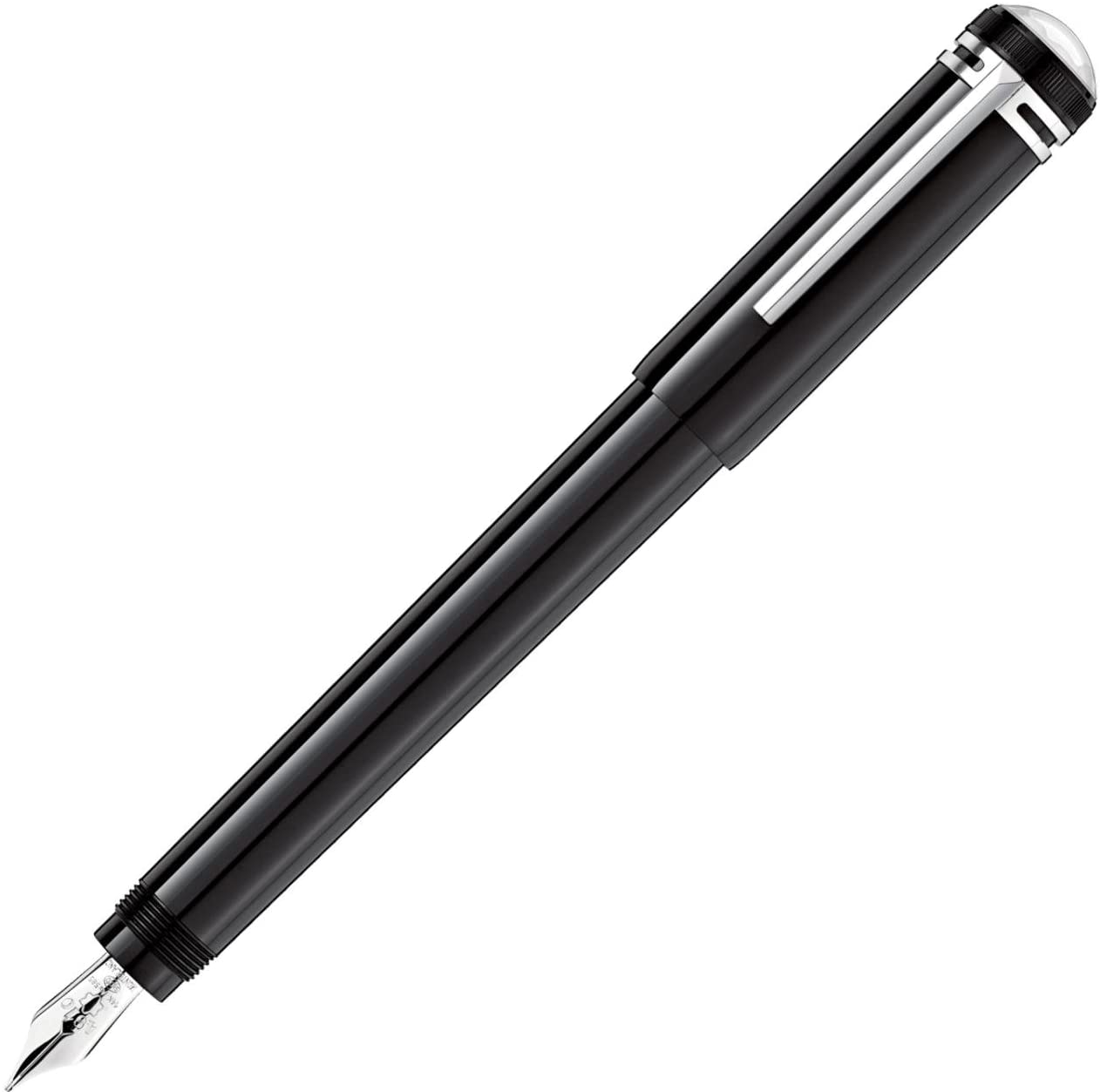 ---
Namiki Yukari Royale Collection Fountain Pen Medium Nib 60530
Pilot pens are perhaps most associated with affordable pens, but make no mistake that Pilot does not have long experience in making high-quality pens.
This pen features a large body,  decorated using multiple layers of Urushi lacquer. It is adorned with 18 karat gold accents and has a medium 18 karat gold nib, assuring long-lasting writing and elegance.
Its body has a smooth and glossy finish that radiates timeless elegance. Discreet yet very classy is how we would best describe it.


---
Waterman Exception Silver Limited Edition Fountain Pen, Medium Point Nib
This Waterman Exception Silver fountain pen is made in 1500 copies and is a limited and numbered edition. It is made from a bar of sterling silver and made with utmost attention to detail with its quadrangular design with sparkling facets and perfectly rounded edges.
When the parts have been polished, they are dipped in nickel palladium for extra durability and a beautiful finish.
This pen is just pure class in a beautiful form.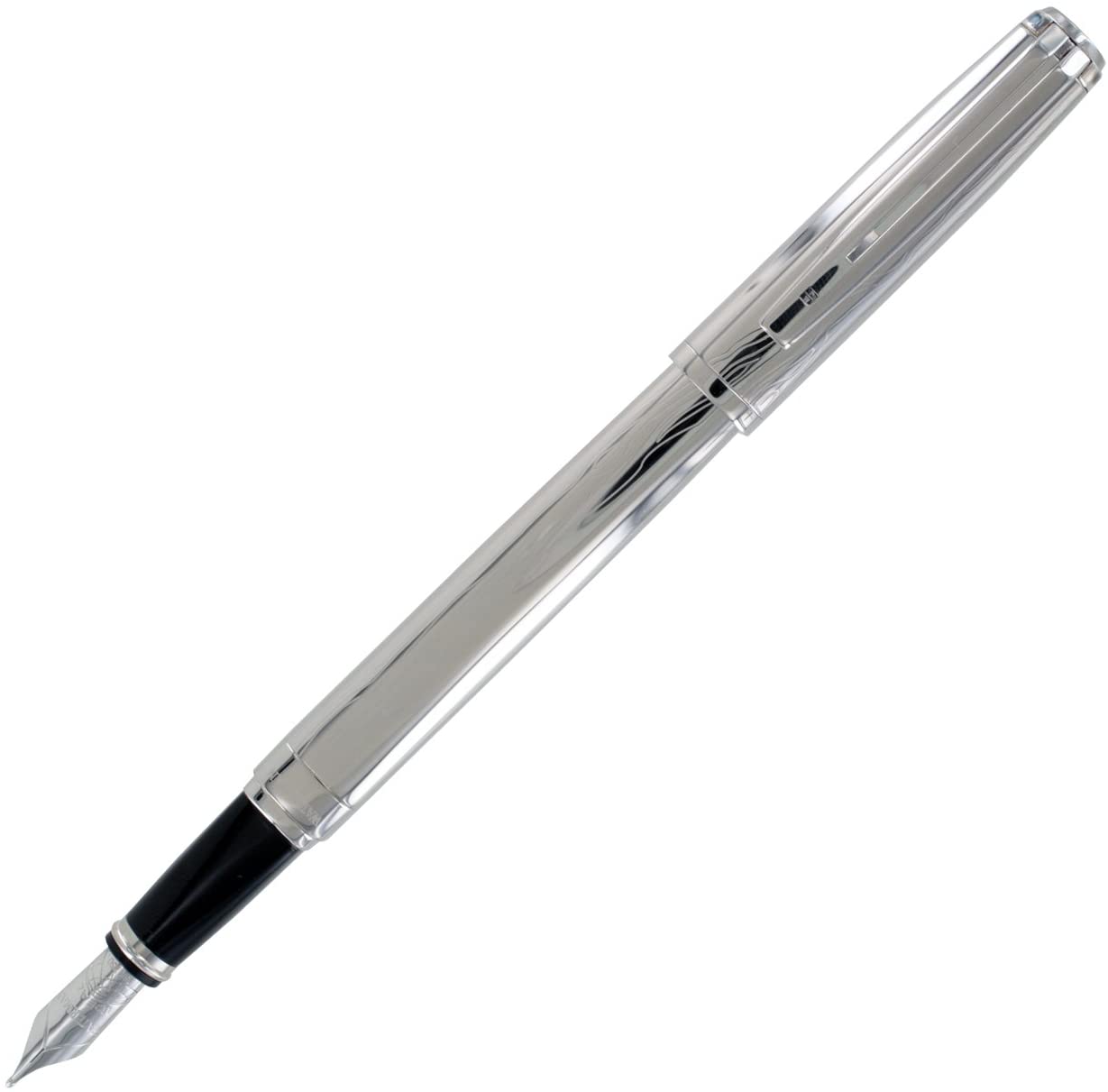 ---
Meisterstück Solitaire Martelé Sterling Midsize Ballpoint Pen 115099
If you appreciate the attention to detail and decorations, you will love this Montblanc Meisterstück Solitaire Martelé pen. This ballpoint pen has a striking "hammered" design and a cap made of Ag 925 sterling silver. It has a silver-coated clip and a cap inlaid with the Montblanc emblem.
It is indeed truly a work of art. The perfect example of true craftsmanship. Luxury doesn't get much better than this.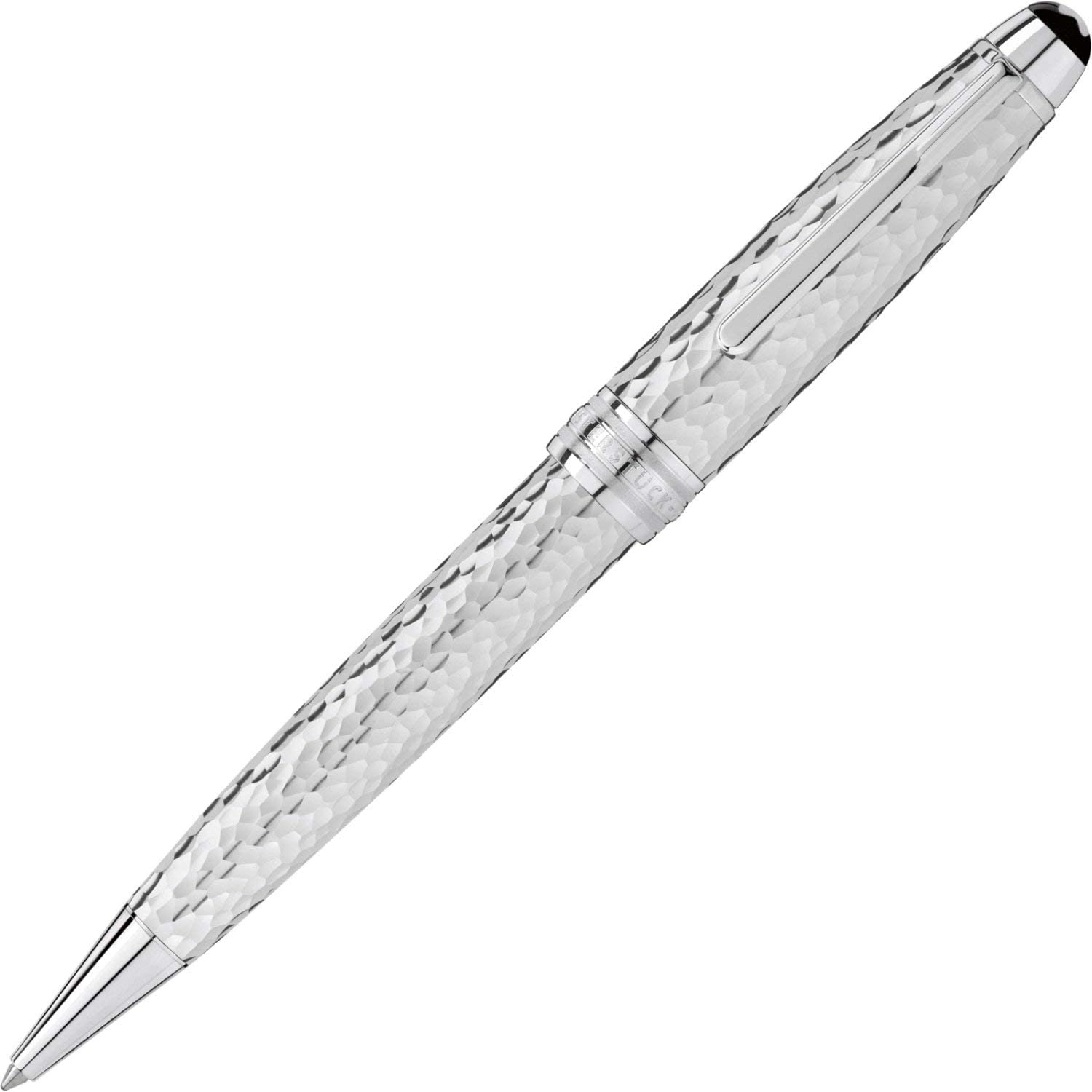 ---
The different types of luxury pens
Before you buy your luxury pen, it can be a good idea to know the differences between them and what they are all about. When we are talking about luxury pens, there are normally three types:
Ballpoint pen
The ballpoint pen is the most common type of pen today, both for luxury pens as well as basic pens. This is because the rollerball pen is so simple, convenient, and versatile to use. Whenever you need to use it, it is ready to go immediately. Rollerball pens come in different types of designs and shapes. For example, some pens have replaceable ink refills to ensure that it always works. Others have a flexible tip to make it more comfortable.
Ballpoint pens are both affordable and durable in many cases, making them a great choice for an everyday pen. The lines are not as vibrant as those with a rollerball pen but it often comes with a retractable tip that does not need a cap.
Rollerball pen
Ballpoint pens are very similar to rollerball pens but there are actually several differences that you need to be aware of when making your pick. Each of them both has pros and cons, and ultimately, it comes down to preference.
The ink that ballpoint pens use is thick oil-based but the ink that rollerball pens use is water-based ink. The benefit of water-based ink is that is more fluid and allows for smoother writing. But like always, there are of course downsides, for example, that oil-based inks are less prone to drying and usually also last longer than the water-based inks in the rollerball pen.
The rollerball pen is often appreciated for its comfort when writing and the smooth writing it offers. People also like that they have twist-on caps.
Fountain pen
The fountain pen is the oldest and most classic type of pen. As such, it is also considered to be one of the most elegant. The fountain pen has existed since the late 1800s and is a true classic and iconic. As a matter of fact, the fountain pen has come to lead the way for beautiful pens to follow.
The fountain pen distinguishes itself from the above two pens as it has a chisel point nib. And it functions in a different way since you feed ink to the chisel nib by capillarity from the barrel to the feed. 
Fountain pens are available in many different kinds of styles and designs. They are known for offering an amazing glide which gives a lovely feeling when writing. Fountain pens are available with different nibs to cater to everyone's tastes and preferences.
What people like most about fountain pens is their luxurious and very elegant impression. They are historic and definitely show that you are conscious.
Buyer's guide to buying a luxury pen
Now that you know about the three main types of luxury pens that exist, you have a great starting point. But that's not all that you should take into consideration. Additional criteria and features that are important to take into consideration are:
Nib size
The nib size on your pen will affect the size and also elegance of your writing to some extent. Consider if you want a thick nib that leaves thick text, or if you prefer an ultra-thin nib that leaves a refined text. Ultimately, this comes down to preference.
Size of the pen
Some people enjoy large, heavy, and thick pens as they provide heft and weight when using them. On the contrary, some people prefer light pens which do not tire your forearm and that just flows easily and effortlessly.  This is something that you should take into consideration since the weight of pens varies a lot.
Material and style
Material and style go hand-in-hand, but obviously, you want to consider the style of the pen you want. To a large extent, the material can affect the price of your pen. For example, if you choose a silver or gold pen, it will generally cost considerably more than if you choose a stainless steel pen. In addition, different materials can offer different designs and looks, so think about the materials and styles you like the most. There is a lot to choose from, so you will definitely be able to find one you like.
Naturally, luxury pens will often use luxury materials. The most common materials you'll find in luxury pens are gold, silver, premium resin/luxury lacquer, titanium, just to name a few. To make the pens more luxurious and elegant, they are often designed with finish and trim. It is often the details that make the difference, and the trim on a luxury pen often has a great impact on its luxury impression.
When it comes to trims, you may have a preference and already know what you are looking for, for example, luxury pens with a knurled finish, engraved pens, special patterns, and so on. The level of detail and quality of the trim depends partly on the pen's price, but it can also reveal the level of craftsmanship that has gone into it.
Price – are luxury pens worth it?
To a large extent, the price often correlates with quality and attention to detail. With that said, luxury pens vary a lot in price, from less than 100 to literally thousands and in the worst cases even tens of thousands of dollars. The price of the pen you choose obviously depends on your financial situation, but it is important to remember that a luxury, high-quality pen is not just a consumer's item. It can be a lifetime investment and something that lasts for generations if you take good care of it.
Which luxury pen brands are the best?
There are many great luxury pen brands on the market that you cannot go wrong with. Many of the best luxury pen brands have also been around for centuries and have great experience in making high-quality luxury pens. Some of the most well-known and famous luxury pen brands are (in no particular order), Montblanc, St.Dupont, Waterman, Cartier, J.S Staedtler, Caran D'Ache, Montegrappa, Parker,
To a large extent, the question of which is "the best" depends on your own preferences and what is best for you. With luxury items, it's not just about things like premium extremely expensive materials, but at the end of the day, it is about how they make us feel.
Each of these brands has its own focus, reputation, quality, and finishing that make its pens special.