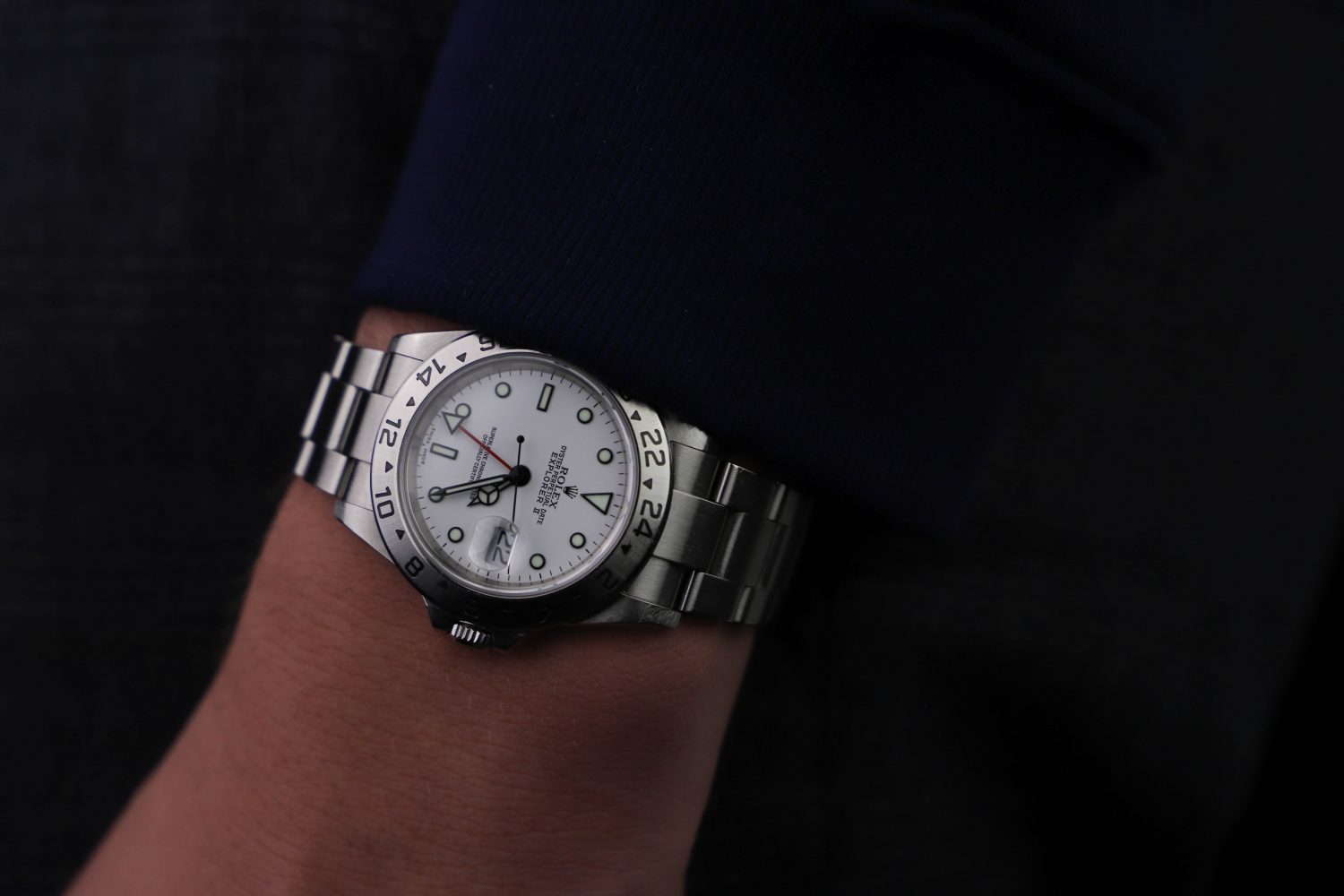 The watch industry has over the years moved towards larger and larger watches. This is simply because the market has requested it. As such, what is called "ideal" or "standard" has changed over the years, thus leading to larger watches.
Back in the days, in the 1950s or so, men's watches were essentially not larger than 36mm. Often times they were considerably smaller than that. And at that time, 36mm for a wristwatch was considered large. Today, 36mm is considered the "starting size" for men's watches, and most watches which have a diameter smaller than that are considered ladies watches.
Now, brands like Hublot or even Rolex release watches which are 44 millimeters in diameter – or even 50 mm without a lot of people raising an eyebrow, but if these sizes would have been introduced in the 50s, people would have thought it was a joke.
Safe to say, the norms of wristwatch sizes have changed, but the increased watch sizes also create problems for people with smaller wrists. When you have small wrists, it's difficult to wear a 44-millimeter watch. At the very least, it is clumsy and can look awkward. Furthermore, it's not only the diameter of watches which have tended to increase over the years but generally, the thickness of wristwatches has also increased as well. This is of course not true for all watches, but overall.
And so something that people with small wrists are struggling with is finding watches which wears comfortably, sits well on the wrist, and which aren't too large and clumsy.
Of course, this can be a problem, because similar to wearing clothes, you want a wristwatch to fit you. You may have a super nice shirt, but if it's too large for you, it's not going to look good on you. The same thing goes for wristwatches.
With more and more watchmakers moving to larger watches, even men with smaller wrists have chosen to wear these sizes, even though it may not be ideal for their wrist size.
But the good news is that just because most watch manufacturers have moved towards larger sized watches, doesn't mean that there are plenty of alternatives out there suitable for small wrists.
In this guide, we're listing a few great watches which are suitable for men with smaller wrists, so you can wear wristwatches which don't stand out too much, sit uncomfortably, or simply look awkward. 
Now, before we dig in, let's sort out what a small wrist is. The real answer to that question is that there's no real definition. The average men's wrist size is 8.5 inches or 21.59 centimeters. As such, if you have a wrist which is below 7 or 7.5 inches, your wrist would probably be defined as a small wrist. 
But when it comes to watches, you shouldn't look at numbers or sizes. Instead, the number one thing you need to do is to ask yourself what you like to wear. If you like large watches, even though you have per definition a "small wrist", then you should the size that you feel comfortable with.
But if you are a person who has a smaller wrist, and struggles with finding watches that sit comfortably on your wrist, continue reading.
What is "the right size" for a watch?
Again, there is no real definition for this, however, there are a few rules or principles that you do want to follow to ensure that you have a watch which doesn't only look good, but also looks good on your wrist.
The first rule of thumb when it comes to size is to ensure that the ends of the lugs of your watch don't extend from your wrist. If the lugs extend from where your wrist ends, the watch will look too big on your wrist.
The second principle you want to consider is that if you have small wrists, you should not wear watches which have a diameter of more than 40mm. Ideally, you should look at watches which are smaller than that. Of course, this also depends on factors such as the case shape, but also thickness.
A metal bracelet on a watch tends to naturally make it wear larger. If you change to a NATO-strap or other strap, it can help you wear watches which are on the larger size.
Also, things like crown guards, crowns, and pushers naturally affect how a watch wears. Therefore, it can be (but don't have to) be a good idea to avoid watches which have these, as they tend to increase the size a watch is perceived to have and how large it wears. Also, the size of the strap which comes on the watch can also give a helpful insight into what type of wrists the watch is dedicated to. Today, the "standard" strap size for men's watches is 20mm.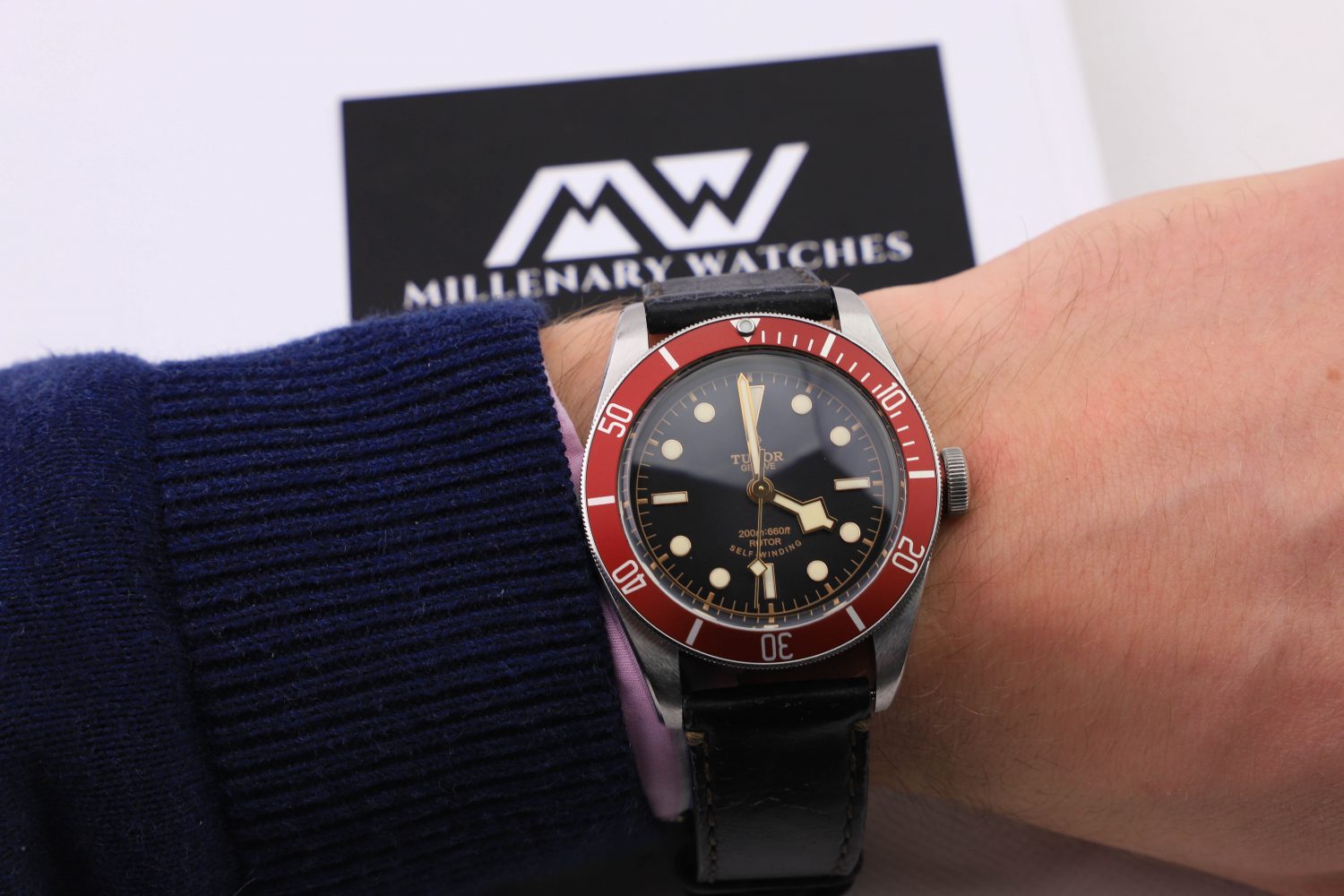 This is what you'll find on most men's sports watches. But if you see watches which have 20 or even 22 mm straps, then those watches are most likely not ideal for you if you have small wrists. Dress watches, on the other hand, can often be seen with 18mm or even 16mm straps.
Thickness
In many instances, when talking about watches for small wrists, people tend to mainly talk about the diameter of a watch, thus neglecting the important role that thickness also plays.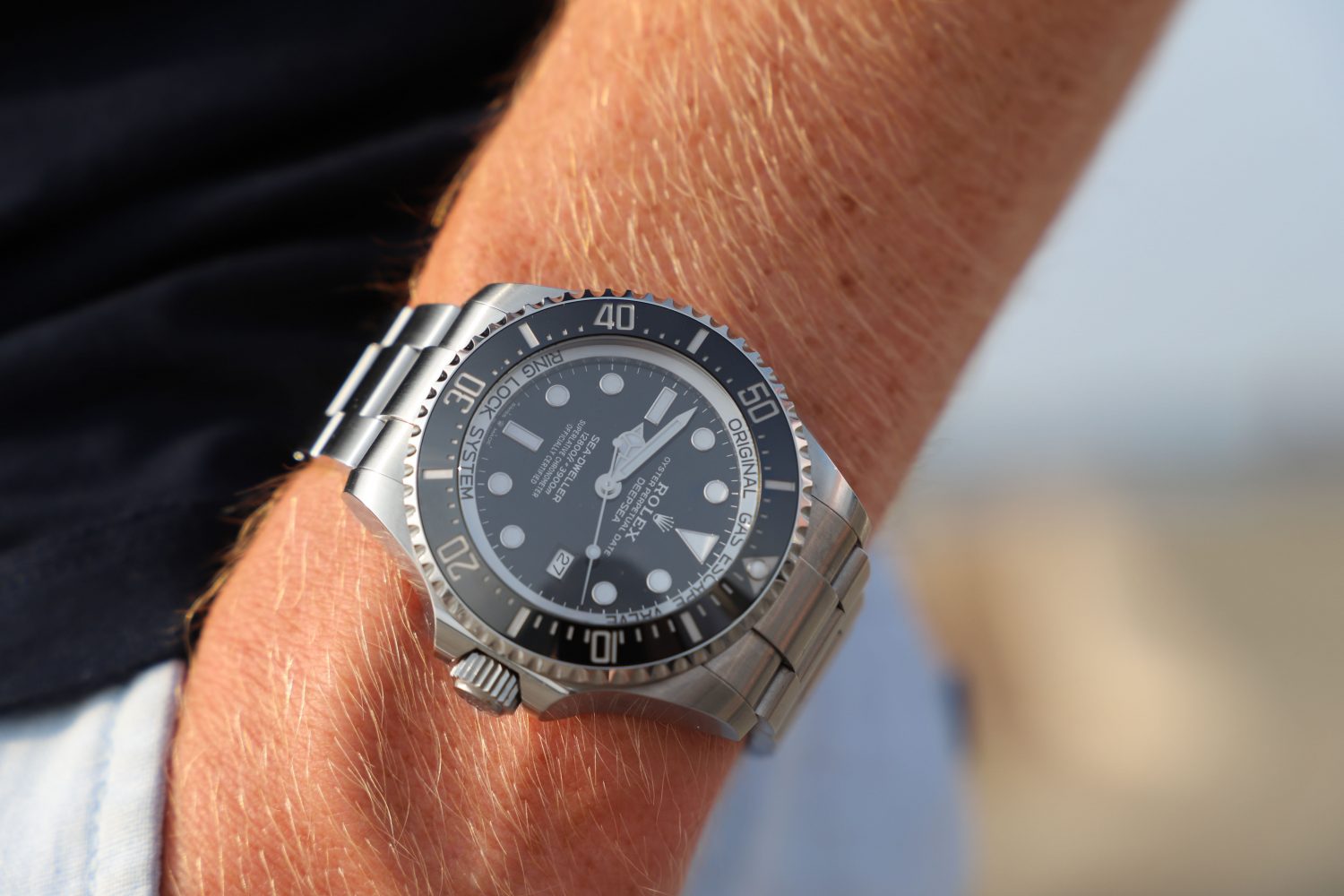 Thickness plays a huge role in how a watch wears, and for people with smaller wrists, in particular, it's a good idea to look at watches which have a thinner case.
There are quite a few watches which have a diameter which may not look too bad, but then have a thickness which may almost be double the thickness of a "standard watch", and this will obviously make the watch wear considerably larger.
Luxury watches for small wrists: what to buy?
As mentioned, while most watch companies are moving towards larger watches, there are still many great watches on the market which are great for people with smaller wrists.
Let's begin by looking at a few different types of watches to buy.
Dress watches
Dress watches are obviously the most obvious choice for people with smaller wrists. More on these later.
Sports watches
Naturally, sports watches tend to be large and thick due to their nature of being sporty and rugged. And this is of course bad news for people with smaller wrists, because sporty watches, such as the iconic shape of diver's watches, or chronographs tend to be thicker and larger than "regular" watches, making it harder for people with small wrists to pull off.
The good news is that there are sports watches that are smaller in size and also in thickness. Sounds like a good alternative if you have small wrists, right?
Vintage watches
This is something that you shouldn't underestimate if you have small wrists.
As mentioned, back in the days, watchmakers made smaller watches than they do today, but the good thing is that these watches haven't just disappeared. As such, an alternative that many people tend to forget is simply opting to buy vintage watches which have more traditional watch sizes. And also, who don't want a vintage wristwatch which carries both patina and history.
When it comes to vintage watches, the opportunities really are endless, and there are watches from the whole spectrum. You have dress watches, sports watches, and everything in between.
Let's look at a few vintage watches:
Rolex Datejust
There are not many watches which are more iconic than the Rolex Datejust. It has been manufactured for decades, and if you look at the evolution of the Datejust, it has moved towards larger and larger cases. Back in the days, the standard size for Datejust watches for men was 36mm, but today, the standard size for Datejust is more considered to be 40 or 41 mm.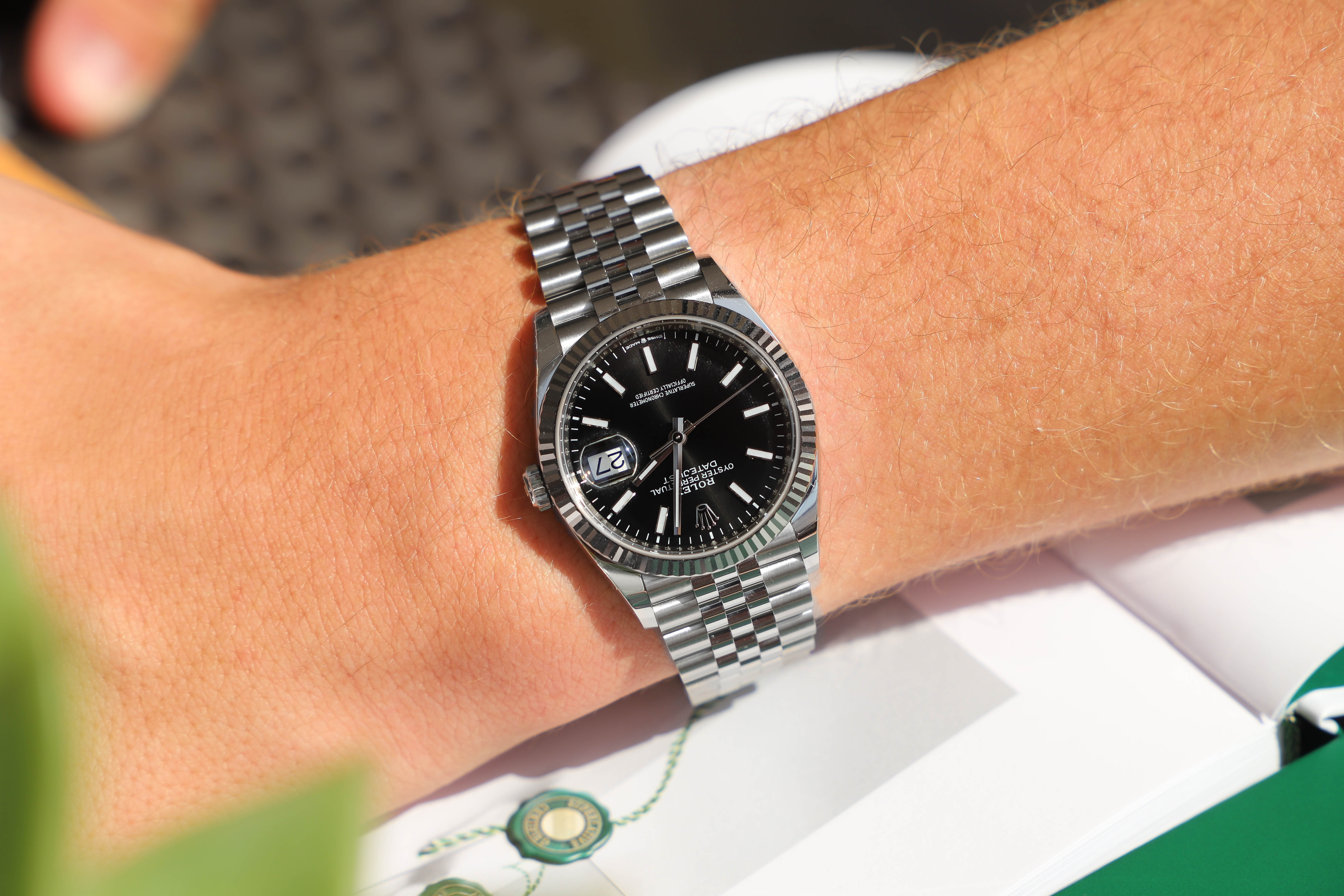 It's quite an interesting evolution, to say the least.
The best part is that the Rolex Datejust is a watch which has been produced in countless of examples, and as such, older Datejusts are among some of the most praiseworthy Rolex watches you can get, which offer plenty of bang for your buck. The Datejusts which I'm referring to are 36 mm, not too thick, and sits well on smaller wrists. Additionally, in terms of things like dial color, there are plenty of alternatives to choose from, which means that you'll probably be able to find one that you like.
Moving a bit away from the Datejust, but staying on the Rolex track will allow you to find watches like the Oyster Perpetual, Day-Date, or even Air-King. These watches, when older, have a lot of common with the Datejust, and they're also great candidates for people with smaller wrists. They are 36mm, 34mm, or even smaller than that, in other words quite small, and they can also be found at great prices.
Other brands
There really are countless of other watches and models apart from Rolex's Oyster range, but something that can be frustrating is if you find a model you like but then draw the conclusion that it is too big and simply won't sit well on your small wrist. But if you're looking on a watch made by a watch manufacturer which have existed for a long time, there may be a chance that the same brand manufactured smaller versions of that design, which feature a similar design, back in the days, when the norm was smaller watches.
For example, the modern Sea-Dweller is 43 millimeters in diameter, whereas the early Sea-Dweller had a diameter of 40mm. Also, the thickness of the modern Sea-Dweller is 15mm whereas the older model has a thickness of 14.7 mm.
Try watches
Now, as mentioned, it's not only the diameter of a watch which affects how large or small it wears. Things like thickness and additional elements like pushers can also affect how large or small a watch feels on the wrist. As such, plain stats and numbers about a watch on paper can be deceiving, and therefore, the best way to determine if a watch fits your small wrist is to simply try it on.
Jaeger-LeCoultre Reverso
The Jaeger-LeCoultre Reverso is an amazing watch for people with small wrists. Not only is the Reverso a historically important watch which has an interesting story, and a watch which has been refined and improved many times over the years, it is also great because it has a unique shape compared to most other watches. What this does is it doesn't come off as bulky which other larger watches can. Instead, it comes off as more elegant – and this makes sense, because today, it is very much considered a dress watch.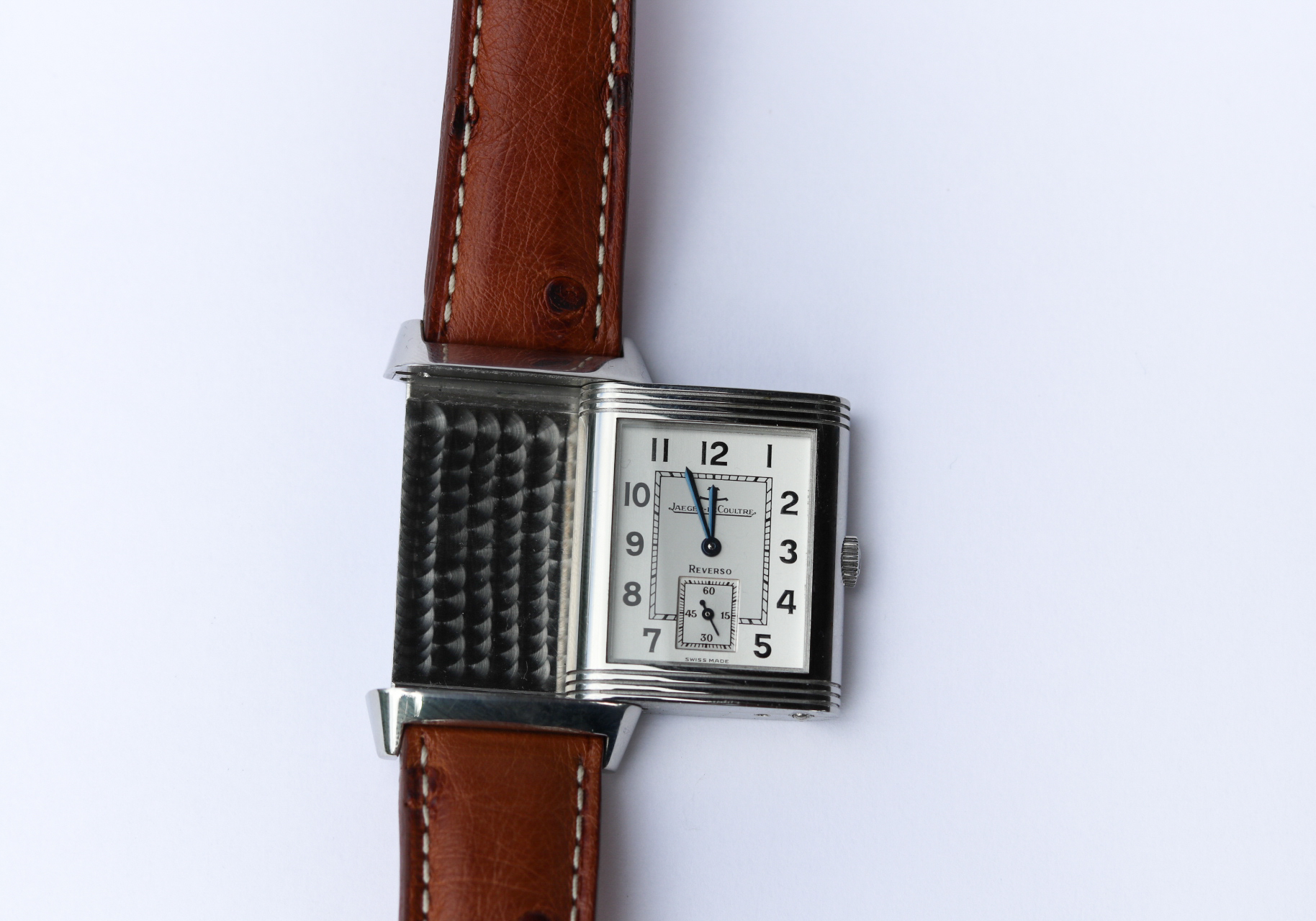 Furthermore, the Reverso is available in a number of different sizes, and older Reverso watches can also be found, which means that you have a lot to choose from.
The rectangular shape of the Reverso is a type of watch which is great if you have a small wrist, and its design timeless to say the least.
Tudor Fifty-Eight
The Tudor Fifty-Eight is an extremely popular watch due to its smaller case. Both in diameter and thickness. Tudor released its Heritage Black Bay model in 2012, and this is a watch which took inspiration from Tudor's vintage Submariner watches. The Black Bay model is and was a huge hit, taking inspiration from vintage design elements, but if there was one thing that people complained about, it was the watch's size. Because the fact is that the watches which the Black Bay took inspiration from were not 41 mm in diameter, nor were they as thick. Therefore, the modern Black Bay didn't stay true to the sizes of the vintage watches it took inspiration from.
As a result, Tudor intruded the Tudor Black Bay Fifty-Eight in 2018, and this watch is, just like the name reveals, a Black Bay, but the key difference is that it has a smaller case, at 39 millimeters, and it all has a much thinner case compared to the standard 41 mm Black Bays.
The Fifty-Eight sits comfortably and slimmed on the wrist, and its smaller case size makes the Fifty-Eight the perfect divers watch – even for people with small wrists.
Dress watches
There really are countless dress watches, so I'll restrain myself from listing them all, however, dress watches are a great alternative if you have small wrists. Dress watches tend to be slimmer and smaller in size, and the reason for this is that their purpose is not to steal the show, but rather work as a compliment and a way of telling the time. They are also made in a more slimmed size so that they can easily slide under the cuff.
Dress watches are mainly to be used on more dressed up occasions, often with a suit, and while some are very dressed and only look good together with a suit, others are slightly more universal.
The philosophy and ethos of dress watches are that they shall be elegant and enhance the appearance of the man, not alter it or steal the show.
With this in mind, dress watches are both slimmed in terms of thickness, but also often in diameter. As such, if you're a person with very small wrists, dress watches are probably the best type of watch to research.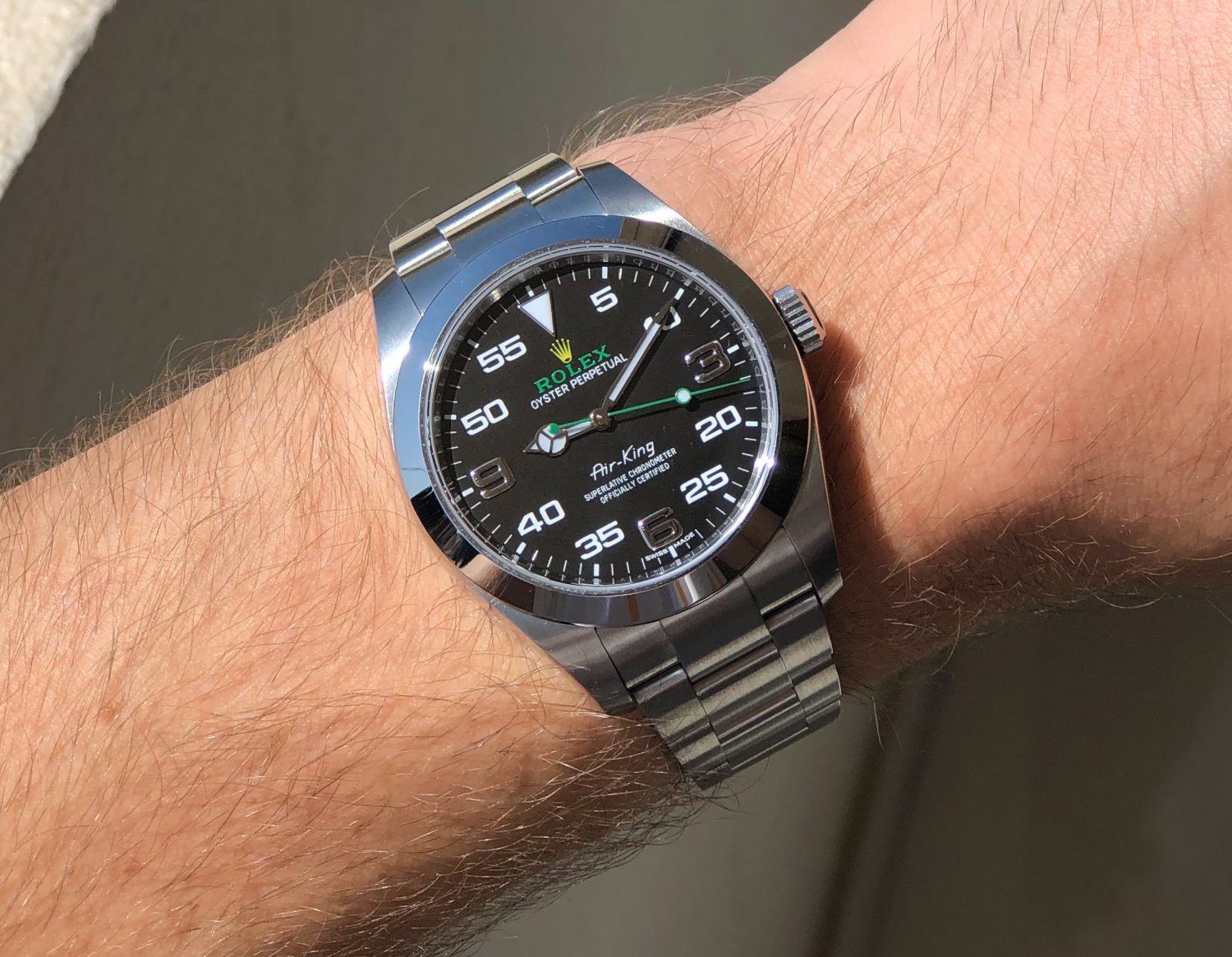 Again, there are so many dress watches to choose from, from most brands, so it really comes down to what brand you like, what functions you want your watch to have, and what design you want it to have. Do you want a minimalistic and classic dress watch with a minute and hour hand or do you want complications such as moon phase, a certain color on the dial, a unique shaped case, and so on? It's also a good idea to consider if you want a steel or gold watch.
Some of the brands which are most known for their timeless dress watches are Patek Philippe, IWC, vintage Omega watches, Vacheron Constantin, Jaeger-LeCoultre, and many more.
Cartier Tank
The Cartier Tank is an extremely iconic watch, and the reason it is a good candidate for people with small wrists is that it has, just like the Reverso, a rectangular shape. But since you can flip the dial like on the Reverse, the Tank is naturally thinner and slimmer.  Its rectangular shape makes the watch sit great on the wrist, and since the watch has been manufactured for quite some time, you can find both new and vintage Cartier Tanks.
Patek Philippe Calatrava
Patek Philippe makes some amazing dress watches, and Patek's Calatrava is the ultimate dress watch range of the brand.
Patek makes numerous variants of the Calatrava, and you can find both new and vintage such.
Some people would describe the Patek Philippe Calatrava as the ultimate dress watch, and thanks to its size and thickness, it's at least great if you have small wrists.