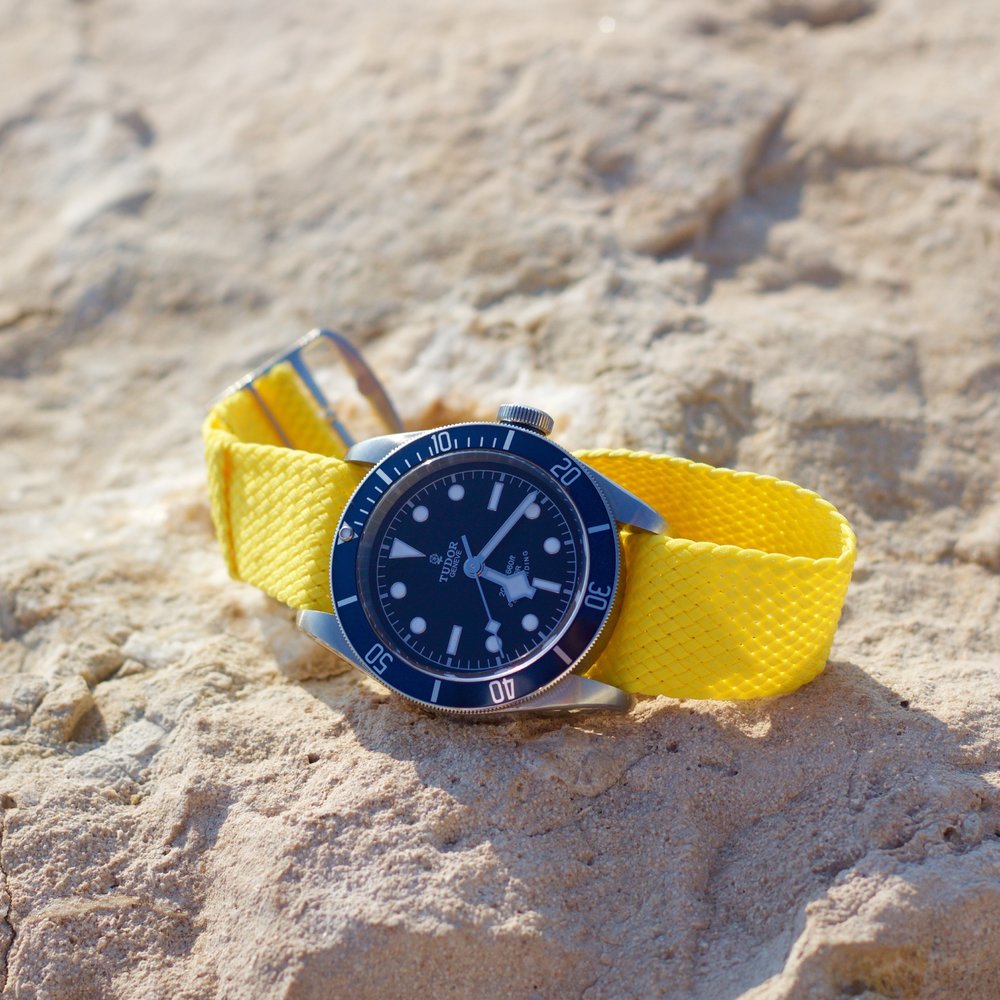 How to Spot a Fake Tudor Watch: The Ultimate Guide
The Tudor watch brand is maybe most known for being founded by the iconic man who founded Rolex, and for keeping the quality and beautiful design of a Rolex, but at a considerably lower price.
Tudor is a brand that has increased in popularity after its relaunch when launching several new models, many of which were inspired by its popular heritage and history. After the relaunch, Tudor has become more popular among collectors and watch lovers, but with popularity comes another problem in the watch industry.
With the increased popularity of Tudor, counterfeiters have picked up and started producing fake Tudor watches. Rolex is the most replicated watch brand in the world, which reflects the strong brand and huge popularity Rolex has. Since the demand for authentic watches is sky-high, so is the demand for counterfeit watches. And as Rolex becomes more popular, so are counterfeit Rolex watches.
But in many cases, the fake Tudor watches are not advertised as fake watches. Instead, they're advertised as the real deal and sold at regular prices. While many believe that Tudor doesn't have the problem of counterfeit watches circulating the market like Rolex has, many people tend to be less careful with Tudor watches. Additionally, because fake Tudors haven't really been a big issue until recently, there are not a lot of people who know how to spot a fake Tudor watch.
The problem is also that when it comes to fake watches, in many cases, no longer can you instantly tell a real from a fake by simply looking at the second hand or by holding it. This is because counterfeiters are creating increasingly convincing fakes and putting more and more effort into making them look like the real deal.
It is estimated that about 30 to 40 million fake watches hit the market each year, and this means that it is more important than ever to be careful when buying a luxury watch. The first step is to buy from trusted and reputable sellers such as Millenniumwatches, but the second way is to learn how to spot a fake Tudor watch, so you can quickly distinguish when there's something fishy about a Tudor watch.
Therefore, in this article, we'll share with you the different ways to spot a fake Tudor watch.
How to spot a fake Tudor watch
The most popular Tudor watch is the Heritage Black Bay, and therefore, it is mainly this model that gets counterfeited. Therefore, it's the Black Bay that we'll focus on it firsthand in this article. Additionally, the vintage Tudor market is growing, and the demand for vintage Tudor timepieces has exploded in recent years, especially due to a stronger Tudor brand after its relaunch. This means that the prices for many vintage Tudor watches are increasing in value, and one such is the Tudor "Snowflake" whose price has steeply increased in recent years.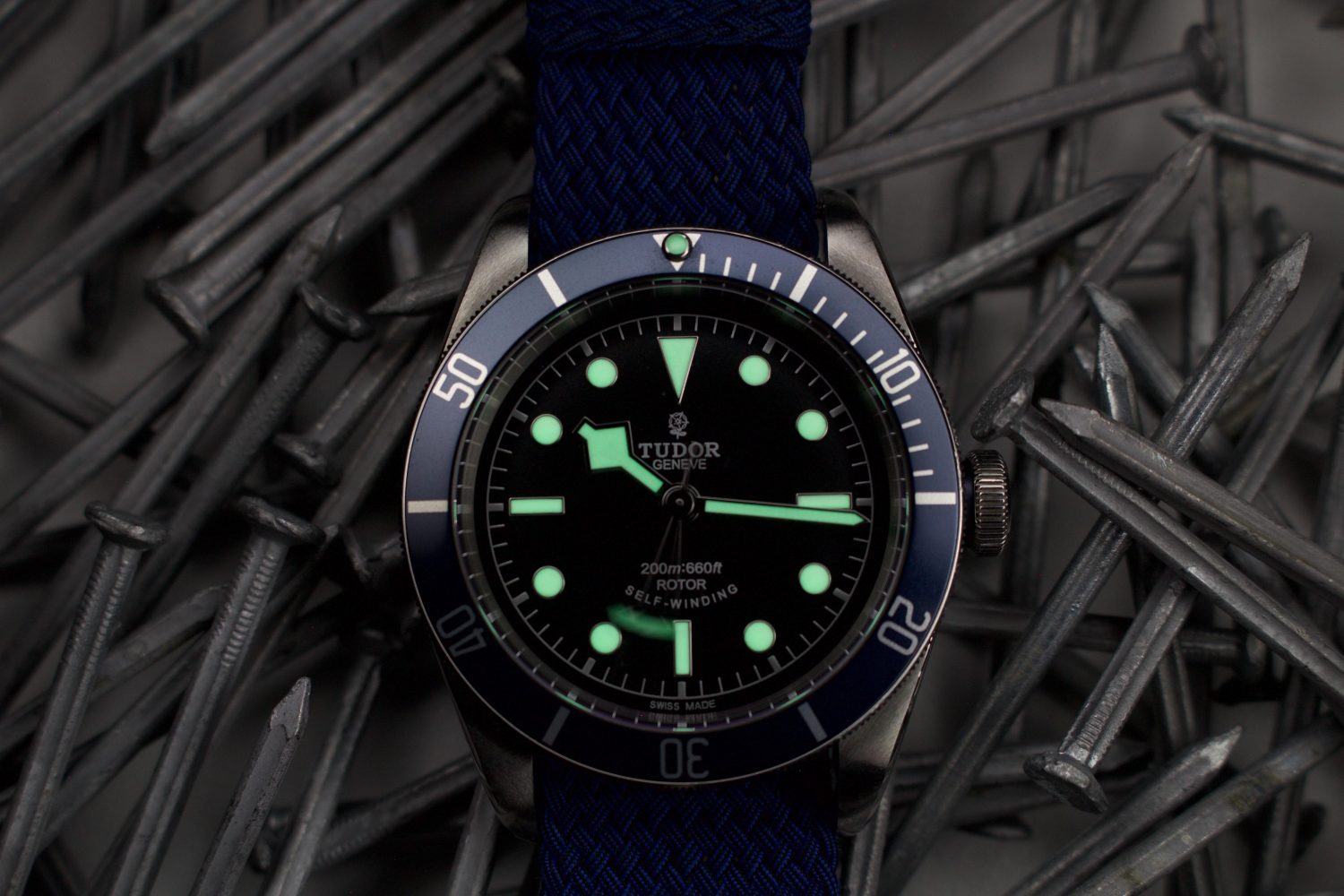 While there haven't been many reports about fake vintage Tudor watches, where there's demand, there are counterfeiters who are looking to pull it off as the real deal. But maybe most commonly is the individuals who are just looking to buy a fake Tudor watch knowingly, but this still means that they hit the market, and can end up in the wrong place.
The bezel
The Black Bay bezel is iconic due to its matte finish, wide size, and function. One way to spot a fake Tudor watch is to compare the color of the bezels on a real watch with a fake. Fake Tudor watches don't have the same color tone as the real deal, and this is a way to quickly distinguish one, however, this means that you also need to have a genuine piece for comparison. It's easiest to compare the colors on the models on the Black Bay models that aren't black.
Another way to spot a fake Tudor watch is to look at the printed numerals on the bezel insert. As you can imagine, Tudor watches make their watches with higher precision and perfection than fake watches, and therefore, the numerals are sharply written on a genuine piece, but on a fake, sloppy, and have obviously lower attention to detail.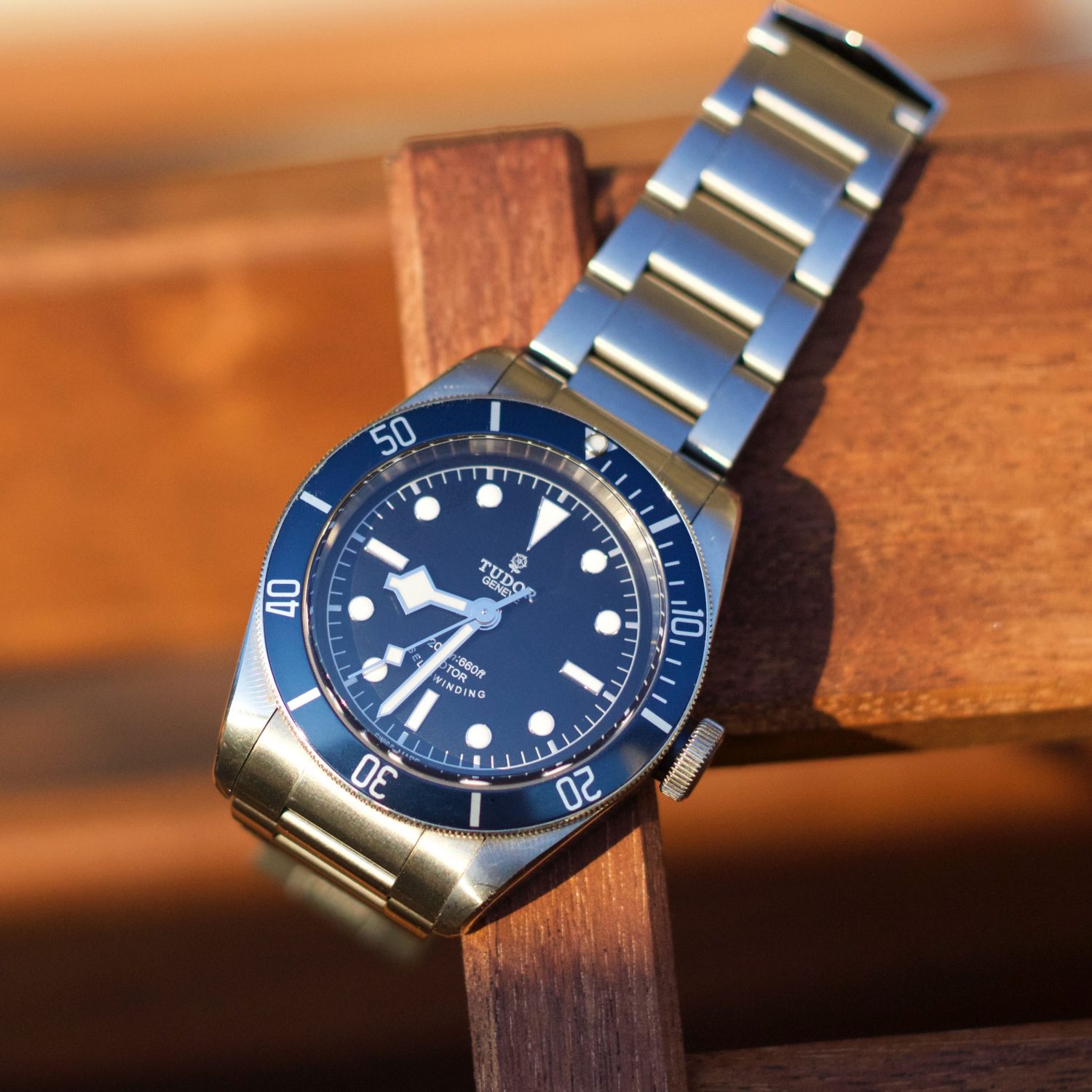 Furthermore, the "pip" on the watch, the small circular luminous dot at 10 o'clock tends to be different on fake Tudor watches compared to the real deal. Normally it's not perfectly centered, and it also tends to be incorrectly domed.
Lastly, a great way to see if the Tudor Black Bay is authentic if you have a real piece next to you is to rotate the bezels. Listen to the sound. If they sound and feel different, it may be a sign of a fake Tudor watch.
The crown
Another way to spot a fake Tudor is to take a look at the crown. The iconic crown of the Black Bay is a so-called big crown. All Tudor watches today carry the Tudor Rose on the side of the crown, and while most counterfeiters tend to include this detail, it's often made in lower quality, and with poor perfection compared to real Tudor watches.
The engravings of the Tudor crown should be sharp and made with great precision. It should be neat and feel high-quality.
Compare the proportions of the rose, and closely inspect the attention to detail. If you see something suspicious, it may be a fake watch.
Also, while not all have it, cheap replicas can have the logo glued to the end of the crown. Of course, if the counterfeit watch is of such quality, you'll be able to tell that the watch is fake from a number of indicators quite easily. Make sure that there's no glue on the crown or around it.
Lastly, the movement should be easy to wind, and the hands should be easy to set.
The dial
The printing of the dial is always an obvious tell for all fake watches. While luxury watches have a dial that is printed to perfection with no ink bleeding, no misspellings, and no uneven letters, or edges, it's not completely uncommon for counterfeit watches to have all of that.
Closely inspect the letters on the dial, and look at the precision and quality of which they have been made. Look at spacings, and compare the dial with the real deal to see if there's anything suspicious that has changed or some elements that are removed or have moved.
If you look closely with a loupe, you'll easily be able to tell if something's wrong with the dial, since the counterfeiters can't achieve the same precision and perfection as Tudor can.
Make sure you also pay attention to spelling. fake watches often have misspellings on the dials, and this may not be obvious when you know in your head what the text should say. Carefully read all the text and confirm that it's correct.
The lume
When it comes to the lume of Tudor watches, there are several ways to look at it in order to distinguish a fake Tudor watch from a real one.
Most Tudor watches today use LumiNova in order to make the indexes of their watches luminous and enable easy readability in dark.
The first tell is to take a look at the way the lum has been applied to the indexes. On real Tudor watches, the lume is evenly applied and with great perfection and attention to detail, however, replica Tudors don't tend to have this precision, and therefore, you can often tell them apart from the unevenly applied luminous material on the indexes
Furthermore, another way to spot a fake Tudor is to look at the luminosity of the watch. If you take one genuine watch next to a fake one, you'll see that it will glow differently. Since fake watches use a lower quality luminous material, it won't glow as bright as the real deal, nor as long.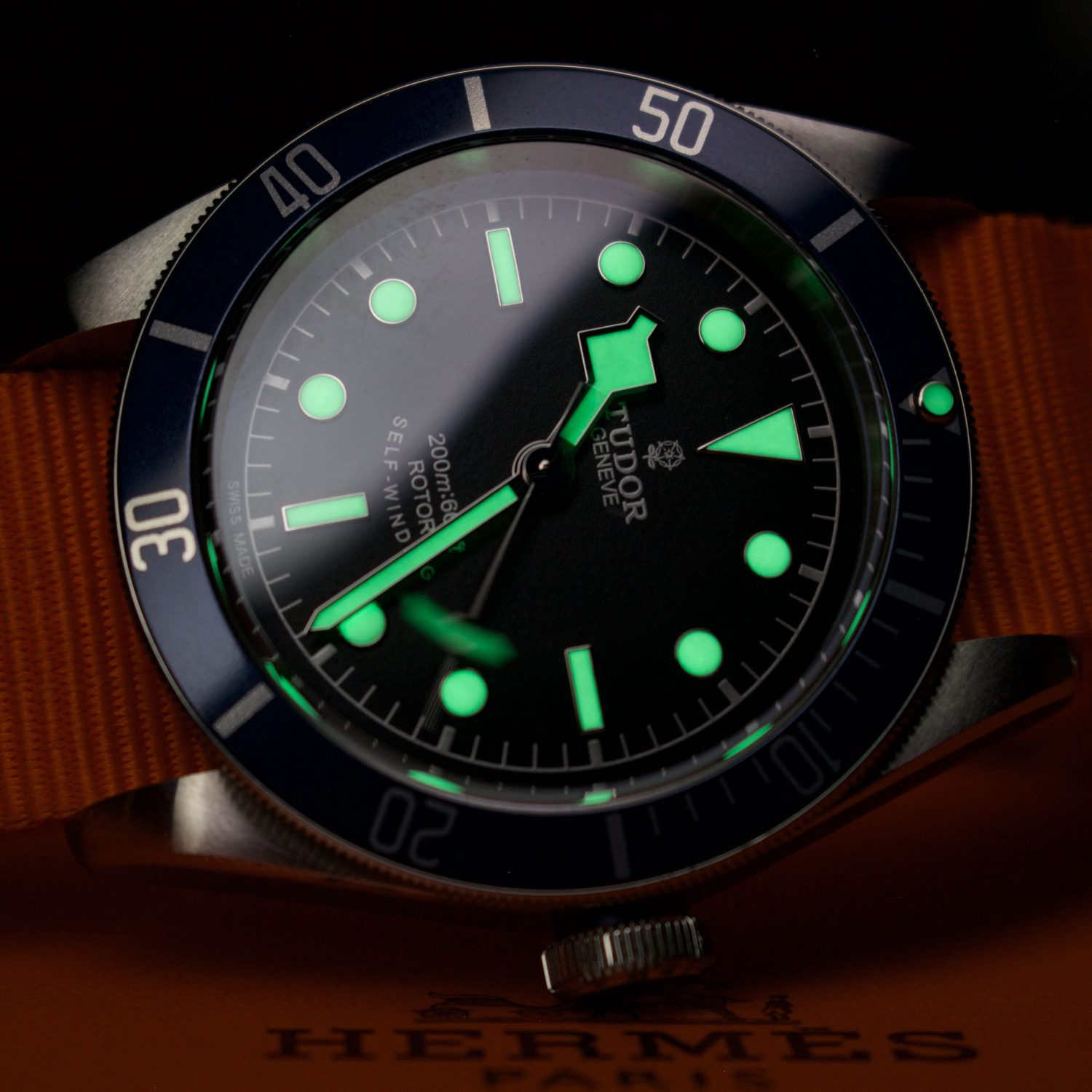 It's not completely uncommon that replica Tudor watches don't have any luminosity at all, but don't confuse old Tudor watches which don't have any luminosity left with modern Tudor watches.
Lastly, apart from looking at how bright the lime glows, you can take a look at its color. The real Tudor has a blue/green tone, but fake watches don't have a spot-on color for their luminosity color.
The case
Looking at the case is a great way to spot a fake Tudor watch of any model, not just a Black Bay. In fact, it's a great way to spot any fake watch.
Since genuine watches are made with great attention to detail, you'll be able to notice quite quickly if it's a fake Tudor. The case should have high-quality beveled edges, and an overall neat and perfectly made case. The cases of counterfeit Tudors are instead low-quality and have poor finishing.
The case back
Another way to spot a fake Tudor watch is by looking at the casebook. The real deal has a high-quality engraving that is smooth and made to perfection. A counterfeit watch, not the other hand, has poor engraving, and tends to not be identical to the real deal. If you have a real watch next to you or have a photo, you can easily compare them and identify any differences.
If you are dealing with a vintage Tudor, many of them have Rolex case backs which often say "Original Oyster Case by Rolex Geneva" with the Rolex crown symbol. So if you see Rolex, don't be turned off immediately.
Also, take a look at the links below the 6 o'clock position for a five-digit number and between the links above the 12 o'clock position for another five-digit number. These numbers are the serial and registration numbers.
The movement
Checking the movement of the watch is a great way to identify fake watches from real ones since the counterfeiters use a lower-quality (and cheaper) movement.
Depending on the year, Tudor has either ETA movements on in-house movements. In recent years, Tudor has started going more towards in-house as a way to create another value-add to the customer, but since most Tudor watches don't have see-through casebook, the counterfeiter can pay little attention to the movement and will use a low-quality one.
While many fake watches don't tend to be quartz anymore due to them being instantly distinguishable, if you take a look at a Tudor watch that is supposed to be obviously automatic and the second-hand ticks instead of stutters, it's definitely a fake.
If you want to really confirm the legitimacy of the watch, you can open the case back.
The price
Price is the clearest indicator of whether or not a watch is legit or not. If the price is too good to be true, it probably is. The current RRP of a Black Bay is $3700 on leather and $4050 on steel. Do the math.
The hands

If you know what to look for, the hands can often be an indicator of a fake watch, and equally so for Tudor watches.

Take a look at an image of a real Tudor and compare the hands. Look at the finish, the length, the size, the design.

Quite quickly, you'll notice if there's anything going on with the watch.
The bracelet
You can also examine the bracelet. While not all Tudor watches have a bracelet, many do.
Begin by looking at the clasp. The Tudor watches have a crest symbol and are obviously made with perfection with smooth lines and no flaws.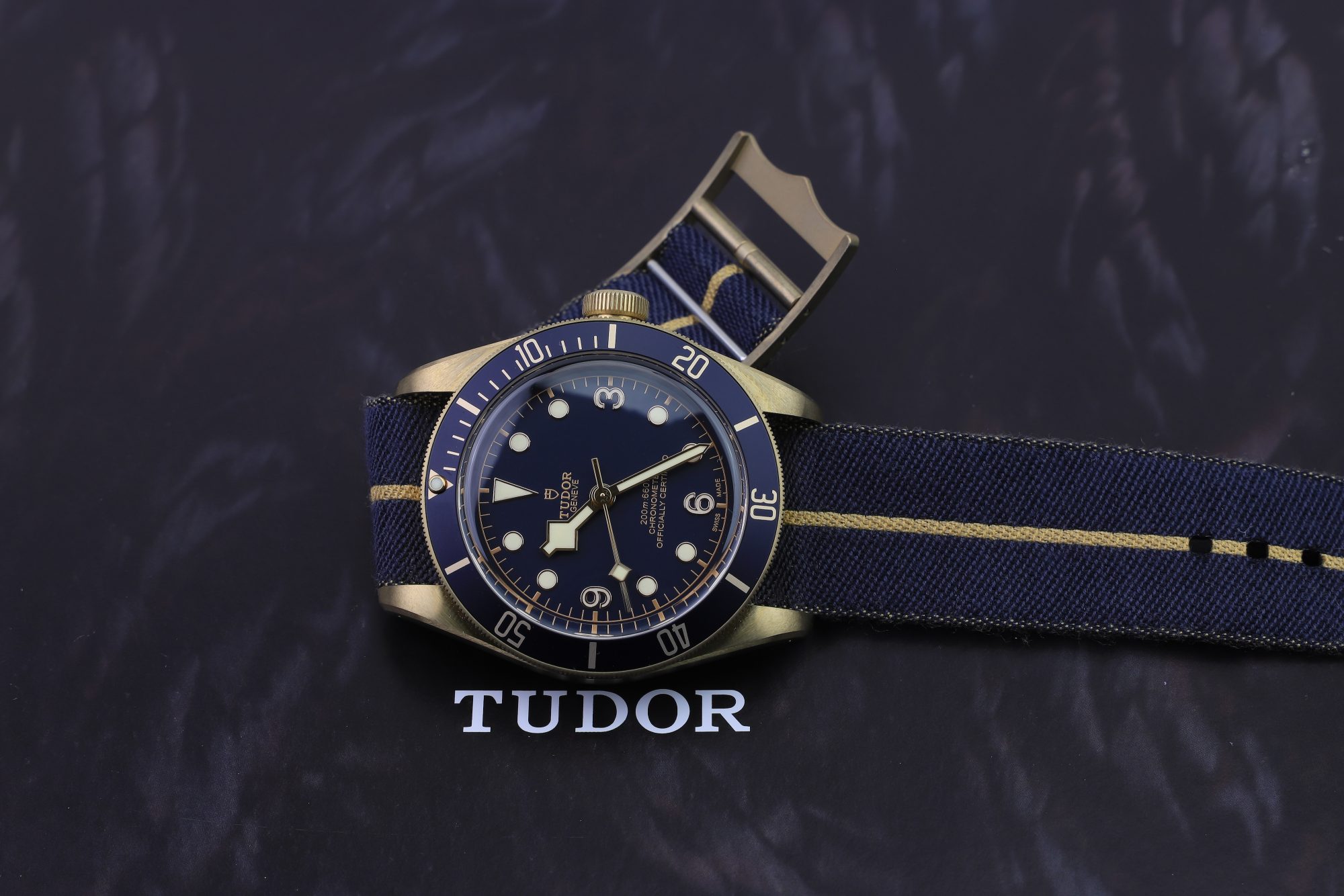 Conclusion
While Tudor isn't the biggest market for counterfeit watches, with the increased popularity of Tudor watches – both in the new and vintage market, there will most likely be more counterfeit watches on the streets.
Therefore, it's important that you learn how to spot a fake Tudor watch before you are going to buy one, and that you buy from a reputable seller. The place you buy from obviously has a great importance for the risk of you buying a fake watch. If you buy your watch on eBay or in a small shop that sells souvenirs and other objects which are in no way related to watches, there is a higher risk that you'll get a fake Tudor as opposed to if you buy it from a trusted seller.
But with the counterfeiters becoming increasingly experienced in making replicas that look like the real deal, it is becoming harder and harder to spot the real deal from the fakes, and even with a bit of knowledge, it's not impossible that you can buy a fake watch if you're not careful. Therefore, use all of these tips to spot a fake Tudor watch, and you should feel quite safe in your next Tudor purchase.
Also, if you want to be surer in your purchase, make sure that the watch comes with box and original paperwork. While this is absolutely no guarantee that the watch is real, it's more likely that it is.
And when buying, make sure you buy from a seller with a good track record. If you get a bad feeling about the purchase because of the seller not wanting to send additional images or is reluctant to answer your questions, it may be signs of a fake watch.
Also, as with everything, if it seems to be too good to be true, it probably also is.
If you want to stay on the safe side, you can always confirm your watch's authenticity after you've bought it by going to an authorized dealer.
Take a look at our selection of Tudor watches here. We proudly only sell authentic Tudor watches.