Rolex Chromalight: What is it and How Does it Glow
Wristwatches are complex things. And while the concept of wristwatches is more than a hundred years old, this time has allowed them to be innovated and improved for accuracy, reliability, and quality.
Some of the world's most famous watch brands have, in particular, pushed really hard on innovating everything from materials to the movements, to the design, all to make better timepieces.
One such brand is Rolex. This brand is known for continuously pushing boundaries, innovating, and consistently coming up with new ideas that improve their watches in one way or another.
And this brings me to my next point: An important part of many watches is their lume (luminescence). The most important part of a watch is being able to tell the time. But it's not always that the surroundings are ideal. If the room is dark, it can be difficult to tell the time, but this is where Rolex Chromalight comes in handy.
Most people want a watch that is easily legible and which you can simply glance at to know the time – even if the surrounding environment does not provide optimal readability. This is particularly true for a dive watch such as the Submariner or Sea-Dweller which, when diving with it, will be used in murky waters where the visibility is poor.
The bottom line is that when you are wearing a wristwatch, the surroundings won't always be optimal.
And lume is an important element here.
Rolex Chromalight is Rolex's luminous material, but over the years, Rolex has used a number of different luminous materials.
In this article, we're focusing on Rolex Chromalight, but we will also touch upon Rolex's history of different luminous materials that they have used over the years.
Rolex Chromalight and luminous materials
The first luminous material that Rolex used for its watches was radium. The problem with tritium is that it is both highly radioactive, but also has a half-time which means that the lume will eventually die out on a Rolex watch. But one of the main switch was health concerns, in particular for the watchmakers.
Following radium, Rolex started using tritium. Tritium is not as radioactive, however, it does lose its glow over time, as well as change color to yellowish.
Today, Rolex uses either Superluminova or Chromalight for luminescence, and as mentioned, we will focus on Chromalight in this article, but also touch upon Superluminova as well.
Rolex SuperLuminova
Let's begin with Superluminova. What you may be surprised to hear is that Rolex actually began using Luminova in 1998, and then shortly after, in 2000, they moved to a better and more refined version named SuperLuminova. These are the name for photoluminescent substance.
SuperLuminova glows green in the dark, and the benefit of SuperLuminova, as opposed to tritium, is that it's non-radioactive and completely harmless. Furthermore, SuperLuminova does not fade or discolor like tritium.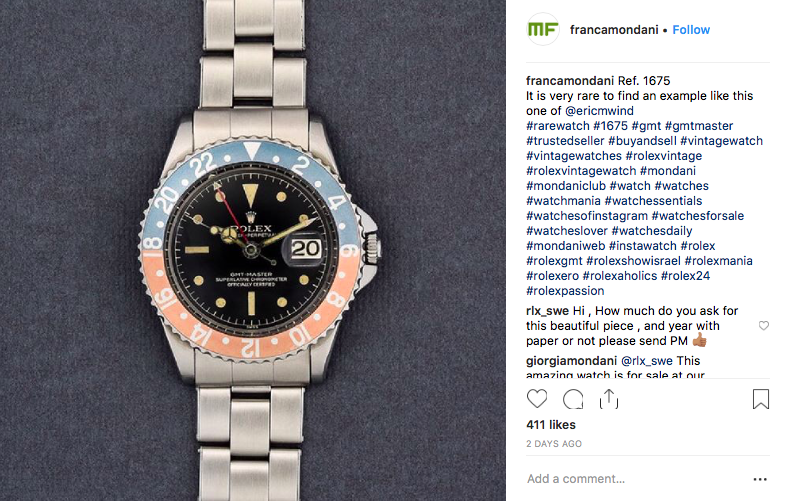 This is a whole another topic that can be discussed another time, as many collectors appreciate when the lume gets patina and signs of aging, but with SuperLuminova, they don't in the same way as tritium.
Rolex Chromalight
Rolex Chromalight glows blue in the dark, and this is, therefore, a way in which you can tell SuperLuminova apart from Chromalight.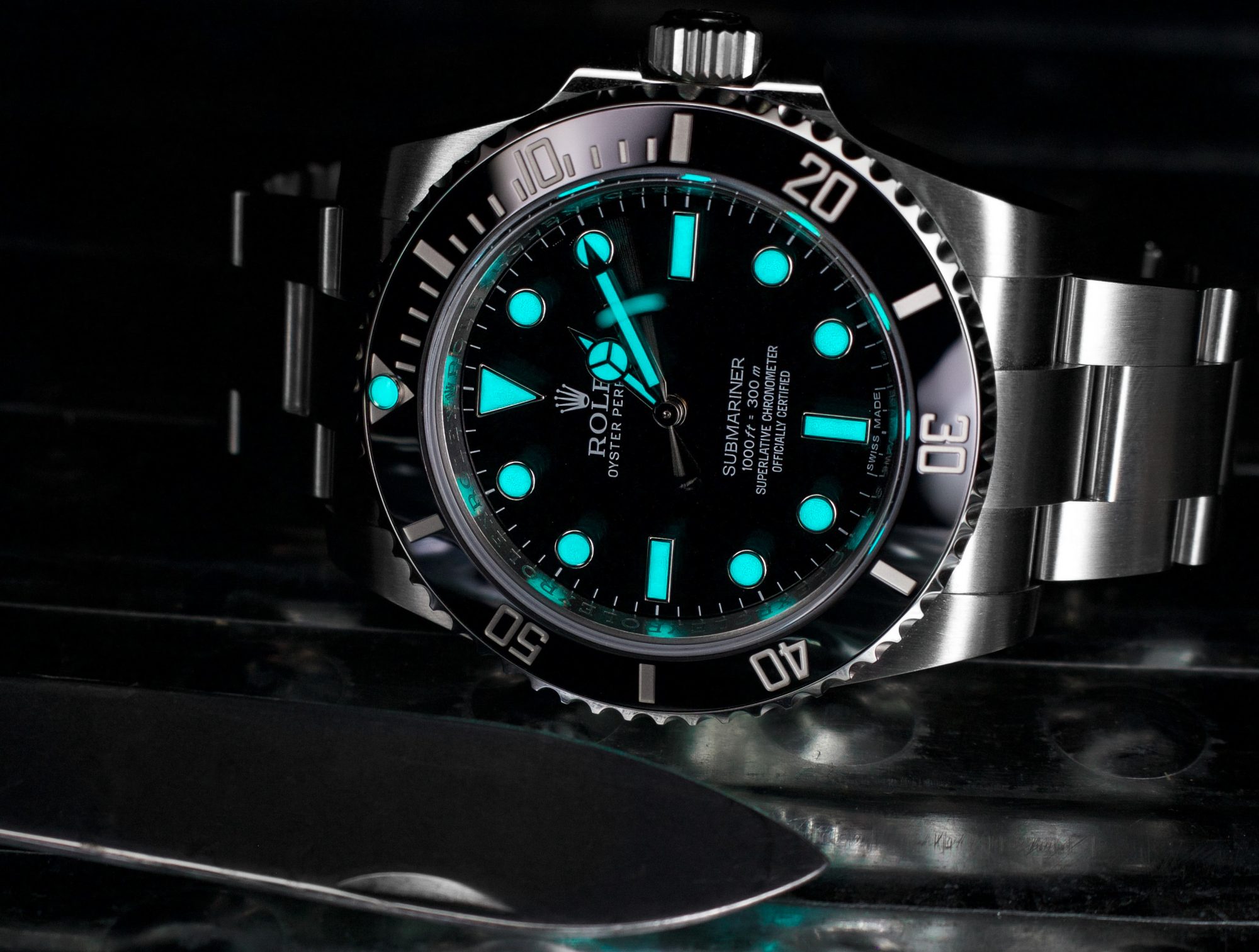 The Chromalight material was announced in 2008 when Rolex released the Deepsea Sea-Dweller, a watch that demands a strong and reliable lume.
Chromalight is a photoluminescent material that, according to Rolex, Chromalight can last up to eight hours, which is more than double the time of other luminescent materials. The material is also promoted by Rolex as being highly legible and easier to see.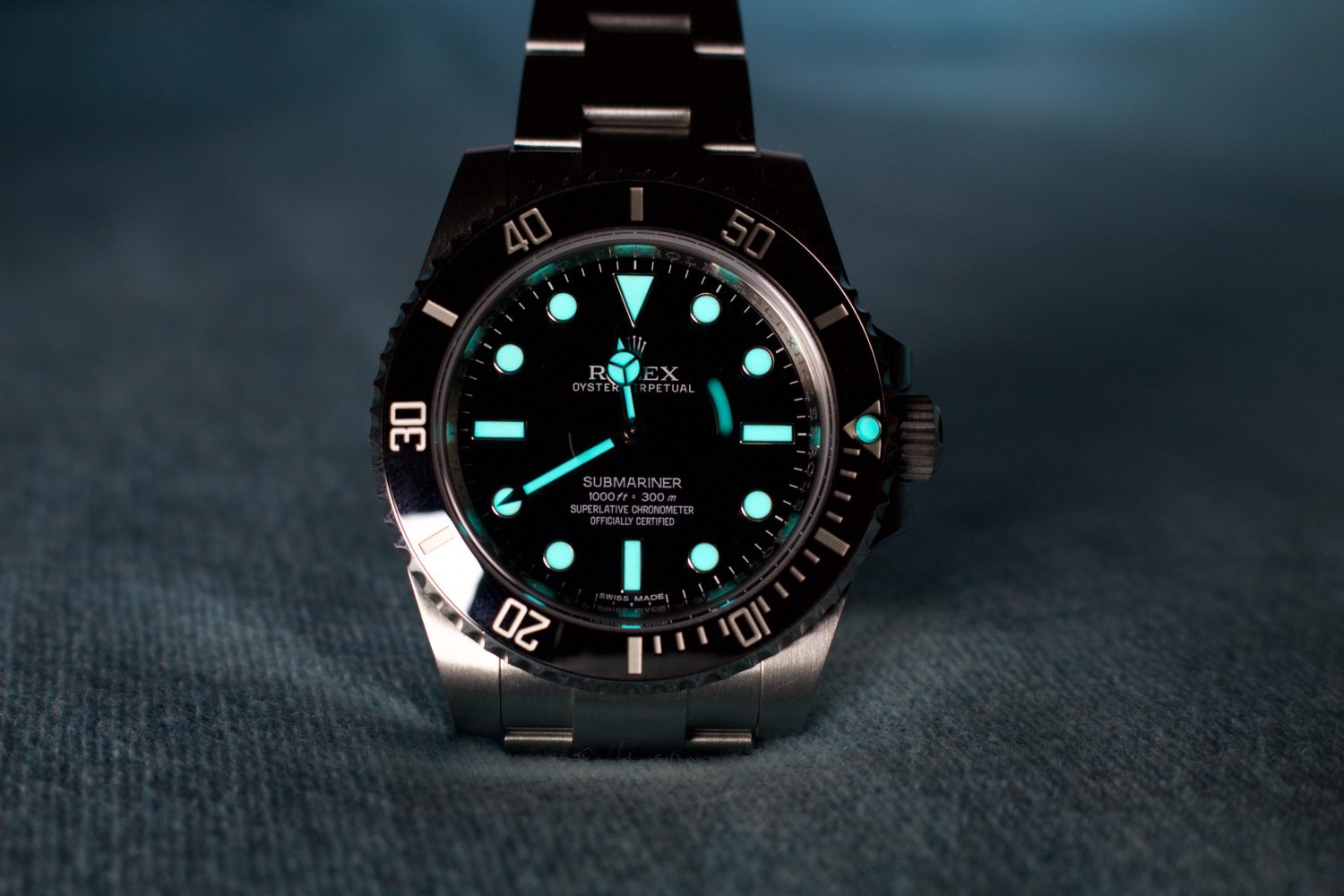 After the release of the Deepsea Sea-Dweller, Rolex started to introduce the Chromalight in other models, including the Submariner, the Daytona, and the GMT-Master. This means going from the previous SuperLuminova as the luminous material.
Yet at the same time, Rolex also has some modern models still in production that use SuperLuminova as opposed to Chromalight, such as the Milgauss. This is of course due to change in the near future.
Over time, Rolex has introduced Chromalight to almost every timepiece in its lineup, but something that is very interesting is that there is no official timeline for the transition, which means that some versions of the same model can have different colored lume.
There have been some speculations that Chromalight is essentially a rebranded Super-LumiNova type C9 with changed lume color, and if this is the case, Rolex has done an incredible job at promoting it and bragging about offering amazing qualities and being something completely new and even revolutionary.
Apart from, at least in theory, glowing longer, Chromalight does not seem to glow any brighter than the green lume. However, what it seems to do, however, is glow longer. However, this may not necessarily be true as well, since the color of the lume has changed, which may trick the eye into believing that is the case.
If the above is true, then there's a good chance that Rolex Chromalight is the same as Superluminova, but that is a different story that we won't get the answer to today.
Rolex does not seem to own the proprietary to the Chromalight compound, however, Rolex USA registered a trademark on the term "Chromalight" in 2009. which was filed as "watches and parts thereof."
It's no secret that Rolex names many of its parts, such as Cerachrom and Oystersteel, but one would assume that if Rolex invented Chromalight, they would also have included this in their marketing, and proudly highlighted the new invention. But up until today, Rolex has never done this.
Rolex says this about their luminous material:
---
"The Chromalight display on the dial is an innovation that pushes the boundaries of visibility in dark environments. The blue glow lasts up to eight hours with a uniform luminosity throughout, practically twice as long as that of standard luminescent materials."
---
And while this may be the case, it can simply be a slightly tweaked truth. For example, if you apply more of the Chromalight material, you will obviously get a stronger lume. And again, while it may sound revolutionary, nowhere does it say it's their own invention or product.
Luminova is made by Nemoto a Japanese luminous paint maker which moved a part of its factory to Switzerland in 1998 in Joint-ventured with RC-Tritec AG. This was to establish Luminova AG Switzerland for supplying Luminova to all the Swiss watch companies, including Rolex and many other major brands.
Later, around 2001-2002, the company changed the name to super-luminova and many other names for what was essentially the same product, just under the various brand made-up names. Rolex's trademark name is Chromalight, which, what it seems, is basically the same paint with slightly different color pigments plus surface area. But of course, it could also be a special color blend of luminous paint by Nemoto for Rolex. Only Rolex knows the answer…
What is Chromalight?
If the above is true, and Rolex did not completely invent the compound material behind the name Chromalight, then Rolex is almost certainly using Swiss-made Super-LumiNova with a color somewhere between C9 and C7. Rolex may use more layers of the luminous material or get away with their marketing about Cromalight staying brighter longer because according to an official LumiNova chart, C9 (blue lume) yields up to 5% more relative brightness 30 minutes after being charged.