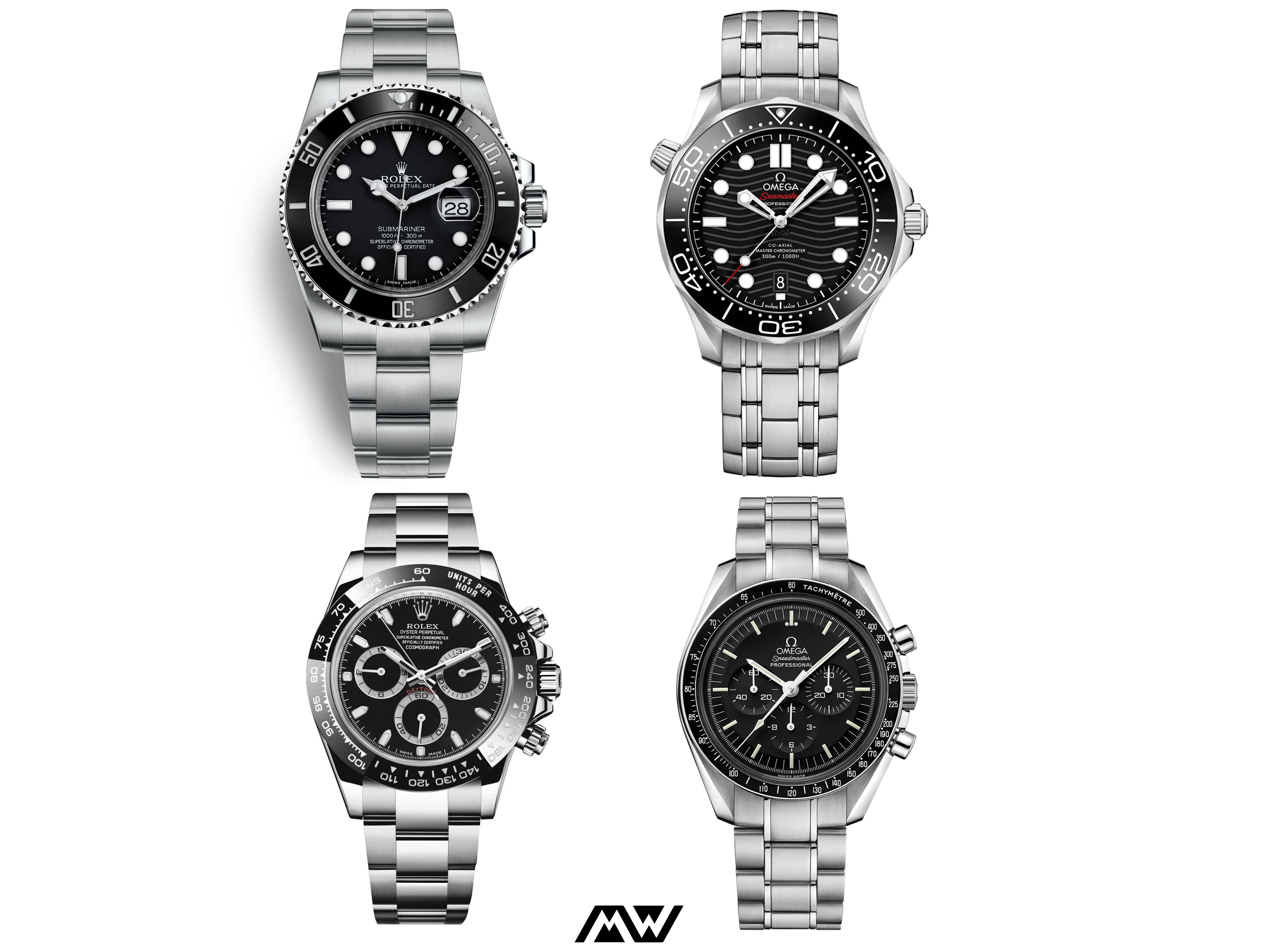 Rolex VS Omega Which is Best?
Rolex and Omega are both two of the most iconic and legendary Swiss watch brands.
Both brands have achieved great things – both in terms of technology, innovation, and watchmaking art, but also in making a difference in and pushing boundaries. 
Amongst all of the watch brands in the world, Rolex and Omega may be amongst those that are compared with each other the most. Both brands have similar price ranges for their watches, although Rolex generally tends to have slightly more expensive watches than Omega.
Despite this, in choosing a watch, you may find yourself Omega watches with Rolex watches, and wondering which is the best.
Rolex VS Omega – Which is best?
Now ultimately, the answer to this question will depend on your taste and preference, and there is no fixed answer.
If you look at discussions on forums, you will find that some argue that Omega is best, whilst others argue that Rolex is the best.
But let's look at some of the most central aspects of a watch and compare Rolex and Omega side-by-side.
Build quality and quality control
To some extent, the build quality and quality control of a watch can be somewhat difficult to compare. But generally speaking, Rolex watches are more expensive than Omega, and therefore, we would also assume that the quality control of Rolex watches should be somewhat higher than that of Omega watches. This is something that we can agree with. From our own observations, Omega watches tend to have more imperfections than Rolex watches, coming from the factory. This includes things like dust on the dial, splattered paint, scratches, or slight damages.
Whilst this is generally uncommon for both brands, they tend to be somewhat rarer on a Rolex watch. But at the same time, factoring in the price difference, the question is if you are still ok with this. Naturally, the more you pay, the higher quality and better quality control you will receive. Watch these videos below:
Warranty
Both Rolex and Omega offer a five-year warranty. With that said, they are both equal in this sense. This is longer than the 2-year industry standard.
Price and availability
In terms of price and availability, something that people complain about when it comes to Rolex is that their professional models are not readily available. On most of the steel Professional watches from Rolex, there is a waiting list, sometimes several years long. This is not the case for Omega watches – except for the exception of limited edition timepieces which has a limited production.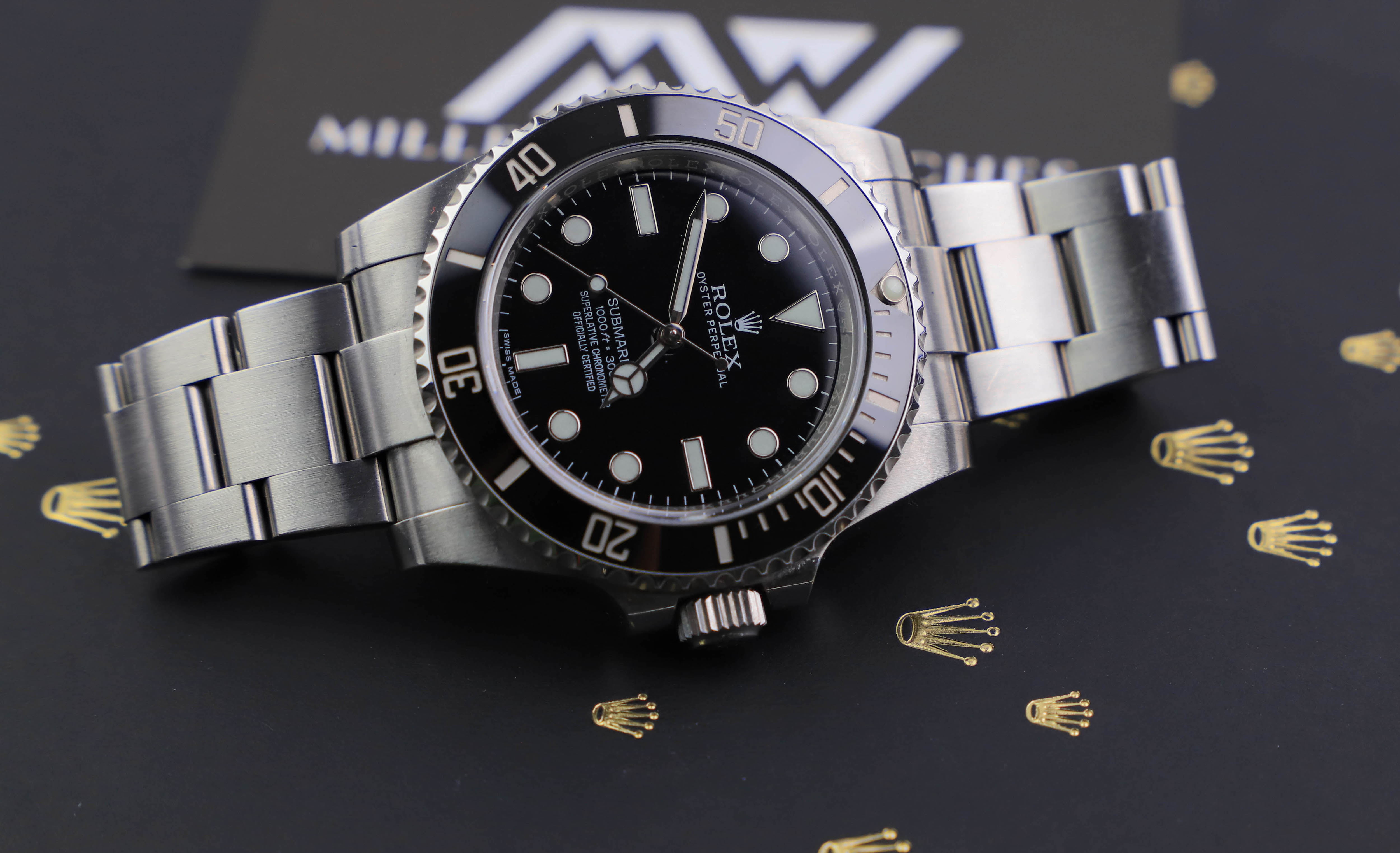 If you want to buy an Omega diver's watch, you can simply walk into an official Omega retailer and buy a Seamaster. If you, on the other hand, want a Submariner, you will not be able to walk into an official retailer and buy one.
The lack of availability is a double-edged sword, which can both prove to be positive, but also negative in the long run. Something we have noticed people say on forums and similar is that because they do not want to wait for years, they went and bought an Omega instead. With that said, there is no question about the fact that lack of availability does increase the sense of exclusivity – which certainly seems to be working for Rolex. But at the same time, eventually, people will get tired of waiting and turn to something else instead. Interestingly enough, that "something else" has proven to be Omega watches in many cases.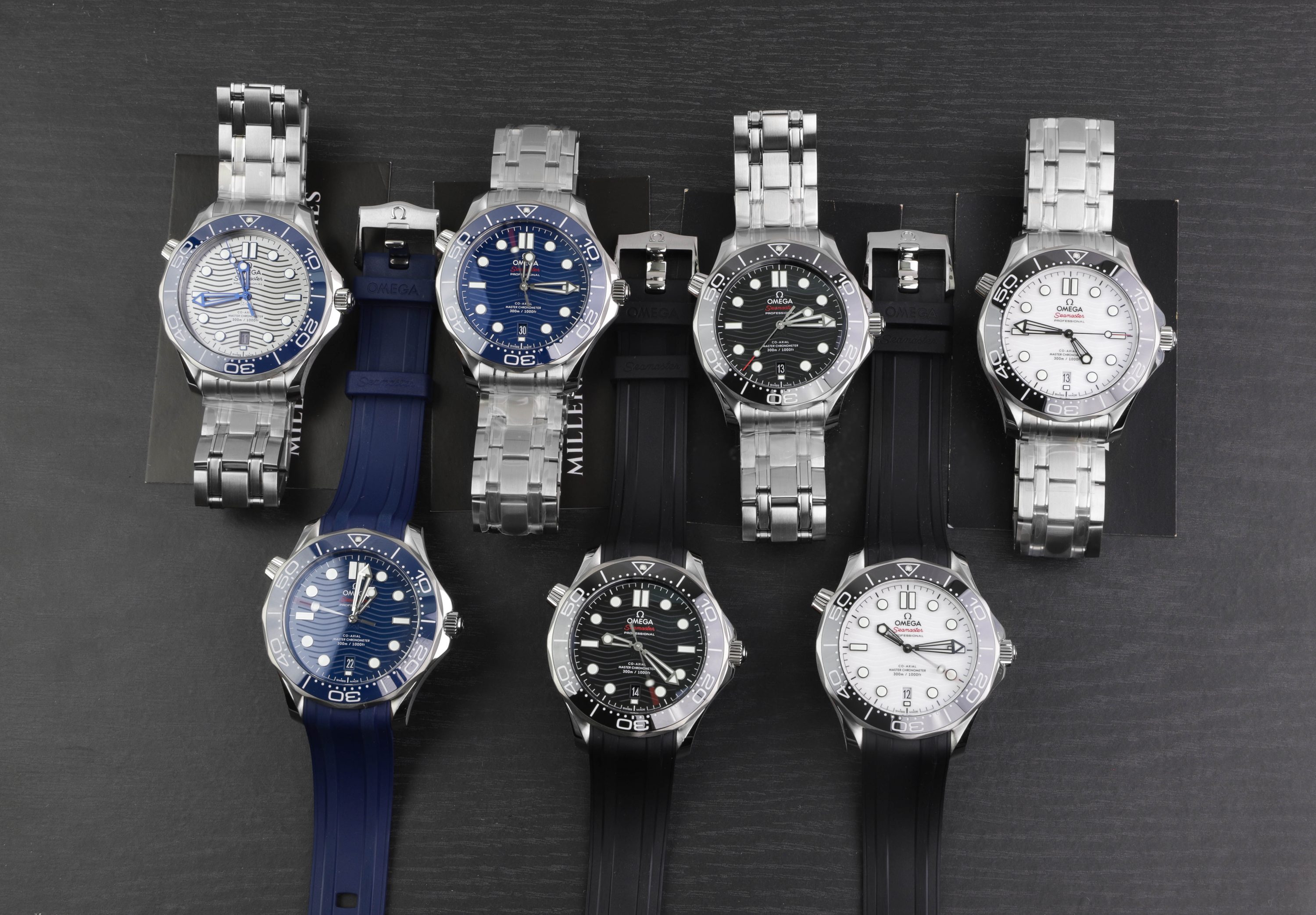 Secondhand value
Secondhand value says something about the power of the brand, as well as how attractive a brand is.
The higher the demand for the products on the secondhand market, the better they will hold their value. With that said, Rolex watches tend to hold their value substantially better than Omega watches. There are of course exceptions to this, but generally speaking.
But the question you should ask yourself is if the secondhand value matters for you. Additionally, the secondhand value will primarily be a factor to (potentially) consider, if you buy your watch brand new from an official retailer.
If you buy your watch on the secondhand market, you will buy it at a secondhand market price, and thus it will already have depreciated from its retail price.
Rolex watches hold their value very well on the secondhand market, and for a number of different Rolex watches, they actually cost more on the secondhand market as opposed to the recommended retail price.
Talking about value, some people argue that Rolex watches are overpriced and that you mainly pay for the brand, whereas for Omega, you pay for the watch. This description is subjective, but there is no question that Rolex has a more powerful brand, and hence will be able to profit on it. But then you cannot neglect that the quality is there, too.
Accuracy
Both Rolex and Omega have exceptional accuracy on their watches.
Many of Omega's watches today are METAS certified, which goes through stringent tests for durability and accuracy. This means that they are first certified by COSC (Official Swiss Chronometer Testing Institute) before being tested by METAS. When having passed both these tests, the watch is awarded the Master Chronometer Certification. The certification means that the watch has been certified twice, and has passed 8 different tests related to the quality, durability, and accuracy.
Rolex watches are superlative chronometers. This essentially means that they are tested in a similar way as Omega. This means that the watches are certified by COSC, but after that, they have undergone a number of specific final controls by Rolex in its own laboratories according to its own criteria which exceeds watchmaking norms and standards. With that said, Rolex goes above and beyond the requirements of COSC.
Which of these tests is the best can be discussed. But it is evident that both manufacturers take testing very seriously, and thus have its watches tested both externally and internally.
Models
Both brands have a wide range of products. Furthermore, both brands also have legendary and important models that have existed for decades, and which the brands have refined and improved over the years. With that said, both brands make some legendary and iconic watches. The most iconic watches include the Speedmaster and Seamaster from Omega, and the Submariner, Daytona, GMT-Master from Rolex. When you wear these watches, regardless of brand, you wear a piece of history on the wrist.
With the wide ranges of models available from each brand, you can be sure to find a watch you like from either.
History and prestige
It's safe to say that both Rolex and Omega have great prestige and history.
Omega is perhaps most known for being the official watch on NASA and the first watch worn on the moon. Rolex can brag about making the first automatic waterproof wristwatch, being worn by some of the most legendary individuals in the world, and being worn on the first climb of Mount Everest, to mention a few achievements.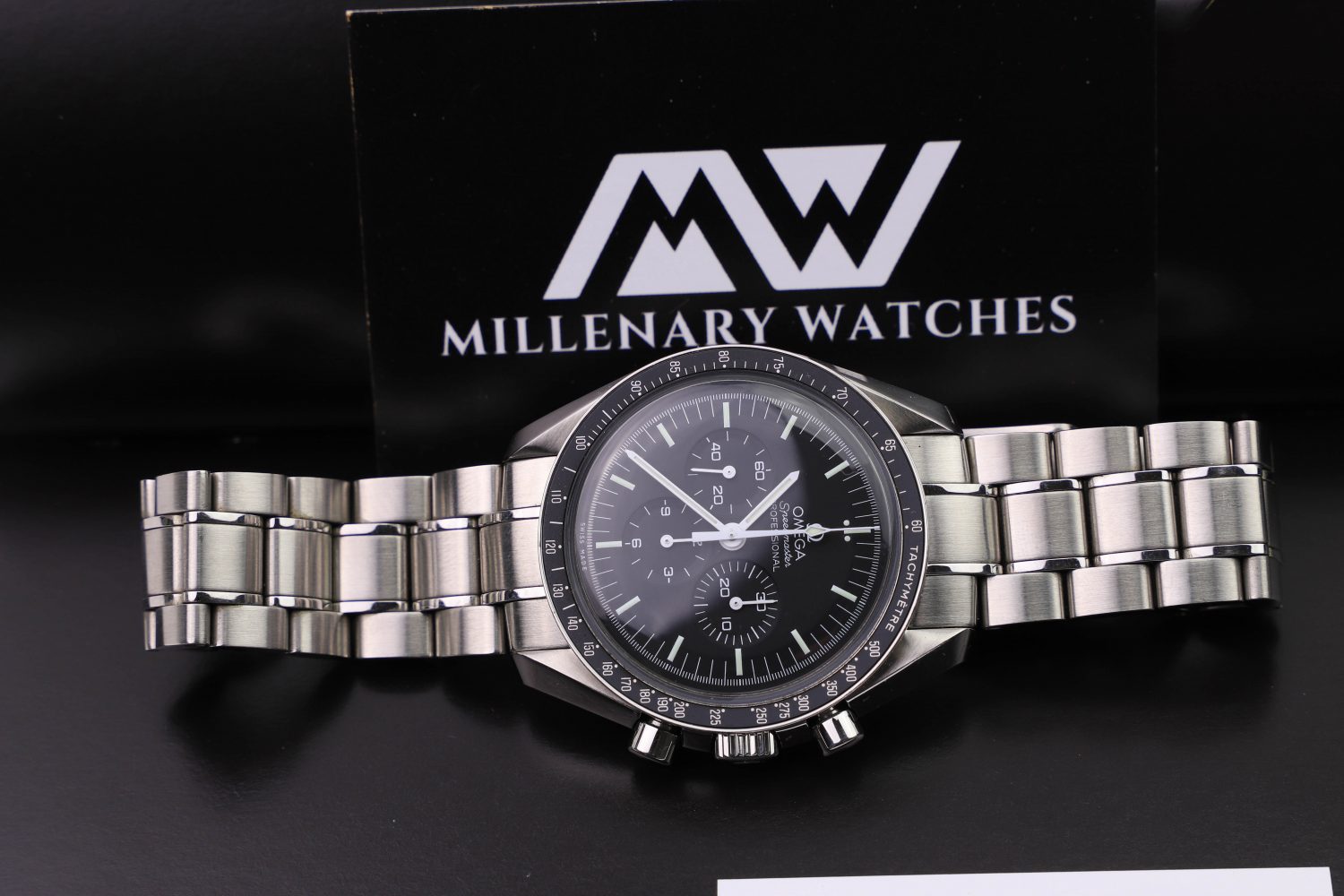 It's impossible to say which of these brands has the richest and most prestigious. But both of them can brag both with history, but also inventions and innovation.
Both Rolex and Omega has come up with numerous watchmaking inventions and innovations.
Now, in terms of prestige, Omega will not be able to measure itself with Rolex. Rolex is the single most recognized brand in the world and thus offers the wearer a sense of prestige that Omega cannot copper with. The vast majority of people know what a Rolex is, and instantly associate it with success. Omega is of course also well-known and recognized, but it doesn't reach the levels of Rolex for prestige and recognition. So in this category, Rolex is a clear winner.
Conclusion
At the end of the day, whether you choose Rolex or Omega is up to you. Both brands have their benefits and downsides but are both two prestigious, reputable, and respected Swiss watchmakers. Overall, Omega is slightly cheaper than Rolex, and the availability of them is better. But at the same time, there is nothing that can compare with the power of the crown.