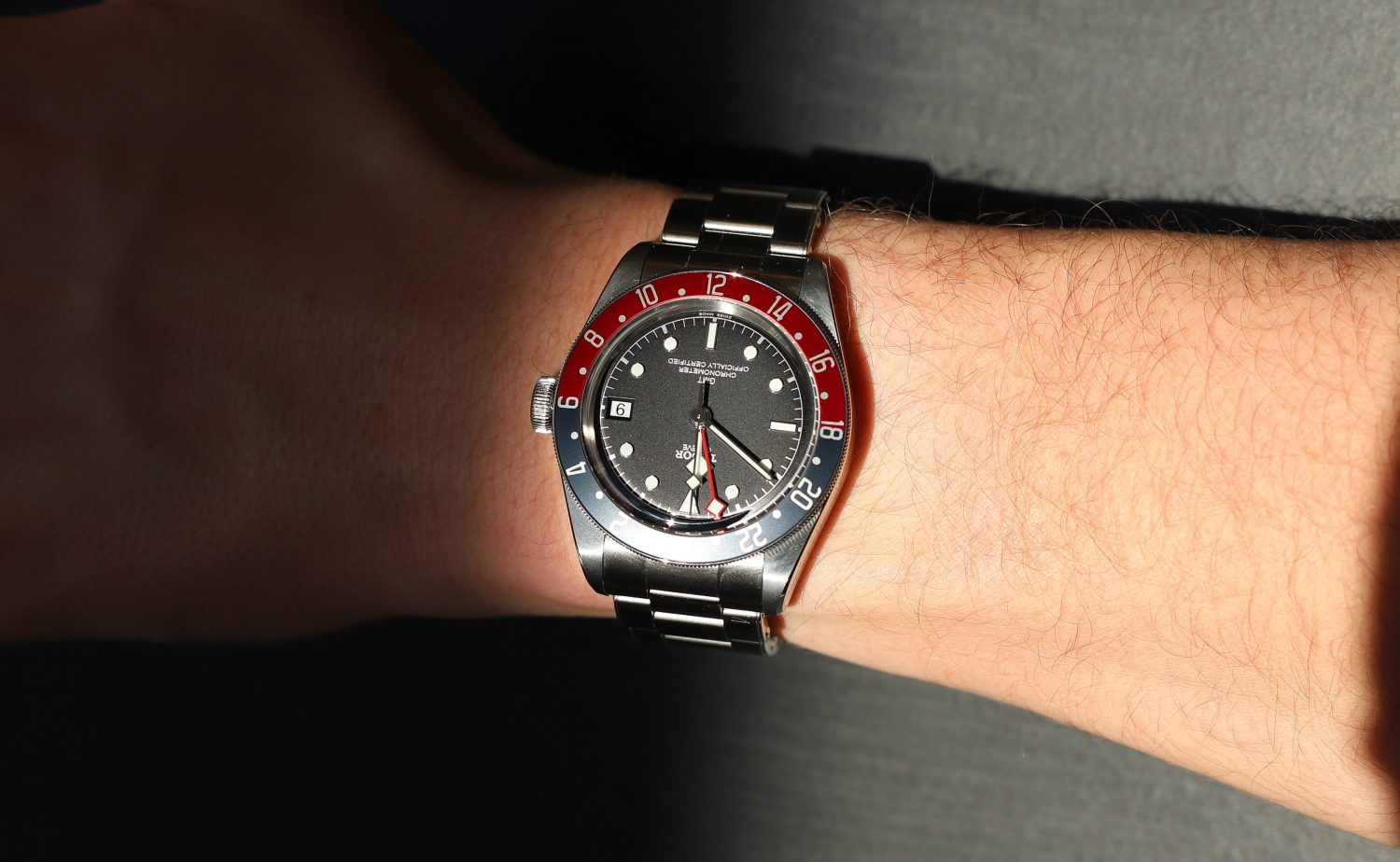 Tudor GMT Date wheel issue
In 2018, Tudor released the Heritage Black Bay GMT reference 79830RB. This watch was an important release for the brand as it is the first GMT watch for Tudor, but most importantly, it is inspired by the heritage of its bigger brother Rolex's GMT watches. And it's safe to say that Rolex makes what is possibly the most recognized GMT watches in the world.
As you can expect, the Tudor GMT 79830RB became an instant success after its launch. This model was on a waiting list around the world, and getting one could even take a year, maybe more. Just like with Rolex, the demand for this model just seemed to be too high.
But the life of the Tudor GMT 79830RB has not only been a smooth one. Already since the beginning of its production, the heritage Black Bay GMT has been haunted by a date wheel issue.
If you look online, much of what is being shared related to this watch is about the date wheel issue. But what is it really, and what can you do about it? In this article, we will go into detail about the Tudor GMT date wheel issue.
What is the Tudor date wheel issue?
The Tudor date wheel issue is something that seems to affect a number of heritage Black Bay GMT owners. The issue is that sometimes, the date advances earlier than midnight, sometimes the date advances 1.5 days or 0.5 days, which means it is stuck halfway in the date window.
Tudor has other watches featuring a date function, and there have been no reports that the date wheel gets stuck between two dates. As such, the movement, which is exclusive to the Black Bay GMT seems to be what is causing it.
The movement used in the Heritage Black Bay GMT is the MT5652. MT stands for Manufacture Tudor and tells us that it is an in-house movement. When Tudor launched the GMT, they launched a brand new movement, developed specifically for the watch.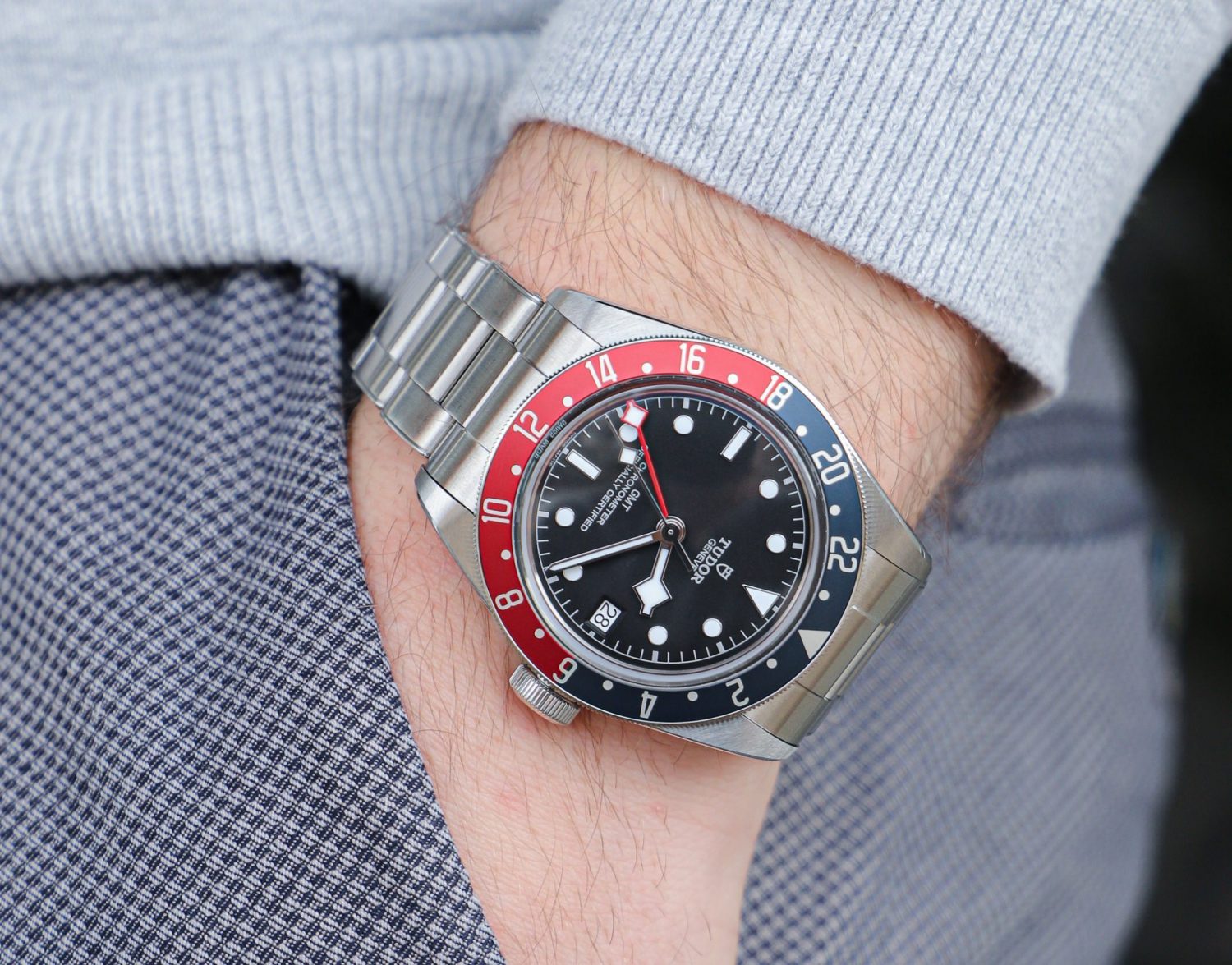 This also means that the movement is not tried and true. Although, of course, the movement has undergone countless tests during its development stages. And speaking about the development stages, the deliveries of the Tudor GMT were actually postponed and delayed by Tudor, which is rumored to have been caused by the date wheel issue. This is even before the watch was available to the general public.
Tudor is just like Rolex, privately owned. Furthermore, it is just as secretive as its bigger brother in communicating information to the public. Of course, Tudor has not commented on or recognized the date wheel issue publicly. Even though, it seems that it is a somewhat widespread issue. But again, we want to emphasize that we have no idea how many people experience a date wheel issue on their GMT.
Then, of course, you can always debate how big of an issue it really is, but that is a topic for a different time. The majority of Tudor GMT owners likely do not complain about the date wheel issue if it appears. Others, however, take it to social media, and the reason the topic of the Tudor date wheel issue has gotten so much traction in recent times is that it's not just one or two people reporting about it.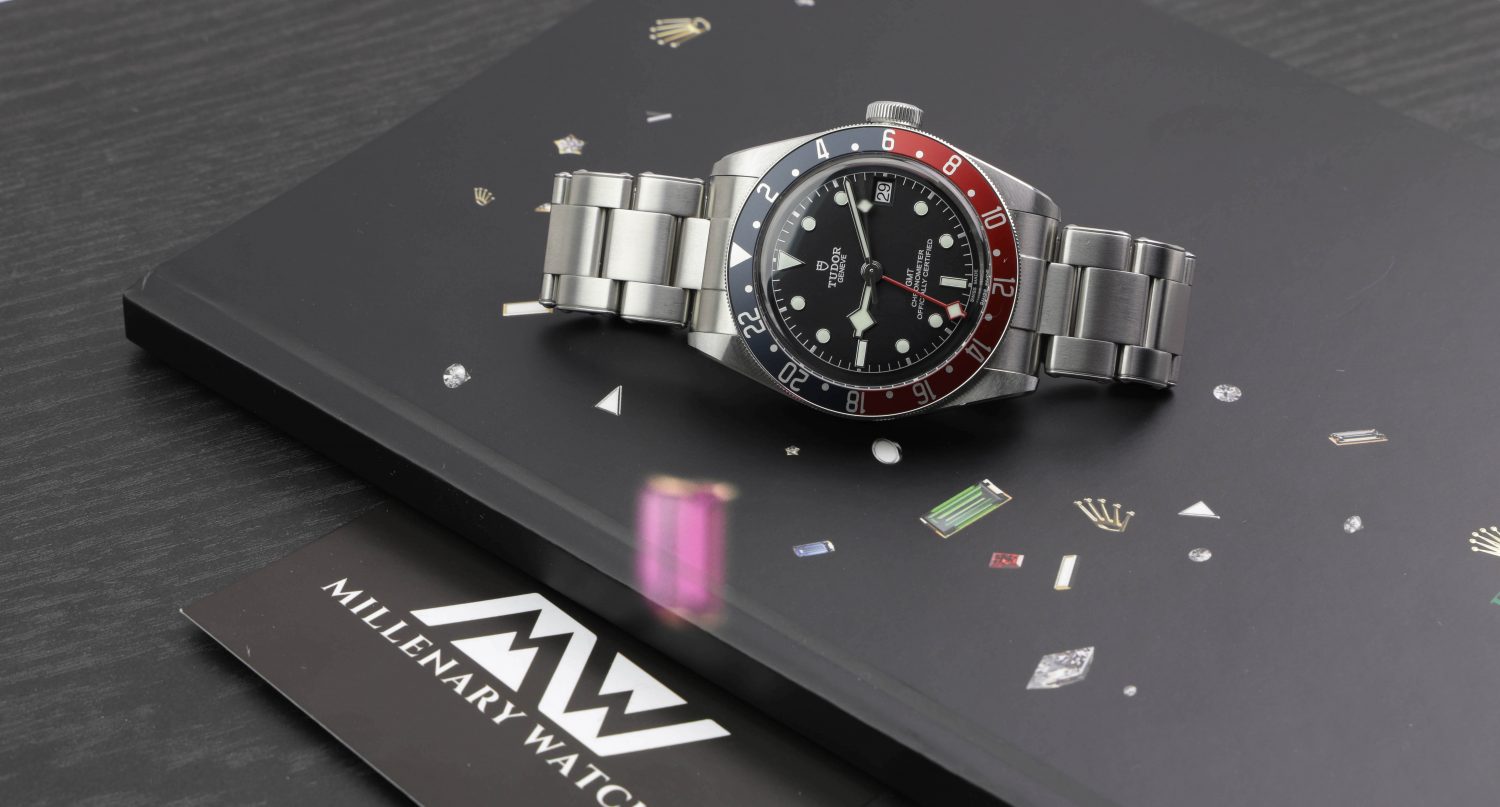 The delayed release of the Tudor GMT
The Tudor Heritage Black Bay GMT was released at Baselworld in 2018. But the watch didn't seem to reach authorized Tudor retailers until late summer/autumn of 2019. Whilst there is some time between Basel and the actual release, the GMT had documented delays according to dealers. This is said to have been caused by the date wheel issue that Tudor identified and then tried to resolve.
Furthermore, authorized Tudor retailers have reported that at the beginning of its production, Tudor temporarily halted production as a result of the date wheel issue. This further caused delays in the deliveries of the Black Bay GMT. This is partly the reason for the waiting list for this model, as the production of the model hasn't been up to full speed. But now, in recent times, almost one year after the release of the model, it seems that Tudor has finally caught up with production and more and more people are able to get it.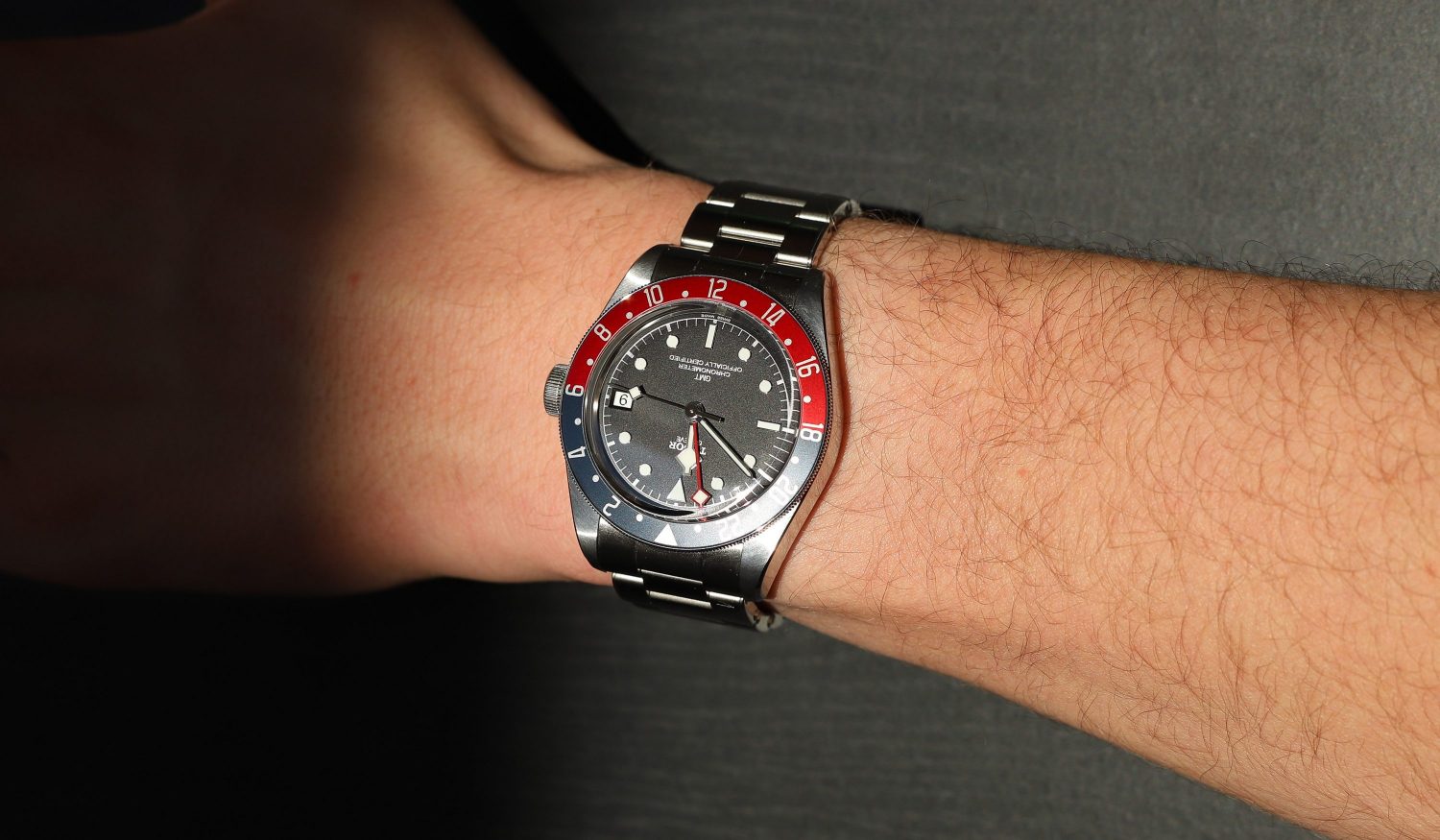 What is causing the Tudor GMT date wheel issue?
A common question we get is what is causing the date wheel issue.
We have gotten different information and responses, so it is difficult to say exactly what is causing it, but one issue that is mentioned is related to a teething issue on the movement. Another issue that has been discussed is the oil used in the movement. Another authorized Tudor retailer has said that the issue is related to a specific part of the movement which was faulty and needed to be replaced.
Only Tudor knows in detail what the issue that is causing the date wheel issue is.
But what is safe to say is that developing a new mechanical movement is no easy feat. A mechanical movement consists of hundreds of parts, and so getting it perfect is extremely difficult. It's not uncommon that watchmakers identify flaws with their movements that they need to fix later on. It's just that the date wheel issue is so noticeable.
Is the Tudor GMT date issue fixed?
There are mixed answers to this question. According to many authorized Tudor retailers, the date wheel issue is in fact resolved. But if you look at social media, you can see that some people who have bought a GMT recently have experienced the date wheel issue.
And the fact is that only Tudor knows the answer to that question. Most likely, Tudor has identified the issue and done something about it. It may be slightly improved but as cases seem to be appearing still, it seems it is not completely resolved just yet.
What should you do if you have the Tudor date wheel issue?
There are several things you can do if you notice that your Tudor GMT watch has a date wheel issue.
1. Leave it
One thing you can do (and that a lot of people do) is to leave it as it is and hope that it will get better. We all react to things in different ways, and some people will barely raise an eyebrow if they notice the date has jumped a bit too far or a bit short and gotten "stuck" in the middle
2. Wait and see if it gets better
It all depends on what your attitude is towards this issue. Do you not care that much or are you a person who will take it to social media to complain and let out your frustration? If you are the first, you can simply wait and see if the date wheel issue gets better and only something temporary. You can also wind the date when and if it gets stuck to get it into position again. If it proves not the be temporary, you can think about if it bothers you and if you want to have it fixed.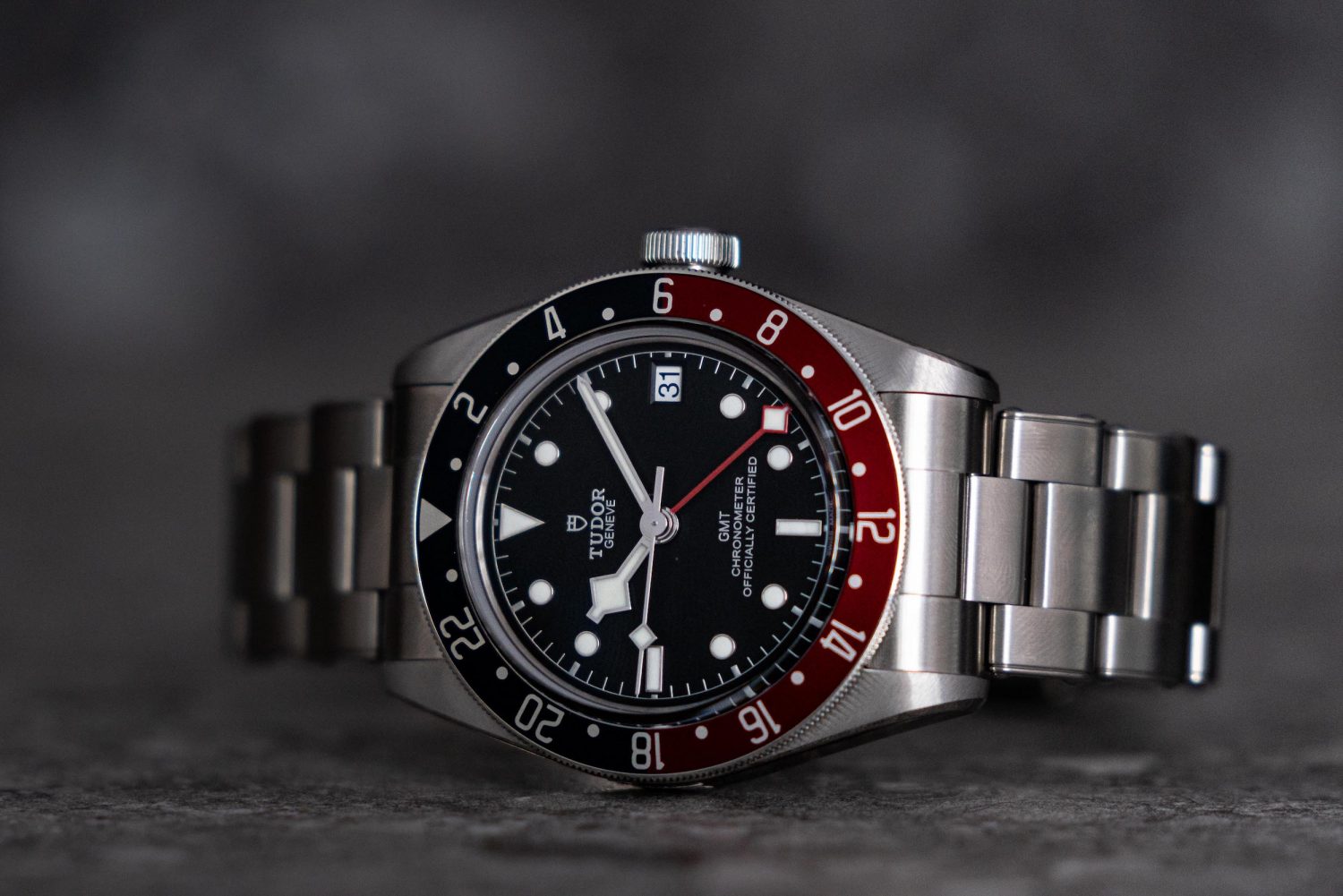 3. Take it to a service center
The date wheel issue with the Tudor GMT will be covered under its warranty. Since the watch didn't start hitting the shelves until the late summer of 2018, it means that the vast majority of them will have a 3.5-year warranty due to the extended warranty that Tudor announced in 2020.
Tudor will fix this issue free of charge under the warranty if you complain about it and take it to a service center. In most cases, the watch will have to be sent back to Tudor in Switzerland, in others, it may be fixed at the service center. Bear in mind that it normally takes about 6 weeks to get it back, but can take longer. We have been informed that many GMTs that have the date wheel issue get the movement replaced with a brand new one.
The issue is that we have heard many reports of people who have handed in their Tudor GMT to have the date wheel issue resolved, only to find that it gets the date wheel issue again, shortly thereafter. However, for the majority of people, the issue seems to be resolved when it gets back from the service.
If you have had the date wheel issue, it may be a good idea to have it fixed whilst you still have the warranty left. The date wheel issue is covered under the Tudor warranty, so it will be resolved free of charge.
Conclusion
Should the date wheel issue stop you from getting the GMT? We think not. It seems like some people decide not to get the Tudor GMT because of the reported date wheel issue, but we think you shouldn't let it stop you if it speaks to you. Bear in mind that the majority of watches seem to have no issues at all. If the issue appears, you can simply wind the date so it gets into position again. If you do indeed get the issue and it bothers you a lot, it will be resolved under warranty.
It's a stunning watch that offers great value for money, with its well-finished case and dial, its vintage-inspired design, and its in-house caliber. It's just a great watch.
Let us know in the comment section below! Do you have a Tudor GMT and have you had the date wheel issue? Is this a major dealbreaker for you?