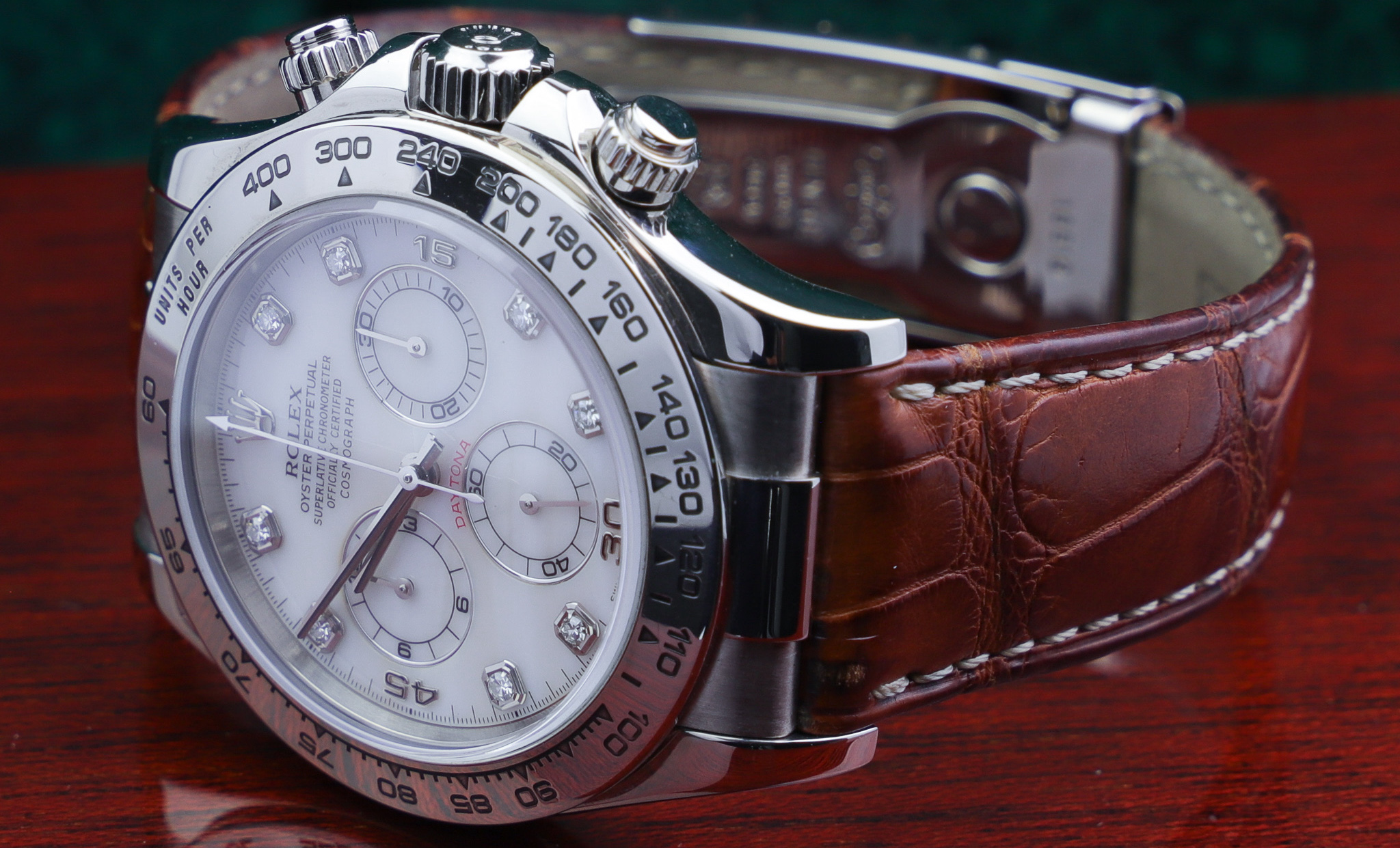 What is Rolex Mother of Pearl?
Mother of pearl, also known as nacre, is an organic–inorganic composite material produced by some molluscs as an inner shell layer. This is the same material that pearls are composed of. Mother of pearl is made from the same material as pearls but instead of using the actual pearls that are formed inside a mollusc, you take the inner-shell layer.
Simply put, mother of pearl is nacre, created by all nacre-producing mollusks. It is the thin coating of nacre that can be found directly on the shell of the mollusk or oyster. But not all mollusks have a coating of nacre. Moreover, only a very small percentage of these will be infused by a foreign particle which in turn will result in pearls. Therefore, pearls are much rarer than mother of pearl, thus making them more expensive.
What does this have to do with Rolex, you may ask? The answer is that Rolex uses mother of pearl to create some of its dials.
Unlike many other Rolex terms like Oystersteel, Cerachrom, Chromalight, or Everose, Mother of pearl is not a term that is proprietary to Rolex. Rolex did not invent the term mother of pearl, nor did they invent it. Mother of pearl was used in the jewelry industry long before Rolex started to use it for dials. In addition, Rolex is far from the only watch brand to use mother of pearl for its dials. In reality, it is widely used by most watch brands including Patek Philippe, Audemars Piguet, Omega, and many more. And because it is a relatively affordable material, much more so than pearl, it can be found used by more affordable brands like Tissot.
Mother of pearl has long been used in the jewelry industry, just like pearls have. It is appreciated for its stunning iridescence that gives an exclusive and elegant appearance, making them perfect for luxurious jewelry. Mother of pearl dials are very vibrant and appear to change color when they are viewed from different angles.
Rolex and mother of pearl dials
Rolex has used mother of pearl for its dials for a long time. More specifically, Rolex has been using it for several decades now. And they seem to be very content with it. Why wouldn't you be? The lustrous, beautiful sheen elevates the elegance of Rolex watches and makes them truly special.
Rolex has actually made a large selection of different mother of pearl dials over the years. They have made them available in a number of different models, in different colors, and with different types of gemstones. Mother of pearl dials can be found for the Datejust, Day-Date, Daytona, and several others. For obvious reasons, most of the Rolex's watches that feature mother of pearl dials are not professional sports watches. This is because mother of pearl has a look that leans more towards elegant jewelry rather than sportiness.
In Rolex's own words:
"Mother-of-pearl is by its nature full of mystery and surprises. Depending on its origin, it can be pink, white, black or yellow. It differs in colour, intensity and structure according to the part of the shell from which it is extracted. At Rolex, mother-of-pearl is never artificially coloured. Instead, particular know-how and skill are devoted to simply highlighting its natural beauty and preserving the original hues"
Because mother of pearl is a natural material, it means that each and every single Rolex mother of pearl dial is unique. This contributes to the unique and special nature of each mother of pearl Rolex watch. This is of course a great value proposition as it contributes to making Rolex watches even more rare and exclusive by nature. Rolex even highlights this fact in their own marketing by stating:
"As all mother-of-pearl dials are unique pieces, an identical dial will never be found on another wrist."
As mentioned, Rolex has made many different types of mother of pearl dials. And as also mentioned, because it is a natural material, it can be found in a wide array of colors. The color differences primarily depend on the origin of the mother of pearl and in which environment the mollusk has lived in.
"Acording to the part of the shell from which it is extracted, it can differ in colour intensity and structure. In different lights it can evoke a stormy sky, a clear moon, iridescent reflections in water."
To further elevate the elegance of these timepieces, mother of pearl Rolex dials are more often than others set with diamonds. Let's take a look at the types of mother of pearl Rolex has used. In some cases, Rolex uses its own names for them, but most often not.
Tahitian mother of pearl (Black Mother of Pearl shells)
Regular white mother of pearl
Black mother of pearl
Yellow mother of pearl
These are the most distinctive mother of pearl types found on Rolex dials. But since pearl is a natural material, their colors and sheen may vary slightly, even if they are used for the same models. For some models, Rolex has tried to carefully select mother of pearl that is whiter in color, whilst for others, Rolex thinks it is more suitable with a slightly blue hue. Even if each dial is unique, it's evident that Rolex does a very diligent job in carefully selecting the mother of pearl for its dials so that the hues of the mother of pearl are as similar as possible.
Examples of Rolex mother of pearl dials
---
Daytona 116519 yellow mother of pearl dial
---
Daytona 116519 pink mother of pearl dial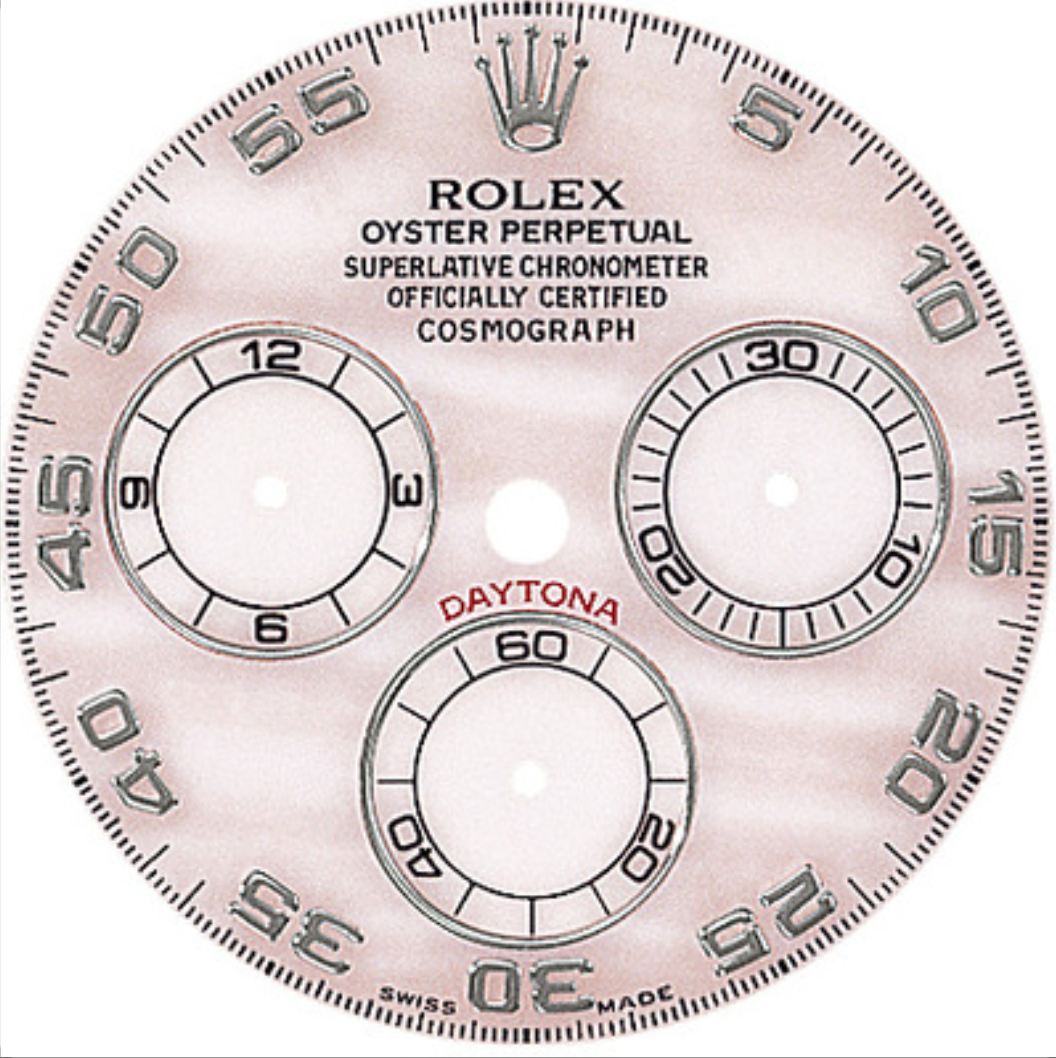 ---
Daytona 116508 black mother of pearl (Tahitian mother of pearl)
---
Datejust 126334 white mother of pearl diamond dial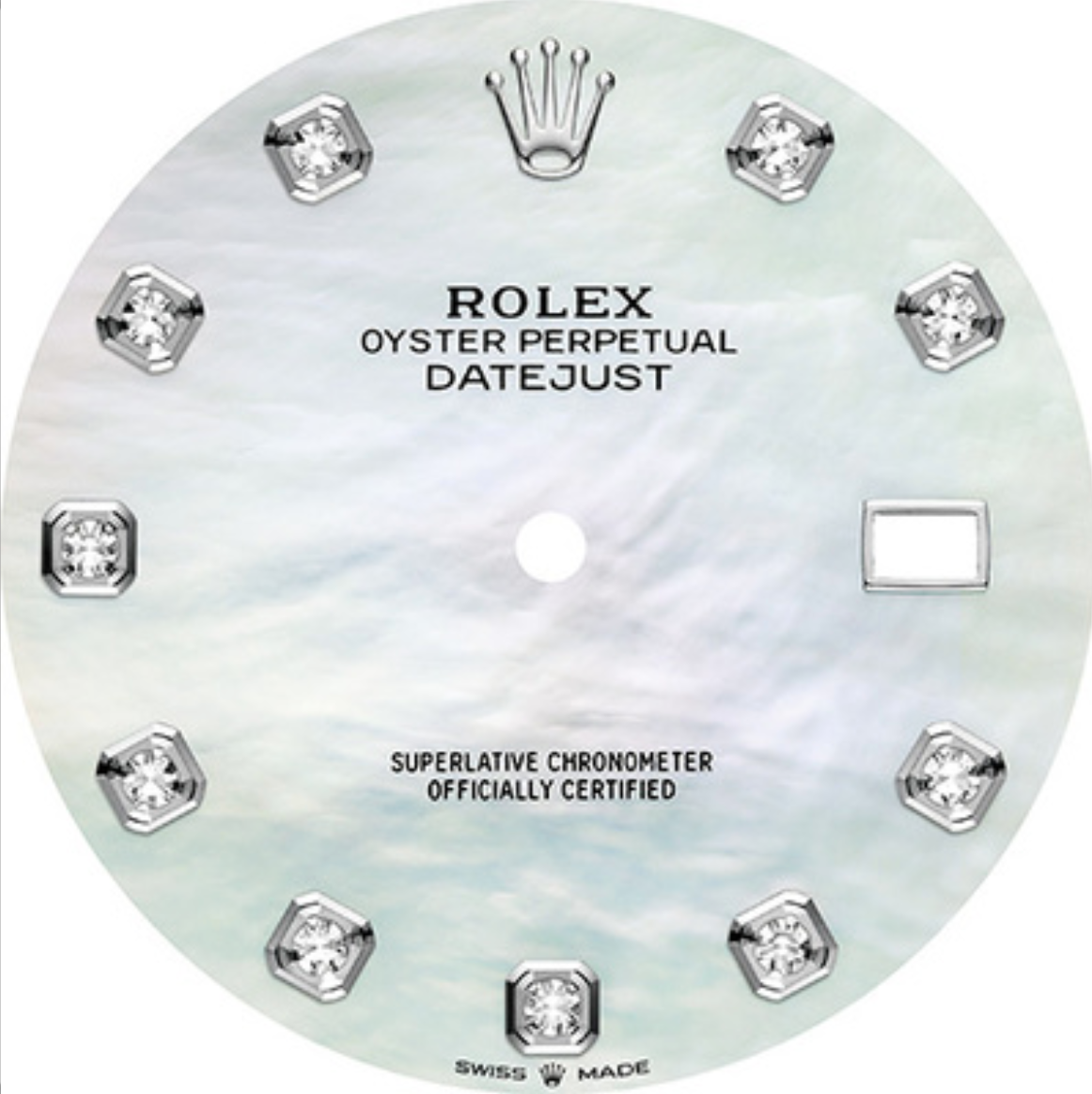 ---